Laundry
Maytag Centennial MEDC415EW Dryer Review
A familiar design from a known brand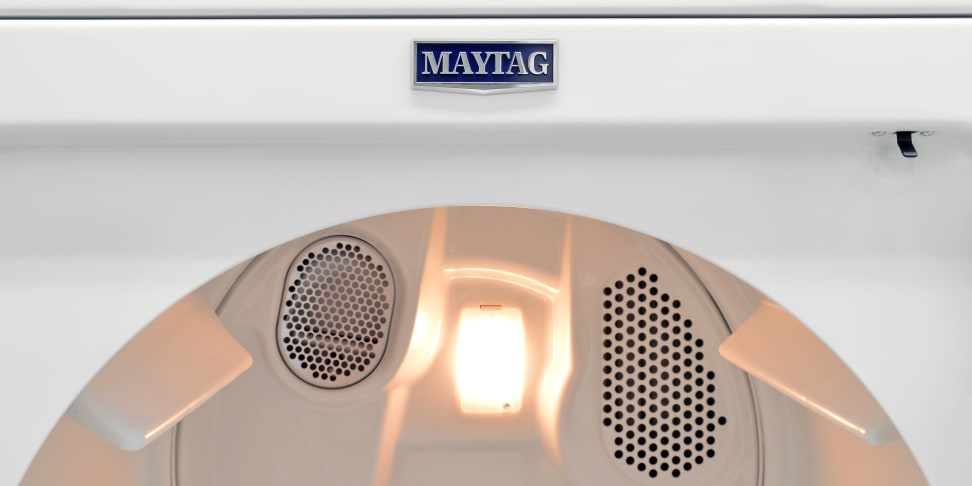 Credit: Reviewed.com / Matthew Zahnzinger
Based on our test data, the Maytag Heritage Series Centennial MEDC415EW (MSRP $599) is a decent dryer. With a 7.0-cu.-ft. drum and a minimalist, feature-light approach to laundering, this machine should appeal to consumers that don't want to fuss with gadgets and buttons when drying clothes.
As with many similar models, it tends to err on the hotter side but, if you're willing to play around with just a few settings, this dryer should make a fine, budget-friendly addition to your laundry room.
Of course, determining whether it's a good value may be a bit of an issue. It's not sold at major "big box" stores, and most smaller retailers we've found online direct customers to purchase it in store. That means it might be hard to compare prices across different stores. We'd say you should bite if you can find it for under $450.
By the Numbers
The Maytag Centennial MEDC415EW (MSRP $599) isn't the best dryer around, but it's a good, basic machine. Generally speaking, this machine got too hot for our taste, though our tests revealed the low temperature setting should work well for all-purpose drying.
Design & Usability
Bare white with brushed silver
While aesthetically sparse, Maytag's traditional Centennial line does consistently boast one interesting design flourish: A silvery control console with a brushed stainless texture. Orange highlights give the machine a distinct look, and allow you to mix and match within the lineup.
Beyond that, this is a pretty basic appliance. A mechanical cycle timer and pullout lint trap should be familiar to anyone who ever ventured into a laundry room over the past 50 years. These features tend to be less accurate and messier (respectively) than modern iterations, but make for a familiar user experience.
At the very least, Maytag opted to include an internal drum light that should help you keep track of stray socks in a dark basement laundry room.
Normal & Delicate
For our Normal test, we used the Energy Preferred cycle at medium heat. While the Maytag got our clothes 100% dry in just 53 minutes, it also exhibited temperatures that peaked at 161°F. That's definitely hotter than ideal, and could lead to the premature fading or fraying of certain fabrics.
In light of the Normal results, we were surprised at how well the Delicate test turned out. Using the Delicates cycle on low heat, the dryer again removed 100% of excess moisture in 50 minutes. Temperatures peaked at 142°F—too hot for many fragile garments, but perfect for cottons and other everyday items. We therefore recommend using low heat for all but the hardiest if items.

Quick Dry & Bulky
The Quick Dry test is sometimes unavoidably imprecise with machines that use crank controls. We set the dryer to run for a 30-minute Timed Dry cycle, and although this machine only ran for half an hour the first time, our second test ran for 38 minutes. That's despite setting the indicator to the same position.
Anyway, the dryer—with temperatures maxing out at 138.6°F—only removed 84% of excess moisture, not dry enough to be worn.
The Bulky test, too, had disappointing results. Combining the More Dry cycle with high sanitize heat was not enough to tackle our large, bulky comforter. After about 51 minutes on average, and temperatures that peaked at a sweltering 163°F, our comforter was still only 77% dry.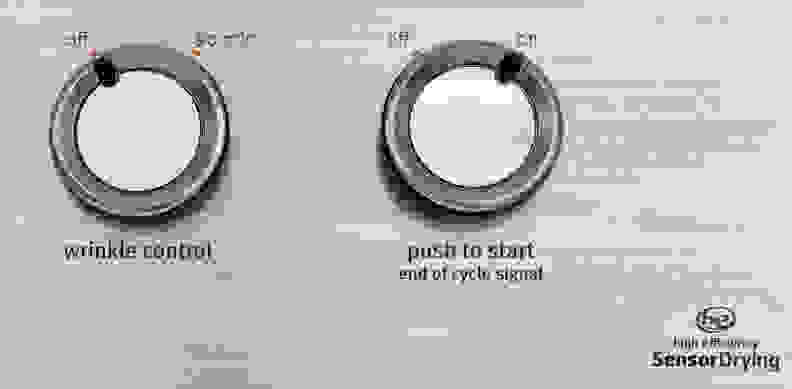 Performance & Features
Keeping it simple
Generally speaking, our biggest complaint with this model was its overly high heat, which—over time—can damage clothes. Our Normal and Bulky tests, which used the Medium and High Sanitize temperature settings respectively, both peaked at over 161°F.
Our Delicate tests, however, used the low heat setting and still peaked at 142°F. That isn't exactly what we think of as "low"—other machines only get up to around 110ºF—but it's okay for standard cotton and other durable fabrics. As with the Normal cycle, this test also produced 100% dry garments. In light of that, we recommend just using low heat for most batches of clothing.

The use of manual timers means Timed Dry loads are a bit of a gamble. We set what appeared to be a 30-minute Timed Dry for our two Quick Cycle tests; one ran for half an hour, while the second ran for 38 minutes. Regardless, neither load was completely dry at the end, so you're probably better off sticking with the sensor-based options.
For better or worse, the extra feature list on this budget dryer is virtually nonexistent. Four temperature options (including an air fluff) are available for manual selection no matter what cycle you're using. While active, wrinkle control will tumble your clothes after a cycle has finished, and keep doing so periodically for up to 90 minutes. This helps reduce wrinkles if you're not around to take your clothes out immediately.
For in-depth performance information, please visit the Science Page.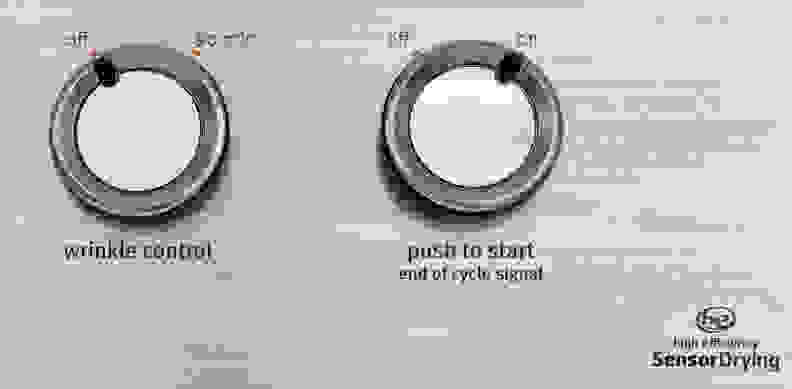 Warranty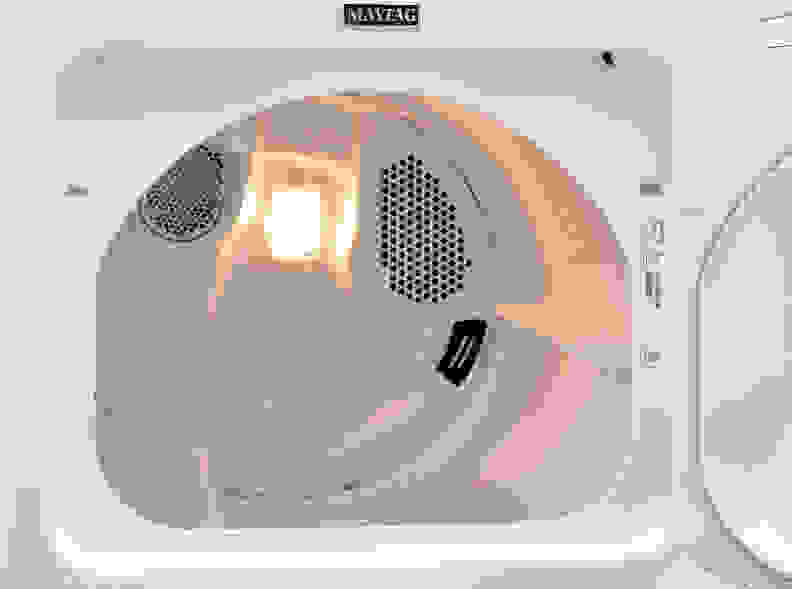 For your first year of product ownership, Maytag offers parts and labor coverage. If the machine should be damaged fresh out of the box, or if something should fail unexpectedly, Maytag will have the machine repaired or replaced at no charge.
After that point, Maytag actually differs from most of the competition. Up until the appliance is 10 years old, the manufacturer will provide replacement parts if the drum or drive motor should stop working properly. The catch? You've got to pay for the labor to get it fixed.
Not Bad...
...but find a good price.
The Maytag Centennial MEDC415EW is the laundry equivalent of "no harm, no foul"—a middle-of-the-road machine that's well suited to consumers who prefer an old fashioned, barebones approach to drying clothes. Performance isn't perfect, but subtlety doesn't really come with an affordable price tag.
We had difficulties tracking down a good sale price on this machine, as its not sold through most national chains. If you can find one at your local mom and pop appliance store for under $450 and are in the market for a traditional dryer, consider snatching it up.