Laundry
Maytag Maxima MED3100DW Dryer Review
This stackable Maytag doesn't distinguish itself in the accomplished Maxima family.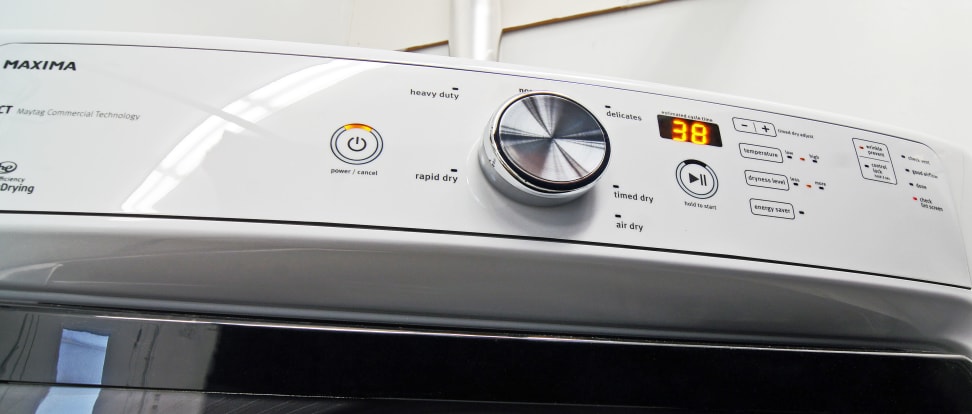 Credit:
By the Numbers
Like most of the new Maytag Maxima dryers we've tested, cycles leaned toward the warm side in the Maxima MED3100DW (MSRP $999). This model did well in most of our tests, but the lack of a designated Bulky cycle really dragged its score down.
The Maytag Maxima MED3100DW (MSRP $999) is the most barebones iteration in the Maxima lineup, and at the end of the day, its respectable 7.4-cubic-foot capacity is the only major advantage it has.
Like the other models in this series, drying performance is solid, and the machine is quite stylish—especially compared to most other sub-$1000 models. That said, the cycle list is thin and extra features are virtually nonexistent.
If you're set on a large capacity dryer, you're better off spending as little as $20 more (depending on sale prices) and getting the MED5100DW. It's the next Maxima model up from this one, and it's excellent. If price is your main concern, we've reviewed a long list of alternatives that are more versatile and—in many cases—even less expensive than the already affordable Maxima.
Design & Usability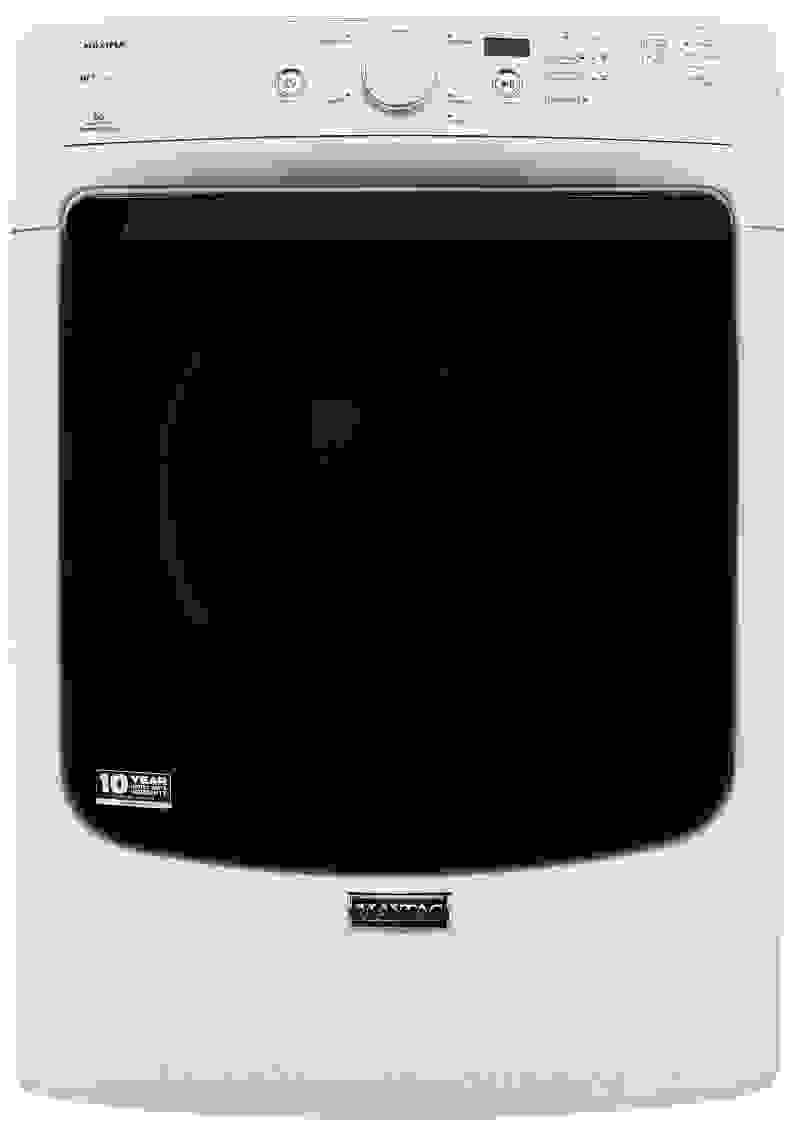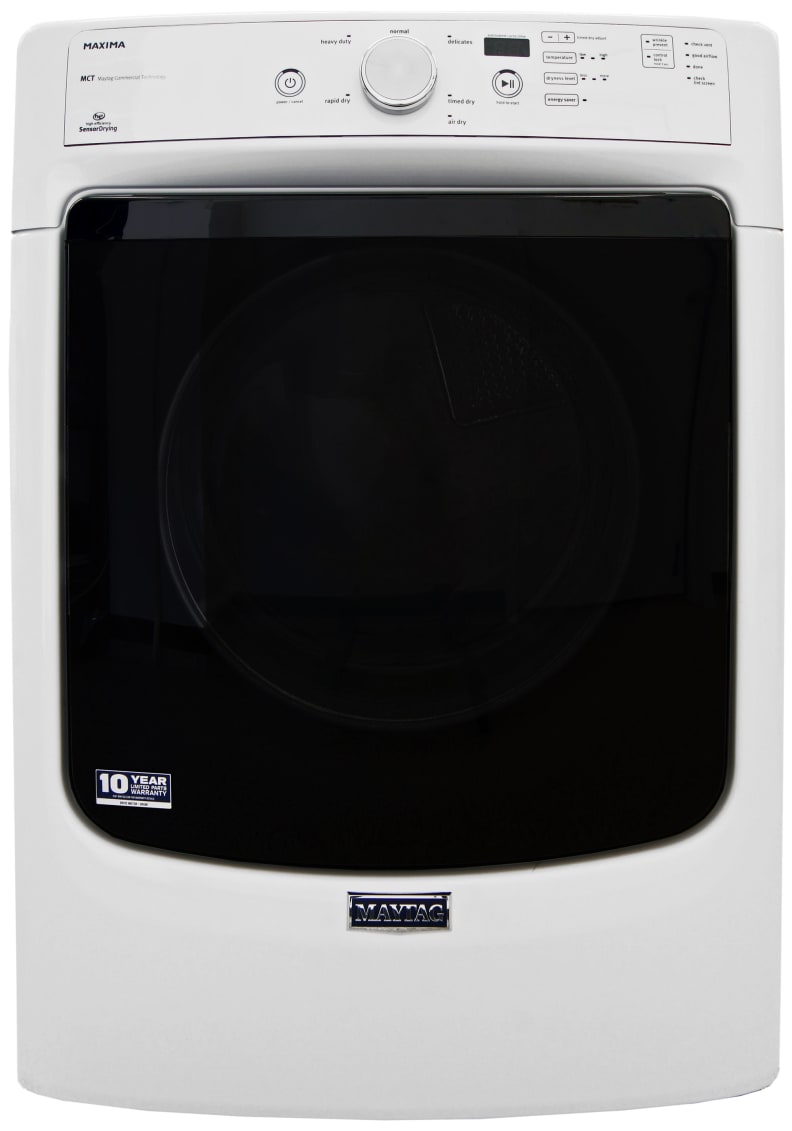 Aesthetically pleasing
When it comes to design, this Maytag is essentially identical to the MED5100DW. The square door with rounded edges, yellow indicator lights, and all-lowercase text are all traits shared between the two. The biggest difference is that, unlike the more expensive machine, the 3100 is only available in white.
The use of a translucent black door gives an otherwise completely white machine some much-needed personality. Even the Maytag logo, placed just below the door, serves to balance out the silver cycle knob.
On the inside, a white drum (rather than stainless) is standard for models in this price range. On the outside, the well-organized control panel is easy to read and very responsive.
Normal & Delicate
The Normal and Delicate cycles both got our test materials very dry—95% and 90% on average, respectively. Strong results for a sub-$1,000 dryer.
Temperatures on Normal—which averaged 49 minutes—peaked at 150.5°F, which is a bit warm for our tastes. Turning on the Energy Saver mode should lower that to accommodate gentler fabrics.
Delicates, on the other hand, peaked at a mere 111.1°F and ran for roughly an hour and 10 minutes. Cooler would be better, of course, but that should be gentle enough for most users.
Quick Dry & Bulky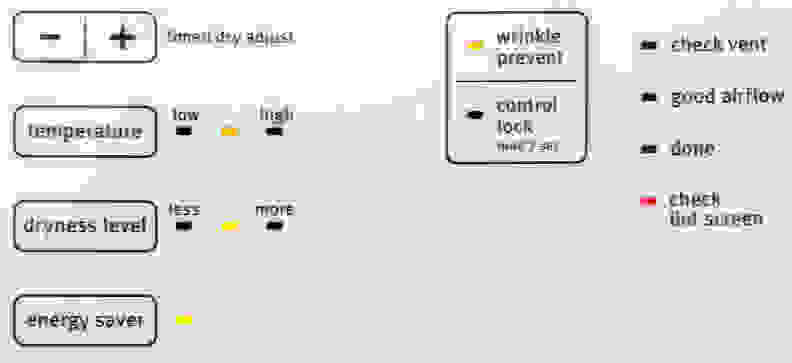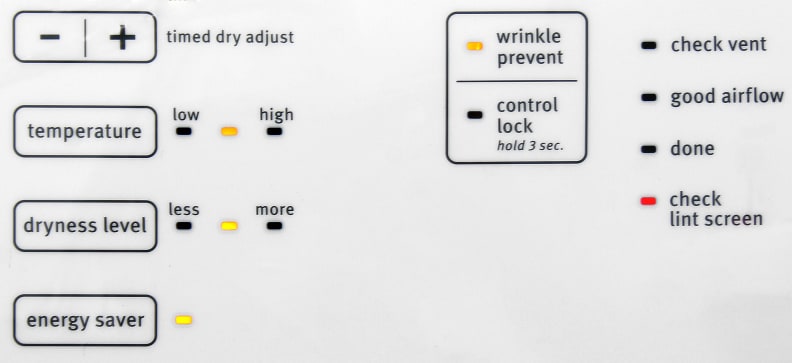 Rapid Dry did a great job drying our smaller, four pound load (standard loads are eight pounds). After a mere 26 minutes with temperatures hitting a high of 140.8°F, our test items came out 93% dry—fantastic!
Unlike the 5100 and 8100 versions, the MED3100DW doesn't have a designated Bulky cycle. Instead, we had to dry our large comforter on Heavy Duty. Our advice to you? Don't.
After a mere 27 minutes, the dryer stopped. Despite temperatures of 159.1°F, our comforter was still wet. The high heat got the outermost edges of the comforter dry quickly, and the sensors likely picked up on that, which explains why the dryer stopped after such a short time.
Performance & Features
Making do with minimal cycles
As expected, the MED3100DW scored just as well as its more expensive alternatives on most of our four tests. Clothes came out almost perfectly dry on Normal, Delicate, and Rapid Dry cycle.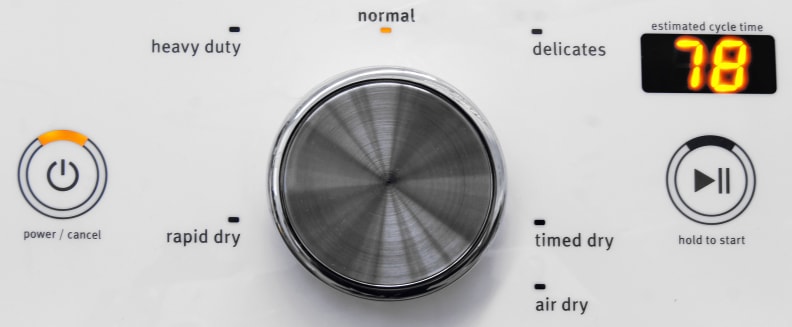 The Normal setting on Maytag Maxima dryers we've tested have tended to run warm, and this machine was no exception. If you've got clothes that are too hardy for Delicate, but might not fare well in really high heat, just turn on the Energy Saver. This setting improves the dryer's efficiency by lowering temperatures and extending drying times.
The Bulky test was the only one that scored below average. That's primarily because the 3100 doesn't offer a proper Bulky cycle. Instead, we had to dry our comforter using the Heavy Duty option. Temperatures shot up to nearly 160°F, but the cycle ran for a mere 29 minutes. It performed miserably, failing to remove more than half of the moisture. Our suggestion? Tackle large items using a manually adjusted Timed Dry, or run it through more than once, manually flipping your comforter to expose damp spots.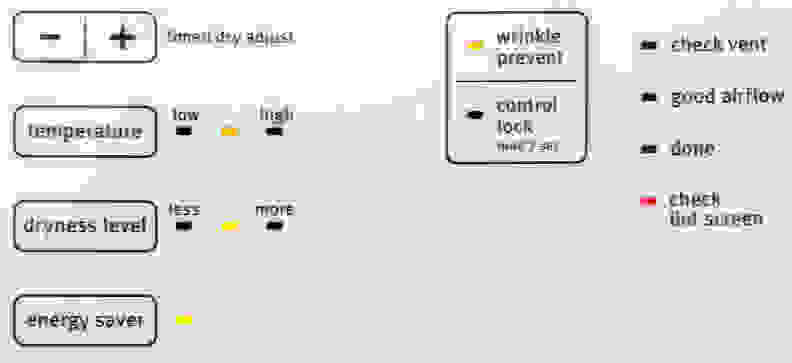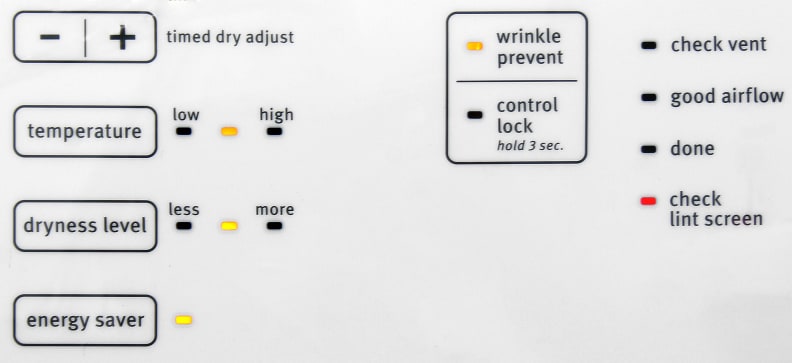 Cycles and features on this Maxima are heavily limited. There aren't any sensor-based cycles aside from the three we tested (Normal, Delicate, and Heavy Duty), while the Rapid Dry and Air Dry manual cycles are just streamlined versions of the generic Timed Dry.
Other than Energy Saver mode, the only features you get here are a control lock and Wrinkle Prevent, which periodically tumbles clothes once a cycle has finished to reduce wrinkles until you're ready to remove them.
For in-depth performance information, please visit the Science Page.
A Big Deal
Lots of room, and lots of room for improvement
This machine's large capacity interior is quite literally a big advantage, while its aesthetics are superior to a lot of similarly priced models. Why don't we love it?
Internal competition. We think you'll be better off with the MED5100DW, the next machine up in the Maxima lineup. The difference in versatility between this machine and the MED5100DW is pretty wide, despite an MSRP gap of only $100.
With more cycles, more features, and the same spacious capacity, it's hard to see why you wouldn't just go for the next step up in the series. Looking at online retailers, that gap is even smaller: We found the 3100 for as little as $829 and the 5100 for $849. For a mere $20 difference, the choice is clear.