Laundry
Maytag Maxima MED6000XR Review
Very disappointing performance negates any of this dryers benefits.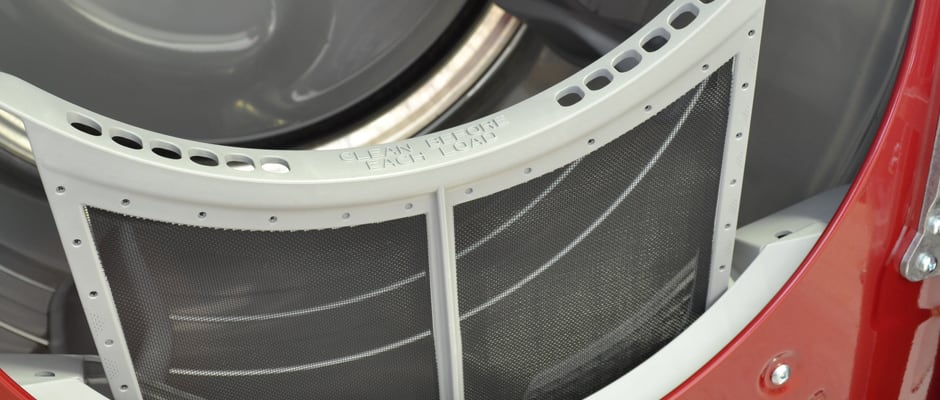 Credit:
Introduction
The has a rather high MSRP of $1349. For that price, you get a machine that comes in a very attractive package: a polished finish with an eye-catching color scheme, easy-to-reach controls, a digital display that lights up when in use, and a catchy little tune which plays at the end of cycles as opposed to an obnoxious buzzer.
We got to work immediately on this dryer, running tests to find out if the 's beauty is only metal-deep. The internal sensor that's supposed to determine when your clothes are completely dry just didn't work, and that was the first sign of trouble.
Design & Usability
High-gloss is stylish, but susceptible to scratches too
The is a stackable dryer with a very shiny finish. The red exterior is eye-catching to say the least, adding a stylish varnish to an otherwise standard design. That high sheen, though, means it's easily damaged too; scratches and other dings will appear quickly if you're not too careful.
The controls are very intuitive.
The is well-built, sturdy, and easy to use. The controls are very intuitive, resulting in a very simple learning curve. Rotating the knob to a particular cycle is effortless and the digital display has a wide screen—easy to see, thanks to back lighting. The buttons that adjust temperature are solid, user friendly, and perfectly sizable. The door feels very solid, and is wide enough to accommodate large items, and the lint trap is sturdier than most and easy to clean, too.
Performance & Features
Don't hate it because it's beautiful—hate it for its mediocre performance
The Maytag's idea of energy efficiency involves turning off before your clothes are ready.
Energy efficient preset cycles and steam-based options are both included with this machine, but before all you green-minded shoppers get too excited, know this: our tests showed that the 's idea of energy efficiency involves turning off before your clothes are ready.
The Timed Dry cycles allow you to adjust the length, temperature, and dryness level. Beyond that, actual variation is limited. Oddly enough, you can't adjust the volume for the completion tune which may be too quiet for larger homes. A wrinkle prevent tosses clothes for either 60 or 150 minutes after a cycle, and you can even plumb the dryer into a water supply for the Auto Refresh cycle.
Extra goodies and knick-knacks aside, the performed poorly on every cycle we tested. Like most mid-range and high-end dryers, the majority of the 's drying cycles operate using a sensor designed to optimize both time and the energy. As such, some cycles ran for less than the estimated cycle length, while others ran for longer. What they all had in common, however, was poor drying results. If you go with this model, you'll want to avoid the sensor-based cycles and just use the manual Timed Dry if you don't want damp clothes.
Conclusion
Picture perfect with poor performance
To be blunt, the was a resounding disappointment. Despite its high-end appearance—not to mention its equally high-end MSRP of $1349—this machine completely failed to deliver the goods. We found it online for as low as $1000, but even that seems like too now that we know better.
Energy savings? Sure. Dry laundry? Nope.
Every cycle tested yielded clothes that, at best, were still damp. Such universally bad performance leads us to question the quality of the sensor. Energy savings? Maybe. Dry laundry? Nope.
There are certainly some positive aspects of this machine worth mentioning. The digital display is easy to read, the door and cycle knob are substantial and a pleasure to use, and the machine does look great. However, with only basic customization options, an adequate set of programmed cycles, and a lack of volume control or the ability to save a personalized cycle, the positive attributes just don't measure up to the Maytag's glaring insufficiencies.
Science Introduction
Despite high expectations, the performed poorly on every cycle we tested. A sensor that measures moisture and stops a cycle accordingly to save time and energy sounds great in theory, but we ran this machine through a set of tests to see how it would do. Let's just say, it's lucky there's a Timed Dry option on this thing, because these sensor-based cycles couldn't pass our tests.
Water Retention
First things first—does it remove moisture or not?
There are many things that we expect for dryers to do these days, but the most basic demand remains foremost, namely, drying laundry. This flashy just doesn't pass the test.
Toss a load into the Normal cycle on this baby, and it'll come out—hold back your excitement —88 percent of the way to dry. Suffice it to say, this is unacceptable. Far less expensive machines have done a much better job. The worst news? It's all downhill from here. The Delicate cycle only got 69 percent of the moisture out, the Small Load cycle only expelled 58 percent, and the Heavy Duty cycle removed just 62 percent. All in all, we're 100 percent fed-up with these percentages.
Temperatures and Cycle Times
The sensor-based cycles just don't dry thoroughly.
The Normal cycle produced clothes that were only 88 percent dry, which negates any excitement we would otherwise feel for this speedy 45 minute mode. The heat on this cycle was within an acceptable range too—138.6ºF—but again, none of this matters much because this go-to cycle won't actually dry a load of laundry.
An 18 minute Small Load cycle sounds great, and so does a temperature high of 138ºF...but then we felt the clothes. Our items were barely more than half dry, so the cycle would have to be used at least two, if not three times to get the job done, somewhat defeating the purpose.
The 42 minute Delicate cycle peaked at 112 degrees Fahrenheit, perfect for gentle drying. It's even better when you consider that dry clothes will likely take two rounds to finish: our sample came out damp at 69 percent dry.
Lastly, the Heavy Duty cycle took just 26 minutes. With such a short running time, we didn't expect our comforter to be dry, and we were right. It was only 62 percent of its bone dry weight, the worst result of the three sensor cycles that we tested. That being said, this was one of the shortest bulky cycles we've tested.
Other Tests