Laundry
Maytag MEDB955FC dryer review
This massive dryer has room for your whole family's laundry
Credit: Reviewed.com / Jonathan Chan
If you could fit all of your family's laundry in one dryer load, would it make your life easier? The Maytag MEDB955FC (available at AppliancesConnection for $1,254.10) has the capacity to do all that. It's an investment, but then, so is your time.
When we tested this model, we found that the more laundry we loaded into it, the better it did. The Bedding cycle took a no longer than the Normal cycle. (But as you'll read in a minute, we were expecting the Normal cycle to go a lot faster.)
The truly massive 9.2 cu.-ft. American-made dryer needs an equally massive laundry room, especially if you pair it with the companion washer, so measure before you purchase, not just your laundry room, but every door and hall along the way. Your space has to be large enough to admit a dryer that's 43 inches tall, 29 inches wide and 33.5 inches deep.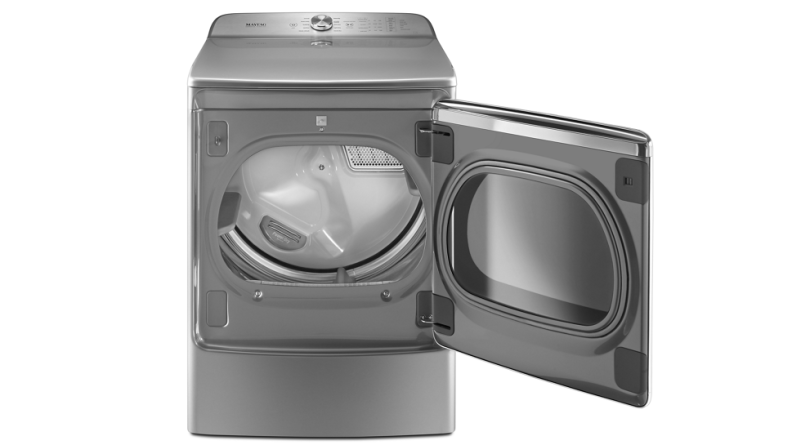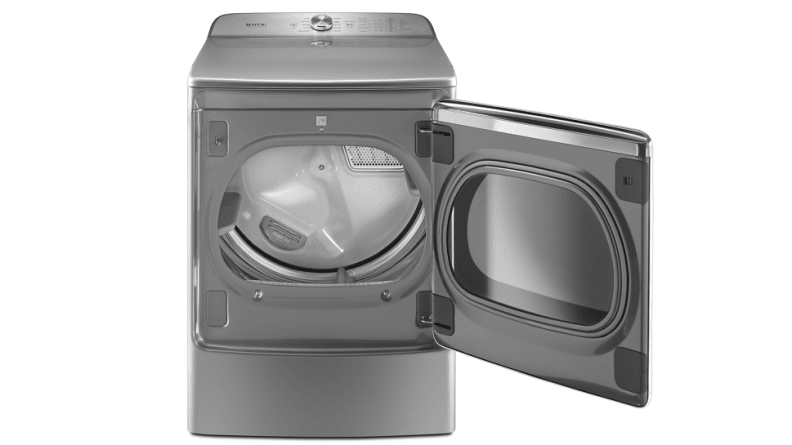 Design features
A striking metallic slate finish gives this dryer a high-end look. (If prefer a white machine, you can select the MEDB955FW for about $100 less.) Aside from its mega-capacity and steam features, this dryer is actually pretty basic and easy to use.
The big, rectangular door makes it easy to load in wet laundry, and its whole top edge is a recessed handle, meaning that you can hold a basket of clothes in one arm, and open the door with the other. The magnetic closer lets you shut the door with one knee.
This dryer exists for the sole purpose of doing big loads. Measure your doors and hallways before you bring it home.
The big selector knob is easy to turn, and its gnurled texture gives it an interesting look and feel. It certainly gives you plenty of cycle choices, probably more than you'll ever use. To get a load started, you have to hold the start button as it counts down from 3 seconds.
Once you open the door, you might notice that the dryer has an additional "fin" in the tub, which the manufacturer claims reduces wrinkles. But if you really want to reduce wrinkles, try the Wrinkle Control setting. It tumbles the laundry for extra time at the end of a cycle.
If there's a group of settings you use frequently, you can press My Cycle to save them. Anytime you want, you can access them by tapping the button.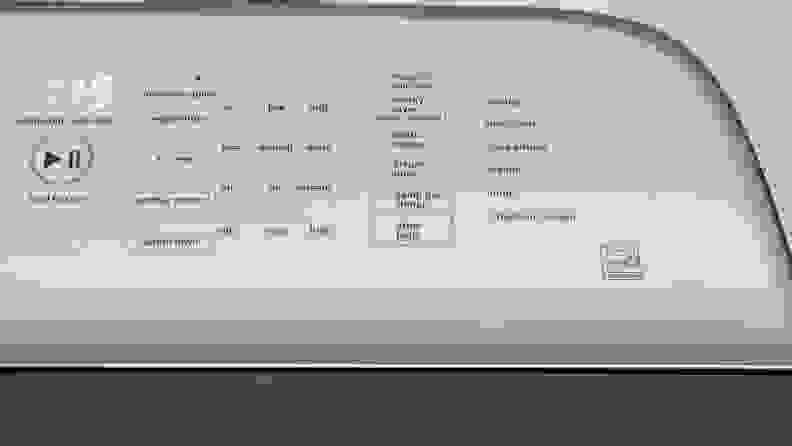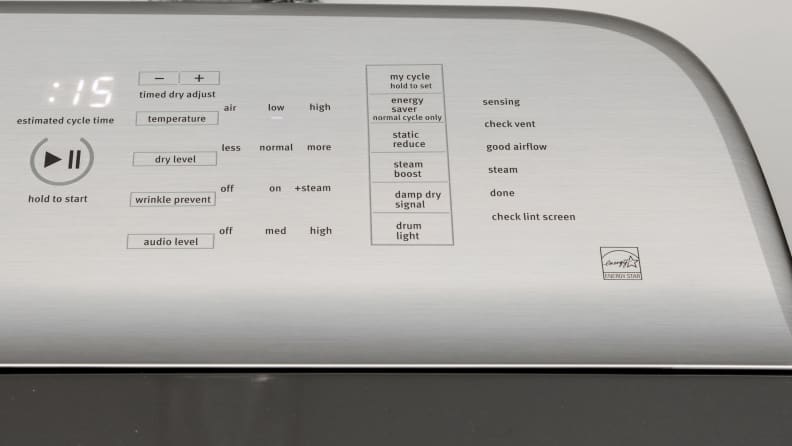 We liked the lint trap's location at the front of the machine—it's very easy to reach—and its clamshell design traps small particles, and confines the lint inside until you open it.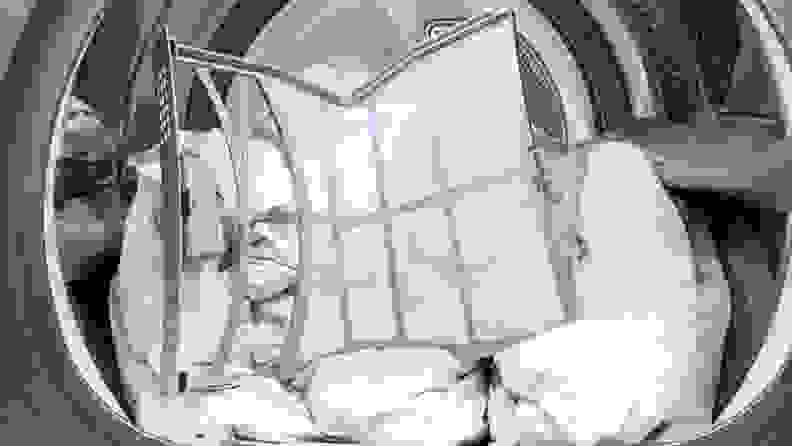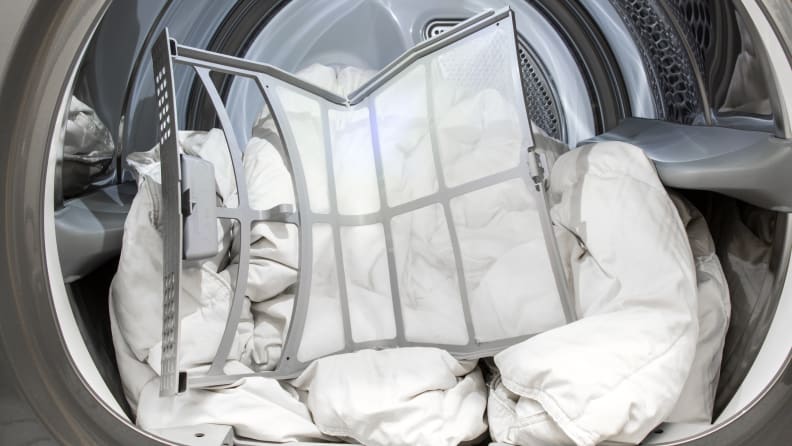 Performance
This dryer is meant for your largest laundry loads. Though it doesn't sound intuitive, our tests showed that it can dry bulky comforters on the Bedding cycle in about the same hour and a half that it takes to dry a smaller Normal load. So, here, the more laundry, the better. The Rapid Dry cycle is really speedy, getting the clothes more than 94% dry in 14 minutes, and the Delicate cycle was done in a reasonable 45 minutes.
But don't count on the timer. We found that the sensor was inaccurate. If you can load the dryer and just walk away till you hear the all-done signal, you'll be happier than if you sit and watch the clock. Of course, you can always turn on the light and watch the laundry tumble for a while. It's relaxing, like meditation.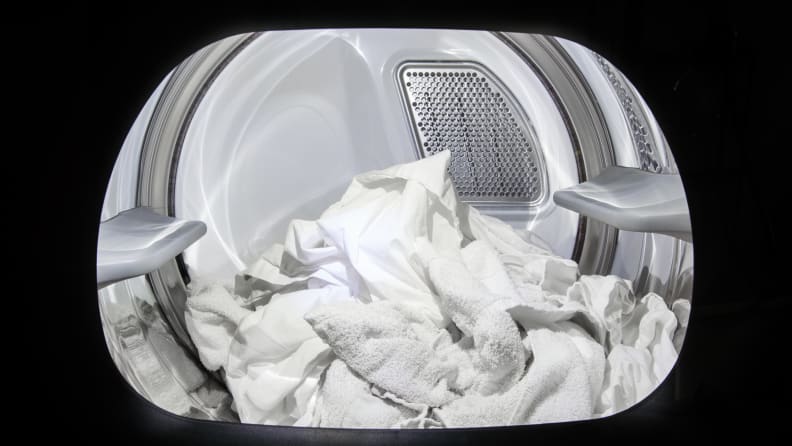 What the owners say
This big dryer is a big hit with buyers, scoring 4.9 out of 5 stars on a couple of sites, including Home Depot. Nearly every review called out the dryer's great capacity. The machine's quiet operation and its steam features are also very popular with owners. Our editor brought his comforter from home to test it out, and he was impressed with how well it dried large items.
The bottom line
The dryer's immense scale comes at a high price point, but it can be a big time saver for families that generate a lot of dirty clothes. It's not fast on the normal cycle, but you can balance that with the convenience of getting so much laundry dry at once. This dryer exists just for that purpose.
Because it's made for generous laundry rooms, you'll never be able to stack this hulking dryer or put it on a pedestal. But those are minor quibbles.
If you're okay with spending over a thousand dollars on this dryer, and you'd like to compare it with a similar model before you buy, the LG DLEX9000 is another gigantic, pricey dryer—and that one scored a perfect 10.