Laundry
Maytag MET3800XW Dryer Review
This stacked washer/dryer is a bargain, but how does the dryer hold up?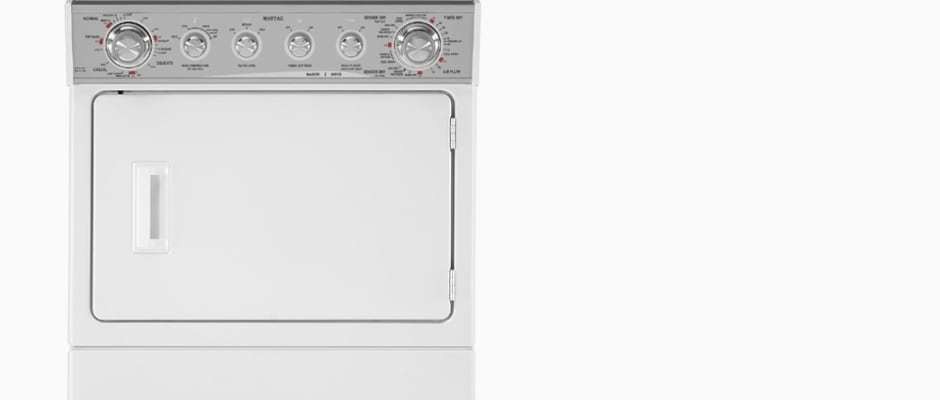 Credit:
Introduction
This stacked washer/dryer combination, the , has a $1399 MSRP, but we found some online for under $1200. Those are bargain prices, but how does the dryer on this unit hold up on its own?
You certainly won't hate it because it's beautiful, and though it lacks any special features, the dryer on this combo is actually fairly effective. It is pretty compact and it dries quickly, but if you're looking for a customized drying experience with gentle temperatures and flawless performance, this is likely not the machine for you. For those on a tight budget though, this may just be the right thing.
Design & Usability
Put your hands up
The sits on top of a washer in a combination unit. Controls for both machines are above the dryer's door.
Select a cycle and go—and lift with your knees! There are only two knobs—a cycle selector, and a switch that both starts and stops the dryer and turns the signal volume on and off. You'll know when a cycle is done when the loud buzzer sounds.
The door is easy to open, but it's also pretty high up. If you're not very tall or have limited mobility, you may have trouble lifting heavy, wet clothes up to the dryer.
Performance & Features
A fine worker overall, but featureless and unequipped for delicates
Sure, the price is right for this machine, but there are also no special features and a useless Delicates cycle.
The has two sensor-controlled cycles with either high or low heat, a timed dry cycle and a "Fluff Air" option. According to the owner's manual, "Fluff Air" should be used for delicate fabrics, but it proved woefully inadequate in our tests.
Once you've selected high or low heat, there aren't any other customizable options, which makes this unit less appealing as a dryer.
The did a very good job getting clothes thoroughly dry in very little time.
Aside from the useless Delicate cycle, this dryer is more or less as good as a stand-alone appliance. With its limited cycles, the did a very good job getting clothes thoroughly dry in very little time, though temperatures were notably hot on a couple of cycles.
Conclusion
Not bad, for a combo unit
Though it's attached to a washer, the $1200 has good enough drying performance that it can compete against standalone washers.
It lacks any customizable features or drying cycle options, and its high-up placement means some users may find it hard to lift wet laundry, but its small footprint makes it ideal for homes that are short on space and its overall solid performance makes it a real bargain-buy competitor too.
Science Introduction
For the most part, this dryer was very effective. Our test results reveal why the Delicate cycle didn't work, and where this needed to step up its game. We ran tests on water retention, cycle duration, and temperature.
Performance
See how the will handle your Normal and Delicate loads
For the most part, the did a great job on the Sensor Dry Low Heat cycle, which we used to test its Normal drying performance. A test load of laundry emerged entirely dry after 63 minutes. The only thing it could have done better would be to lower its high heat, which reached 146.5ºF—an average temperature, but one on the high-end of what we like to see. Continual exposure to high heats can damage soft, brightly colored fabrics over time, so temperature is an important element to keep an eye on.
Perhaps this is why Maytag recommends using the "Fluff Air" cycle for delicate fabrics. That sounds real nice, but 24 minutes of room temperature tumbling just won't get clothes dry—no matter how fragile they are. Our test load emerged 89 percent wet.
Dry Cycles
Will this Maytag be able to handle quick work and bulky items?
In just 27 minutes on the "Freshen Up" cycle, the got a four pound test load of laundry nearly three quarters of the way to fully dry using gentle heat, which outperforms many standalone dryers. Moreover, the quick mode's low temperature of about 115.9ºF could even serve as an acceptable substitute for the useless Delicate cycle.
In under an hour, the got a test load of bulky laundry nearly dry, expelling all but one percent of the moisture. It used heat higher than what we prefer to see, 154.1ºF, but this performance is still remarkable. Most machines, even very high-end machines, fail this test by a lot more.