Laundry
Miele W 4802 Full Size Touchtronic Front Loading Washing Machine Review
At $1749, the recently discontinued Miele W4802 Touchtronic is a well-built machine that gets clothes clean.
Introduction
Among laundry cognoscenti, Miele has developed a reputation as a no-nonsense manufacturer of high quality, high priced washers and dryers. The company prides themselves in using vertically integrated production, which gives Miele total control over the product at all levels of assembly, and most owners are happy to show off their sturdy, German-designed clothes washers.
We were very curious to see if the $1749 Miele Touchtronic W4802 lived up to all the hype. After all, that's a lot of money to spend on a clothes washer. In our scientific tests, the hefty washer did an outstanding job getting out stains, though its relative energy inefficiency and lack of features made obvious its circa 2004 design. Is it worth it? If you demand top-notch stain performance and superior delicates handling, and you've got close to $1800 to spare, sure. Otherwise, plenty of other machines offer similar basic competency for less than half the price.
If you do decide that this Miele is the right washer for you, act fast. Miele has discontinued their full-size laundry in the US market, so the W4802 is sadly history. If you can still find one in a store, chances are you may be able to get a discount on the remaining stock.
Front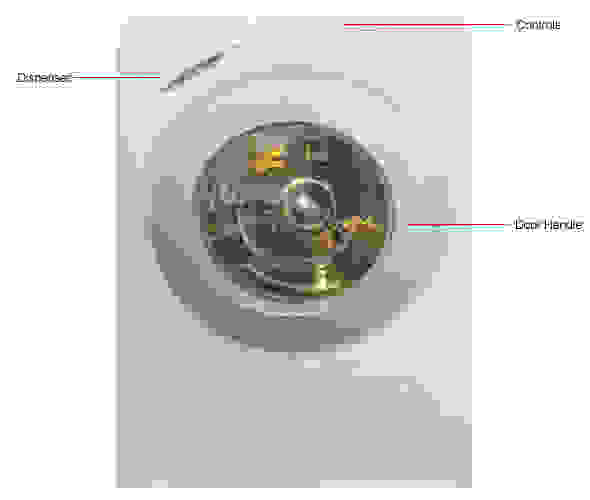 Controls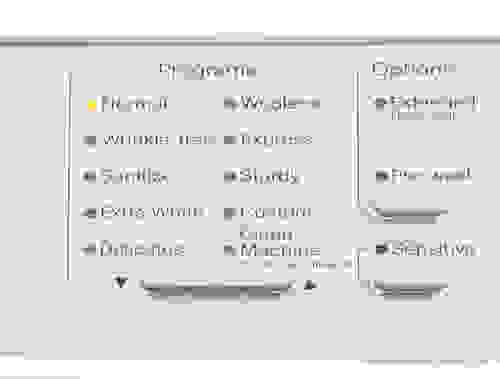 Drawer
Interior
The W4802 features a "honeycomb" design, which Miele says creates a cushion of water on which clothes can float. This is designed for a gentler washing experience, though our tests show it may not be that effective.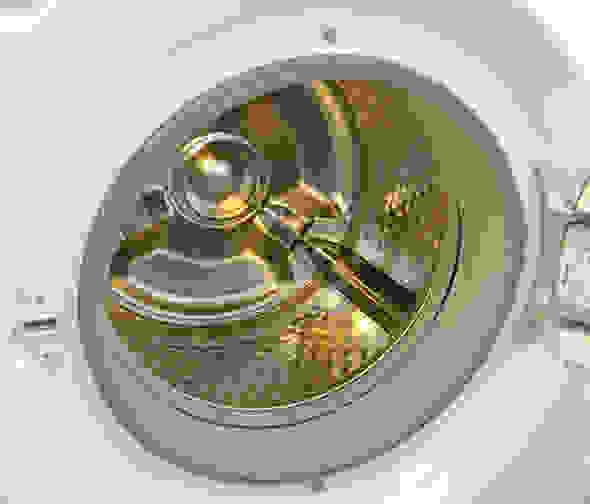 Sides
Back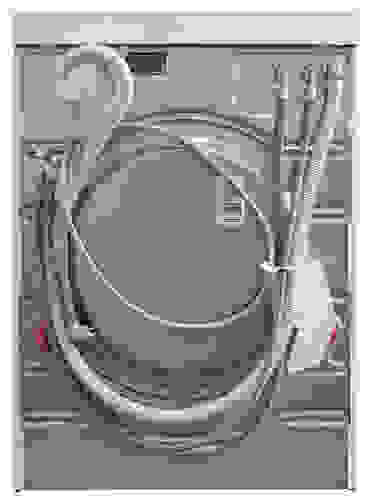 Electricity Use
While electricity use isn't a big cost driver for most washing machines, it does add up to a substantial portion of the W4802's yearly running cost. We calculated that the average user would require 74.46 kWh of electricity in a year, which would add up to $6.78 in most markets. That's small potatoes to anyone who can afford a $1750 washer, but its significant in terms of overall efficiency.
Water Use
The W4802 did a good job keeping down runaway water usage on specialty cycles. Even the Delicates cycle only used 18.2 gallons.
Cost Per Wash
In total, wash cycles tend to run between four and twelve cents each. That's less of a spread than we've seen on other machines.
Yearly Running Cost
When all is said and done, a year of running the Miele W4802 should cost the average user around $43.08. That's about $10-$15 higher than similar front-loading machines we've tested.
Washing Speed
Washing Cycles
Of the eight cycles on offer, all of them are well-chosen and can be customized.
Customization
Washes can be customized for multiple levels of spin speed and temperature, depending on the cycle choice. Turned up to Sanitize, the washer will maintain a steady 155.4 degree water temperature for several minutes during a wash.

Additional Wash Options
Some cycles can have additional options added to them.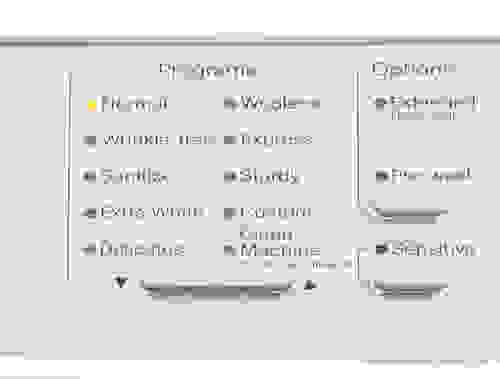 Washing Options
Detergent Dispenser
There are multiple containers on the W4802's detergent dispenser for bleach, liquid detergent, fabric softener and other uses. Pull out the drawer and there's a hidden key that opens the washer's drain in case of a failure or power outage.
Washer Door
When the heavy, metal-and-glass door opens, a light goes on inside the washer's drum. It's a yellow-tinged incandescent bulb, but it does help one see what's inside the machine. There's no way to control the light other than opening and closing the door.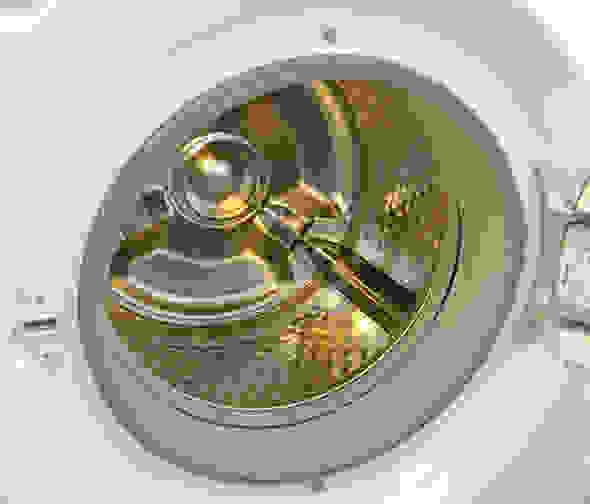 Ease of Use
The control panel on the front of the W4802 is canted about 45 degrees. That makes it easier to see, but also prevents the washer from having a dryer stacked on top. The buttons themselves are clearly labeled. Installation was also extremely simple.
Controls
The control panel on the Miele W4802 is made up of rows of buttons, each grouped into categories depending on purpose. For instance, the temperature controls all sit above one another. There's no timer, though an indicator light shows how much time is left in a wash. There's also a specific indicator for various kinds of faults the machine may encounter. Most washers that have a similar feature will flash an unintelligible code that requires a trip to the owner's manual or manufacturer's website. The Miele just lays it all out there.
To choose a cycle, you must scroll through all the available washes with "up" and "down" arrow keys.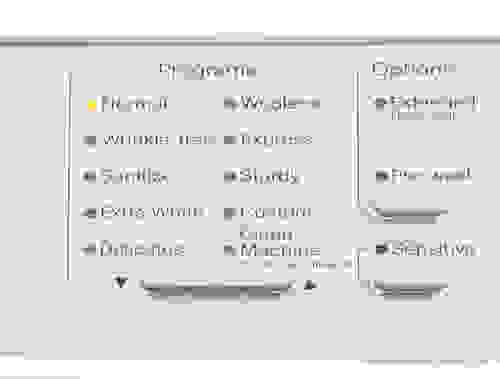 Efficiency
The W4802 is certainly not the most energy efficient front-loader we've tested. However, it didn't use a ton of water on most wash cycles. If you've decided on a Miele, chances are a few dollars a year aren't make-or-break. Still, it would be nice to see increased efficiency.
Performance
Aside from some of the best stain removal we've seen, the W4802 also offers an exceptional 32 minute Express cycle that makes quick work of lightly stained clothes. On every cycle but delicate, it does a great job spinning out excess water, leaving an easier job for the dryer. Our only complaint is that it was rough on clothes across the board. Considering that Miele touts the machine as having superior delicate fabric performance, this was a bit of a disappointment.
Features
It's not stackable, but the Miele W4802 is extremely easy to use. Just scroll through the cycles and choose the ones you want. It also offers one of the most consistent Sanitize cycles we've ever tested. The barebones control panel has a self-diagnostic feature and plenty of options for customizing temperature and spin speed, but there's no timer.