Laundry
Samsung DV431AEP Review
The DV431AEP is an expensive machine with plenty of extras and options.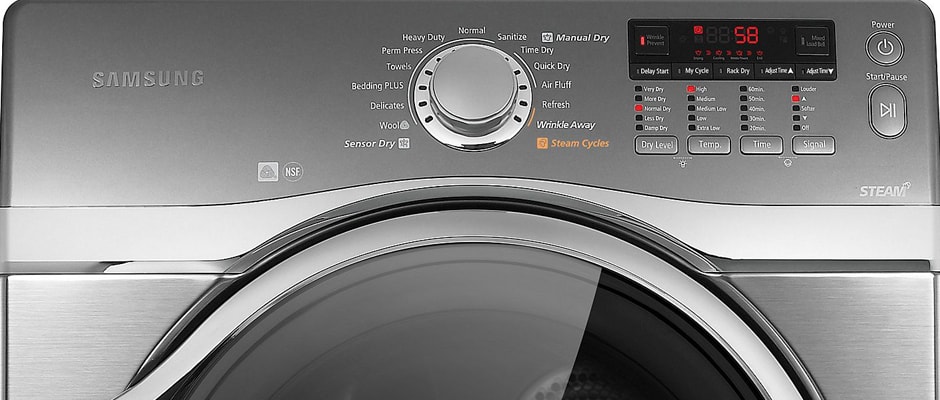 Credit:
Introduction
The is an expensive machine with plenty of extras and options. Its MSRP of $1399 is no one's favorite, but its attractive design and multiple steam options do a little to soften the blow.
We found that the unit wouldn't give up on a load of laundry until it was dry, no matter how long it took. That sounds good in a way, but the fact is, some cycles took hours—not minutes—longer than we like to see, especially on a high-end model. If you purchase this Samsung, be sure to look for it on sale. We found online discounters offering this dryer for hundreds less than the MSRP.
Design & Usability
A modern dryer with a straightforward interface
The front of the is a sleek, stainless steel facade. It would fit nicely into a modern setting. The controls are fairly intuitive. A dial turns between preset cycles while a set of buttons and LEDs are designated for control over customizable options.
Performance & Features
More than just good looks?
While the has quite a few cycles, it doesn't have that many customization features. The control dial turns between preset cycles: Wool, Delicates, Bedding, Towels, Perm Press, Heavy Duty, Normal, Sanitize, Time Dry, Quick Dry, Air Fluff, Refresh, and Wrinkle Away.
Customization options are basic and few. You can play around with the dry level, temperature, time, or volume of the signal.
Cycles take anywhere from up to 1.5 or even three hours.
The will get your laundry dry or nearly dry every time, but it'll take its merry time doing it. Cycles take anywhere from up to one and a half or even three hours to complete. Remarkably, the Bulky setting will remove water completely from a load and the Delicate cycle is one of the more gentle we've seen, in terms of temperature.
Conclusion
Time to decide whether this Samsung takes too much time
The is a good dryer. It has intuitive controls, a good array of drying features, plenty of steam options, and it gets laundry dry.
How long should a machine take to finish a cycle though? If during a Bulky cycle you can watch Braveheart in its entirety, something may be amiss. On the other hand, if you don't mind the waiting and would rather just avoid re-run loads, the may be for you. Be sure to shop around, though: we've seen this unit selling for hundreds less than its MSRP.
Science Introduction
The dries laundry completely, or nearly completely, every time. Testing, however, revealed that while several factors involved in the drying process were acceptable or even admirable, others were huge disappointments. Below we detail water retention, temperature, and cycle duration tests.
Normal Cycles
Everyday cycles are put to several tests
Most dryers tend to do a good job with our test load on a Normal cycle, and the 's Cotton / Normal cycle was no exception. The was able to dry the load entirely in 61 minutes and at a safe temperature too—134ºF.
The took a long time to finish its Delicates cycle, the second go-to load we tested, but it did a pretty nice job extracting the water. You'll wind up with nearly bone dry laundry—94 percent dry, to be exact. The best part though, is that during this rather lengthy, 94 minute cycle, the temperature peaks at a praiseworthy 112.25ºF. This is admirably gentle, and will ensure safe handling of soft and brightly colored fabrics.
Bulky Dry Cycle
Rushed launderers and owners of bulky comforters rely on these two basics
The finds itself towards the low-end of the quick dry gamut with its sluggish Speed Dry cycle. Typically, quick dry modes last 10-20 minutes and evaporate less than half the water in the load. The 's Speed Dry was able to remove 94 percent of moisture in 30 minutes. This isn't the best performance we've seen, but it's also not the worst.
Finally, there was the Bulky cycle. Unlike the vast majority of machines we've tested, this Samsung removed not some, not half, not most, but all of the water from the load. The bad news? Well, get comfortable with some popcorn and some Lord of the Rings or something, because is takes an epic three hours and two minutes to finish up the job.