Laundry
Samsung DV56H9000EP Dryer Review
Whatever it is, it will fit inside this dryer.
Credit:
By the Numbers
The best way to determine how well a dryer works is to collect data on temperature and water removal. Compared to its smaller competitors, the Samsung DV56H9000EP was somewhat uneven. That's because it relies on a different philosophy than other dryers. For this Samsung, it's about how much you can fit—not how fast a load finishes.
The Samsung DV56H9000EP (MSRP $1,699 in platinum or $1,599 in white) boasts a drum capable of fitting 9.5 cu. ft. of laundry. That's a lot of sheets, towels, and socks.
In terms of pure performance, this machine is pretty slow. On average, it took an hour and fifteen minutes to dry eight pounds of laundry in our tests. However, this giant Samsung may still speed up your laundry day.
See, a larger dryer lets you fit more laundry into the drum. That means one long cycle will output as much dry laundry as one and a half shorter cycles. If you do lots of laundry at once, this dryer will save you time.
Design & Usability
The Jolly Gray Giant
The Samsung DV56H9000EP sports a unique design that we really like. Retro curves are traced by modern chrome accents and an accessible control panel.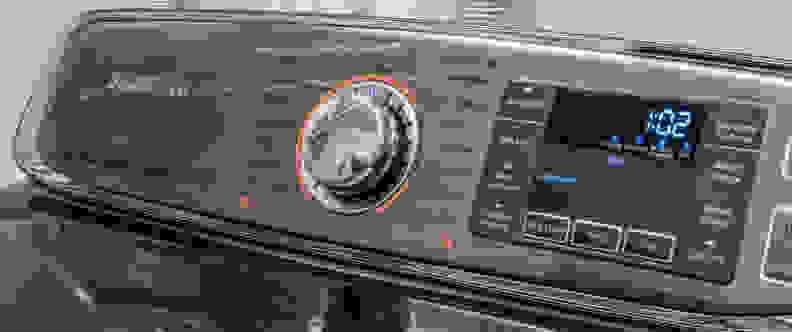 This dryer's design isn't just about fashion, however. All the options and cycle selections are easy to read and well-spaced. Choose one, and it will light up. We're a bit concerned about the reversible door—it requires a push to open instead of a pull, and it tended to stick when we used it.
Inside, there's a drum light to illuminate the interior in dark laundry rooms and basements.
Wherever you choose to store this Samsung, make sure to measure first. This dryer is 30 inches across. Along with its accompanying washer, the Samsung WA56H9000AG, the set needs at least five feet of room to be set up abreast.
Normal & Delicate
The Normal and Delicate cycle tests consist of 8 lb. loads made up of towels, sheets, and pillowcases. We wet these standardized loads to 1.7 times their weight, and place each in a cycle with humidity and temperature sensors.
The Normal cycle took about an hour and fifteen minutes to complete. It consistently got test loads 99% dry. The temperature sensors picked up a maximum temperature of 165°F—warm enough to wear delicate fabrics over time.
The Delicates cycle took, on average, an hour to complete. It removed 97% of all moisture. This is good, since you want a little bit of moisture left to make ironing easier. We recorded a high temperature of 123.44°F—well within the acceptable temperature threshold.
Quick Dry & Bedding
We used a test comforter wetted to 1.5 times its weight to see how well the Bedding works. Cycles ranged from an hour to an hour and twenty-eight minutes. The Bedding cycle proved itself the strongest of the DV56H9000EP's repertoire. The Bedding cycle removed 98% of all moisture. Most dryers struggle to do even half that.
The Quick Dry was the most punctual of all cycles, taking 30 minutes on the dot every time. It removed 84% of moisture.
Performance & Features
An engineering marvel
Although this dryer takes awhile, it gets the job done: Normal and Delicate test loads got completely dry. Sure, there are faster dryers out there, but this Samsung banks on how much it can get dry.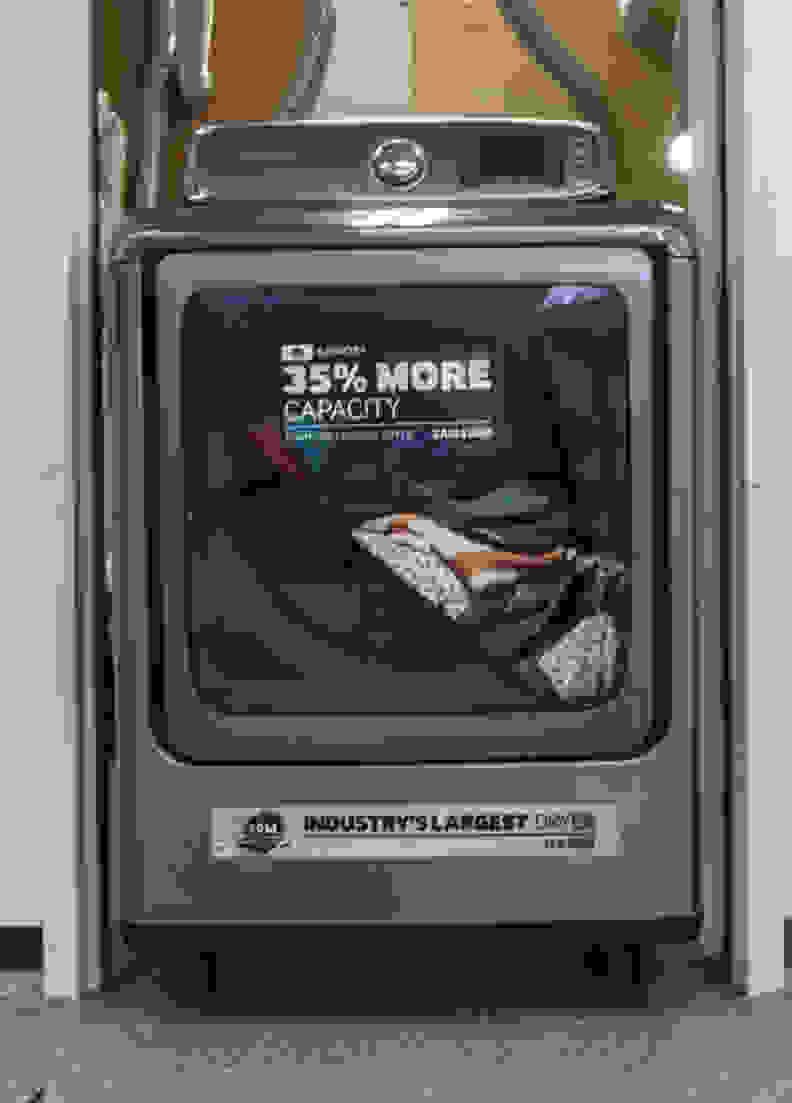 The most impressive cycle was Bedding, which removed all the moisture from a comforter. The average dryer we test requires the user to remove the comforter, fluff it, and dry it again.
Features-wise, the DV56H900EP has the fare we expect from a high-end Samsung.
In addition to Wrinkle Prevent and a drum light, this dryer comes with a Rack Dry option to dry stuffed animals and shoes. Also, there's the ability to save customized cycles. There's nothing new or exciting, but it's all very useful.
For in-depth performance information, please visit the Science Page.
Conclusion
The great big dryer
This dryer's 9.5 cu. ft. capacity really sets it above its peers. The ability to do more than three baskets of laundry at once even makes long cycles worth the wait.
We're also fans of its design and of cool features like Rack Dry and an interior drum light, both of which add versatility to laundry day.
A $1,100 sale price may put the DV56H9000EP out of reach of many consumers. But if you can afford it, and often find your household overwhelmed by mountains of laundry, the DV56H9000EP could be just what you're looking for.