Laundry
Samsung WF210ANW Review
This is easily one of the most efficient washers we've tested.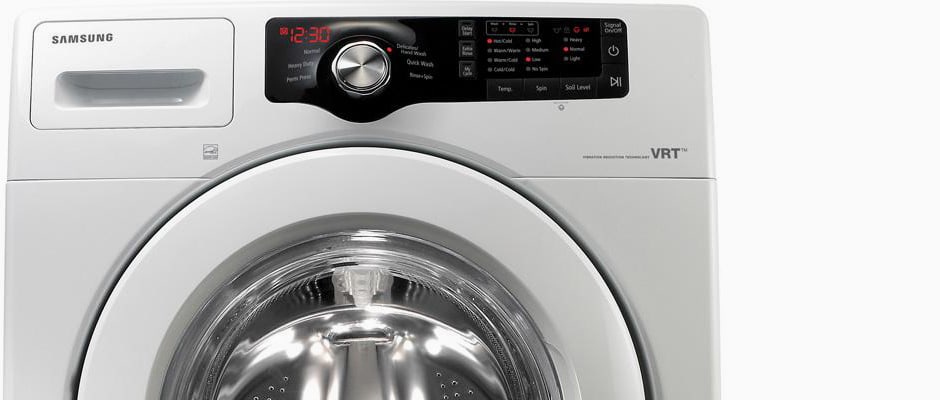 Credit:
Introduction
Though it has an MSRP of $849, we had no problem finding the Samsung WF210ANW at several stores for as low as $629. For that price, it's a great entry-level front loader that will keep saving you money for as long as you own it. If you're looking for quick washes and special features—like a sanitize cycle—keep shopping. You don't have to spend much more to get those options. But for basic all-around performance at a decent price, this Samsung does the trick.
Design & Usability
The design of this washer is extremely straightforward: white exterior, black control panel and high-contrast red displays.
One issue for big families: This washer is only 3.5 cubic feet.
The main control is a cycle selector knob. Turn it, and a bright red LED will illuminate next to the name of the cycle you choose. It's extremely intuitive.
Down below, the door itself is solid glass with no plastic protector, so you can watch the clothes go round-and-round. One issue for big families: This washer is only 3.5 cubic feet. That's larger than older top-loaders with pole agitators, but smaller than some of the higher capacity machines that start around 4.0 cubic feet. Still, the door opening is big enough that it's easy to load, and the control panel is slightly angled so you don't have to bend over too far to select a cycle.
Performance & Features
Cycles are long, but generally effective.
The failed to make a dent in oil-based stains.
The failed to make a dent in oil-based stains, which we attribute to its relatively low water temperature throughout a cycle. Overall, though, it did a good job getting out cocoa, wine, and blood stains.
All these cycles allow for four custom options for Temperature and Spin Speed, plus three options for Soil Level. In the event that you want to save a custom program—for instance, a cycle designed for Cottons or Whitest Whites, which this machine lacks—you can save it on the "My Cycle" preset. The only special options available are an Extra Rinse and a Delayed Start. It should also be noted that the has no pre-wash or soak option.
Conclusion
Samsung's WF210ANW is a solid, mid-range front loading washer. It's extremely water and energy efficient, and doesn't lack in the performance department either.
It's $849 MSRP is very high, but nobody will ever pay that—sale prices are often as low as $629. Unfortunately for Samsung, there's tough competition in this segment. We'd recommend shopping around before making a final decision, as there are many other washers that perform as well for a similar or lower price.
However, this is one of the more efficient washers we've ever tested. On average, a year with the Samsung WF210ANW should cost no more than $31. That's considerably less than other machines we've tested.
Science Introduction
The is a very efficient front-loading washing machine. Though without an internal water heater, it had a real issue with raising its temperature to deal with oil based stains which—like tourists at Disney World—disappear when it gets really hot.
Efficiency
The most efficient washers ride short lightning bolts and drink very little.
When setting up the , we hooked it up to water and watt meters. After running all the cycles, we found that this washer puts a moderately low strain on household resources. Since there's no internal hot water heater on this machine, yearly electricity costs should be just a few dollars on average. The Samsung WF210ANW also uses between seven and 14 gallons of water, which is very little. All-in-all, that adds up to a yearly running cost of about $30.93
Cleaning Performance
Without an internal water heater, this washer has trouble keeping up with oil-based stains.
In order to determine cleaning performance, we introduce two stain strips to each cycle. Each of these strips have standardized stain patches. Along with an eight pound load of laundry and industry approved detergent, we unleash a cycle on them. After the cycle is complete, we scan the test strips with a photospectrometer to see how much of the stain has been removed.
The did relatively well with most of the stains except for oil-based ones. That's because it lacks the ability to raise the water temperature beyond what comes through the taps, which is determined by your water heater. However, when we cranked up the heat on the Normal cycle, we did see some improvement against the oil stain.