Laundry
Samsung WF431ABP Review
Features stain removal powers better than most other washer we've seen.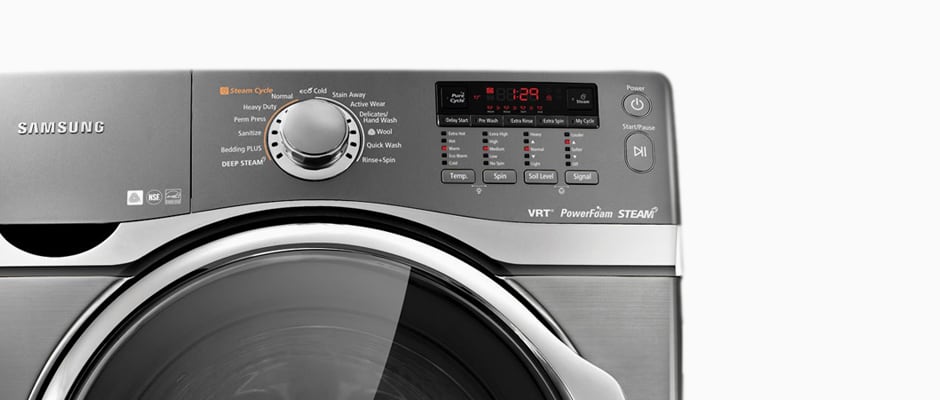 Credit:
Introduction
The Samsung WF431ABP is quite an expensive washer, selling for around $1000. Though some of its wash cycles took a good amount of time, the is one of the best washing machines we've ever tested when it comes to stain removal. It also handles delicate items superbly, saving fragile clothing from an untimely demise. Compared to other units, however, the is pricey to run and doesn't do as good of a job getting rid of loose dirt.
Design & Usability
The has a simple, straightforward control system with large buttons.
We found the to be very easy to use.
The main control on the front of this washer is the cycle selector, a large round knob that rotates to select the cycle. The chosen cycle is shown with a red light. This selector is easy to rotate, but it takes a lot of turning to go through the long list of cycles. We found the to be very easy to use, with the detergent dispenser and doors easy to open. The main door does require quite a lot of force to open and to push closed, though, so it might be slightly difficult for older users or those with limited mobility. The controls are well-labeled and easy to use, with large buttons (especially those for power and start/pause) in an intuitive layout.
Performance & Features
The had some of the best stain removal performance we've ever tested.
The did an excellent job removing a wide range of stains.
The did an excellent job removing a wide range of stains. Its Normal cycle outpaced many similarly priced competitors. This Samsung was a bit too dainty with the delicates, though. That's good news for folks who don't want to see their sewn-on lace trim pulled apart, but bad news for stain removal. The Delicates/Hand Wash cycle was the worst of the cycles we tested on this washer at shifting stains. Still, even at its worst the did a better job than many other washers we've tested.
On features, there's nothing that can't be found on other higher end washing machines. However, there is a dizzying array of wash cycles to chose from. Everything from a Deep Steam to Wool can be had.
Conclusion
The has superior stain shifting ability, doesn't damage delicate clothes and remains user friendly.
The did an exceptional job in removing stains like blood, cocoa and red wine. It also outperformed many other washers at removing oil and sweat. The also does a good job protecting fragile items from damage from harsh agitation. You'll get cycles galore with this washer. Curiously, there's no dedicated Cotton cycle, but you can create one with the customizable My Cycle feature. Also on board are steam, self-cleaning and sanitizing functions, plus a feature that makes the soap look all foamy during wash cycles.
Science Introduction
The had excellent cleaning performance. It was able to deal with a wide variety of stains. However, this came at the cost of efficiency. This washer consumed a lot of water compared to other higher-end machines. We were particularly impressed with how gentle it was with our clothes which adds to the long-term value.
Clothing Longevity
Ashes to ashes, cloth to threads
We use scientific testing to produce objective results. For cleaning performance, we use stain strips. These standardized pieces of cloth have patches stained with common household substances like red wine and cocoa. These strips are placed with an eight pound test load of laundry and a proportional amount of industry approved detergent when a cycle is run. After a cycle is complete, we take the strips out and scan them with a light spectrometer to determine how much the various stains have been lifted. The caressed stains right out of our strips. It did well with water soluble substances like blood and wine, but struggled a bit with oil.
We use what are called mechanical action strips to determine how much of a toll the machine's wash cycle takes on clothing. These strips are standardized pieces of cloth with five one-inch holes punched into them. After undergoing a wash, we count how many threads can be pulled away further than one centimeter. In this regard, we were impressed with the numbers the put up, or rather didn't put up. In the long term, the gentleness will save you money over time by not having to replace your clothes.
Efficiency
Not even for all the water in this washer
We hooked this washer to water and watt meters and found the Samsung WF431ABP isn't as efficient as some other washers out there, with a total annual operating cost of $36.85. That places it on the upper-middle end of the front-loader cost spectrum.