Laundry
Speed Queen ADE41F Review
This dryer is a blast from the past, with old world performance too.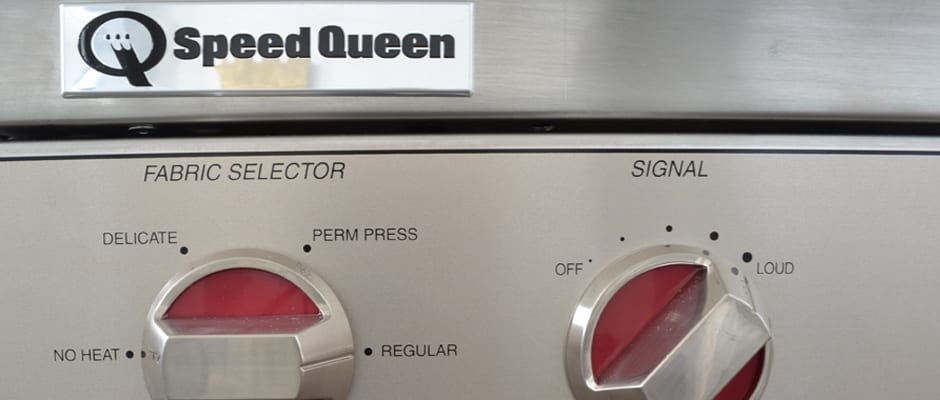 Credit:
Introduction
As a manufacturer of primarily coin-operated, industrial washers and dryers, is particularly familiar to apartment residents and college students living in dorms. They do have products meant for regular consumers, however, and that lineup includes the "pro-sumer" . This massive, stainless steel dryer looks like something that could've been found in a laundromat several decades ago: it's big, looks clunky, and uses old-fashioned crank timers with limited cycle options. Its design is a carryover from the '70s, when Raytheon used to make commercial laundry equipment in addition to military hardware.
Ah, the good old days. But as Billy Joel said, the good old days weren't always good, and that's certainly the truth here. The cycles we tested ran longer and got much hotter than many other more conventional machines found today. You can't argue with the overall results: it definitely got our test loads dry, but it took quite a long time, subjecting laundry to unnecessary stress. A more advanced machine would've had a far more delicate touch.
For all that hot air, the 's price tag also matches it's rather substantial girth: We couldn't find it for sale for less than $1499. Most dryers that dethrone this Speed Queen cost half as much. Unless you want a dryer that looks and feels like a small tank, look for something a bit more up-to-date that won't hit your wallet—or your laundry—quite so hard.
Design & Usability
Is this drying behemoth really as sturdy as it looks?
There's no time display, no lights to indicate what settings are being used, and no start button.
The control layout is a bit old-fashioned, with a crank knob used to select any given cycle. There's no time display, no lights to indicate what settings are being used, and no start button; you have to push the cycle select knob to make the machine go, like it's the stone age—or at least the early 1990s. The knobs themselves are big and sturdy, but some felt rather loose, and one even came off rather easily (Luckily, the design prevents them from being replaced incorrectly, so you don't have to worry about sticking them back on). The red highlights are a nice visual touch, but don't really add anything substantial to the layout.
The door is surprisingly light for such a heavy-looking machine, and that's because the actual handle is made of plastic. The rest of the machine is stainless, which means you're going to be dealing with a lot of unsightly fingerprints. Be prepared to scrub if you want your laundry room to look more like an operating room.
The lint trap is really more of a lint divot, with no removable section at all. There's an indentation from which you scoop out the lint; it was easy to clean, but a bit of an unconventional approach that doesn't really add to the machine's overall ease of use.
Performance & Features
It may look like it came out of the Apollo program, but this dryer's performance is far from out of this world.
The 's cycles are divided into four sections, three of which are actually sensor-based despite the crank timer: Automatic Permanent Press and Knits, Automatic Regular and Delicate, and Automatic Wrinkle Out. There is also a Timed Dry that can run for up to 75 minutes, though no other specialty cycles to speak of.
The Permanent Press and Regular cycles offer two marked dryness levels to choose from, though the crank knob can be set to anywhere in between them, as well. There are also four temperature settings, including a "no heat" option. Temperature isn't set automatically, so one of those choices must be selected for any available cycle.
The really disappointing thing is that they took as long as they did _and_ used temperatures significantly higher than what we typically see.
Overall, long cycles and very high heats make for a rather inefficient appliance, despite producing dry clothes. The really disappointing thing is that the Speed Queen took as long as it did and used temperatures significantly higher than what we typically see. That said, clothes came out completely dry after most every test.
The Normal cycle lasted twice as long as on most modern machines—an hour and 45 minutes—and it was also excessively hot, which is bad for clothing. Since this model doesn't have a proper Quick Dry equivalent, we just ran a Timed Dry cycle for 30 minutes, which dried the load entirely. We took similar measures to simulate a Delicate cycle, which is also noticeably absent, but even with the temperature set to Low / Delicate, this dryer still gets dangerously hot—far too hot for delicates especially. Excessive temperatures are clearly a recurring problem.
Finally, the has one extra drying feature, sort of. The Permanent Press and Regular cycle settings have a built-in extended tumble for when the cycle has concluded, in lieu of a more traditional wrinkle prevent function. This can be turned on or off using the designated knob found just to the left of the cycle selection. Other than that, there's nothing else special about what this machine has to offer.
Conclusion
A Short-Lived Rule for this Speed Queen?
The is a very bizarre appliance. This stainless steel dryer looks a bit like a small bomb, and treats clothes like it actually is one. It did get our clothes dry, but the disturbingly high heats and lengthy drying times definitely overdid it. Even if it didn't cost so much, it wouldn't be a great value.
An average price tag of $1499, though, should get you a more efficient machine, one that doesn't have a Normal cycle that last more than 90 minutes, or internal temperatures so hot they'd make a cactus sweat. Subtlety and efficiency are definitely not this machine's strongest attributes. No specialized cycles, an old-fashioned crank timer, and flimsy controls just add insult to injury. If you're shopping for novelty, this relic of the Cold War-era laundromats may be for you. If what you're looking for is an effective dryer, however, keep on searching.
Science Introduction
This flashy Speed Queen can get your clothes dry, true, but can it do the job within an acceptable time frame and at a reasonable temperature? Just because a machine dries laundry doesn't mean the test is over. We take a closer look at cycle duration and temperature.
Cycle Speed
It seems the Speed Queen is not aptly named.
The Speed Queen took quite a while to finish drying our clothes. At the least, you can expect cycles to run about 10 or 15 minutes longer than average, and a full hour longer at the most. That said, clothes came out completely dry after every test, with the exception of Bulky. This means the Speed Queen will definitely do what it's supposed to, it just may take forever to do it.
We used the Automatic Regular setting at the Max Dry level for our Normal test. This cycle was the one that took the most amount of time, lasting about an hour and 45 minutes. This is about twice as long as the typical Normal cycle that we see on modern machines.
Since there really weren't any automated settings that seemed proportional to a Bulky test, rather than just duplicating what we used for the Normal load, we decided to follow the manual's recommendation and ran the for as long as possible using the hottest temperature. The Timed Dry can go for up to 75 minutes, so that's how long we had our test comforter tumble around which left it only 71 percent dry.
Temperature
Looks like an oven... a grave indication, perhaps.
Repeatedly, temperature proved to be a problem for the . Temperatures as high as the ones on this model—especially in combination with this machine's long run-times—are tough on clothes.
The previously mentioned Normal cycle, which toils for well over an hour and a half, heated up to 163ºF—which is 20º warmer than we usually like. The large amount of time spent tumbling combined with the unusually high heat could result in clothes fading or wearing out at a higher rate, though we can't argue with the fact that it got our materials completely dry. In fact our test loads ended up getting over dried, something else that can damage fabrics over time. The Quick Dry test reached 153ºF and the Delicate Cycle test hit 148ºF—terrible, considering a solid Delicate cycle should be more in the gentle vicinity of 110ºF to 120ºF.
Other Tests