Laundry
Whirlpool Cabrio Platinum WTW8800YW Review
Uneven wash performance plagued the Whirlpool Cabrio Platinum WTW8800YW throughout our testing process.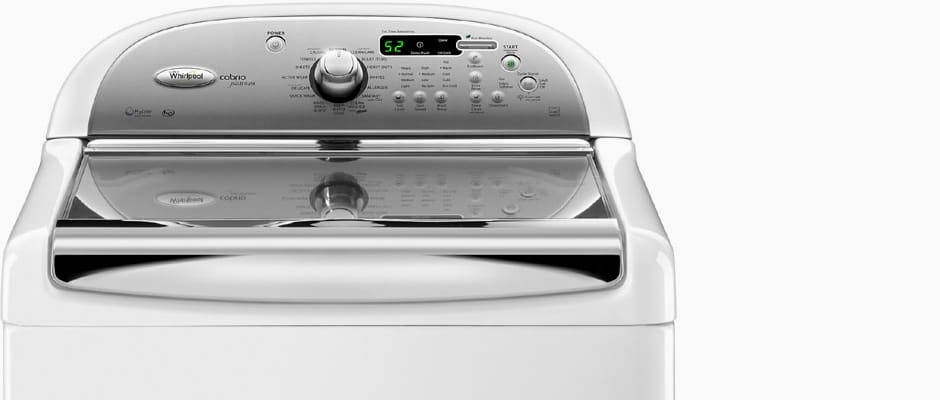 Credit:
Introduction
With its $1199 MSRP, the Whirlpool Cabrio Platinum WTW8800YW is certainly high end—it even has the name of a precious metal in its title! It's extremely well designed and has a bunch of cycles. But without any distinguishing performance or features, its high price tag seems unwarranted.
Other washers do a better job washing clothes with the same amount of features at the same price, even when the Cabrio is on sale at around $860. For that money, the Cabrio Platinum doesn't offer buyers any compelling reason to purchase it over the multitudes of other machines out there.
Design & Usability
Cool interior lighting and a smoky bar across the lid
If only all the great features could ease the pain of the price...
Wash cycles on the Whirlpool Cabrio Platinum WTW8800YW are controlled by a knob in the center of the control panel. Custom wash options are set with plastic-covered membrane buttons that are easy to push. The best part about the blueprint is the door, though, which is designed not to slam. Also cool: an LED light in the drum so you can see what you're loading and unloading. You can even watch a wash cycle take place. If only all the great features could ease the pain of the price...
Performance & Features
A few lousy cycles really bring down overall performance.
After a day of lab tests, the Cabrio's Normal cycle failed to impress, struggling to remove oil and blood stains. The Whites cycle fared better against blood, but not oil, and it was rather thirsty too, using over 26 gallons of water in an extra rinse designed to remove bleach. The Delicates cycle was one of the worst we've ever tested. It frayed clothing and failed to get out the most basic stains. Then, the Heavy-Duty cycle could not remove blood or oil stains, even though it worked for 71 minutes.
The Delicates cycle was one of the worst we've ever tested.
Overall, the Cabrio seems to be trying to make up for its lack of cleaning performance by distracting you with shiny toys. True, there are many features, but many of them are not very useful. Cycles can be adjusted for Spin Speed, Temperature and Soil Level, but the rest are rather superfluous. Moreover, there's no option to create a custom cycle and save it as a preset, which is an unusual omission in this price range. There was also plenty of corporate synergy going on with the Sanitize with Oxi cycle. This cycle lasted an hour and 41 minutes, and designed to eliminate bacteria with help from OxiClean.
Conclusion
The is a middling high-end washer with too many specialty features and not enough substance.
It's always a big problem when wash performance is really uneven, and that's what you get here. In our scientific tests, the Cabrio Platinum fell short on the Normal and Delicate cycles, but a little better on Heavy Duty. We'd prefer a washer with more consistency, especially on cycles that are frequently used.
The has a lot of features, but not all of them are useful. The Sanitize cycle only hit 120 degrees during testing, for example. We did like the soft-closing door, the interior drum light, and the many ways to customize existing cycles. But we weren't impressed by the lack of a custom cycle option, which is usually standard on a washer in this price range. At the end of the day, all the shiny features in the world just don't do much to mask mediocre performance—especially in this price range.
Science Introduction
Being a top-loader, the uses a fair amount of water, plus it must move clothes around quite a bit to get them clean—wearing them out in the process. This washer's cleaning ability was skewed mostly towards its Heavy Duty cycle. All other cycles had trouble with blood and oil. The Delicates cycle was very ineffective.
Cleaning Performance
To determine a washer's cleaning performance we use strips of cloth stained with the common enemies of cleanliness. Each strip is divided up into sebum (sweat), oil, blood, red wine, and cocoa. When a cycle finishes, we take out the strips and inspect them with a light spectrometer to see how much of the stain is gone. We repeat this process for all core cycles.
After all was said and done, all of this machine's cycles had trouble with blood and oil stains. The Heavy Duty cycle had a better performance, but it took 71 minutes to finish and downed over 16 gallons.
Efficiency
Many consumers like the fact that top-loaders fill with water. We don't. Though the was more efficient than some of the top-loaders we've tested, it still had a high yearly operating cost, which we determined by hooking up water and energy meters. The basic cycles of the Cabrio Platinum WTW8800YW will use between 15 and 30 gallons of water per wash. The Bulky cycle used 43 gallons. To put that in perspective, if you drank the recommended eight, eight-ounce glasses a day, it would take you 86 days to finish the Bulky cycle's water use. Combine that with a mild electricity usage and the 's yearly running bill will take about $51 out of your pocket.