Laundry
Whirlpool Cabrio WED8000DW Dryer Review
A nice, big, mediocre dryer
Credit: Reviewed.com / Matthew Zahnzinger
The Whirlpool Cabrio WED8000DW (MSRP $999) isn't laden with extra features. It's not the most visually arresting dryer on the market. But it is easy to use, has a large capacity, and relatively affordable for its size: Retailing for about $800, it's one of the cheapest 8.8-cu.-ft. dryers on the market.
Even if it's not the most remarkable dryer we've tested, most of its cycles do a decent job drying clothes, and it also sports Whirlpool's Intuitive Touch Controls that simply ask users how they want their laundry done.
If you're looking for simplicity and ease of use, this Whirlpool is up to the task.
By the Numbers
Much like the first 8.8-cu.-ft. Whirlpool to use Intuitive Touch Controls, the Cabrio WED8000DW (MSRP $999) is a good dryer that doesn't stand out for its pure drying performance. While it's far from the best we've tested, it has enough strengths to merit a closer look by budget-conscious consumers in the market for a large dryer.
Normal & Delicate
As long as your clothes are fairly durable, the Whirlpool's Normal cycle should do just fine. Average cycle temps of 156.6°F are warmer than we'd like, but not terrible. And this cycle did managed to dry test loads completely in just 53 minutes.
The Delicate cycle was easily the best one we tested. Average temperatures of just 119.7°F are great for gentler fabrics. Plus, it was just warm enough to make our clothes 100% dry in just 1 hour and 8 minutes on average.


Design & Usability
Family friendly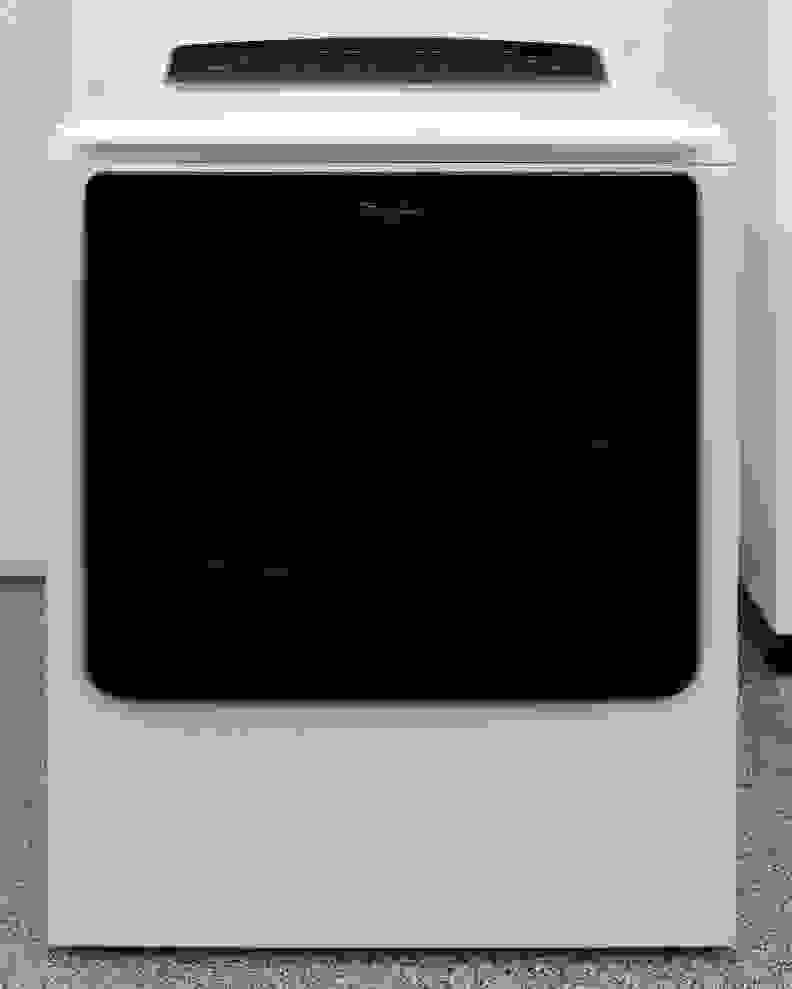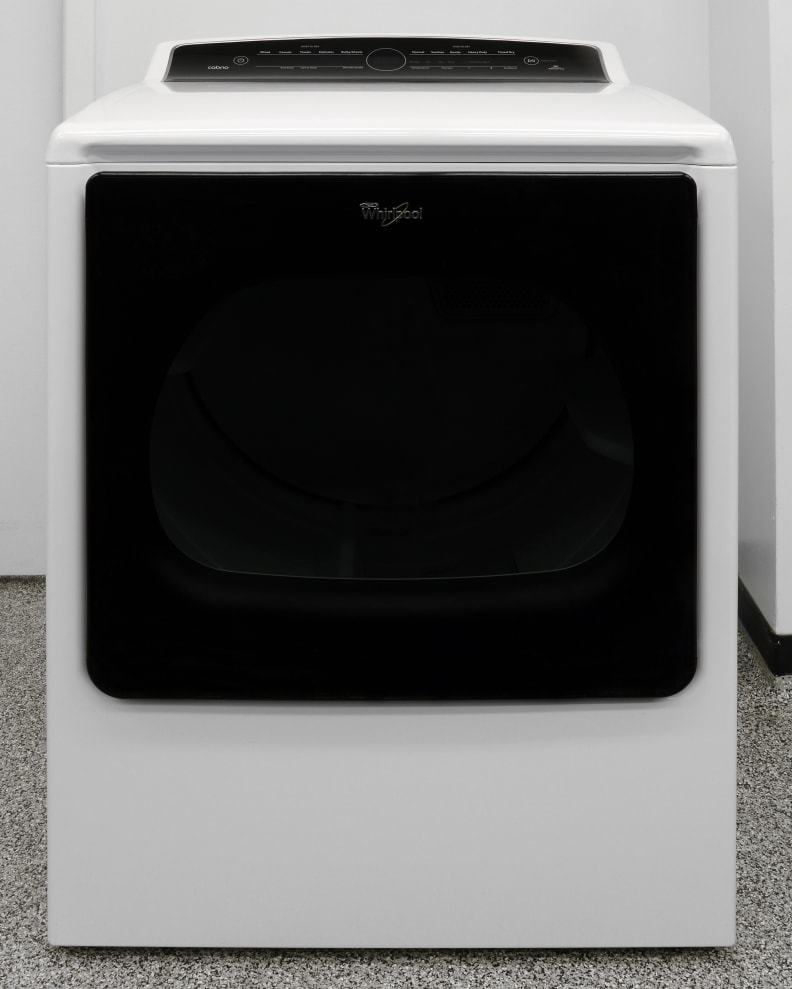 For a mid-range dryer, the WED8000DW actually has a pretty nice design to it. A semi-translucent door breaks up the white finish and visually offsets the dark touchscreen controls.
Inside, a lone LED illuminates the interior—a huge help in a dark laundry room. The drum is giant—8.8 cu. ft.—and painted white, which helps keep the price down compared to dryers with stainless interiors.
Instead of traditional knob and dials, the control panel uses Whirlpool's special Intuitive Touch Controls, which we first encountered on the WED8500DC. Meant to be used from left to right, this interface aims to streamline the laundry process and makes it easier for any user to know which settings to use for particular types of laundry.
Our staff is still divided on the practicality of this control scheme. You can read more about our hands-on time with it here and make up your own mind.
Performance & Features
Good enough performance
In terms of overall drying, the WED8000DW had a few quirks, but no deal breakers.
For instance, the workhorse Normal cycle erred on the warmer side, and did so without shortening the cycle time to compensate (just under an hour), which—over time—can lead to increased clothes wear. Quick Dry or, in this case, a 30-minute Timed Dry, failed to remove a sufficient amount of water. The Bulky / Sheets cycle didn't fare much better.


All the 8000 really nailed was our Delicate test: Gentle temperatures and standard drying length—in this case just over an hour—make this machine a great fit for consumers with sensitive wardrobes.
Oddly enough, the 8000 actually has fewer flexible drying features than the slightly cheaper WED7300DW. It retains the Damp Beep and EcoBoost found on the 8500 model, but—despite what some online retailers erroneously state—loses the steam hookup. That means the Wrinkle Shield only has one setting, and can't steam clothes.
For in-depth performance information, please visit the Science Page.
Quick Dry & Bulky
Whirlpool's Intuitive Touch Controls don't have a designated quick cycle. Instead, the machine relies on sensors to adjust cycle length accordingly. We therefore performed our Quick test using a 30-minute Timed Dry. After half an hour, maximum temperatures of 120.77°F were not enough dry our 4-lb. test load. instead, it removed a mere 87% excess moisture.
The Bulky / Sheets cycle also did a so-so job with our large comforter. The cycle took about an hour flat, and temperatures peaked at 147.9°F. Unfortunately, these factors only led to the removal of 74% excess moisture, not enough to make our test comforter usable.
It Might be a Good Fit
Still room for improvement
When we tested the Whirlpool WED8500DC—the first machine to debut the company's new control design—last year, it was hard not to feel underwhelmed. Yes, the dryer looked great and was easy to use—but we expected more from a dryer that costs over than $1,000.
The lower price point on the Whirlpool Cabrio WED8000DW sounds about right, making it a much better choice for folks who want a large dryer with an intuitive control scheme and drying performance that's definitely above entry level.
It's not perfect—and purists may scoff at the new controls—but with sale prices around $800, it may be a good fit for your family. If you can make do with something slightly smaller—and want steam—we'd suggest taking a look at the even less-expensive WED7300DW.