Laundry
Whirlpool WED5000DW Dryer Review
It dries clothes... and that's about it.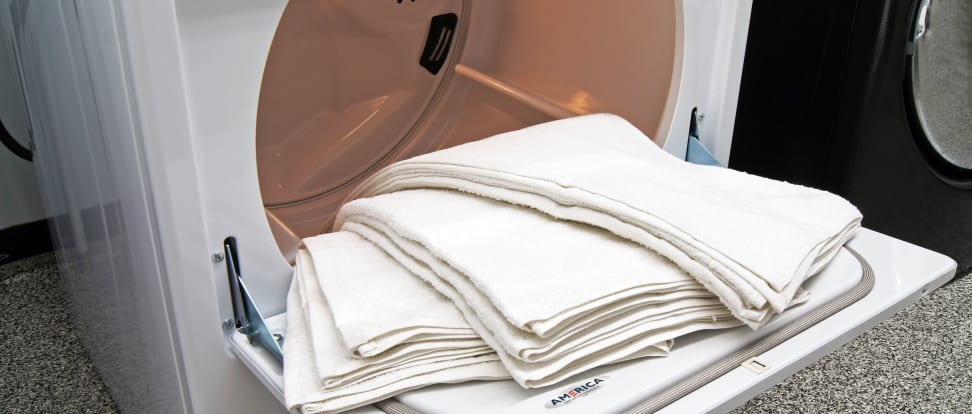 Credit:
Most of today's new dryers are pretty darn fancy. Die-hard, old-school consumers who don't want all those newfangled, high-tech options might feel a bit overwhelmed by the specialized cycles and extra features. If you want a dryer that hearkens back to a simpler time, you might be interested in the Whirlpool WED5000DW (MSRP $649).
This hamper-style dryer comes with a crank timer, a surprisingly modern cycle list, and a sizable interior. Unfortunately, it also comes with lackluster drying performance, only one extra feature, and sensors that run the risk of ripping your clothes apart. While the swing-down hamper door might be appealing to some, we recommend you give this one a pass.
By the Numbers
High temperatures across the board make the Whirlpool WED5000DW (MSRP $649) a less-than-desirable dryer for all but the hardiest of laundry loads.
Design & Usability
Hamper door!
For a low-tech dryer, this Whirlpool actually has a passable sense of style. It's primarily a big white box, but the gray control panels add some pizzazz. The long, pullout lint trap is definitely an old-school feature. While the trap itself was somewhat unwieldy to push in and pull out, it was nevertheless easy to clean.
The hamper door is a nice touch, and one that's not often seen anymore. It's useful if you're the kind of person who likes folding laundry right out of the dryer, but hates bending down to put things in a basket on the floor.
Unfortunately, there's a catch... literally. The door latch is located in the middle of the upper doorframe. While running our tests, we would set our laundry basket on the hamper door, and simply tilt the laundry in. Every single time, at least one article of clothing got caught on this latch. If the material had been thinner or more delicate, it could've easily ripped.
Even if your clothing makes it into the dryer unscathed, the danger isn't over yet. The two moisture sensors found at the back of the white drum—they look like two strips of metal, sort of like the security sensors you find inside DVD cases—ripped strands of fabric out of our towels and other test materials.
Whirlpool says they've noticed this issue, and the company is now installing a plastic cover over the sensors. We got an early unit in our labs, and newer versions of the dryer may not have this problem.
Normal & Delicate
During our Normal cycle test, we set the Whirlpool's dial to what the owner's manual recommended: Energy Preferred with the High Heat option. After about 56 minutes clothes came out 100% dry, but temperatures peake at 166.7°F. That's pretty hot. Consider using the Medium Heat option instead.
Delicates was easily the worst cycle we tested, despite producing loads that were 96% dry after just 51 minutes. Even on the Low Heat setting, temperatures got up to a scorching 154.4°F—way too hot for delicate garments. Other dryers use 100°F or less for this cycle.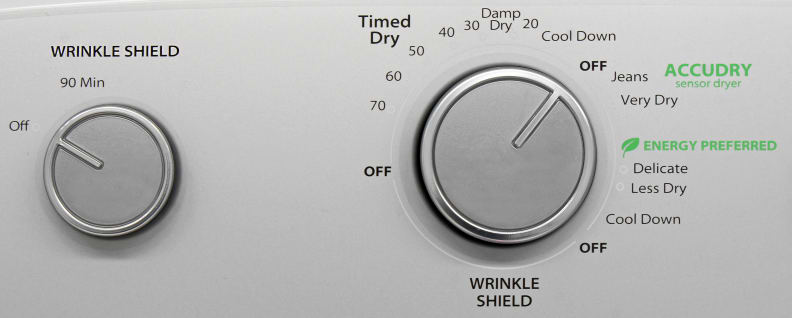 Performance & Features
So much heat...
Don't expect delicacy from this powerful little machine. Every single cycle that we tested was too hot—including Delicates, which peaked at a whopping 154.4°F. Not exactly "delicate...," most machines barely crack 100°F during this cycle.
The overheated cycles resulted in dry clothes every time, but excess warmth can be bad for clothing. Cycle times weren't any shorter than average, so it's not like the heat was taking the place of extra tumbling.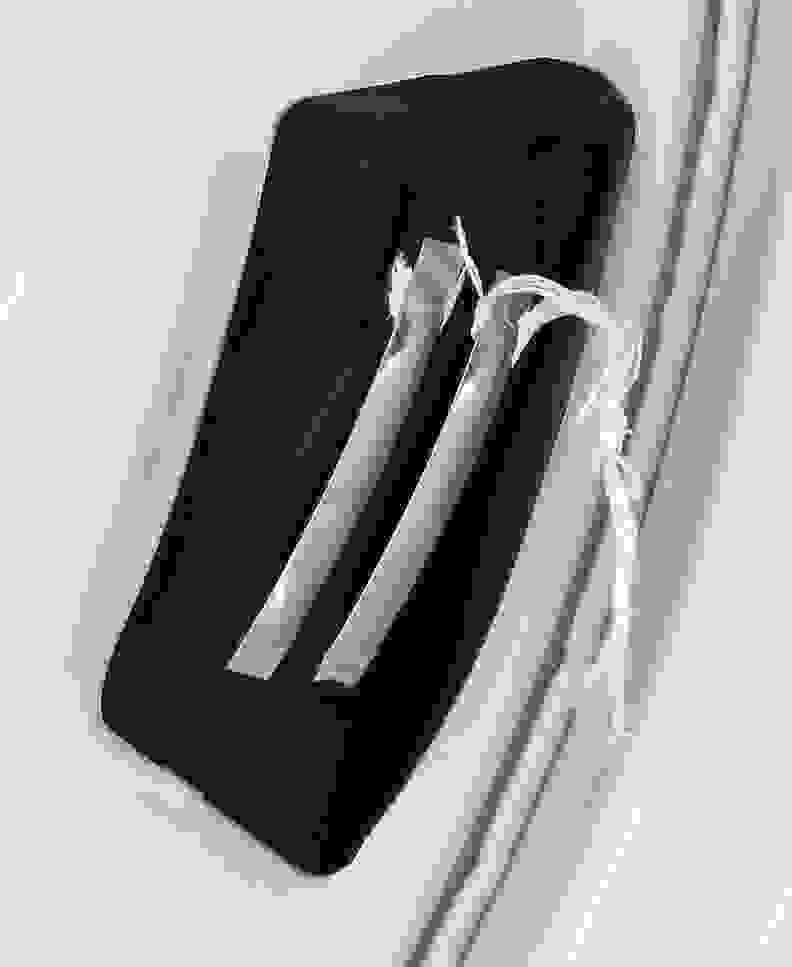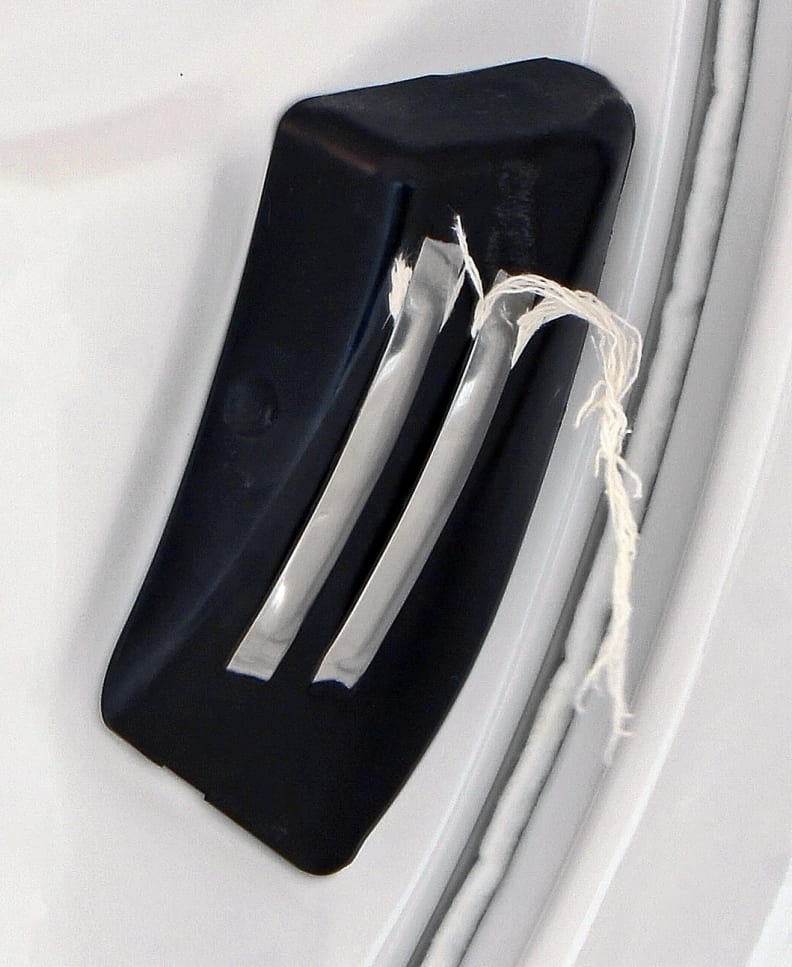 That said, high heat and average cycle times turned out one of the best Bulky tests we've ever run. After about 72 minutes, our test comforter came out almost completely dry. If you're primarily drying large blankets, comforters, rugs, or other thick and heavy items, you might not want to rule this Whirlpool out entirely.
You actually get a range of five sensor cycles, in addition to a Timed Dry that can run up to about 70 minutes. The crank timer means cycle selection is imprecise, so there's always a little bit of guesswork involved. You can also pair any of these cycles with one of five temperature settings, including an Air Only option.
Extra features are mighty slim. All you get is a Wrinkle Shield that will tumble clothes for up to 90 minutes at the end of a cycle, as well as the option to turn off the dryer's loud cycle completion signal.
For in-depth performance information, please visit the Science Page.
Quick Dry & Bulky
A 30-minute manual cycle on High Heat produced respectable results in our Quick Dry test. Averaging 32 minutes—crank timers almost always involve a little guesswork—and temperatures that got up to 155.3°F, our load came out 91% dry.
For the Bulky test, we again turned to the manual timer, this time setting it to the maximum of 70 minutes on High Heat. Our large comforter came out 93% dry—one of the best results we've ever seen in this test. The reason why? Temperatures peaked at 169.1°F—plenty hot enough to get the job done.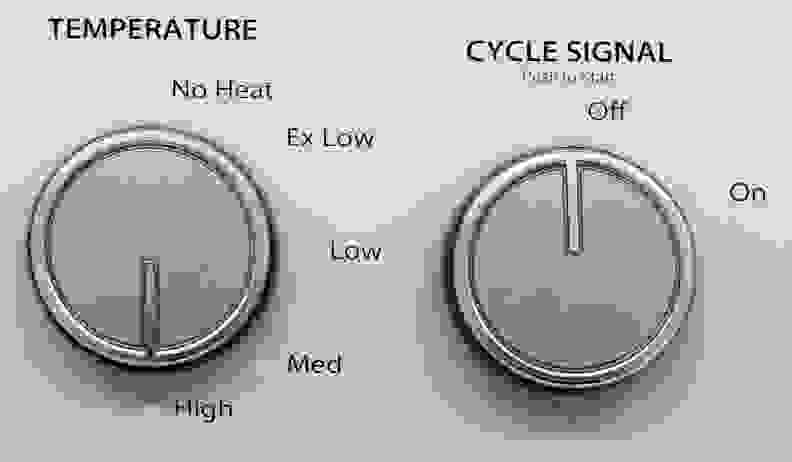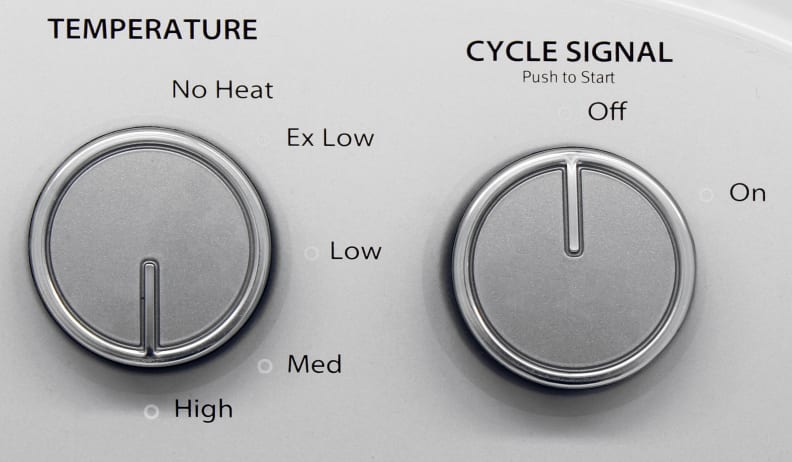 Barebones Drying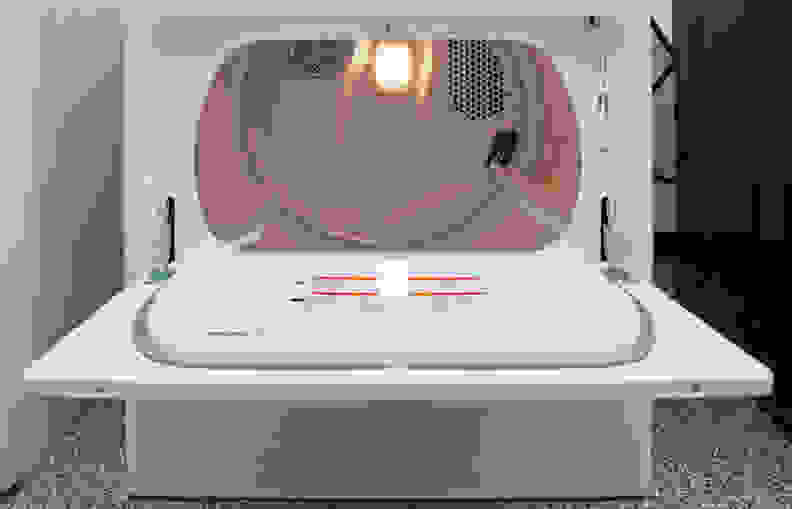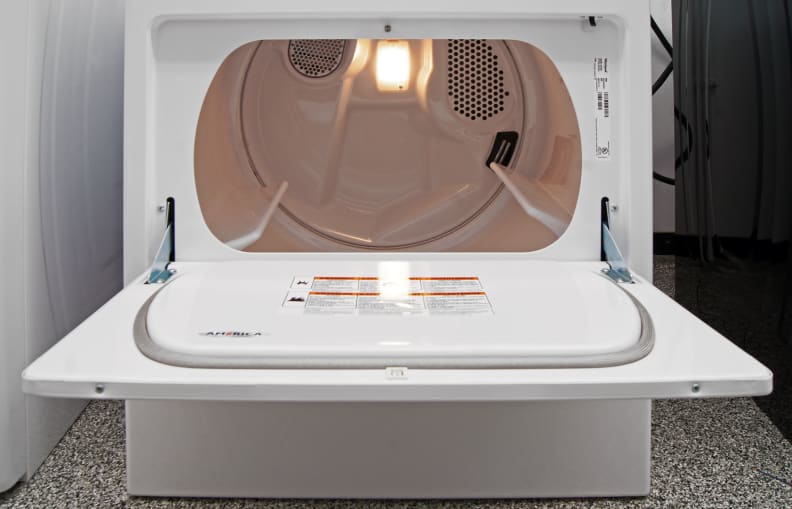 It's simple, that's for sure
If you just want something that will dry clothes, the Whirlpool WED5000DW may seem appealing. It's easy to use, with enough cycles to give the user a small sense of control. The price is great, too: Retailers offer it up for a mere $535.
It isn't our test results that keep us from recommending this dryer: Two points of contact—the door latch and the rear drum sensors—can shred your clothes. If you're looking for a low-cost, low-frills dryer that should take better care of your laundry, consider the Hotpoint HTDP120EDWW, which is easily found for less than $400.