Laundry
Whirlpool WFW75HEFW front-loading washing machine review
This front-loading washer does everything it's supposed to do, without bells and whistles
Credit: Whirlpool
If you're ready to join the front-loader club, we've got the right washing machine for you. When we tested it in our labs, we determined that the Whirlpool WFW75HEFW  saves money on water, is simply designed, effective, and easy to use. It has only the features you really need to get the clothes clean, and that's just fine.
Still, while you're looking, we recommend you check out the other affordable, top-rated front-load washers that did well in our tests—including our #1-ranked Electrolux, an LG with a steam cycle, and an American-made Maytag that's awesome at stain removal.
Design
The WFW75HEFW has a basic, no-frills design. If your laundry room is limited, space-wise, you can stack it with its companion dryer. The 4.5 cu.-ft. interior feels spacious enough, and its stainless steel tub looks a little bit fancier than you might expect on a plain white washer.
Touch sensitive controls are easy to use. We could see how, with their front right location, you might brush against them, and accidentally change a setting. Tap the Control Lock to prevent that from happening.
There isn't a cycle labeled "Whites", but that shouldn't be a problem. We recommend that you just run a Normal cycle with hot water.
A window in the door enables you to see the wash and the water level, but this window is a little unusual. It has an unattractive bubble design, but unless you're planning to install this machine where you'd see it all day, you'll probably never think about it. Watch out though—its shape may cause small items to get caught in the window.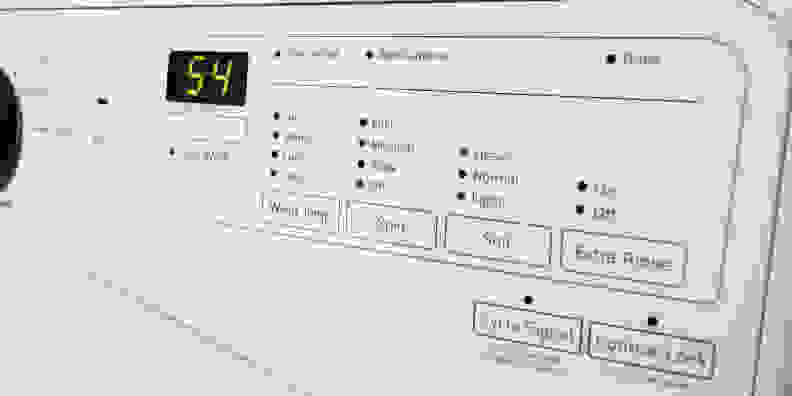 Performance
• Cleaning is fine, overall.
The washer made stains disappear. We found it to be fairly efficient, as well. The total number of gallons used per wash was between 12 and 13 for every cycle but the Quick wash, which used about 10.5 gallons of water. The average yearly cost of running the washer is about $37—about half what an average top-load washer costs, but on par with most front-load machines.
• Cycles take exactly what the manufacturer promises.
The Normal cycle lasted 48 minutes with an 8 lb. load, and the Quick cycle took only 25 minutes with a 4 lb. load. The Heavy Duty cycle ran for an hour and 15 minutes—quick, although it didn't clean as well as Maytag's much longer PowerWash.
• Clothing wear and tear is average.
Curiously, wear is exactly the same for the Normal and Delicate cycles. We expected the Delicate cycle to be gentler on clothes, since it doesn't do the robust spin that a Normal cycle does.
What the users say
The machine's sleek, smooth design appeals to buyers who posted online reviews, and the majority say it does a good job cleaning the laundry. Several users mention the need to leave the door open and wipe the rubber gasket between uses to avoid developing a musty smell. (This can happen with many front-loaders.) A few people mentioned the loud volume the washer emits when it's pumping, though we didn't detect it in our tests.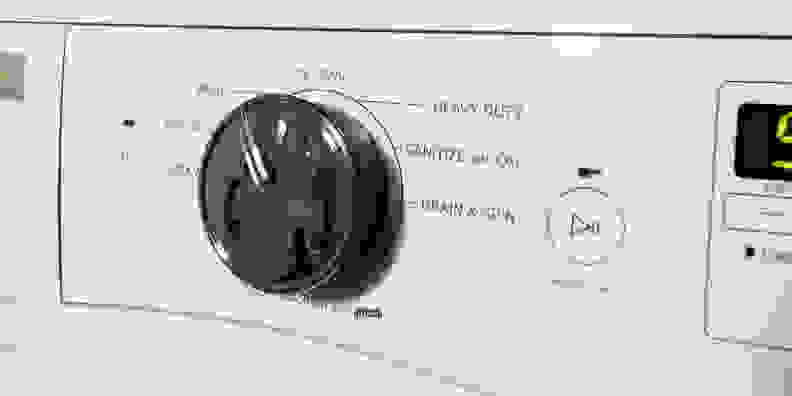 The bottom line
If you want a front-loading washer but bells and whistles aren't your jam, we think the WFW75HEFW will get the job done for you. The washer's controls are clear and easy to use, clothes come out nice and clean, and the machine is efficient compared to a top-loader.
For a sale price of around $720, it's outclassed by other machines in its price range. But if you find it on sale for $599 or less, it would be a truly great buy.
We recommend stretching your budget to spend a tiny bit more to get speedy cycles and super stain removal with the LG WM3770HWA. It's one of our favorite front-loaders, and we awarded it our coveted Editor's Choice badge.