Laundry
Whirlpool WFW9290FW Closet Depth Washing Machine Review
This closet depth washer is still full size, but it can fit in almost any laundry room.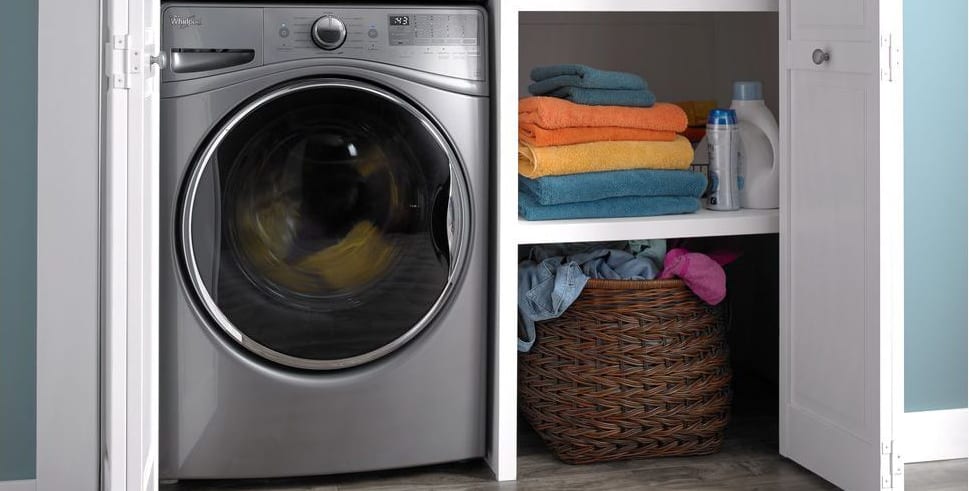 Credit: Whirlpool
It can be hard for those who live in older homes to find a washing machine that fits in a shallow laundry room. That's why Whirlpool is introducing the WFW9290FW (MSRP $1,399 in White, $1,499 in Chrome, and $1,549 in Black), a front loader that measures only 31.5 inches from back to front.
This configuration—which Whirlpool calls "closet-depth"—gives you about two extra inches of wiggle room over standard Whirlpool front loaders, which tend to be a little under 33.5 inches.
The closet-depth machines also require an inch and a quarter less clearance for the door to open fully. That might not sound like much—but every inch matters in a room that's only a handful of square feet.
While the WFW9290FW may be slimming down, it doesn't lose any stain-fighting power. The test results we gathered for the 9290 stood toe-to-toe with the standard-depth WFW90HEFW. On the closet-depth machine, capacity decreases by just 0.3 cu. ft. to a total of 4.2 cu. ft., and we had no problems fitting a large load inside the drum.
This new washer also includes some of Whirlpool's best features:
• Fan Fresh, an option which allows you to wash and dry a small load of laundry overnight
• Load & Go, a cartridge that lets you store up to 12-loads worth of detergent to be automatically dispensed in each wash
• ColorLast, a no-sort cycle that Whirlpool says uses gentle wash motions and cooler temperatures to preserve colors.
• EcoBoost, an option on select cycles which decreases temperature, but makes up for it with extra agitation.
• Steam Clean, which can deodorize hard-to-clean items like stuffed animals.
At first glance, the 9290 seems expensive—a sale price starting at $1,200 is twice as much as one of our favorite front-load washers. Other washers will fit in the same space, too: Most of LG's 27-inch wide washers are fewer than 30 inches deep, as are a few models from Frigidaire.
However, if you want Whirlpool's latest features but can't fit them in your existing laundry room, the WFW9290 is your only choice.
Related Video