Lenses
Sony Lens Buying Guide
Looking for new E-mount glass? Here's what you need to know.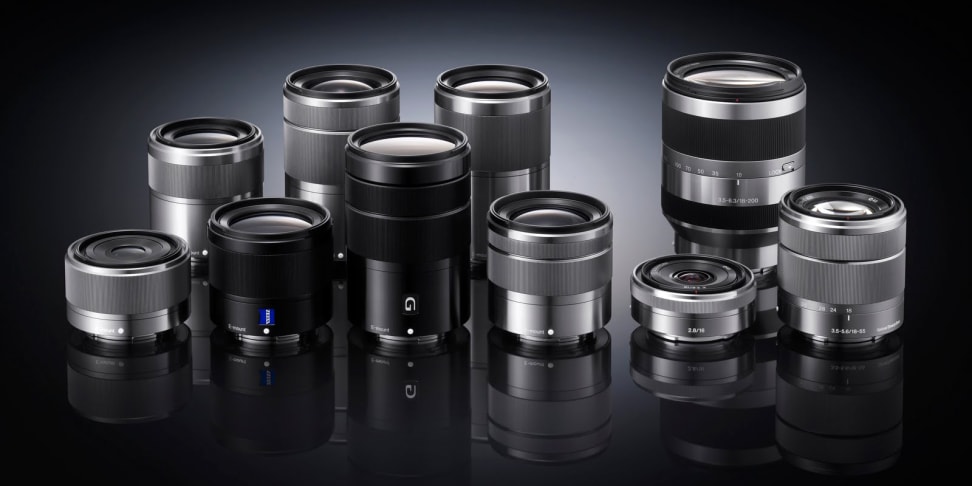 Credit: Sony
---
1. What Sony Has to Offer
The 800-pound gorilla has a lot of toys.
When Sony decided to enter the DSLR camera market in 2006, it hit the ground running. Rather than investing the time and resources to design its own system, the Japanese mega-corporation purchased Konica-Minolta's assets—including its A-mount—and rebranded them under the Sony banner.
When Sony entered the DSLR market, it hit the ground running.
Four years later, Sony unveiled the E-mount—an all-new mirrorless system designed to compete with upstart rivals like Micro Four Thirds and Samsung NX. Though the E-mount wasn't directly compatible with A-mount lenses, Sony offered autofocus adapters for users who didn't want to sell off their DSLR lenses in the move to mirrorless.
Finally, in late 2013, Sony announced its first full-frame E-mount cameras and lenses. Badged "FE," these lenses use the same E-mount as Sony's APS-C lenses, but provide coverage for the full-frame image sensors found in the Alpha A7 series cameras.
---
2. Sony APS-C E-Mount Lenses
So fresh, so clean
The majority of Sony E-mount lenses are designed to cover the APS-C image sensor found in the company's A6000, A5000, and A3000–series cameras, as well as older NEX models. These lenses feature a clean, minimalist aesthetic wholly designed for the digital age—almost to a fault. There are no aperture rings, no focus scales, and no depth of field information.
Available options run the gamut, from wide-angle zooms like the 10-18mm f/4, to normal primes like the 35mm f/1.8, to all-arounders like the 18-105mm f/4. The brand has even leveraged its partnership with legendary German lens designer Carl Zeiss to offer several premium Zeiss co-branded lenses, including the Sonnar T* 24mm f/1.8 and Vario-Tessar T* 16–70mm f/4.
Be aware that you cannot use APS-C E-mount lenses on full-frame E-mount bodies. If you want to upgrade from an A6000 to an A7 II, you're going to need to retire your existing glass.
---
3. Sony Full-Frame E-Mount Lenses
An enthusiast's dream come true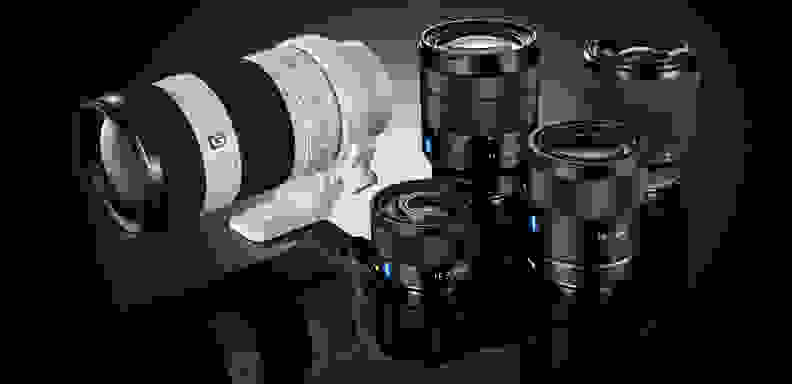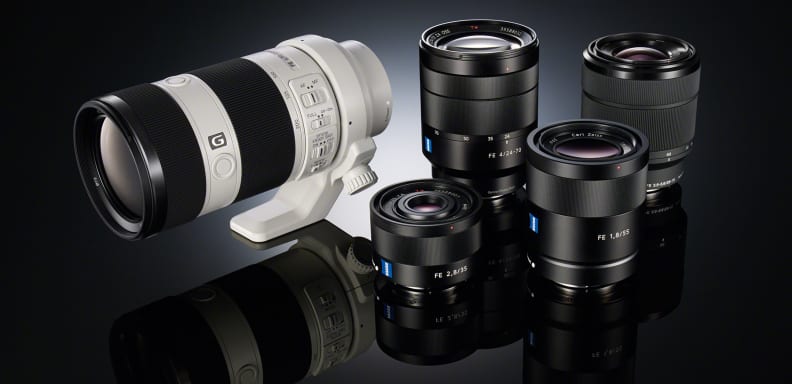 Sony's full-frame E-mount family is small but growing rapidly. The brand now offers 10 lenses of this type, including five primes and five zooms. Better still, three primes and one zoom bear the prestigious Zeiss branding, guaranteeing a very high standard of optical performance and build quality. Of course, that quality comes at a price. While some of Sony's full-frame cameras are among the most affordable on the market, their lenses don't come cheap.
Like their APS-C counterparts, full-frame E-mount lenses are exceedingly minimalist in design. The only wildcard in the mix is the 28–135mm f/4 Power Zoom lens, which is absolutely covered with switches, rings, and toggles because it was designed to be used as a cinema lens on Sony's full-frame E-mount video cameras.
All E-mount lenses work just fine on APS-C E-mount bodies, regardless of the kind of image sensor they were designed to cover. In other words, if Zeiss glass is your vice of choice, feel free to load up your NEX-5T with those pricey full-frame primes.
---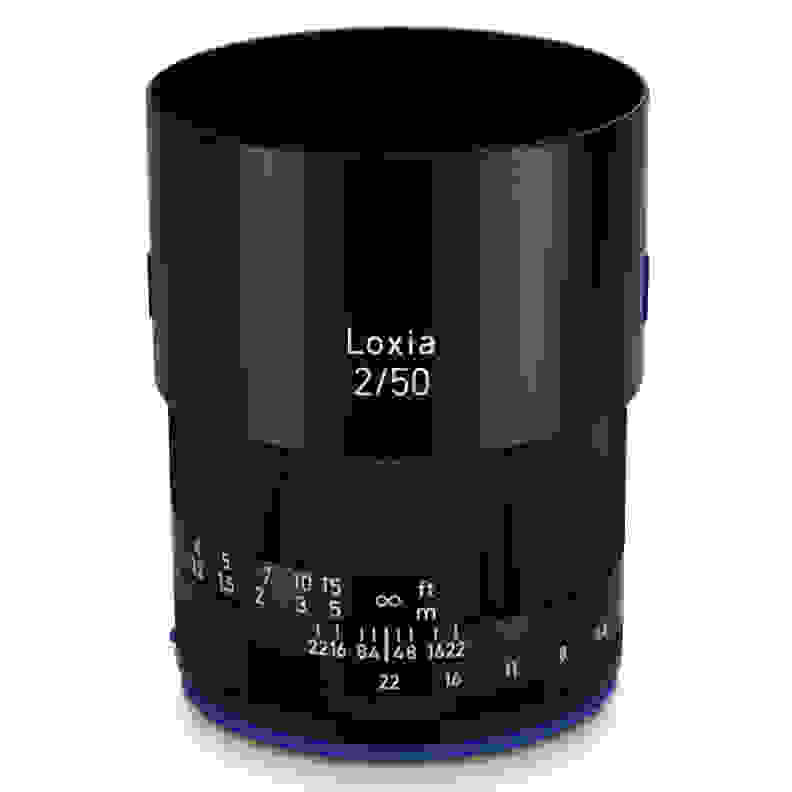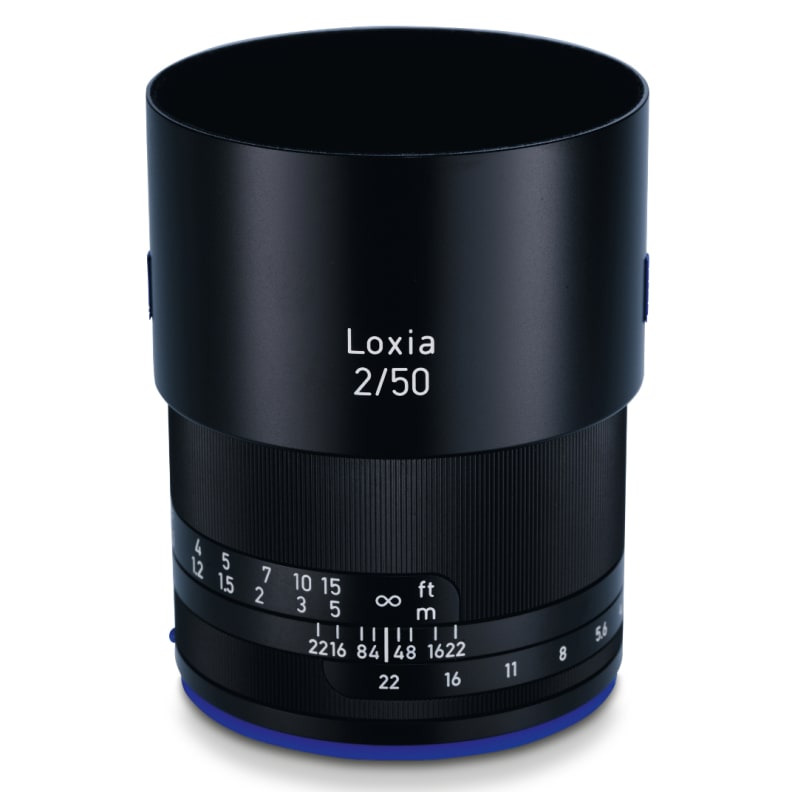 4. Third-Party E-Mount Lenses
Yo dawg, we heard you like Zeiss...
Like other camera systems, Sony E-mount is supported by a number of third-party lens makers. These include Sigma, Tamron, Zeiss, Voigtlander, and Samyang, among others.
While lenses from Sigma, Tamron, and Zeiss (Touit) provide full autofocus and electronic control, the majority lack autofocus and cannot communicate with the camera. Some of these lenses are less expensive or higher-quality takes on first-party options; others cover focal lengths or apertures Sony itself doesn't.
Thanks to its mirrorless design, the E-mount can also make use of a century's worth of lenses from other manufacturers via simple mechanical adapters. If you've inherited lenses from your grandparents, or found some tasty looking glass at a yard sale, don't let it sit gathering dust in a closet. Give it some new life on your E-mount camera!
---
5. Terms to Know
Get familiar with Sony semantics.
If you want to find the right Sony lens, you're going to need to get acquainted with the brand's unique acronyms and descriptive lingo. Here's a brief overview.


E: Describes lenses designed for Sony E-mount APS-C cameras, including the A3000, A5000, and A6000 series.
FE: Describes lenses designed for Sony E-mount full-frame cameras, including the A7 series.
T*: This is a lens coating used on Zeiss lenses. According to the manufacturer, it reduces flare and ghosting, and can also boost contrast.
ZA: ZA, or Zeiss Alpha lenses feature designs approved by Carl Zeiss AG. Quality is generally considered to be on par with Sony G lenses.
OSS: Short for Optical SteadyShot, Sony's proprietary optical image stabilization system.
PZ: Stands for Power Zoom, and indicates that a lens features a built-in zoom control motor operated via a zoom rocker switch. Typically included on lenses intended for videography.
G: Indicates a lens is counted among Sony's highest-quality self-branded lenses. G lenses feature exceptional sharpness, wide apertures, and excellent build quality and handling.