Thankfully, Sony has been working hard to rectify the situation. One of the four working prototype FE-mount lenses on display last month at CP+ 2015 in Yokohama is a small, lightweight FE 28mm f/2 (pricing and availability TBA), and it seems perfectly matched to the company's A7 full-frame mirrorless bodies. The focal length is awfully close to the existing 35mm f/2.8 prime, but at this point Sony shooters will probably take what they can get.
Interestingly, the 28mm f/2 arrived at the show with a couple of companions: 16mm fisheye and 21mm wide-angle converters. If they prove optically competent, they could greatly extend the lens's usefulness and shore up the FE lens lineup until full-fledged fisheye and UWA primes arrive.
As excited as we are for greater FE lenses to arrive, after spending some time with the 28mm f/2 and its accessories we are left with decidedly mixed feelings. The first step to fixing something is admitting you have a problem, but Sony doesn't seem to know where to go next.
Minimalist elegance, with maximalist accessories
Like other Sony FE lenses, the 28mm f/2 is all metal. It's not quite a Zeiss prime, but the fit and finish is impeccable, with tight tolerances, a smoothly rotating focus ring, and a lovely matte black finish. As is customary for Sony (and pretty much all mirrorless) lenses, there's no aperture ring, nor is there a focus scale. Sony expects you to get the job done using focus peaking, autofocus, or not at all.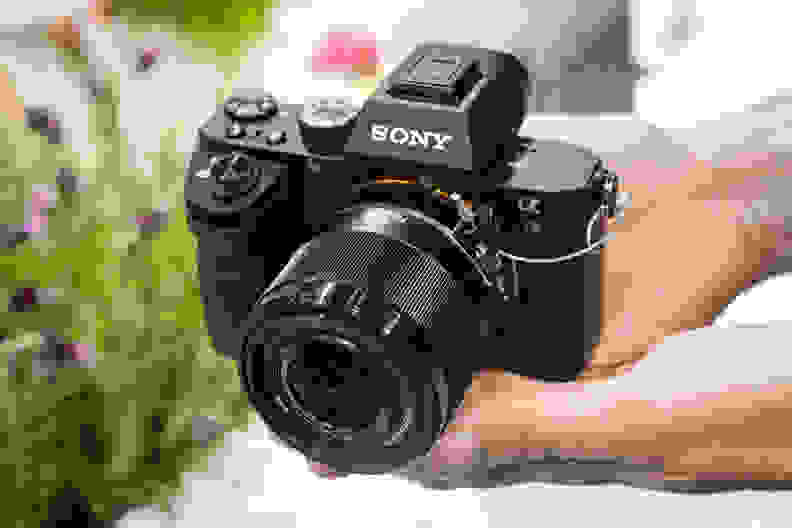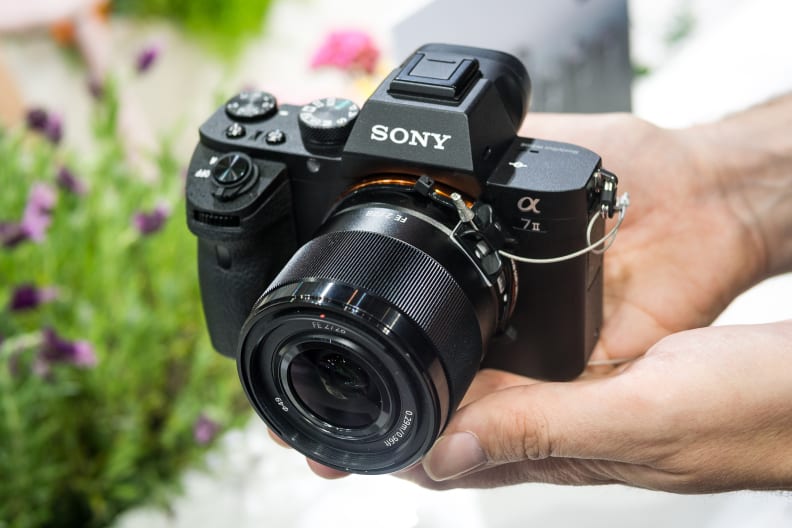 The lens design—at least at this stage—is almost shockingly minimalist. No buttons, no switches, no aperture ring, and barely any writing. It's a simple portal for getting your images out of the world and onto your A7(x)'s sensor—no distractions. Nicely done, Sony.
We don't have any info about the lens's optical construction, since Sony hasn't released any specs, MTF charts, or other PR materials just yet. Everything is still "under development," despite the presence of a working prototype offered up to thousands upon thousands of curious onlookers at the show. We know it isn't optically stabilized (Sony's OSS branding is nowhere to be found) and likely isn't weather-sealed, either. But that's about it.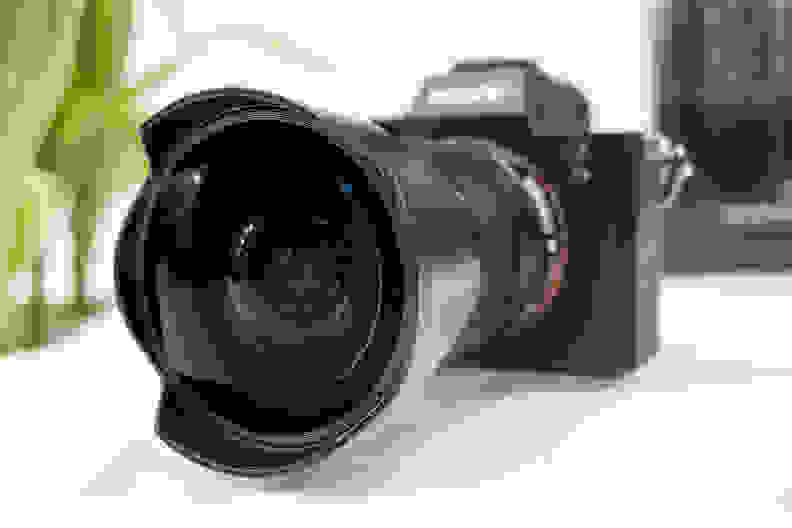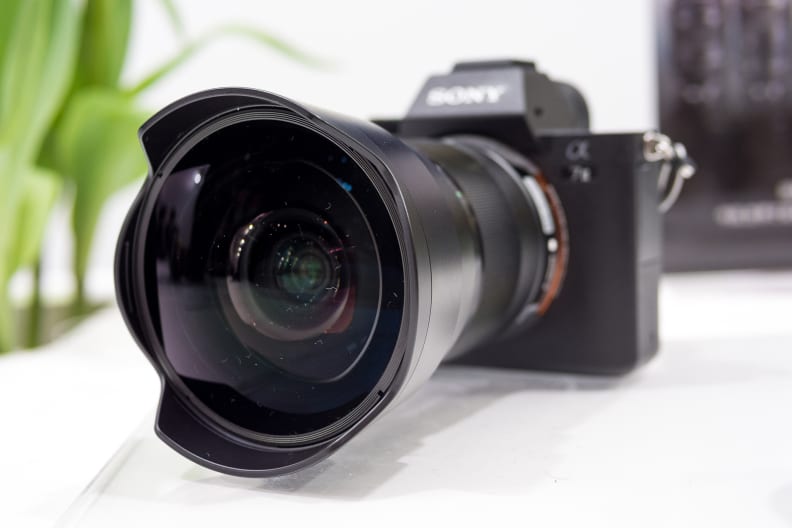 The conversion lenses seem equally solidly built, though disappointingly large. Attaching either one (but especially the 16mm fisheye) nearly doubles the 28mm f/2's compact profile, rendering it nearly as large and heavy as some of the FE system's zooms. At least that bulk is put to good use; the attachments snap confidently into place using bayonet mounts and employ their own release levers.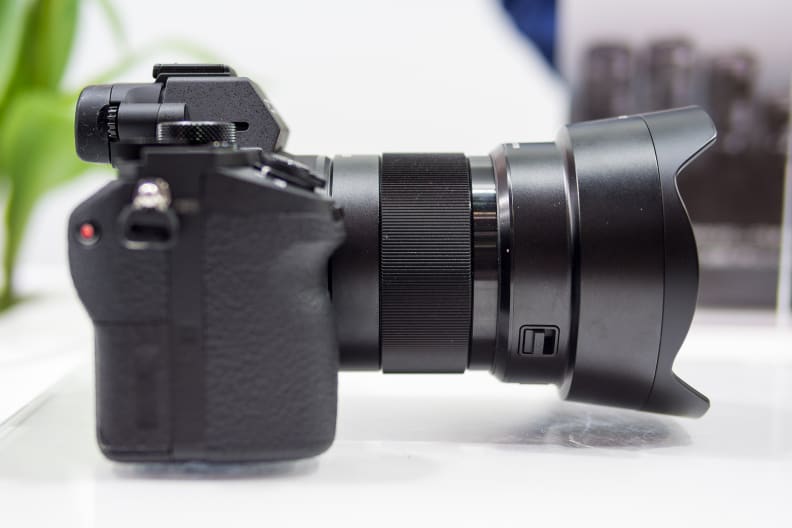 ×
Tour
Leave those conversion lenses on the shelf.
First, the good news: We see a lot to like from the 28mm f/2 itself. Though we weren't able to keep any of the shots we took, we were impressed with the resolution visible on the rear LCD, where it's bitingly sharp in the center. Bokeh looked very smooth when focusing up close, which is no small feat with a fast wide-angle. (If you've ever used a Nikkor 28mm f/2 Ai, you know that all too well.) Stop it down a bit and the sharpness spreads out to the edges.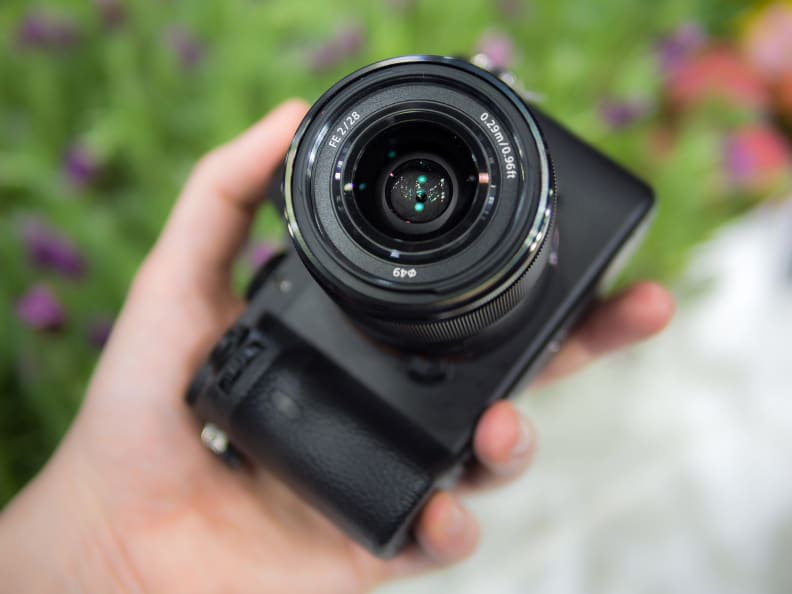 Autofocus was speedy, even when focusing close. We figure the minimum focus distance for around a foot, though that could easily change before the lens hits stores. Regardless, it impressed us in use.
Now, the bad news: The conversion lenses are no good. Or, rather, they might be fun as toy lenses a la Lensbaby, but if you're expecting them to provide edge-to-edge sharpness or distortion-free shooting (in the case of the 21mm wide), you're going to be sorely disappointed.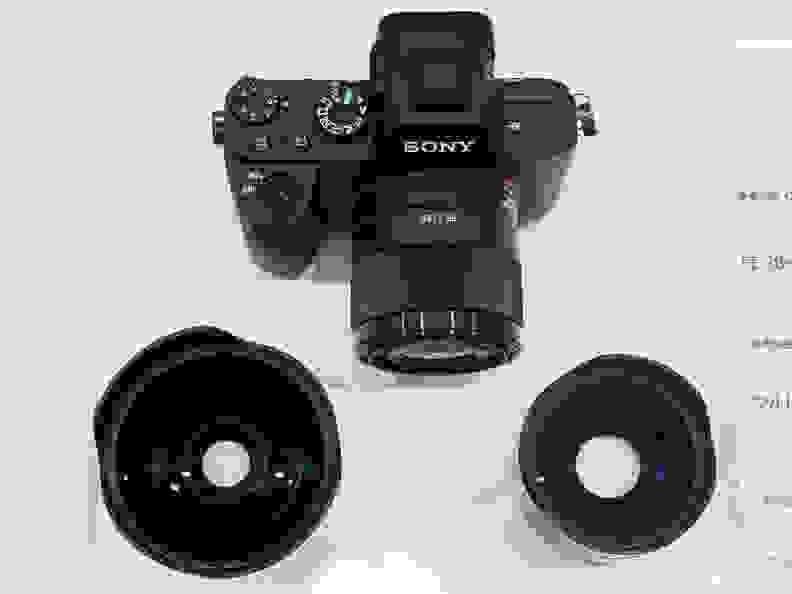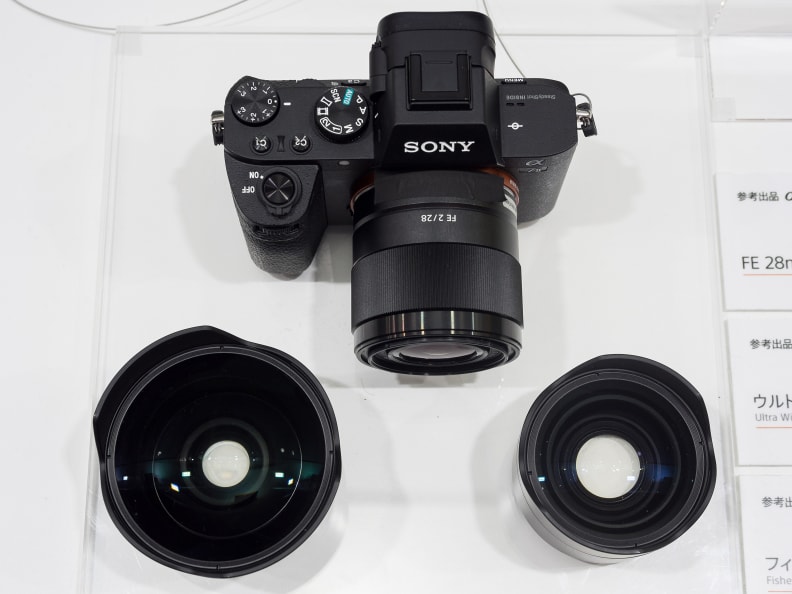 The wide converter displayed significant barrel distortions and noticeable softness toward the edges. Sony might be able to correct the former with a software update to the A7-series cameras, but the latter is going to be harder to overcome. The 16mm fisheye adapter is of course meant to distort your shots, and does that capably. But it also vignettes fairly heavily and doesn't seem all that sharp, either.
We know conversion lenses can be done well, because we've spent some significant time with Ricoh's GW-3 21mm wide-angle conversion lens for the Ricoh GR. It's another massive hunk of glass that doubles the size of the camera it's attached to, but it produces excellent results—sharp and largely distortion-free. Sadly, it seems Sony wasn't up to the task.
FE's future is wide open.
Regardless of how the conversion lenses pan out, it's refreshing to see more small prime lenses arriving for Sony's enthusiast-oriented full-frame mirrorless system. These are the kinds of lenses hobbyists are looking for (just ask Fujifilm!) and Sony shouldn't stop here, or simply rely on users to convert their own lenses from other systems.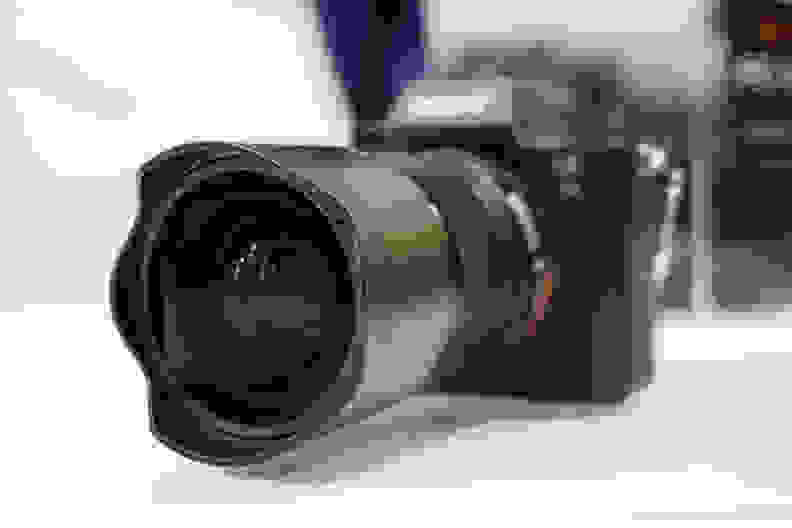 From what we saw on the show floor, the FE 28mm f/2 should be a very capable lens that won't weigh you down on a long day out shooting. It offers excellent sharpness, smooth bokeh, and quick autofocus, along with a short minimum focus distance that will add to its considerable flexibility. That flexibility would have been even more impressive with quality conversion lenses, but it looks like that one isn't going to pan out.
We're not sure when the final version of the FE 28mm f/2 will hit stores, but it could be any time now. Sony began parading its prototype FE lenses at last September's Photokina—including this lens, the 24–240mm f/3.5–5.6 OSS, a 90mm f/2.8 OSS, and a Zeiss Distagon 35mm f/1.4—so a firm shipping date could be imminent. These dates have a way of slipping, however, so stay tuned and we'll let you know the moment availability and pricing are announced.
Meet the tester Ben Keough
Contributor
@ben_keough
Ben is an experienced industry journalist who formerly served as Senior Editor of News and Features at Reviewed. He now contributes as a freelance writer and editor. Most recently hailing from the vast wilds of the American southwest, he is an avid photographer who is deeply disturbed by the lack of wide open landscapes in Boston.
Checking our work.
Our team is here for one purpose: to help you buy the best stuff and love what you own. Our writers, editors, and lab technicians obsess over the products we cover to make sure you're confident and satisfied. Have a different opinion about something we recommend? Email us and we'll compare notes.
Shoot us an email