Lifestyle
10 ways to have date nights at home and keep the romance alive
Staying in doesn't have to be boring.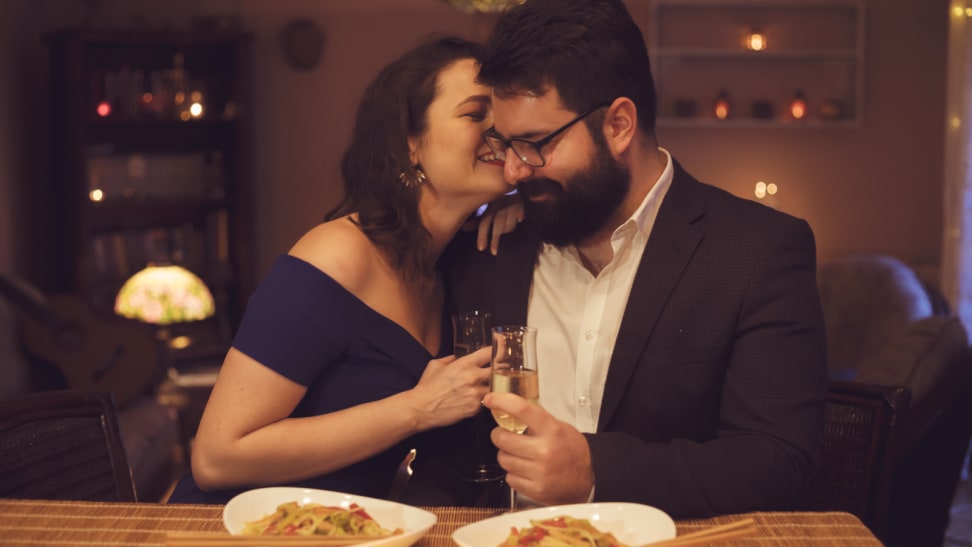 Credit: Sladic/Getty Images
There are a lot of things you can't do—and places you can't go—due to the coronavirus outbreak. You can't go to work, can't go to your parents' house, and, perhaps less important but still an inconvenience, can't go on dates. And if you're someone who lives with their significant other, you've quickly learned that the latter is not good for your relationship. After all, when you're stuck inside together every minute of every day with no end in sight, it's tough to feel particularly romantic...
But date nights in are a real thing and there are plenty of ways to spice things up, with very little effort or money. Here are 10 of our favorite ideas, from challenging each other to a cook-off to throwing your own paint night.
1. Recreate dinner at your favorite restaurant—at home.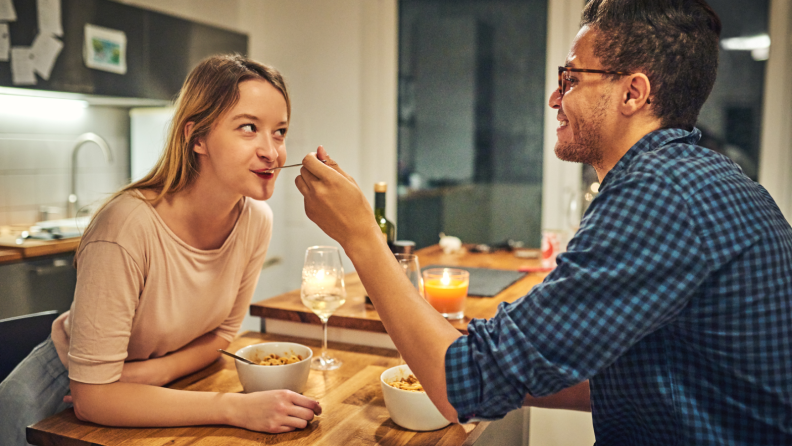 You can't go on your weekly date night to the Italian bistro down the street but you can recreate the same experience in your own dining room. Many restaurants are still offering delivery (and many are relying on those delivery orders to keep them afloat during this challenging time!) and you can order through a service like DoorDash or GrubHub. Get dressed up just as you would if you were going out, set the table with your best dinnerware, light a few candles, and dig in.
2. Curl up on the couch for a movie night in.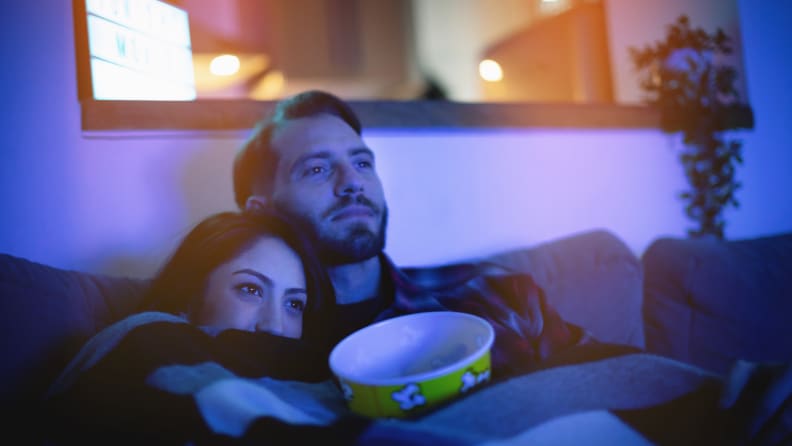 Sounds cliché, but there's a reason that watching movies on the couch is one of the most popular date nights in—it's equal parts entertaining and relaxing. And if you're bored of what's on Netflix (or rather, you've seen it all), switch up your streaming service for the wildly popular Disney+, which gives you access to every Disney flick and show imaginable, or FandangoNow, where you can watch movies currently in theaters.
3. Challenge each other to a board game tournament.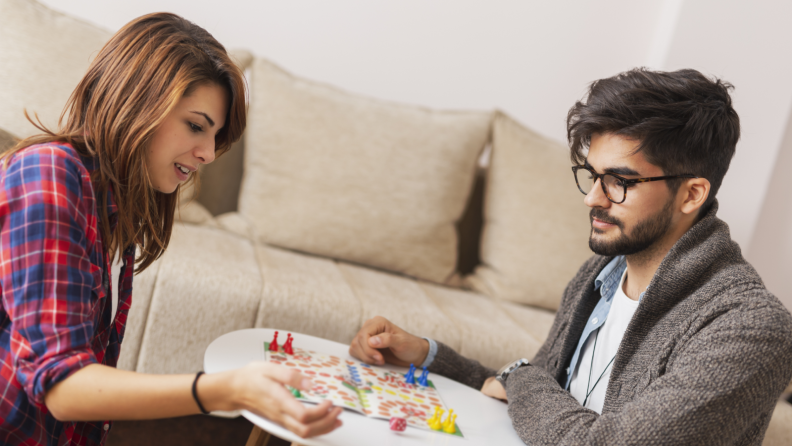 A little friendly competition never hurt anyone—so break out the board games (and some adult beverages, if you'd like) and battle it out for the title of champion. There are games for all different skill levels and interests, whether it's Trivial Pursuit for a brain booster, Battleship for a little strategy, or Scattergories for something more fast-paced.
4. Go on a virtual double date with friends.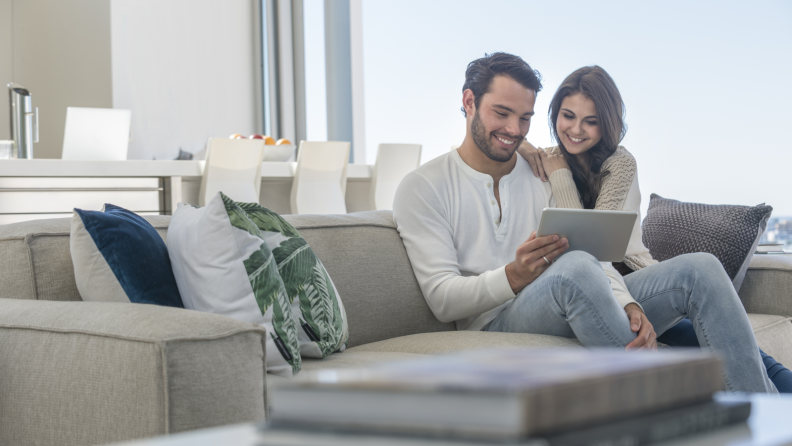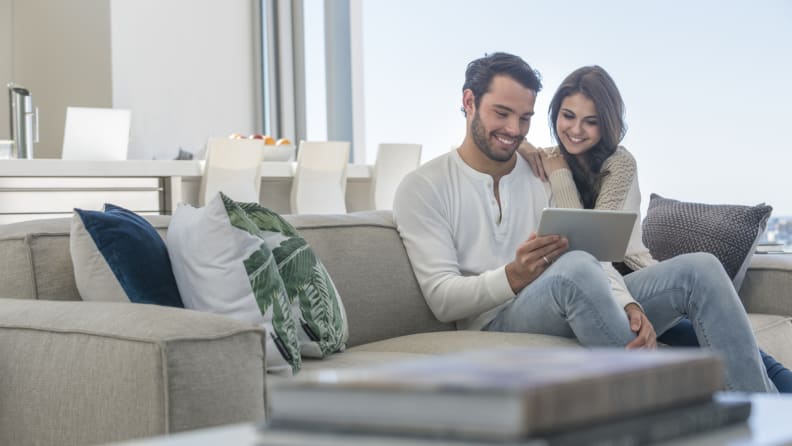 You know that double date you've been trying to plan with your best friend and their partner for months—but your schedules never aligned? Well, now that everyone is stuck at home (i.e. no one has any plans), it's the perfect time to finally make it happen. Pick a day and time, then set up a Zoom meeting or a Google Hangout and cheers each other through the screen. It's not exactly the same but it's better than nothing and it will indulge both of your need to socialize with people other than yourselves.
5. Throw an indoor picnic.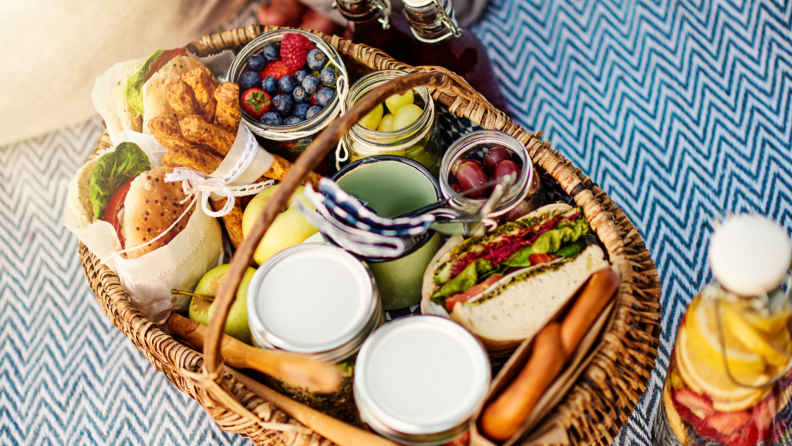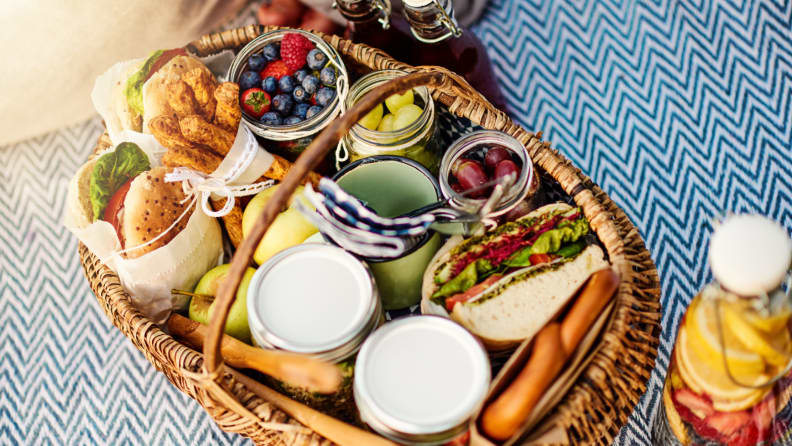 An easy way to switch things up? Take your dinner date from the kitchen to the living room floor. Lay out a picnic blanket, grab an assortment of finger foods (think: chips and dip, veggies and hummus, or even simply your stash of quarantine snacks), and pretend you're outside in a sunny Parisian garden. If you want to go above and beyond, spend a little extra time whipping up a homemade picnic dish. You can even get all of the ingredients delivered right to your doorstep if you use a meal kit service like Home Chef.
Get Home Chef starting at $6.99 per meal
6. Work out together.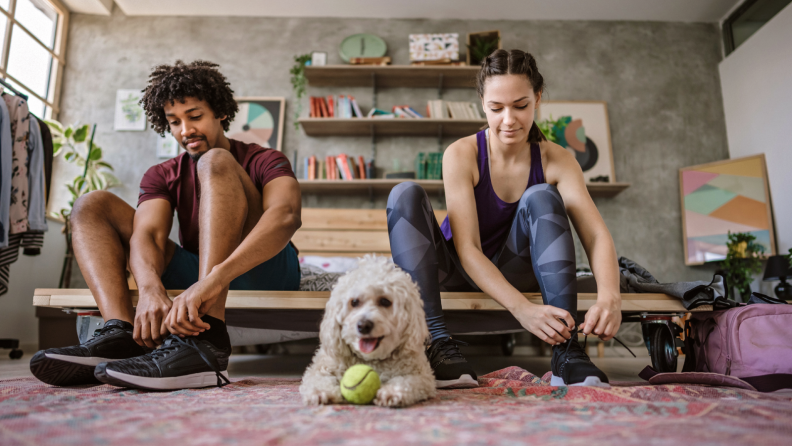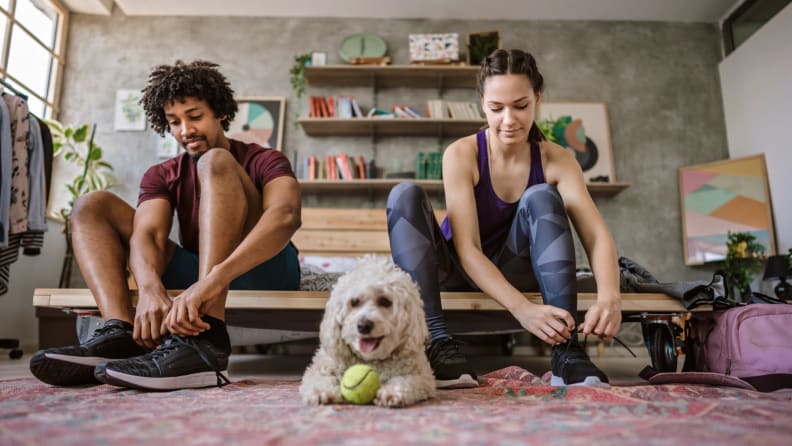 Exercise = endorphins. And endorphins = a better mood. And a better mood = a better relationship. Fortunately, there are plenty of apps and services that provide at-home workouts that you and your partner can sweat through together. Some of the most popular are ClassPass, where you can choose any workout from boxing to barre to Pilates, and Alo Moves, which will give you access to yoga and other fitness classes taught by expert instructors.
7. Take a virtual tour of a place you've always wanted to go.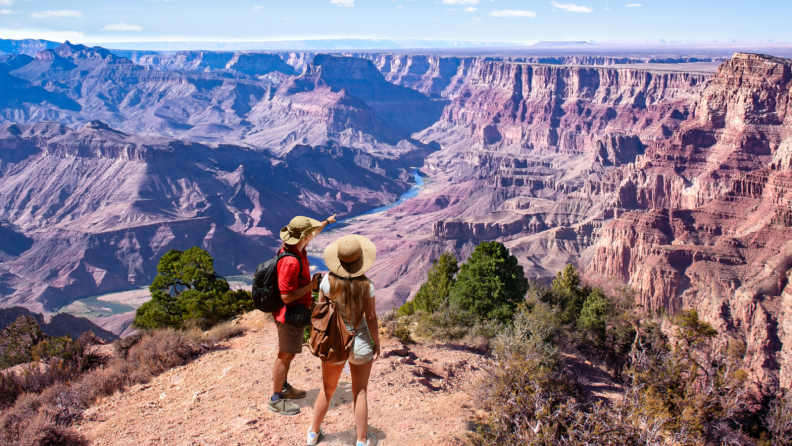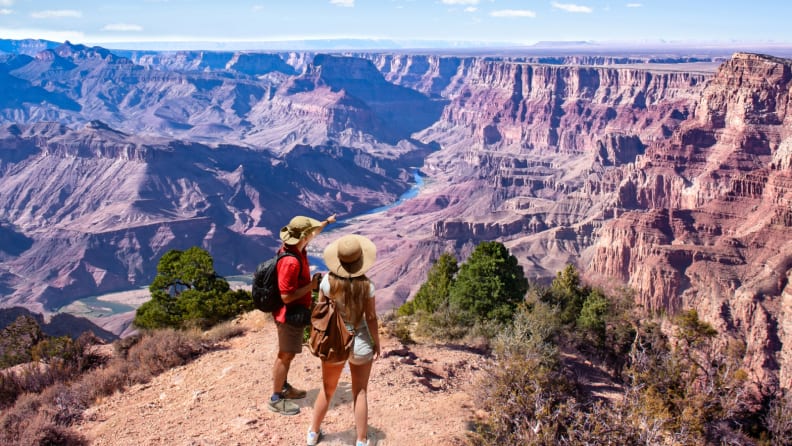 What if date night involved hiking the Grand Canyon or attending an opera at the Met? Well it can—kind of. In light of all the closures caused by the coronavirus outbreak, many museums, parks, and attractions are offering free virtual tours or streaming experiences. Explore the National Parks with Google, watch a live-stream of a Met performance, or tour your local zoo all without stepping foot outside of your house.
8. Host paint night for two.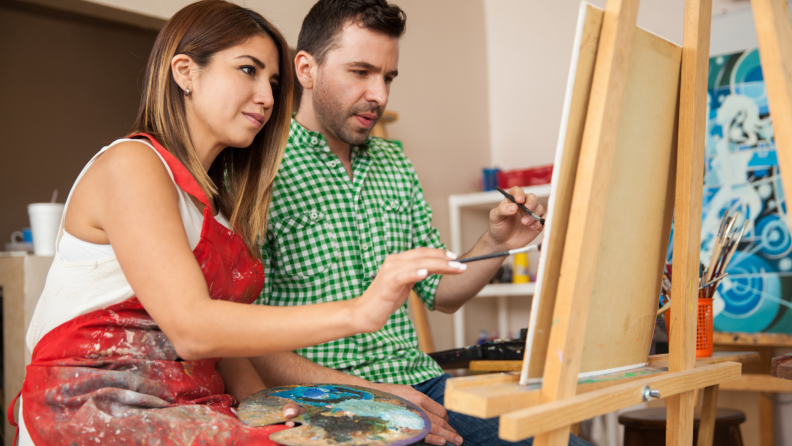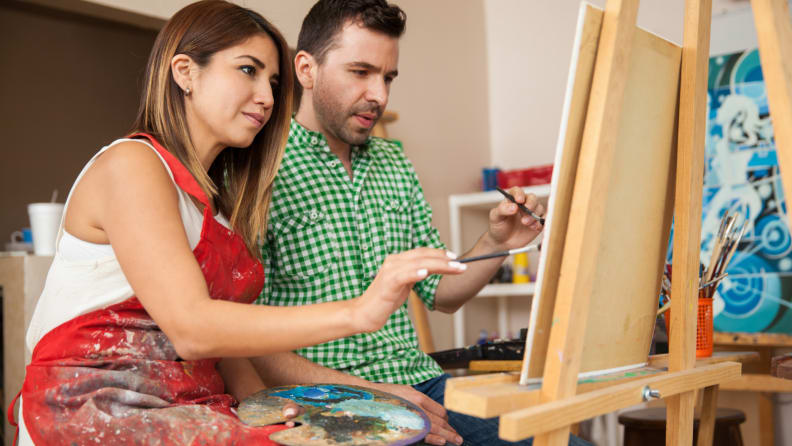 Get creative with your date (literally) by having your own sip-and-paint night at home. All you'll need is a bottle of wine, a blank canvas, and paints—and ideally some expert instruction. You can find the latter online, whether it's free tutorials on YouTube or a virtual class via Brit.co (try your hand at watercolor succulents or acrylic abstract landscapes).
Sign up for a Brit.co online class starting at $29
9. Compete in a cook-off.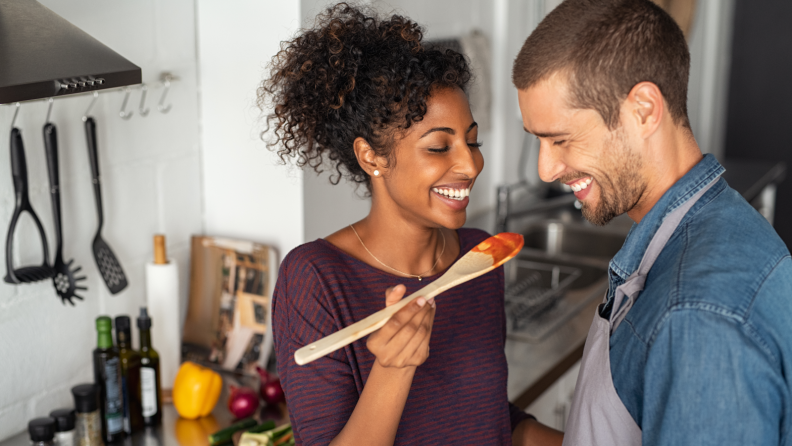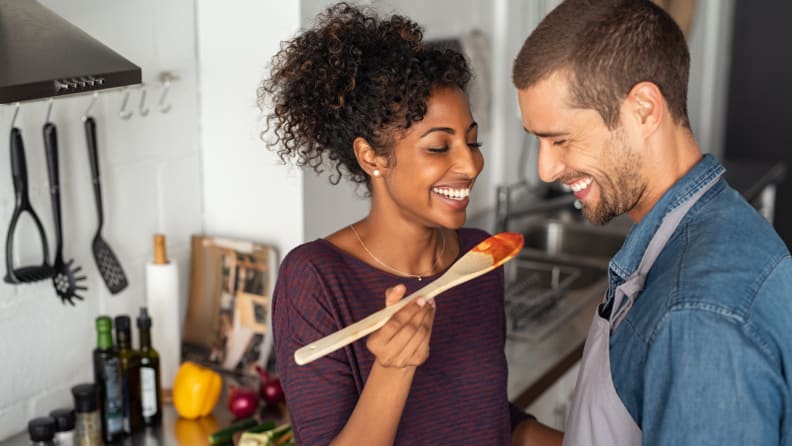 Who will be crowned the next Top Chef of your kitchen? Challenge each other to a Chopped-style cook-off—you each have an hour to whip up a dish using only the ingredients in your pantry. Whoever makes the tastiest (or the most creative!) dish wins. If you really want to get in the spirit, consider honing your cooking skills with Gordon Ramsay himself ahead of time. You can take classes from the renowned chef and other celebrities with a MasterClass subscription.
Get the MasterClass All-Access Pass for $180 per year
10. Go for a walk together.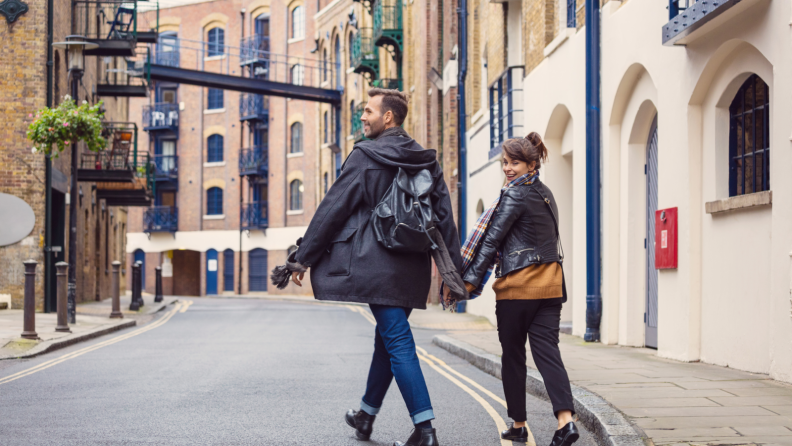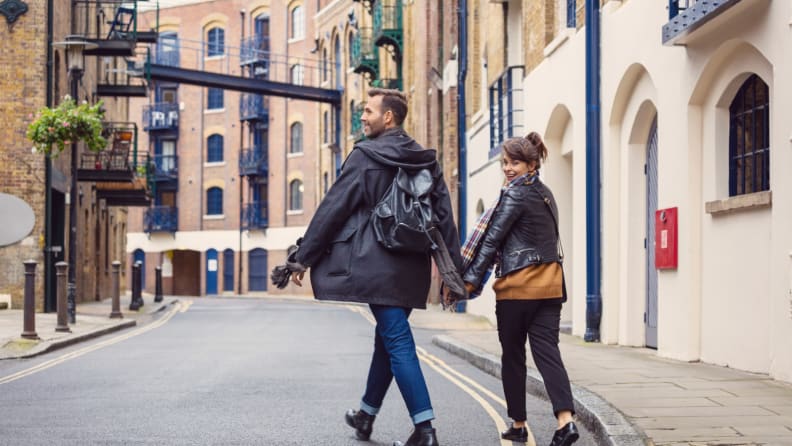 If you live somewhere where you can still get outside, do it. Now. Trust us—being cooped up inside for days on end with your significant other will take a toll on even the happiest of couples. A little fresh air and some quality time together away from screens and the couch will do you both a world of good.
The product experts at Reviewed have all your shopping needs covered. Follow Reviewed on Facebook, Twitter, and Instagram for the latest deals, product reviews, and more.
Prices were accurate at the time this article was published but may change over time.