Lifestyle
The 19 best places to buy lingerie online
Flaunt your assets on any budget.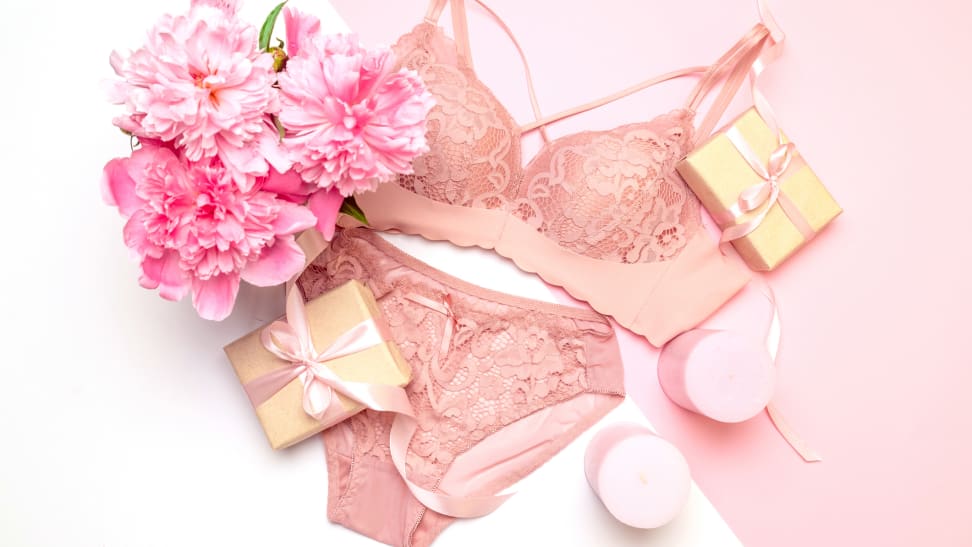 Credit: Irina Shatilova / Getty Images
Shopping for lingerie online can be a pretty nerve-wracking experience, regardless of your age, body type, or personal style. From fit to functionality, the best lingerie helps flatter and accentuate all your favorite features, but figuring out which shapes and sizes suit you the most can be a challenge, even for the most fashion-conscious among us.
They say the clothes make the person, but what's underneath—specifically, the bras, underwear, and lingerie—can make a huge difference, too. No matter what, the best bras, underwear, and lingerie online should always make you feel incredible in your own skin, so you're comfortable whether you're lounging around, showing off for a partner or just modeling in your bedroom mirror late at night while singing along to a little Lizzo. Unsure where to start looking? Here are 19 of the best places that make it easy for all body types to shop for lingerie online.
1. ThirdLove
Sizes: AA-I, XS-XL
Prices: $$
Return/Exchange Policy: 60 days
Most women wear the wrong bra size. Personally, I thought I was a 36B for years until I shopped at ThirdLove, and then—thanks to their signature FitFinder test—discovered I'm actually a 34C. With over 70 sizes to choose from, you don't have to worry about being boxed into one bra shape because you've got big—or conversely, small—breasts.
ThirdLove isn't everyone's top pick—our Managing Editor Amy Roberts was less than enthusiastic about their fit and cost in her review compared to bras she's found at her beloved Marshall's—but the brand's overwhelming popularity and generous return policy makes them a standout in the industry. You can shop various silhouettes, including front closure bras, balconette bras, T-shirt bras, and others. Beyond their bra offerings, ThirdLove also offers a variety of cute bodysuits, pajamas, and underwear.

2. Savage x Fenty
Sizes: A-DDD, XS-3X
Prices: $$
Return/Exchange Policy: 30 days
Rihanna's sultry lingerie line garnered tremendous acclaim when it debuted because of its emphasis on inclusivity and diversity. From sexy bralettes to bustiers, garters, bodysuits, and other lingerie items, Savage x Fenty was designed to flatter all body types and can be a scintillating way to add a little something extra to your date night plans. While the company has been in and out of the news since last year because of problems with membership fees, you can skip all that noise completely and shop Savage x Fenty at Amazon. You'll pay more on the bras and lingerie compared to what's on the Savage x Fenty site, but you'll get pieces shipped faster via Amazon Prime and won't have to worry about dealing with any membership fees.
3. Nordstrom
Sizes: Varies by brand
Prices: $$
Return/Exchange Policy: Case-by-case
Looking for underwear that doesn't rip or for a bra that feels comfortable even on the hottest summer days? At Nordstrom, you can shop some of the best lingerie brands out now, including Hanky Panky, Warcoal, Natori, and more. These brands specialize in the kind of lingerie that'll hug your curves and make you feel incredibly comfortable at the same time. Even if Nordstrom is usually out of your budget, sales events like the Anniversary Sale can make it easier to stock up on bras, underwear, and loungewear from the store.
4. Adore Me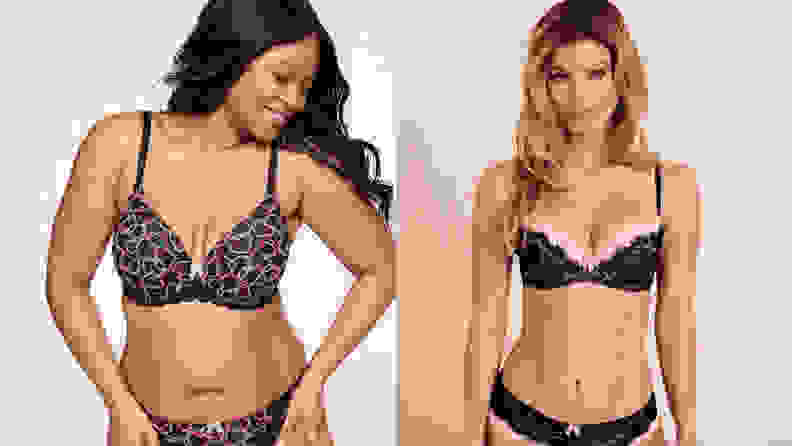 Sizes: A-DDD, XS-4X
Prices: $$
Return/Exchange Policy: 30 days, plus a $5.95 restocking fee for each returned lingerie set
With most prices under $25, Adore Me is one of the most popular places to shop for lingerie online for bras and panties, especially for shoppers who don't want to spend a fortune. Their bra sizes usually range from 30A to 46DDD in most styles, so it's incredibly inclusive to most body types. Don't feel like going through the trouble of picking out the lingerie yourself? For $49.95 a month, you can get a curated box of lingerie delivered at home with sets ranging from bras, panties, lingerie, and more. Similar to services like StitchFix, you get a full week to try on everything and you'll only be charged for what you keep, but you can send the rest back for free.
5. Amazon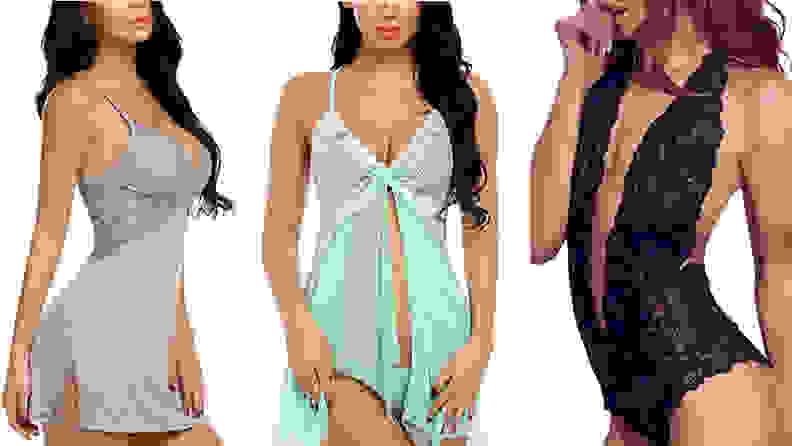 Sizes: Varies by brand
Prices: $
Return/Exchange Policy: 30 days
Shopping for lingerie on a very tight budget? Amazon might be the last place you'd think to look, but when it comes to really affordable lingerie, it's a hidden gem. You can find almost anything you want there—from plunging V-neck bodysuits to ultra-feminine babydolls, with prices starting as low as $16 on some of these items. Because of Amazon's review section, you can also cull through the top-rated picks to see what shoppers actually have to say about these pieces IRL, and you can get everything delivered quickly via Amazon Prime. All in all, Amazon's lingerie pickings are a real win-win.
6. Bloomingdale's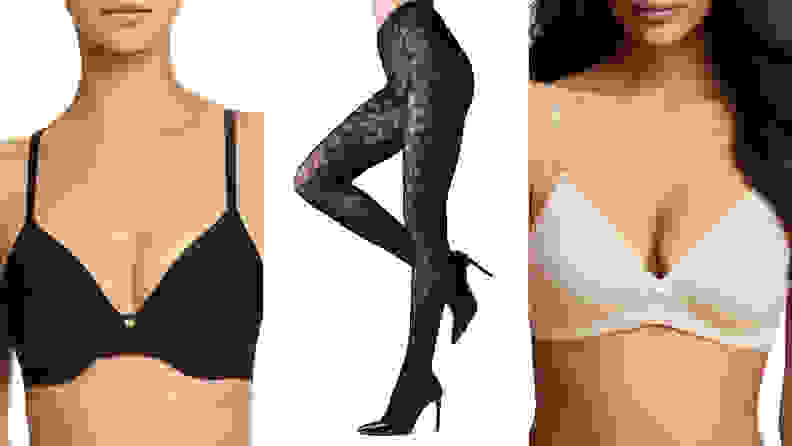 Sizes: Varies by brand
Prices: $$
Return/Exchange Policy: 365 days, 30 days for final sale items
As a retailer, Bloomingdale's is pretty similar to Nordstrom. Its selection of mid- to high-priced apparel can make it too expensive for most everyday shoppers unless there's a sale happening, but it's a good place to shop for bras and underwear from popular lingerie brands, including Hanky Panky, Warcoal, Natori, and more. Also, while Bloomingdale's doesn't host a sales event of the same stature as the Nordstrom Anniversary Sale, you can usually still find a deal or two if you're a dedicated bargain hunter.
7. La Perla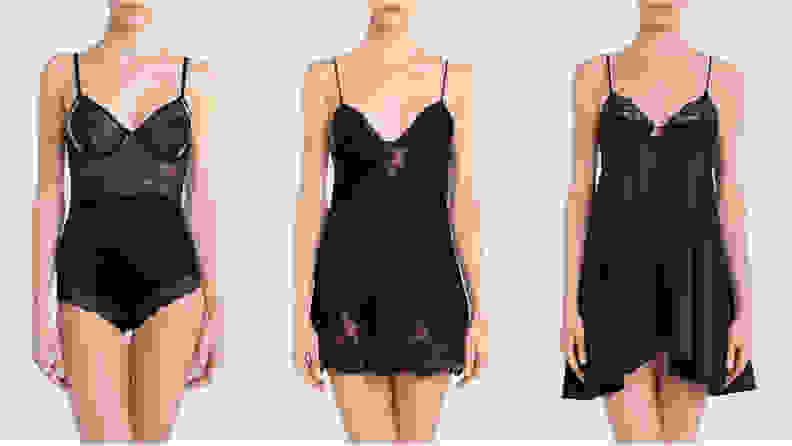 Sizes: A-E, XXXS-XL
Prices: $$$
Return/Exchange Policy: 28 days
Does it get any more luxurious than La Perla? With La Perla, you know what you're getting—chic bodysuits, romantic babydolls, and all kinds of glorious lingerie that'll make your butt and hips look phenomenal, but will also set you back many, many dollars. If you've got some extra cash to spend and you feel like going all-out, it's La Perla or bust.
8. Aerie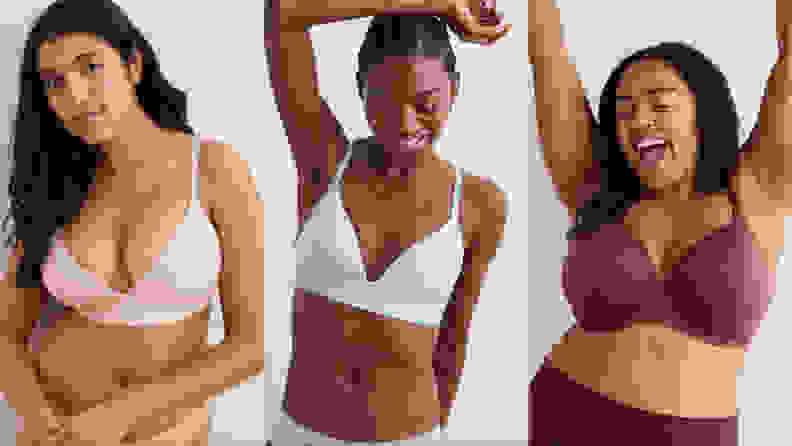 Sizes: A-DD, XXS-XXL
Prices: $$
Return/Exchange Policy: 60 days
If you're looking for affordable bras and underwear, Aerie is the much-beloved mall brand that you can still rely on for comfy, everyday-wear stuff. Sized to fit a variety of silhouettes (not just teen bodies!), Aerie's basic but oh-so-snug assortment of bras and matching sets tend to be under $50 and reviewers claim this lingerie lasts forever, which makes it great to have in your regular rotation.
9. Spanx
Sizes: AA-G, XS-3X
Prices: $$
Return/Exchange Policy: 90 days
Spanx makes more than shapewear and those faux leather leggings that everyone can't stop talking about—they also offer a variety of great bras, underwear, hosiery, and more.
Compared to Skims, the popular solution wear by Kim Kardashian West, we're more partial to Spanx. In her review, freelancer Patrice Williams preferred Spanx (specifically the OnCore Mid-Thigh Bodysuit), although she did enjoy some selections from the Skims line.
10. Victoria's Secret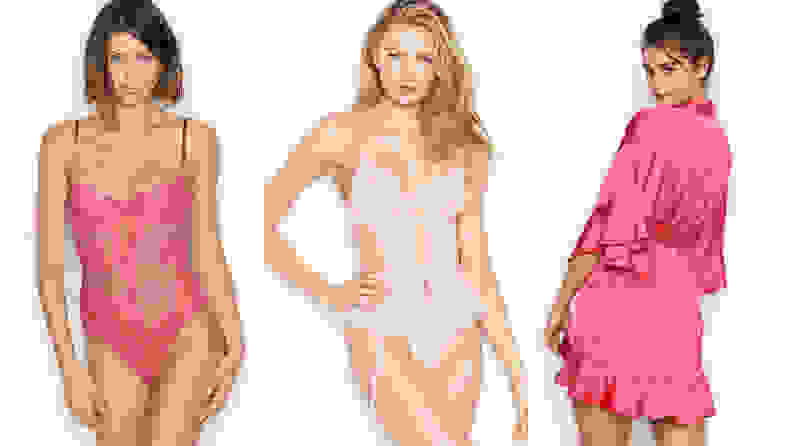 Sizes: AA-DDD, XS-XL
Prices: $$
Return/Exchange Policy: 90 days
For many of us, Victoria's Secret was the first place we ever shopped for bras and panties on our own and thanks to nostalgia, it'll always hold an important place in our hearts. Whether you've outgrown their iconic PINK line or not—most of us have by now or ceased shopping the store for other reasons—the fact remains, it's an affordable place to find spunky, colorful lingerie pieces that'll pop out of your drawer and just beg to be slipped on, if only for an evening or two.
11. Journelle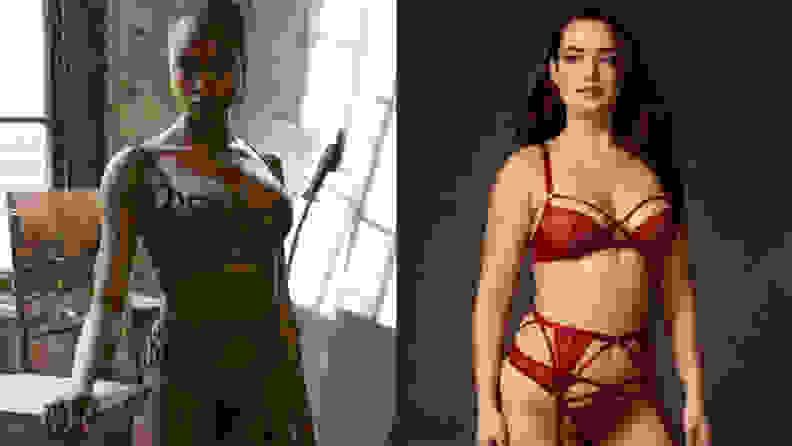 Sizes: Varies by brand
Prices: $$
Return/Exchange Policy: 30 days
Whether you're searching for sultry sets or silky-smooth loungewear, Journelle's lingerie is one of the most versatile places to shop for intimates that can help you feel more confident in your own skin. You can shop a ton of brands through Journelle, including Bordelle, Coco de Mer, Natori, and other popular brands.
12. Lane Bryant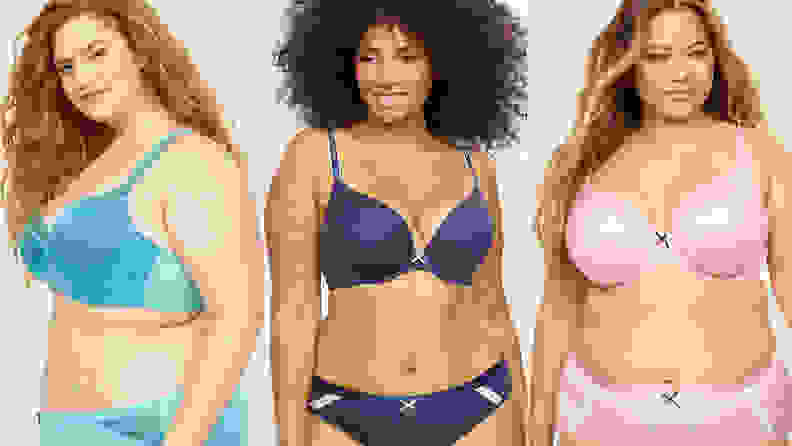 Sizes: A-H, 0-28
Prices: $$
Return/Exchange Policy: 60 days
One of the worst things that can happen—especially when you're shopping for lingerie online—is that you end up with something that doesn't fit properly or work for your body type. Fortunately, Lane Bryant has a reputation for clothing that flatters curvy frames and the same is true for their lingerie. They offer an assortment of bras, sexy lingerie, and panties that look and fit well, so they're definitely a must-shop.
13. Frisky Britches
Sizes: S-L
Prices: $
Return/Exchange Policy: None
Look, we've all been there: That deep sigh you give when you pull your panty drawer out and you see nothing but the same old cotton undies and slightly ratty lace thongs to choose from. It's okay, you're not the only one. But if you've been feeling like your underwear collection needs a serious upgrade, Frisky Britches comes to the rescue. With this subscription box, you'll get two pairs of underwear every month starting at $14, and you can choose the style that best suits you.
14. Cosabella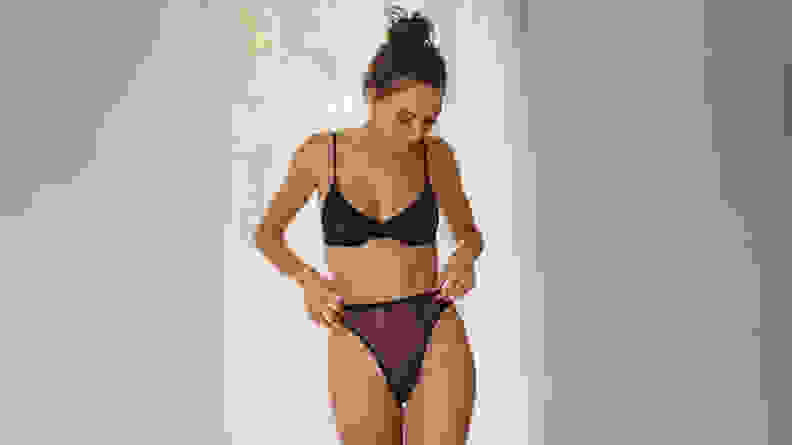 Sizes: A-DD, P-XL
Prices: $$$
Return/Exchange Policy: 30 days
Founded in 1983, Cosabella specializes in meticulously crafted intimates that look as good as they feel. Crafted by hand by Italian artists, the company's selection of bras, panties, and lingerie is extensive and has netted them plenty of celebrity admirers like Kim Kardashian, Jessica Alba, and Jennifer Lopez, among others.
15. Net-A-Porter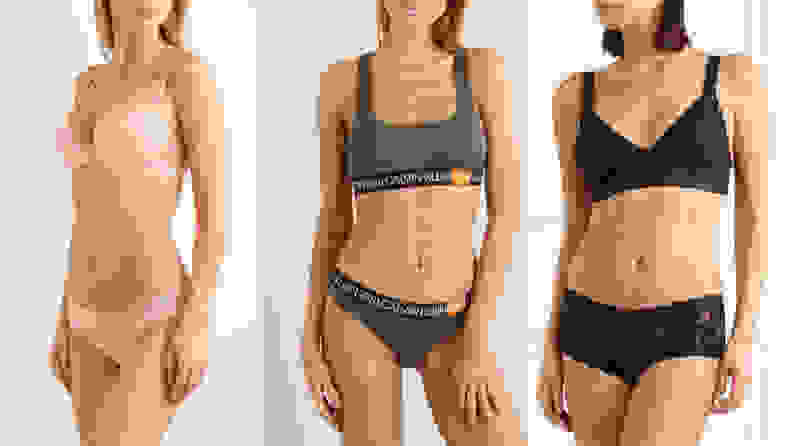 Sizes: Varies by brand
Prices: $$
Return/Exchange Policy: 28 days
This high-end retailer stocks so many popular brands: Hanky Panky, Calvin Klein, Eres, Chantelle, and so forth. As a result, there's always a ton of incredible lingerie to choose from, depending on what your style happens to be.
16. Dolls Kill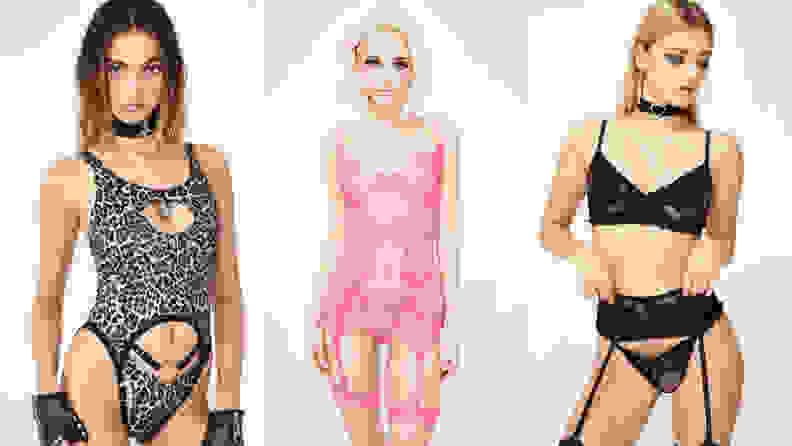 Sizes: XS-3X
Prices: $
Return/Exchange Policy: 30 days, only redeemable for store credit
Although Dolls Kill is targeted toward Gen Z shoppers, the company's lingerie sets can work for any age if you're in the mood for something more adventurous than you'd find at retailers like Victoria's Secret or Aerie. Whether its tongue-in-cheek separates or more daring bodysuits you're after, this lingerie is perfect if you want to break out of the usual routine.
17. Agent Provocateur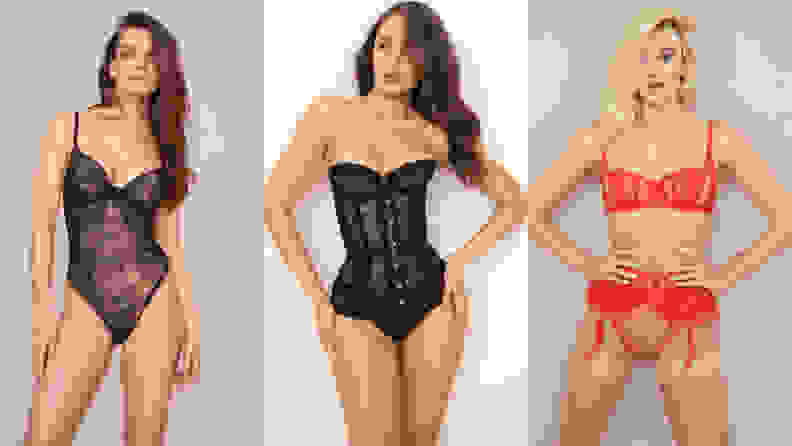 Sizes: A-G, 2-10
Prices: $$$
Return/Exchange Policy: 14 days
Shopping at Agent Provocateur is sheer wish fulfillment for anyone who's ever fantasized about having a wardrobe filled with corsets, suspenders, bodysuits, and the like. You can find some utterly breathtaking—and expensive—pieces of lingerie, so if you're in the mood to treat yourself, this is the place to do it.
18. Ysé Lingerie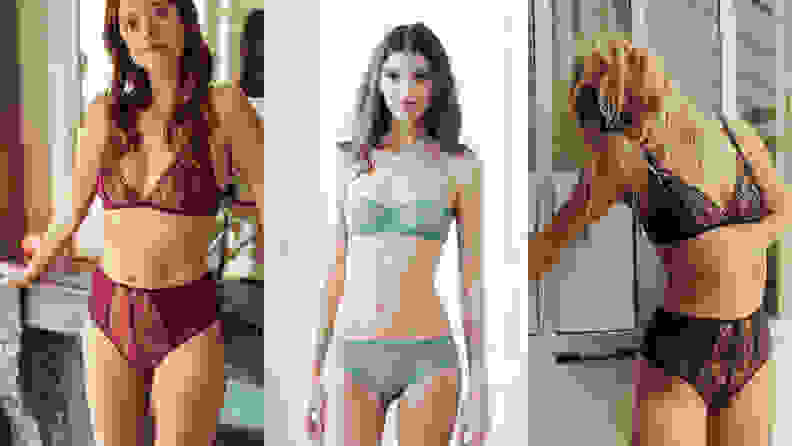 Sizes: A-D, 34-44
Prices: $$
Return/Exchange Policy: 30 days
Beautifully sexy and ideal for smaller busts, Ysé Lingerie has been generating buzz for the last couple years thanks to its social media presence. This brand is high-end and might be too expensive for some shoppers, but brand devotees swear by Ysé Lingerie's bras and panties, which they say are ultra-romantic, feminine, and even more exquisite in person.
19. Figleaves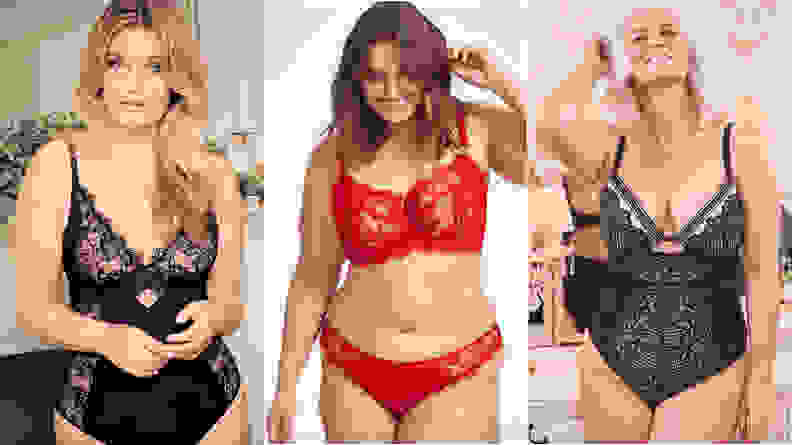 Sizes: AAA-K, 2-20
Prices: $$
Return/Exchange Policy: 60 days for a full refund
Figleaves is one of the best places to buy swimwear online, but what you might not know is that they also have an incredible selection of lingerie for A to J cup sizes, too. From lacy bodysuits to matching sets, this lingerie is curve-hugging in all the right ways for full-figured body types.
The product experts at Reviewed have all your shopping needs covered. Follow Reviewed on Facebook, Twitter, and Instagram for the latest deals, product reviews, and more.
Prices were accurate at the time this article was published but may change over time.