Lifestyle
20 adorable winter items you can find at Carter's
To keep the little ones warm and cozy.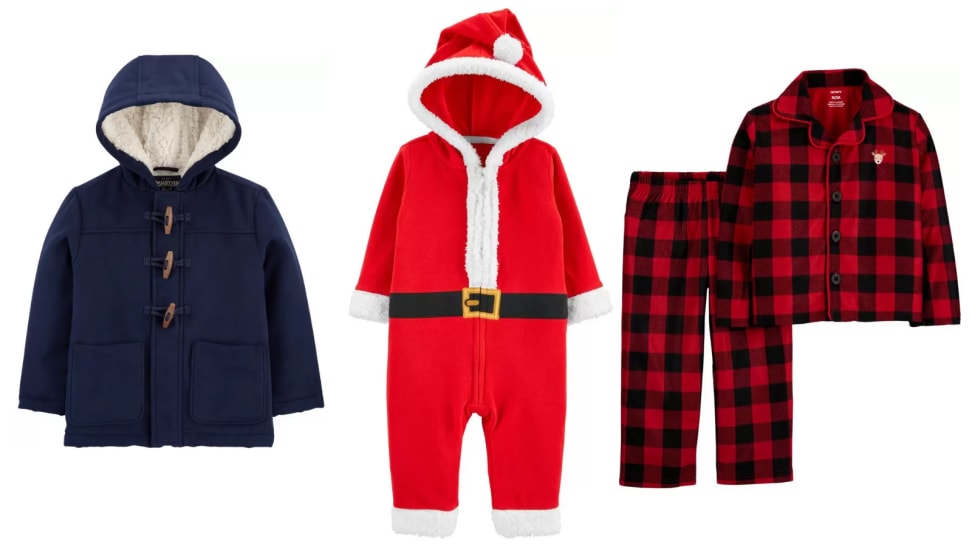 Credit: Carter's
Winter is here, and with it comes the cutest season for kids' clothing. Tiny sweaters! The smallest of scarves and mittens! The most precious of sweaters. BOOTS. Winter is a perfect time to stock up on clothing staples, and Carter's has you covered for the best of seasonal wear. What's more, a lot of these options will make great gifts if you have any little ones on your list this year.
Check out Carter's winter wear and do your best not to perish from the overwhelming cuteness.
1. A comfy Santa jumpsuit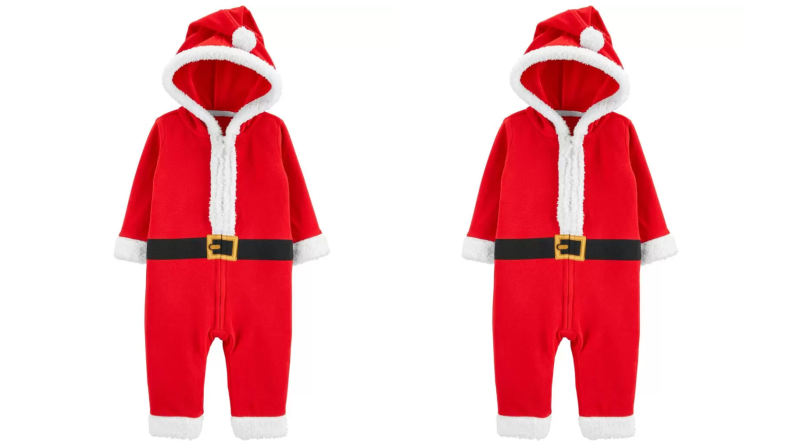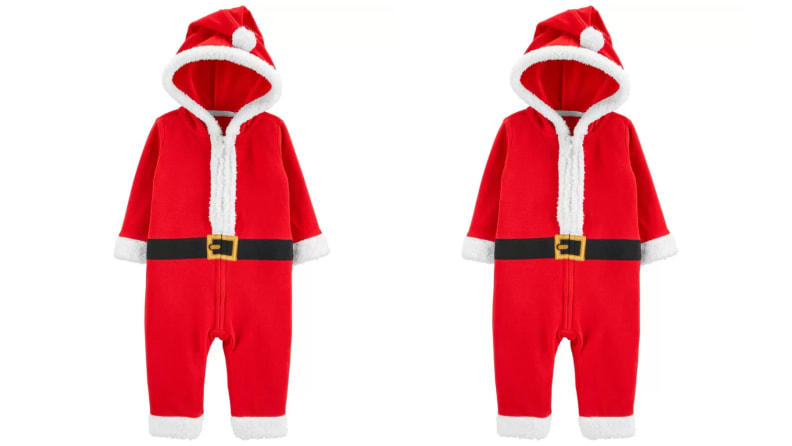 Why not start strong? This Santa jumpsuit is cozy, ridiculously adorable, and perfect for clothing your little one during the Christmas season. There's an option in red and an option in green for the little elves on your list too. Reviewers fell in love with this Santa suit for its thick, warm fabric. Many reviewers bought this piece as a gift for their grandchildren, so grab one before the season's gone!
Get the Santa Zip-Up Jumpsuit from Carter's for $5.99
2. Face masks for toddlers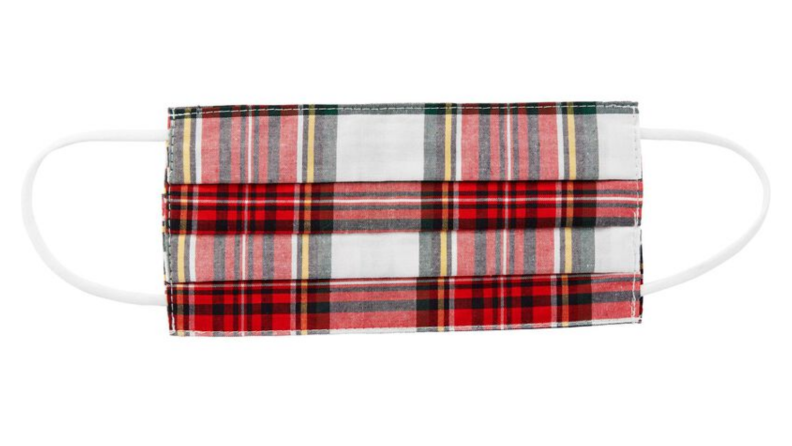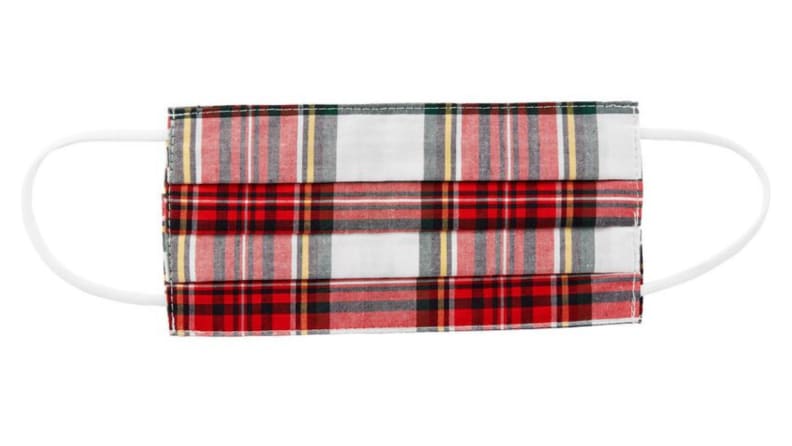 If you have toddlers that want to go out and play in the snow, keep them safe with these highly reviewed plaid face masks. Carter's affordable cloth face masks are 100% cotton and adored by reviewers for the way they sat comfortably on children's faces and their festive pattern. If plaid isn't your thing, Carter's carries face masks in a variety of wintery prints, so be sure to peruse their selection.
Get the Plaid Face Mask from Carter's for $1.59
3. Some durable gloves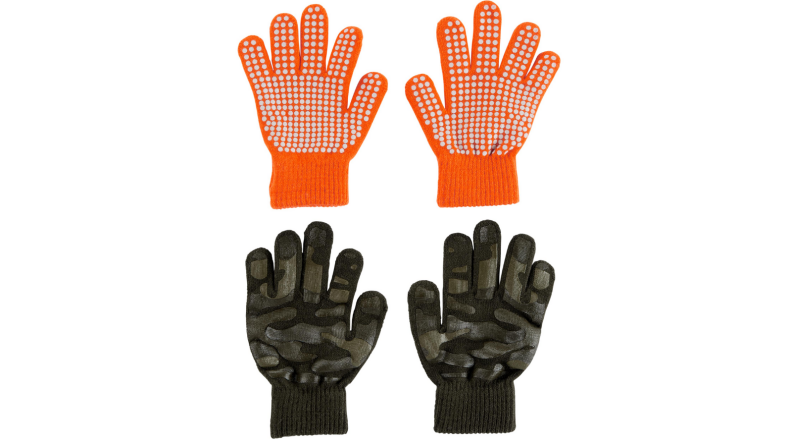 Playing outdoors is one of the best parts of wintertime—bundling up, breathing out huge clouds of winter air, coming inside for warm drinks later. These gloves will keep tiny hands warm during outdoor play. Available in a multipack with two distinct colors and patterns, these gloves were a favorite among reviewers' toddlers for their fun designs and durable grips.
Get the 2-Pack Camo Gripper Gloves from Carter's for $4
4. The sweetest bear hat and mittens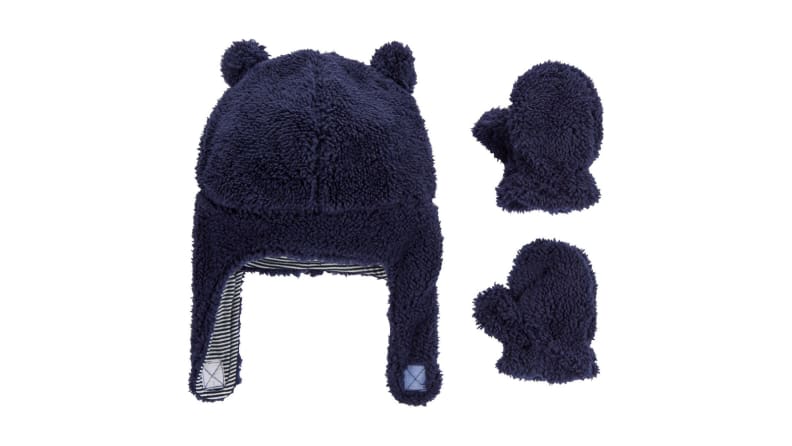 If your kids aren't about gloves so much as they are about fuzzy mittens, this is the set for you. This cute, plush sherpa hat and mittens set is perfect for the winter weather and would make a great stocking stuffer or accessory to holiday card photos.
Get the 2-Piece Sherpa Hat and Mittens Set from Carter's for $13
5. The most stylish of jackets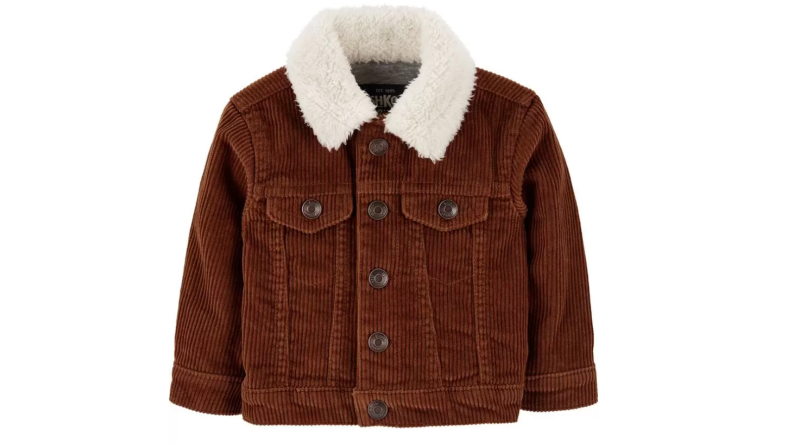 This is the jacket the guy in the Hallmark Christmas movie wears, but now you can get it for kids! This jacket is almost too stylish to be believed and is perfect if you want a jacket for your kids that's warm enough to be practical but cute enough to take a thousand photos of. Reviewers loved this jacket for its warm make, but some noted that it runs a bit small so keep that in mind before you buy.
Get the Corduroy Jacket from Carter's for $26
6. A cardigan for your tiny polar bear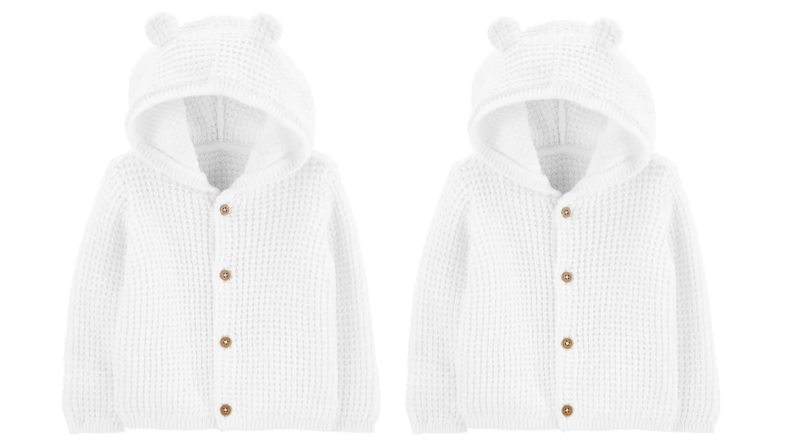 Carter's has a general theme for their wintery wear and that theme is too cute to function. I truly cannot with these little hooded cardigans. Complete with a waffle weave and the sweetest little knitted ears, these cardigans will make everyone smile over your Zoom holiday calls. Reviewers loved buying this cardigan as a gift and some noted that it ran slightly large.
Get the Hooded Cardigan from Carter's for $15
7. A bright knitted poncho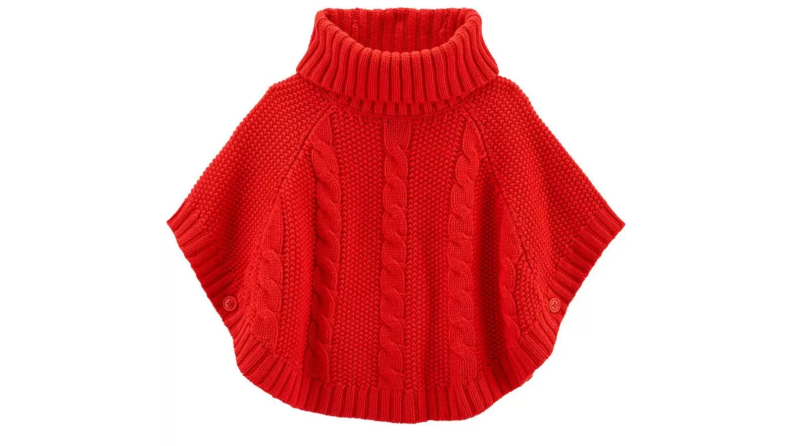 I'm still sobbing over this sweet knitted poncho that is guaranteed to transform any child into a tiny Hobbit angel (it should be noted that children wearing this will not become Hobbits but they will look like sweet fairy children). Many reviewers noted that they bought this poncho to feature specifically in the Christmas photos and recommended it for how soft and cozy it was.
Get the Cable Knit Poncho from Carter's for $15
8. Lightweight seasonal bodysuits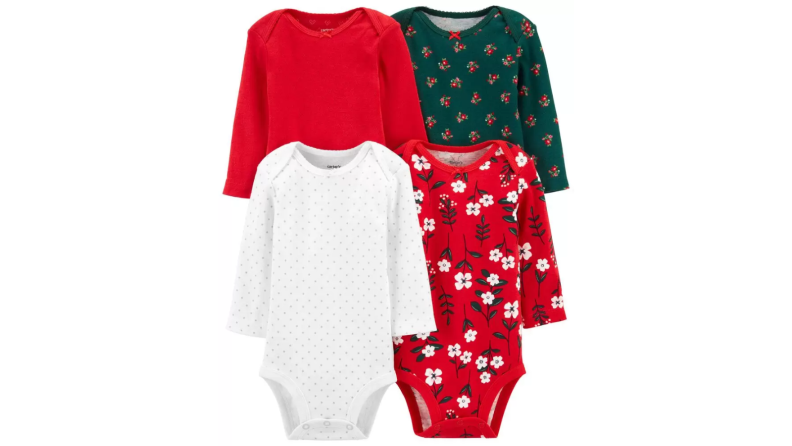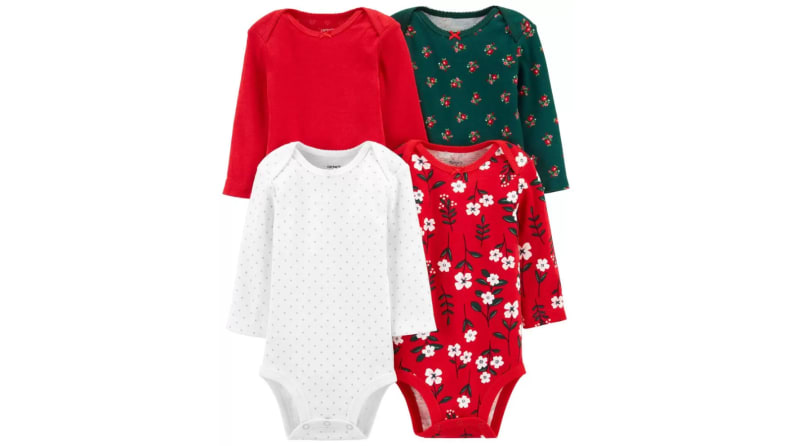 This 4-pack of bodysuits in seasonal prints is a great item to stock up on this winter. Each bodysuit is made with overlap shoulders for easy changing and has long sleeves so your kids can stay warm. Reviewers recommended these bodysuits for their super soft material and festive prints.
Get the 4-Pack Holiday Original Bodysuit from Carter's for $6.59
9. A fleece snowman suit for your coziest kids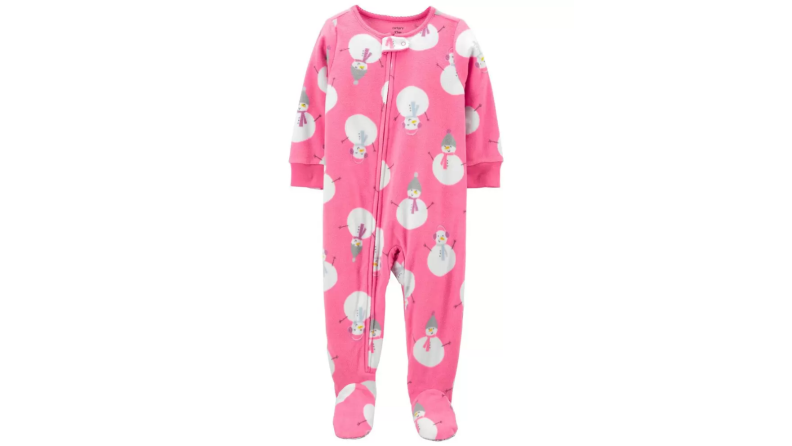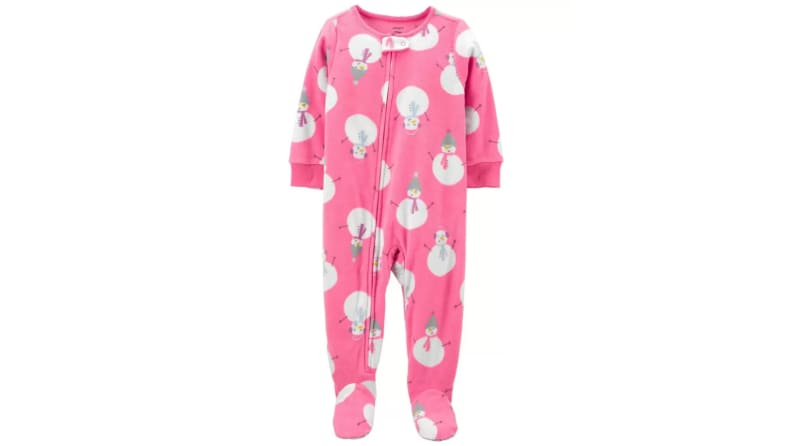 This snowman-studded toddler jumpsuit from Carter's is perfect for lazy holiday mornings and curling up on the couch for a snow day movie. Made with soft microfleece and machine washable for the inevitable wear and tear, this jumpsuit was a favorite among reviewers, some of whom noted that their kids wanted to wear it every night.
Get the 1-Piece Snowman Fleece Footie PJs from Carter's for $8
10. The sweetest hooded sherpa jacket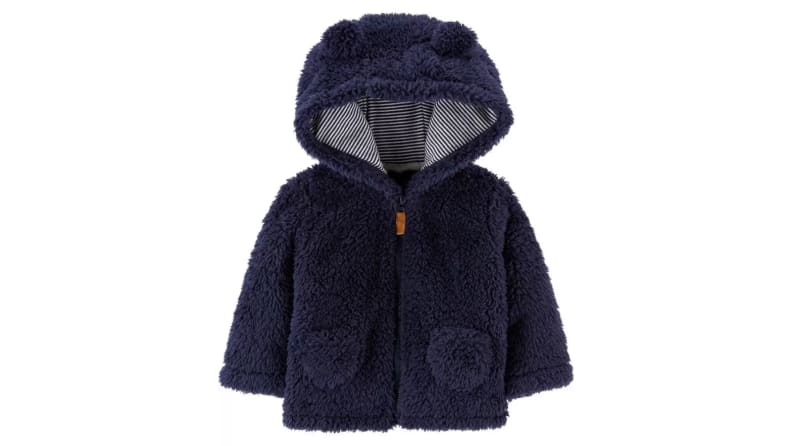 To go with the aforementioned mittens and hat. This great zip-up hooded jacket is a great choice for winter. The hood is cotton lined, providing an extra element of warmth, and the jacket boasts adorable little pockets as well. Reviewers noted that this was a great jacket for throwing on during errand runs or trips and recommended it for its soft lining.
Get the Hooded Sherpa Jacket from Carter's for $17
11. Perfect Christmas morning PJs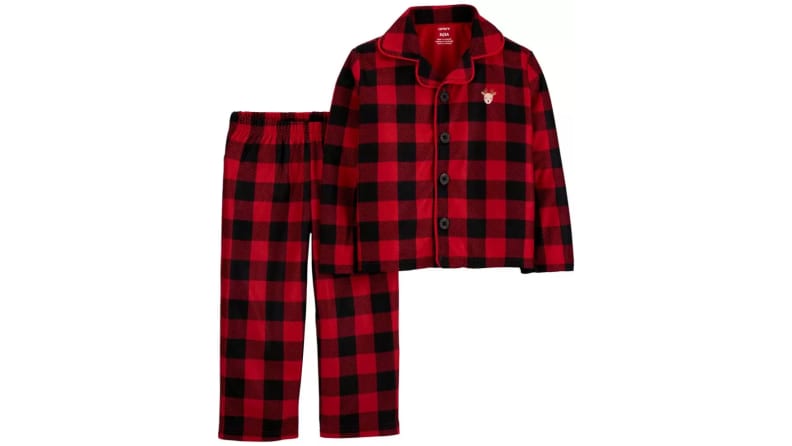 If you've ever wanted your child to look like a character from The Polar Express, these are the pajamas for you. These buffalo check pajamas from Carter's are festive, cozy, and just right for the holiday season. Complete with a tiny reindeer embroidery and made of soft, machine-washable fleece, these pajamas were recommended by reviewers for how great they were in holiday photos and how soft they were.
Get the 2-Piece Buffalo Check Coat-Style Fleece PJs from Carter's for $8.99
12. An actual snowsuit
Sometimes the winter staple has to be extremely practical; enter, the Carter's snowsuit. This two-piece snowsuit is built for durability and water resistance. Reviewers loved, in particular, the addition of velcro over the zipper to really keep their kiddos snug and warm while playing.
Get the 2-Piece Colorblock Snowsuit from Carter's for $29.99
13. A denim jacket they can wear all year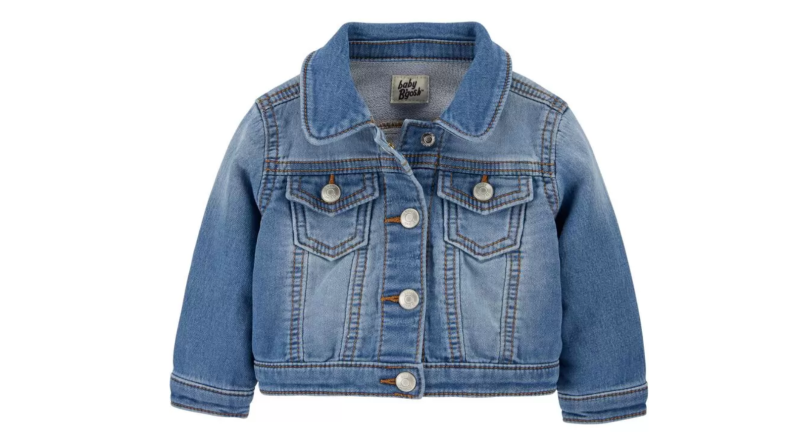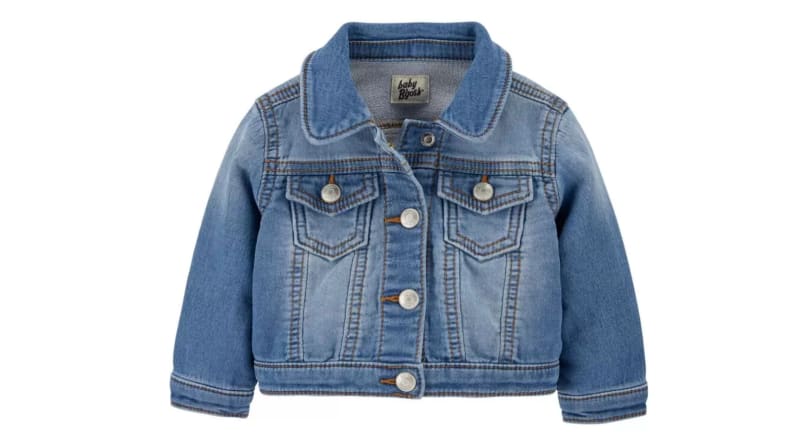 Not all jackets have to be winter-specific, and this great denim jacket from Carter's is a great layer for almost any season. Made with knit denim in order to be softer and stretchier, this jacket is perfect for a tiny human on the go. Reviewers loved picking this jacket up for their babies to layer over dresses and shirts.
Get the Knit Denim Jacket from Carter's for $20
14. Snow boots for your sweetest one
These heart-patterned pink snow boots are cute all on their own, and they'd be even cuter on a tiny human. These boots are designed to be easy to get on and off (for the adults) and boast lots of tread for ease of play. They can also be wiped clean, so mud and snow from outside won't stain them for when they get broken out next year.
Get the Polka Dot Boots from Carter's for $20
15. For the most dignified of toddlers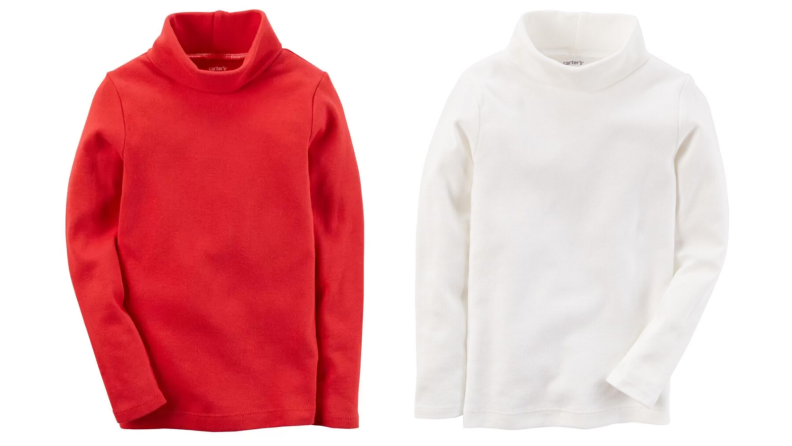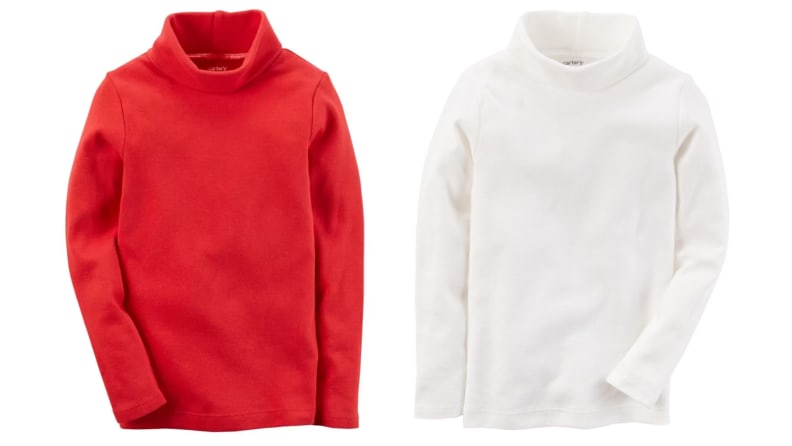 Practically every photo of me as a kid features me in a white turtleneck, and as they begin to filter into my adult wardrobe I can't help but think about the way that trends come back. Turtlenecks are big this year, and your kiddos don't have to be left out. These soft cotton turtlenecks are perfect layers and come in red and white for a festive feel.
Get the Cotton Turtleneck from Carter's for $7
16. A little red riding hood
This adorable knitted poncho is perfect for going through the woods to grandmother's house this holiday season. Made with cotton and lined with fleece on the interior, this poncho was a reviewer favorite for its reinforced underarm snaps and great quality. Some mentioned that the poncho runs a bit small, so be sure to keep that in mind.
Get the Hooded Poncho from Carter's for $10.19
17. A classic toggle jacket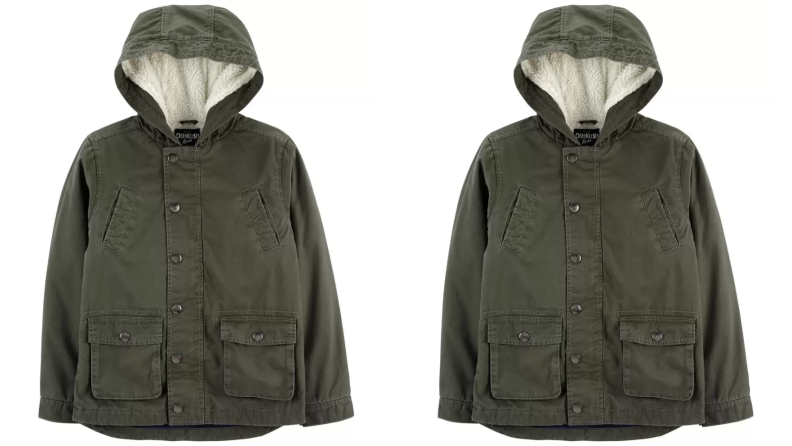 These luxurious, sherpa-lined jackets are designed to last. Cut such that they should hit below your baby's waist for even more warmth, these jackets are great if you have a little that likes to be cozy and doesn't want to feel like they're wearing something fancy (even if that's what you'd prefer). Reviewers loved the inclusion of a zipper on this jacket and recommended it for the colder months.
Get the Sherpa-lined Cargo jacket from Carter's for $31.20
18. What the baby should absolutely be wearing on Christmas Eve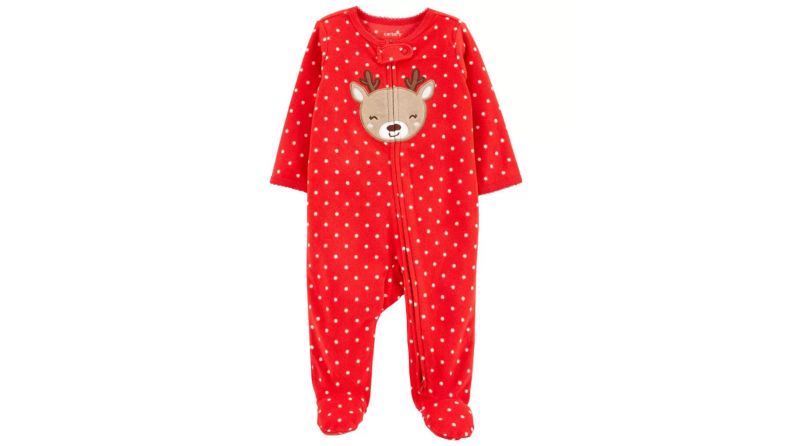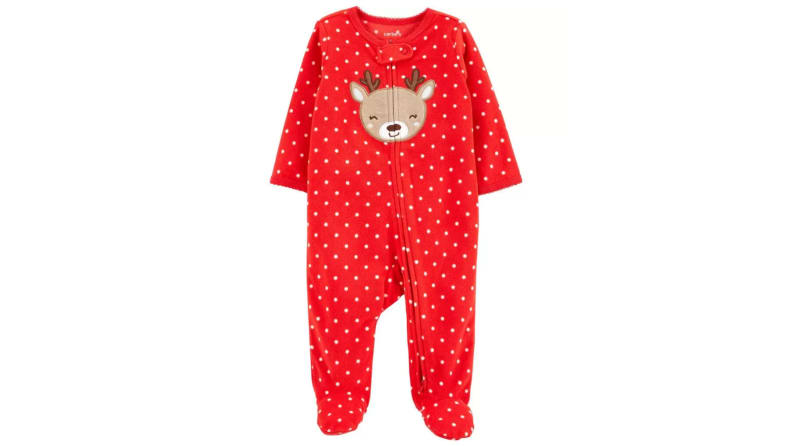 If you're still looking for the perfect item for your baby this Christmas, look no further than this red, polka-dotted reindeer sleep and play from Carter's. Machine washable and made with downy microfleece, this sweet little footed onesie is perfect for photos by the tree.
Get the Christmas Zip-Up Fleece Sleep & Play from Carter's for $4.19
19. What the older kid should be wearing on Christmas Eve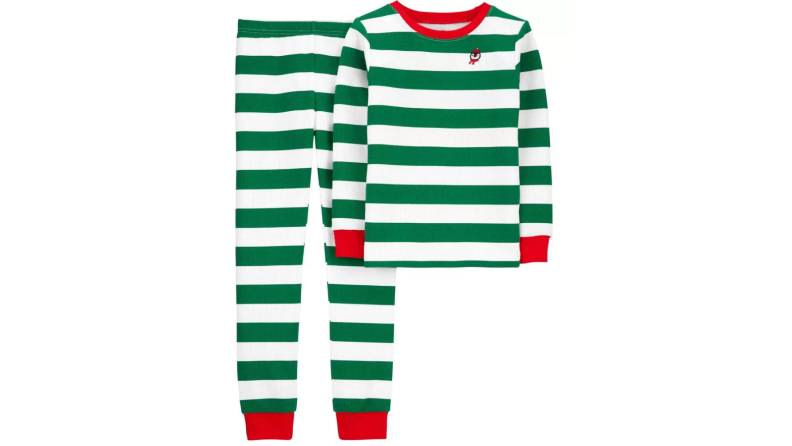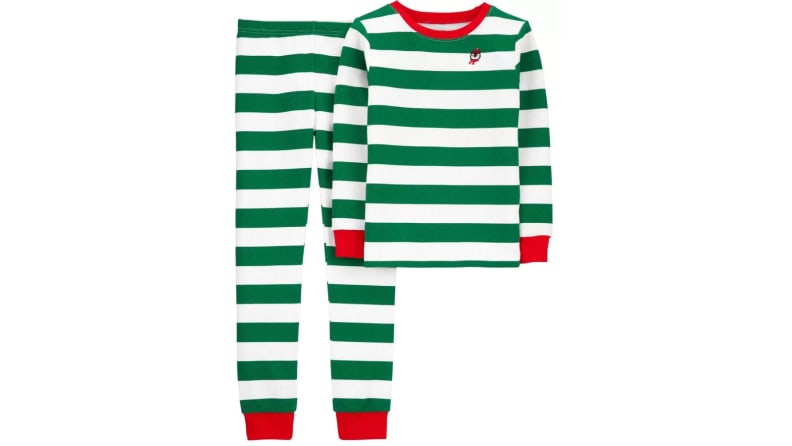 It's been a big year for pajamas, and these penguin-embroidered Christmas pajamas are perfect for curling up in over the holidays. Carter's offers versions of these pajamas in other developmental sizes as well, so if you're looking to have everyone match give their website a glance to see whether or not they offer these same PJs in the sizes you need.
Get the 2-Piece Christmas Thermal PJs from Carter's for $8.99
20. A super soft onesie for tiny creatures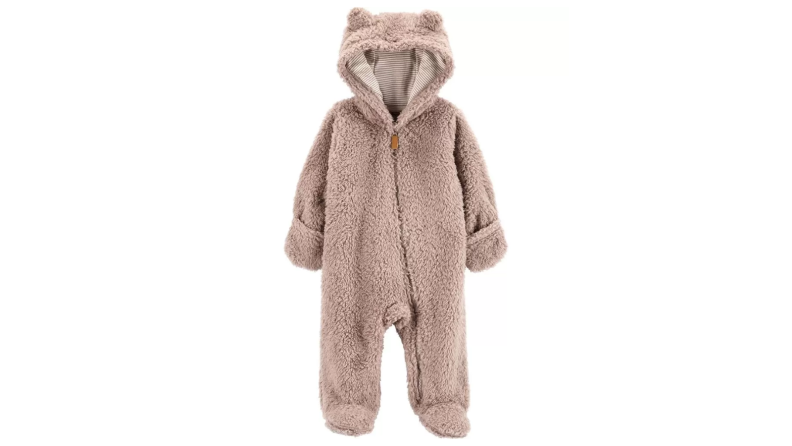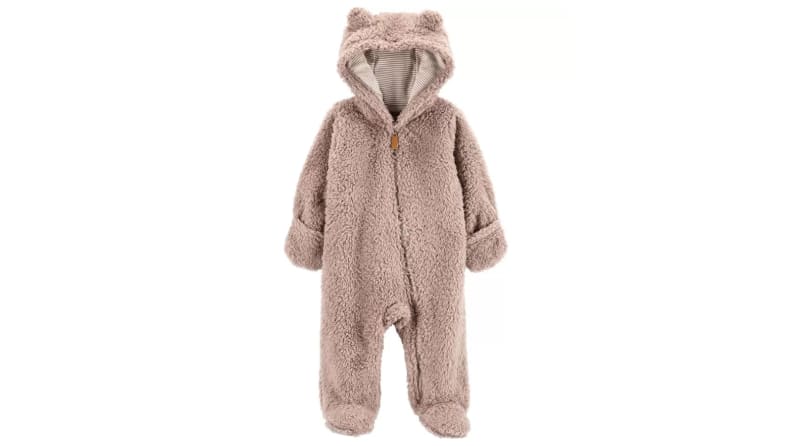 It's the ultimate in sherpa, eared jumpsuits. This sweet little onesie for babies is absolutely perfect for your tiniest snow bears. Reviewers loved this pram for its snuggly, fuzzy material and lightweight feel. It's also available in three colors, so snag more than one while you're checking out.
Get the Hooded Sherpa Pram from Carter's for $20
The product experts at Reviewed have all your shopping needs covered. Follow Reviewed on Facebook, Twitter, and Instagram for the latest deals, product reviews, and more.
Prices were accurate at the time this article was published but may change over time.