Lifestyle
5 alarm clocks that will actually make you get out of bed in the morning
Because some people need (or want) a more specialized wake-up call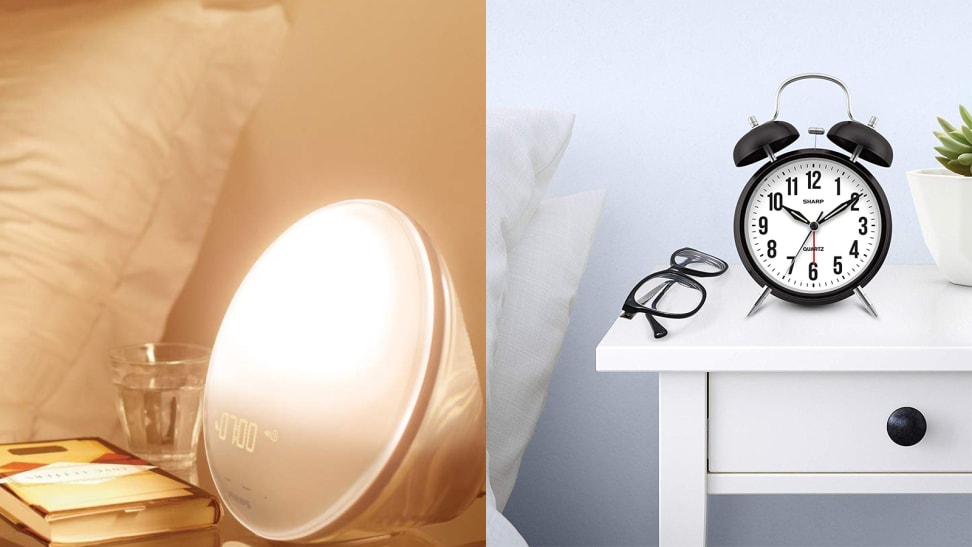 Credit: Philips / Sharp
There are plenty of people that wake up naturally from the sunlight bathing their faces and the birds chirping outside their windows. Then there are people who set a string of iPhone alarms within minutes of each other and tap 'snooze' dozens of times before dragging themselves out from under the covers. If you're among the latter group, don't fret! With the right alarm clock, you'll be up and at 'em (or at least up) more easily and effectively.
1. A clock that mimics the sun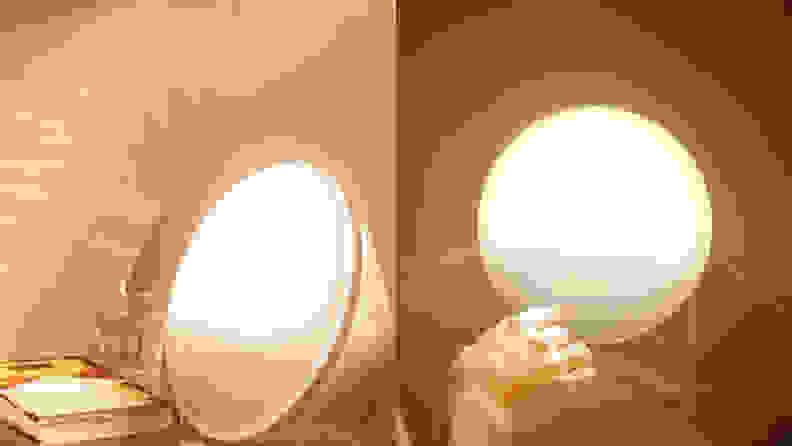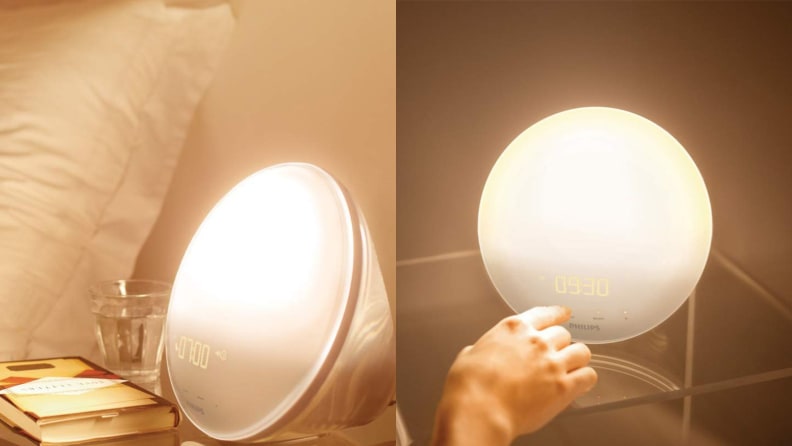 If you're someone who needs total darkness to fall asleep, you probably know the struggle on the flip-side of energizing yourself out of bed when there's zero light coming through the windows in the morning. The Philips Wake-Up Light Alarm Clock wakes you up gradually with a glowing light and your choice of five different wake-up sounds or a radio. One Amazon reviewer says they no longer hit the snooze button since purchasing: "This has seriously made all the difference in the world. It's amazing, really—nothing else has worked. I've never been a morning person (and never will be), but this helps you slowly and naturally wake up."
Get the Philips Wake-Up Light Alarm Clock with Sunrise Stimulation on Amazon for $115.18
2. A clock that blasts you from the soundest sleep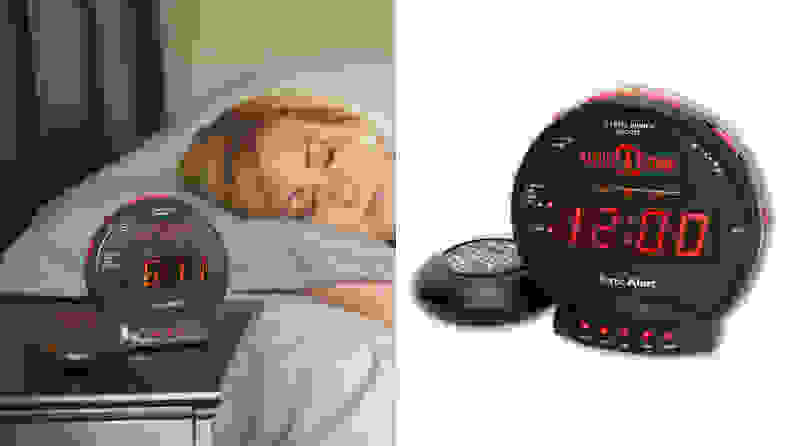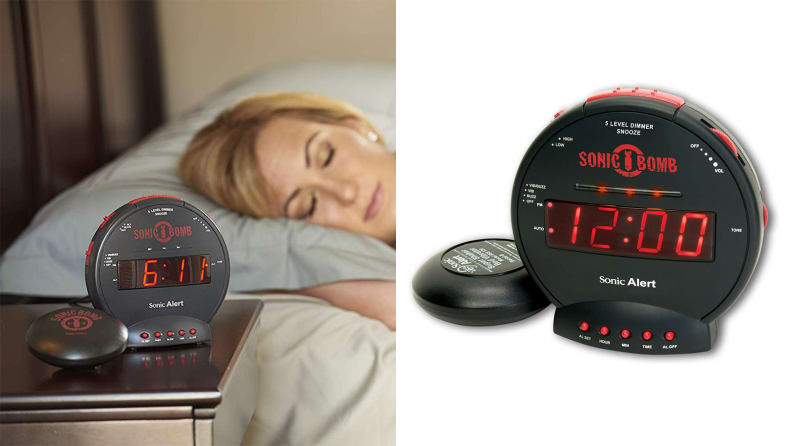 Ever wish you could hire someone to physically shake you awake? Enter the Sonic Bomb. In addition to an alarm that sounds off, it includes a "bed shaker" that you place under the mattress or your pillow. It pulses to get you up and moving in no time. One Amazon reviewer says this clock could wake the dead: "I was tired (no pun intended) of sleeping through classes, work, and just about everything else, so I decided to give this one a try. I have slats under my mattress, so I had to put the bed shaker under my pillow instead and I'm glad I did! The bed shaker feature works extremely well. If you're like me and you hit snooze while you're still sleeping without realizing it, you need this."
Get the Sonic Alert Sonic Bomb Alarm Clock on Amazon for $33.02
3. A clock that wakes you with music
Waking up to your favorite radio hosts and music is a great start to any day, but this isn't any old clock radio. This DreamSky alarm clock wakes you up gradually with a slow volume increase. It has adjustable brightness, allowing you to dim the glow from the display so it won't disrupt your sleep. In addition to the large easy-to-read current time, it shows the indoor temperature and the alarm time, and there's a USB charging port to plug in your phone charger. "I loved the ease of setting up the clock with the time, alarm, and AM-PM settings," one Amazon reviewer writes. "It is perfect!!! The sound from this small radio is amazing. It is clear and crisp. You can enjoy both music or talk radio."
Get the DreamSky Alarm Clock Radio on Amazon for $24.99
4. A clock that's also a conversation starter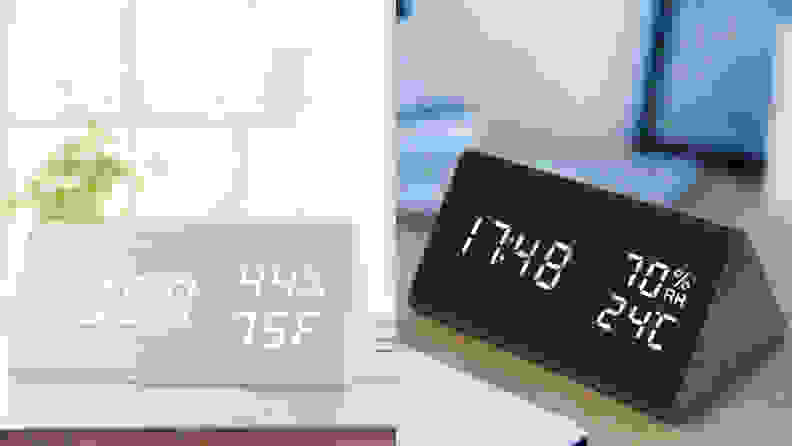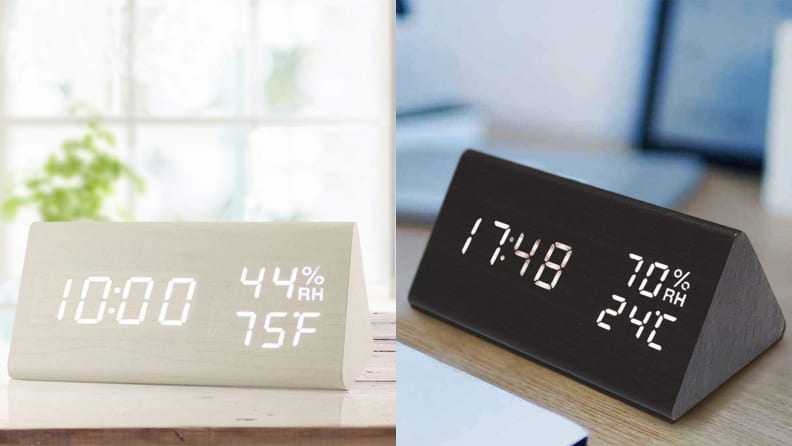 Your room's aesthetic should not suffer just because you sleep like a log. Jall's Digital Alarm Clock has a modern design that looks more like a decoration than the device that wakes you up each morning. The clock has adjustable brightness, three alarm tones, and a function to program the clock to only wake you up on certain days. One Amazon reviewer purchased it because they were sick of the typical alarm-clock look: "This has a sleek stylish design that actually adds a nice accent to your dresser or table. It is super convenient that it has the two power sources both plug-in and battery back-up. My favorite aspect is the capability to schedule three different alarms without having to reset your programmed alarm over and over."
Get the JALL Digital Alarm Clock on Amazon for $24.99
5. A throwback clock that wakes you with bells (no whistles)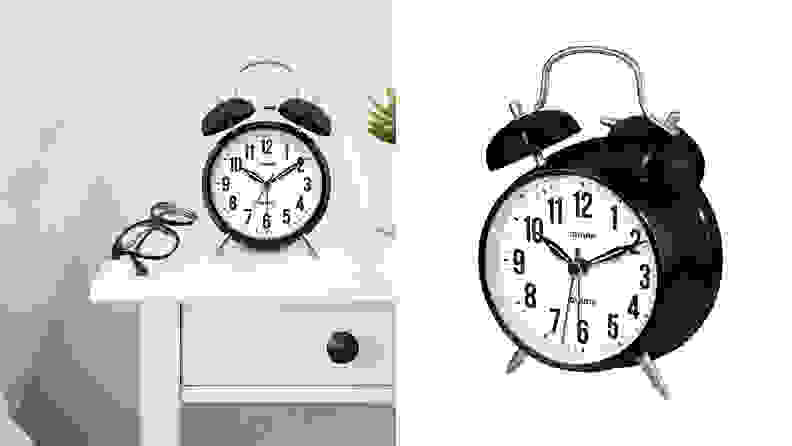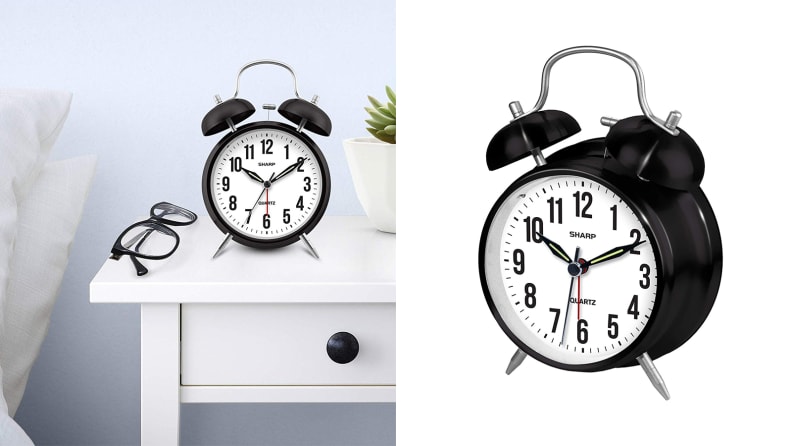 If you prefer the classic analog-style, this simplistic clock from Sharp has glow-in-the-dark hands so you can tell the time even in the dead of the night. Like classic alarm clocks, it features two bells that ring when it's time to hop out of bed. One Amazon reviewer: "If you have trouble waking up...if you have a child with trouble waking up...if you just want to wake up your neighbors for a few laughs—buy this clock. It's cheap and, I swear to God, the thing will wake the dead."
Get the Sharp Quartz Analog Twin Bell Alarm Clock on Amazon for $9.94
The product experts at Reviewed have all your shopping needs covered. Follow Reviewed on Facebook, Twitter, and Instagram for the latest deals, product reviews, and more.
Prices were accurate at the time this article was published but may change over time.