Lifestyle
This $200 heated razor is like getting a barbershop shave at home
The Heated Razor from GilletteLabs is absolutely worth the cash.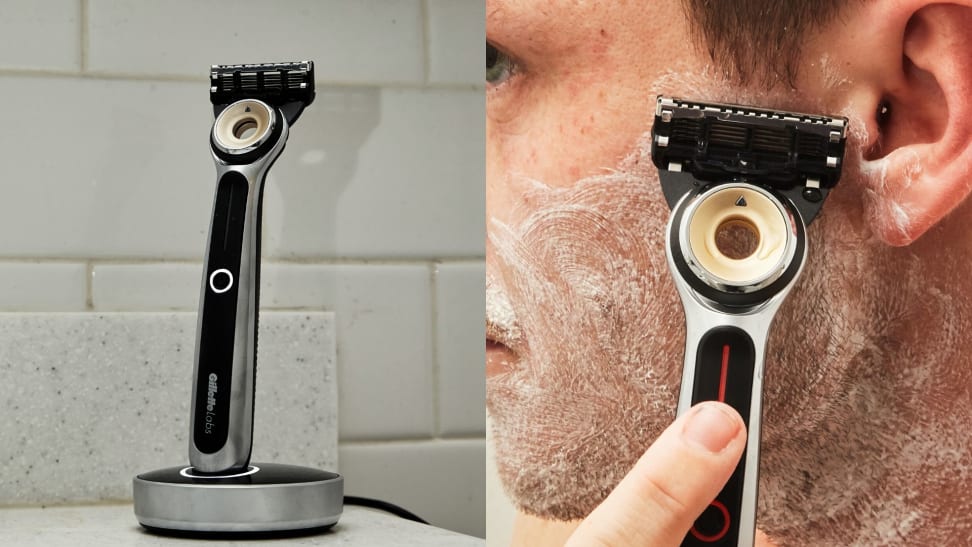 Credit: Matthew Zach
If I'm being honest, my two least favorite things in the world are going to the grocery store and shaving my face. And while I can't just stop eating, in the past I've gone way too long without shaving—a mistake I regret looking back through my Facebook photo uploads. But now in 2020, shaving doesn't have to be so miserable because razors are more than the janky plastic sticks that left us dabbing cuts with toilet paper in the ninth grade. (Not hating on all disposable razors, there are some great ones out there!)
But when it comes to advances in shaving, one new tech-forward razor is poised to be a game changer. The Heated Razor by GilletteLabs claims to be the world's first heated razor, offering "the pleasure of a hot towel shave in every stroke." That's right, no more dousing your skin and blade in hot water to get the comfort of a hot shave experience. And as someone who loves the luxury experience of getting a fancy shave at the barber rather than going it alone in my tiny Brooklyn bathroom, it only made sense to test this razor out for myself.
What is the Heated Razor by GilletteLabs?
Like I said, this isn't the razor you learned to shave with. In fact, it's not like any other on the market. This $200 electric razor is designed to heat in less than one second to provide an ultra-comfortable shave at a temperature you select (109 or 122 degrees Fahrenheit) thanks to a stainless steel warming bar located on the base of the disposable razor cartridge. As it's electric, the razor sits on a sleek magnetic charging dock that has to be plugged into the wall. It's also waterproof and can be used in the shower or the sink, which makes sense, because, you know, it's a razor. The razor also uses Gillette's "FlexDisc technology" to provide an even shave and "maintain skin contact," which can be trickier than one might think when shaving the face.
The Heated Razor by GilletteLabs has also snagged some pretty serious awards, including landing a coveted spot on Time's list of Best Inventions of 2019.
How do you buy the GilletteLabs Heated Razor?
At $200, this razor is one of the pricer models you'll find out there. To order it, you have a few options available online. If you order straight from Gillette, you can get the starter pack which includes that razor, the magnetic charging base and plug, and two GilletteLab blade cartridges. You can also sign up for a blade refill service (like Harry's) so you're never out of blade cartridges. Gillette charges $25 for a four-count cartridge pack, which can be shipped every one, three, or six months. Everything ships free, and the razor comes packaged in a smallish box that's easy to unbox and perfect for gift wrapping. You can also order the Starter Kit from Amazon, but at time of publication, it was more expensive there, and without the refill subscription.
What does the Heated Razor from GilletteLabs claim to do?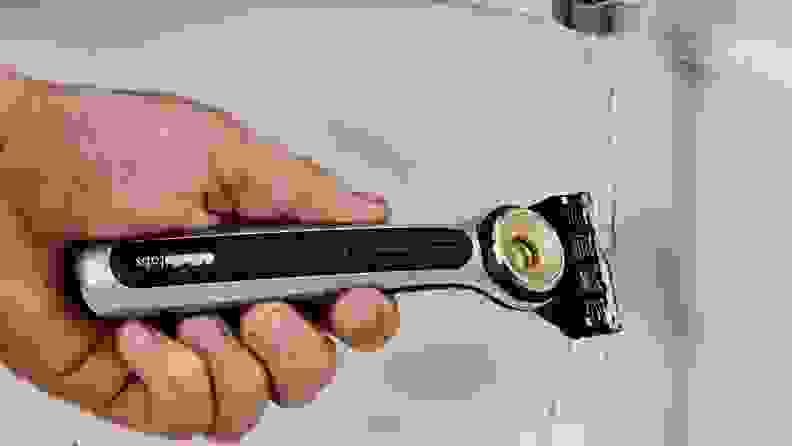 GilletteLabs is pretty straight forward about what it claims: This razor is supposed to give you a spa-quality shave in the comfort of your own home, and promises a "smooth" and "noticeably more comfortable shave." The FlexDisc, a circular piece below the blade, is designed to contour to your face to "ensure contact with the warming bar on every stroke—no matter how you shave." Additionally, and this is a big one, it promises a safe shave with "an even and safe level of heat." Because what's worse than cutting yourself while shaving? Burning yourself while shaving. As any barber will tell you, application of heat helps to open the pores and soften the whiskers, leading to an ultra-close shave.
What is it like to use Gillette's Heated Razor?
After my first shave with this new-age razor, I realized that my grooming habits had just made a significant change for the better. Using this razor really does feel like a luxe experience, and an efficient one, too—the razor reaches its maximum heat in one second. I was off to the races with a warm shave faster than than the water in my sink was even lukewarm. After experimenting with both temperature settings, I realized that I preferred the hottest setting (122 degrees Fahrenheit), which made the razor's five blades seem to glide smoother across my face, creating a much more comfortable shave than I'm used to.
Knowing I'd be testing a razor, I grew out my stubble for about a week—or the point where the hair begins to get wiry and I can hear my mom's voice in my head telling me to "take care of yourself." In terms of removing my facial hair and leaving my face and neck clean and smooth, I couldn't be happier. Oftentimes when shaving over wiry hair, the whiskers get caught in the blades, stopping the smooth flow of the blade. Not the case with this razor.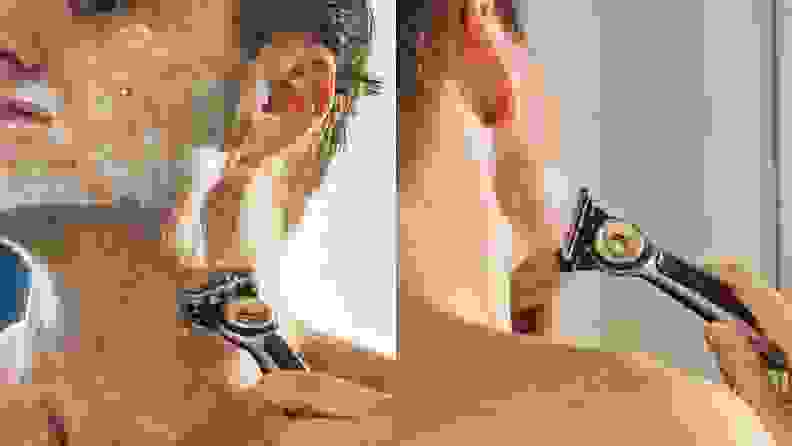 What I love most about the heated razor though, is that the FlexDisc really does contour to your face. As someone with a strong jawline (humblebrag, I know), the razor glides across my cheek and over my jawbone to the tricky spots I usually miss below my ear and behind my jaw. Same moving up my neck and across my chin—it's smooth and reactive. When you're done shaving, you put the razor back on the magnetic charging station and a series of sleek lights will let you know that it's charging again.
After getting a nice, clean shave, I waited two days to give it a whirl with just enough stubble for a quick power shave before work. The second true test in my mind: Would the added heat be too much for my daily stubble? Nope! In fact, the heat made shaving feel like a quick steam facial rather than a sharp blade cruising over my skin—not something I'd mind having every morning.
According to GilletteLabs, the razor heads are designed to last 30 days. After three weeks, I could tell that mine was starting to show a little wear and tear, but not enough to change it (the Starter Kit comes with one replacement blade). But when it's time to swap the blades, a large circular button makes quick work of ejecting the used cartridge straight into the trash can.
The heat made shaving feel like a quick steam facial rather than a sharp blade cruising over my skin—not something I'd mind having every morning.
What are the downsides of Gillette's heated razor?
There are a few things I wish I could change about the razor, though. If you're lacking counter space in your bathroom, the entire setup—razor, charge stand, cord and plug—might be a space-hogging nuisance when you're using your sink for tasks other than shaving. The wall plug seems bulky to me and doesn't look great in my bathroom, especially compared to how attractive the razor and charging station are. If you travel frequently, it doesn't seem to make sense to pack up the entire setup to take on the road with you. (Though The Art of Shaving sells a $250 travel-ready version that comes with a packable charging case not available as a standalone product.)
Is the heated razor by GilletteLabs worth it?
If you're looking to upgrade from just shaving cream and a disposable razor, and want to treat yourself, I would say it's absolutely worth it. Though it's pricey, the system is sleek and made me actually enjoy shaving. Are there razors out there that are less expensive and give similar clean-shaven results? Sure. But if you want an at-home shaving experience that rivals what you can get at the barbershop, look no further.

The product experts at Reviewed have all your shopping needs covered. Follow Reviewed on Facebook, Twitter, and Instagram for the latest deals, product reviews, and more.
Prices were accurate at the time this article was published but may change over time.