Lifestyle
Celebrities are obsessed with Casetify—but are the phone cases actually protective?
I tried out Kylie Jenner's iPhone case to see if it could live up to the hype.
Credit: Kylie Jenner / Lauren Rodolakis & Naidin Concul-Ticas
We at Reviewed are just as curious about those flashy products we see in our Instagram feeds as you are. For our 'As Seen On IG' series, our writers put them through their paces to find out if they're actually as good as they look online—or too good to be true. Spot one that we've missed? Email us at AsSeenOn@reviewed.com.
In my 10 years of owning cell phones, I have broken practically all of them. Whether by shattering my brand new iPhone screen or sending my LG flip phone through the wash (twice), keeping a phone in mint condition is clearly not a talent I possess.
In an effort to keep my phone unharmed for as long as possible, I've experimented with heavy duty, shatterproof cases such as the Otterbox or Lifeproof, but they've all been too big and bulky for my liking. I mean, half the point of spending so much money on the iPhone is the aesthetics, right? That's why, when an ad for Casetify—a surprisingly cute phone case that is supposed to withstand drops up to nine feet—popped up on my Instagram timeline, I was immediately sold.
What makes Casetify different?
Founded in 2011, Casetify claims to be the "fastest growing global tech accessories brand for millennials." Their phone cases, Apple watch bands, and various other tech accessories can be seen in use by a slew of celebs ranging from Gigi Hadid to Dwayne Wade.
Not only are Casetify''s hundreds of phone cases cute, they're practical. They're made with two layers of shock-absorbing plastic to withstand impact, and the raised bezels around the screen and camera lenses help protect the glass if dropped on a flat surface. The Ultra Impact and Impact cases in particular offer "military-grade protection" with the Impact case certified to withstand drops of up to 6.6 feet (two meters) and the Ultra Impact case good up to 9.8 feet (three meters). Somehow, these cases aren't ugly and bulky, but slim and fun, fulfilling their tagline of "protective cases you'll actually want to show off."
The cases range in price starting at $29 for a basic snap-on case with light protection up to $59 for their Ultra Impact case, which provides the greatest defense against drops. In between, Casetify offers dozens of cases with a range of protection levels and styles such as sequin cases, mirror cases, print cases, marble-look cases, faux "vegan" leather cases, and even the ability to add your own photos or design to some cases. Most cases also offer the option to personalize them by printing your name or any word or phrase you like up to 12 characters in length.
I found the selection a bit overwhelming, but the second I saw the one-and-only Kylie Jenner posing on the Casetify Instagram with a gold glitter case with her name printed on the back, I knew I had to have one just like it.
Is my Casetify case as cute IRL as it looks on IG?
One hesitation I had when ordering my silver glitter case was whether it would look and feel bulky on my iPhone X. The case has free-flowing glitter throughout it, which requires a hollow compartment on the back of the case for the glitter to float in. Although the case looked fairly slim online, I am no stranger to the "Instagram vs. Reality" contrast when an online product doesn't quite look the same upon arrival.
Luckily, this was not my experience with Casetify. My case is just as cute and slim as it looks in the ads online and even more fun in person. I've gotten tons of compliments on it from friends and people have even taken my phone just to flip it upside-down repeatedly to watch the glitter fall for minutes at a time. Plus, when I recently lost my phone at a bowling alley (I told you, I am horrible at keeping phones safe), it was easy to recover because of my unique case customized with my name on the back.
Are Casetify cases actually drop-proof?
The short answer? I don't really know. When I decided to write this article about my new phone case, I was excited to put it to the drop test in Reviewed labs to see if it could really withstand a six-foot fall. Based on the ads I saw on Instagram for Casetify, I was led to believe that all of their cases were "military grade" and guaranteed to protect phones.
Still, before I deliberately dropped my precious iPhone, I emailed Casetify to make sure my case could be manhandled in this manner. The customer service team was quick to reply and let me know that, while all of the company's cases are designed to protect a phone from drops, the Impact case and Ultra Impact case are the specific versions that are drop-proof from up to 6.6 and 9.8 feet, respectively.
I was also informed that while you're selecting your phone case on the Casetify website, you can scroll down to the product information tab to learn more about the protection and weight of the case you have chosen. The protection levels given are basic, strong, and ultimate, and the weights include very light, light, mid, and heavy. My glitter phone case offers "strong protection" and a "heavy" weight by Casetify standards—not bad for a basic case, but still not "drop-proof."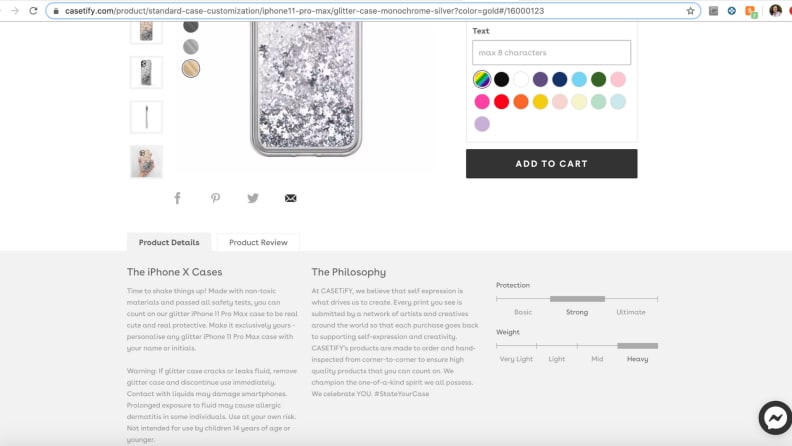 What's more, while the Impact and Ultra Impact cases are certified drop-proof, this may not mean much. I also asked customer service if the company offers any guarantee of replacing a customer's phone in the event of damage if dropped while in a "certified" Casetify case. The team told me that while they stand by their product, they do not offer any guarantee of this kind, only a six-month quality assurance window to replace your case if you deem it defective. This warranty is similar to what competitors Otterbox and LifeProof offer.
Moral of the story, I will not be purposefully drop-testing my phone because it turns out that my case is not necessarily drop-proof. Further, even if I'd bought a "certified" Impact or Ultra Impact case, I would not be drop-testing it any time soon. Do I think Casetify is trying to be purposefully deceptive in their ads? No. But I believe it needs to be made more clear on the website the level of protection each case offers.
All of that said, in the few months I have had my glitter phone case, it has survived some pretty nasty falls from about three or four feet, and my phone—as well as the case—still look good as new.
Are Casetify cases worth it?
If you're looking for an attractive phone case that purports to protect your phone from drops, Casetify just might be the brand for you. My glitter case has already exceeded my expectations, for its looks and the protection it offers.
In terms of pricing, Casetify cases seem to be in line with their competitors. Companies like Case-mate and Speck that focus on fun designs sell their cases for around $40, and high-protection cases from Otterbox and LifeProof retail for about $60 and $90, respectively. With prices ranging from $29 to $59, Casetify offers a great combo of designer and protective cases at a reasonable price.
Besides that, I'm impressed with the range of fun and fashionable cases that Casetify offers on their site. As someone who tends to get bored with a phone case pretty quickly, Casetify has so many options that I could have a cute and unique case every month and never run out. I am happy so far with my Casetify experience that I feel confident in saying I will be buying from the company again.
The product experts at Reviewed have all your shopping needs covered. Follow Reviewed on Facebook, Twitter, and Instagram for the latest, deals, product reviews, and more.
Prices were accurate at the time this article was published but may change over time.
More As Seen On product reviews