Pros
A variety of extra cook settings

Built-in timer

Exceptional low-end burner temps
Cons
Insufficient upper-end temperatures
Slow, but great for baking and simmering.
×
charts
Rangetop temperatures managed to dip fantastically low, with burners hitting their minimum temperatures between 103°F and 112°F—now that's positively balmy. Maximum temperatures were too low to truly allow for extremely high-heat cooking, ranging from 320°F to 367°F, but failing to get any hotter. Burners were slow to boil water as well. Only one burner broke the 10-minute mark without having boiled six cups of water yet, but only one of the burners boiled significantly sooner either.
The oven was slow to preheat—no surprise, considering the cavity contains three substantial sliding racks, which often add to preheat times. The standard broiler took 7:06 to heat the area beneath it to 602°F—about twice as long as the best infrared broilers we've tested. Cookies we baked in the oven came out evenly baked all around, while cakes had a bit of variation in browning that was repeated pretty uniformly across the test sheet. With the addition of European-style true convection, cookies were even closer to perfection, while cakes scored only slightly higher.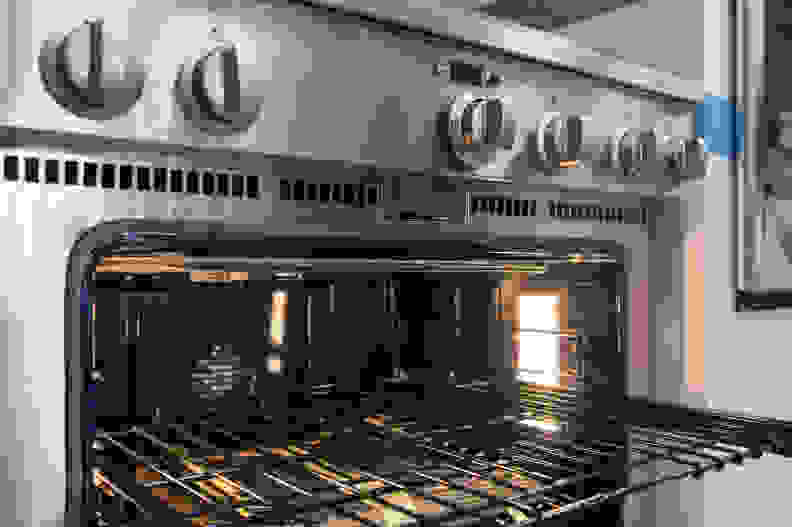 We also roasted pork loin in the oven using a standard bake setting and found the results to be on the disappointing side of just okay. The roast lost an average amount of moisture, but the slightly lengthy amount of time it took to cook and its uneven browning were underwhelming. When we used the Convection Roast setting, the pork loin cooked more quickly, but lost 0.83 lbs of water due to roasting, making it overly dry. The pork also had issues with uneven browning. We'd recommend skipping Convection Roast when you're roasting meat; instead, you may want to use standard bake settings, baste if appropriate, and rotate your meat halfway through the roasting process to even out the browning. If you're roasting food that could benefit from dryness—such as kale, spinach, or Brussels sprouts—then the Convection Roast setting may be the way to go.
The GE Monogram ZDP364NDPSS dual-fuel 36-inch range (MSRP $8,199) is sleek and attractive, with a more minimalist appearance than its professional-style competitors. The heavy grates, stainless steel exterior, and easy-to-grip knobs are all there, but the overall approach is less heavy-handed than, say, the Viking VDSC5304BSS.
Although it may look spartan, this Monogram is actually jammed full of extra features. Consider its slew of bake and roast settings, unique mood lighting, large 5.75 cubic-foot self-cleaning oven, three sliding oven racks that can remain in the oven during cleaning, griddle, and multi-part black rangetop grates. GE even found a way to unobtrusively add a built-in timer—a rarity among pro-style ranges. While the extent of features strikes us as a little overzealous, it does offer some great cooking options for those who don't want to sacrifice extras for that pro-style look.
Luckily, our tests showed that none of the Monogram's features will get in the way of an experienced cook. Ignore the Large Cookware setting and leave off the halogen lighting, for instance, and the range will still give you excellent low temperature simmering from any of its four dual-ring burners. Our tests also show that the ZDP364NDPSS's oven will please even the most particular home chefs, although we weren't thrilled by how it roasted pork loin.
Regardless of performance, the ZDP364NDPSS is a professional-style range that you can live with. If you want that restaurant kitchen look, but don't want to sacrifice such niceties as self-cleaning, a griddle, a bamboo cutting board, a two-year parts and labor warranty, and four reversible wok grates (yes, really), then the GE Monogram ZDP364NDPSS may be the right fit for your kitchen.
Chamfered edges and hidden features
The stainless steel body and black rangetop of the ZDP364NDPSS should match the color scheme of just about any kitchen. While it may have an impressive 36-inch (35 7/8-inch, to be exact) width, chamfered edges soften some of those sharp lines and keep this Monogram from looking too much like a monolith. The minimalist controls and thick oven handle round out the look, which is at once modern and classic.
×
New Gallery
The range doesn't include a backsplash, but you can shell out a little extra if you'd like that extra wall protection. A fixed 12-inch backsplash (MSRP $449) should do the trick, but $200 more gets you a 30-36-inch adjustable backsplash, complete with a warming shelf. Both match the stainless steel look of the range, although the adjustable backsplash practically cries out for a hood, which GE sells separately.
GE does a commendable job preserving a sparser utilitarian look with this range, effectively hiding many of its features from the casual glance. Grates fit so well together that it takes a closer examination to notice that the grates over the burners are reversible. Instead of peppering the range with additional buttons or dials—or even resorting to a touchscreen—the oven's many settings are all on a dual-ring control knob.
Even the included cutting board and griddle can be tucked out of sight beneath a cover. It's almost like the ZDP364NDPSS doesn't want you to know just how much it can do.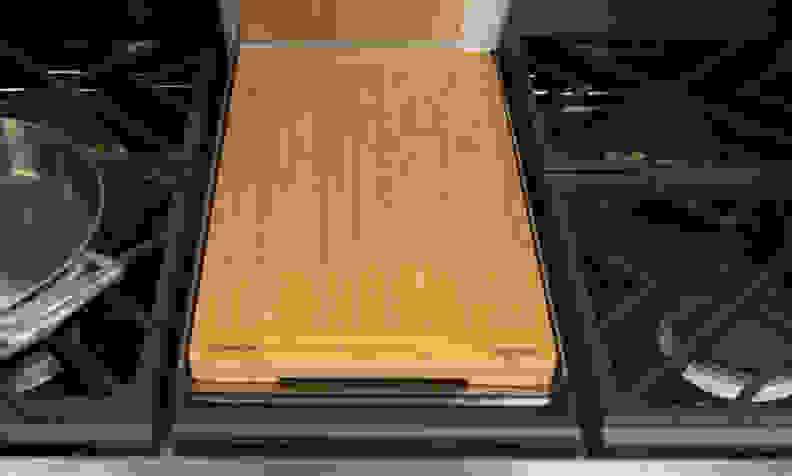 Visually, this subtly reaps big rewards for fans of pro-style ranges, but the aesthetics don't quite translate to the fundamental experience of interacting with the ZDP364NDPSS. The features may be hidden from sight, but they're very much a part of this range, and one can't help but feel that GE's approach to its design is—in practice—less-than-utilitarian. The reversible grates, extra settings, cutting board, and griddle lack cohesion when placed together on the same range. If you prefer simple cooking, these features won't get in your way, but you'll be acutely aware of their presence. Still, there's something to be said for a pro-style range that manages to include all kinds of cooking options without sacrificing that professional look.
×
In-Situ
Four wok grates, dual-flame stacked burners, and a griddle—oh my!
The ZDP364NDPSS's gas rangetop boasts four sealed burners and a central griddle, and all of them offer up to 18,000 BTUs of cooking power. All burners are of the dual-flame stacked variety, offering a small lower simmer flame and a bigger main flame, designed to offer a wide spectrum of temperatures.
Such a setup is highly unusual—most of the ZDP364NDPSS's competitors only feature a single stacked 18,000 BTU burner. GE claims each burner can get as low as 140ºF, but our tests showed numbers between 103°F and 112°F—some of the lowest temperatures we've ever recorded on a gas range.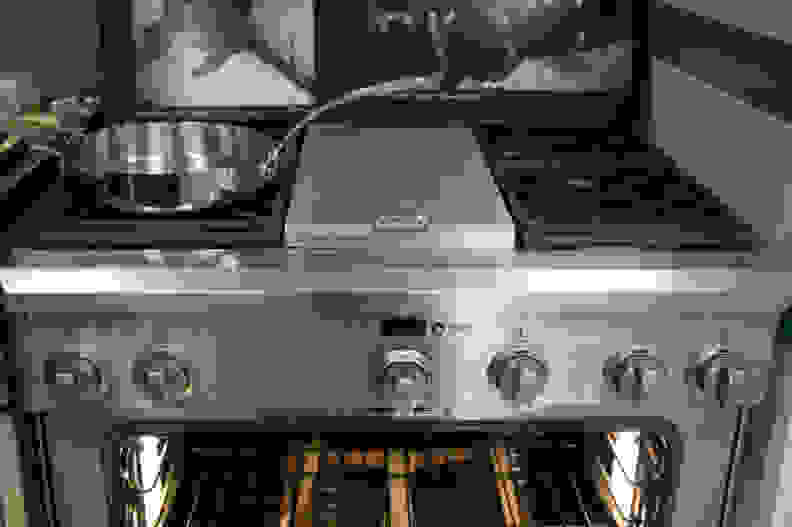 Unfortunately, we measured insufficiently high temperatures. We don't expect gas rangetops to blow us away with scalding hot heat, but not a single burner on the ZDP364NDPSS was able to reach 370°F—too cool for a proper stir fry. Burners also took around 10 minutes to boil water—twice as long as some of the other ranges we've tested.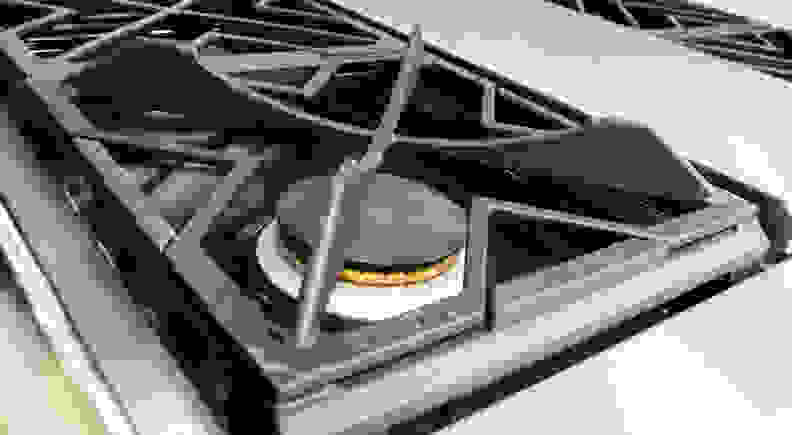 For instance, both the Dacor Distinctive DR30GSNG and Miele HR1924DF can get nearly as low as the ZDP364NDPSS's simmer temperatures, but greatly surpass its high heat and boiling speeds.
The burners are covered by three-piece continuous grates. Reversible pieces nestled above each burner can be flipped over for use as wok grates. The porcelain-coated cast iron grates are surprisingly light and easy to flip, and felt reassuringly sturdy as wok grates. The central stainless steel-and-aluminum griddle is not removable, but comes with a removable drip tray. A stainless steel griddle cover and a bamboo cutting board is designed to fit between the griddle and cover.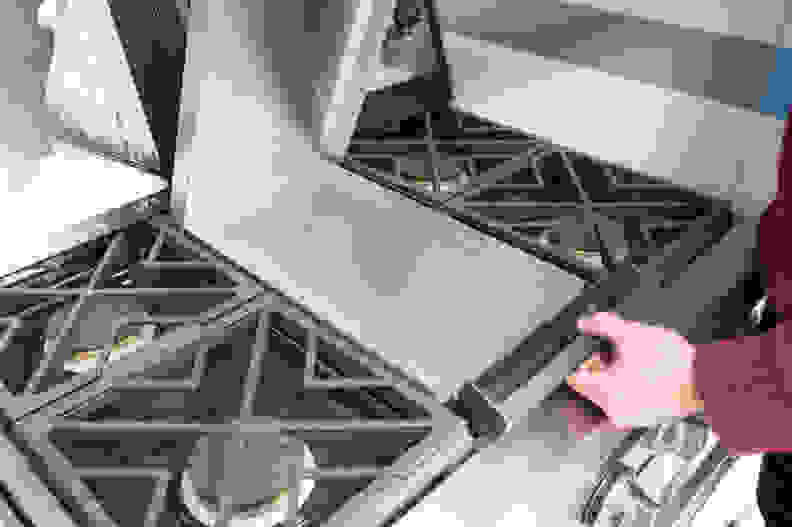 The rangetop is controlled by weighted knobs set at the front of the range. Burner controls are set toward the left and right edges, and can be toggled from a low simmer setting all the way up to a "Large Cookware" high setting. The griddle's knob is set to the right of center and offers a "Low" setting followed by temperature tick-marks up to 400°F. It's worth noting that when we switched on the griddle, it took 25-45 seconds to ignite.
Excellent for baking, but shies away from intense heat.
The ZDP364NDPSS's 5.75 cubic-foot oven cavity has a lot to offer, not the least of which are three full-extension gliding racks, which don't need to be removed for self-cleaning. The door has a large window and professional-style handle, but it felt a little too eager to close. Halogen light columns on the sides of the cavity illuminate the oven during operation and cannot be switched off. (Deceptively, a button bearing a light bulb symbol illuminates the burners, rather than controlling the interior oven light.) The oven felt a bit cramped with all those heavy slide-out racks in place, but they should make it easier to bake multiple sheets of cookies or pastries.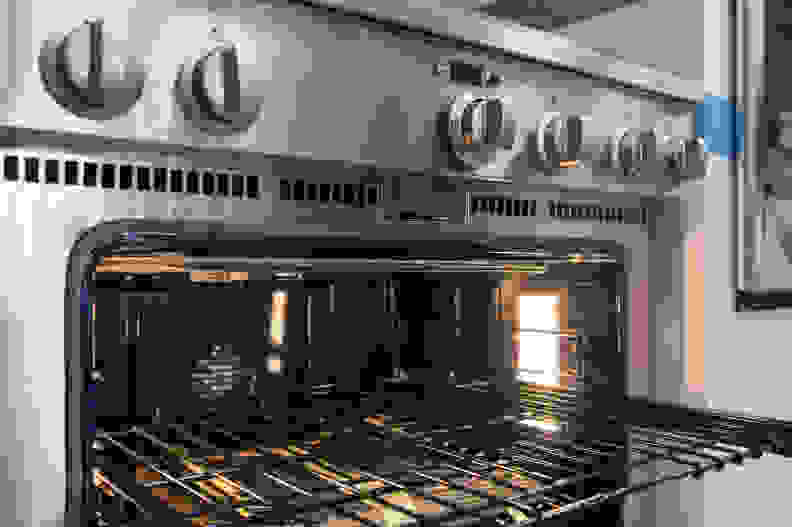 GE packed the ZDP364NDPSS's gas rangetop with features, and the electric oven follows suit. Around the dual-ring dial, which lets you choose a cooking mode with the outer ring and temperature with the inner, there's a multitude of options. Standard settings include Bake, high/low Broil, and Proof. A European-style convection fan allows for Convection Bake, Convection Roast, and Convection Broil settings. There's also a temperature probe for cooking meat.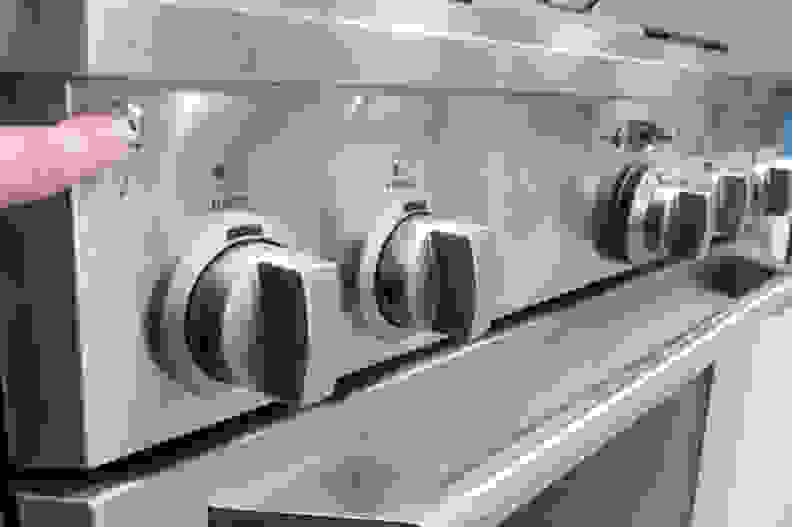 When it comes down to it, this oven earned great marks in our baking test, and performance only improved when we baked with convection. Cookies and cakes were evenly cooked, and we found no hot or cold spots. Roasting was a little less successful—slow and uneven at standard settings, and a bit dry with convection—but some patience and recipe adjustments should improve roast quality. Patience is a good rule all around with this range, which tends to move more slowly than we'd like—watch out for a sluggish oven preheat!
By comparison, the Dacor Distinctive DR30GSNG gas range can roast meat almost perfectly with use of its convection setting, but the GE Monogram ZDP364NDPSS far surpasses it when it comes to baking. The Viking VDSC5304BSS doesn't roast as well as the Dacor or bake as well as the GE Monogram, but its oven earned more well-rounded scores during testing, turning out solidly good—but not great—results for both baking and roasting.
Features when you want them, performance when you need it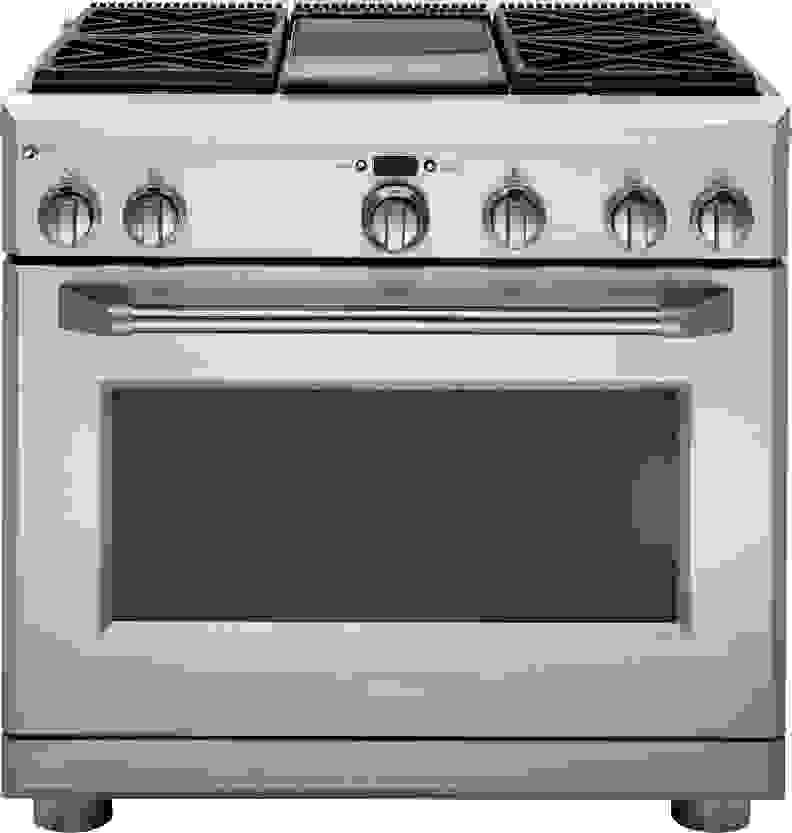 The GE Monogram ZDP364NDPSS gets it right in a lot of ways. It's undeniably easy on the eyes, especially if you like stainless steel, chamfered edges, and professional-style design. The oven is top-notch when it comes to baked goods, the rangetop reaches temperatures as low as you could ever want, and there are features as admirably varied as three kinds of convection modes, a light that illuminates your burners, and an included bamboo cutting board.
None of these extra features detract from this range's ability to cook, but they are very much present on the range, which could either vex or delight, depending on what you're looking for. That said, we were disappointed by uneven roasting and the rangetop's inability to hit truly high temperatures.
Still, as a total package, the ZDP364NDPSS impressed. It proves that a pro-style oven doesn't have to lack features, and that technology and customization don't have to be intimidating.
Meet the tester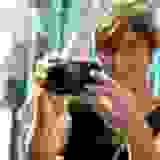 Kori Perten
Former Editor, Home & Outdoors
@Reviewedhome
Kori began her journalism career as a teenage fashion blogger and has enjoyed covering a wide variety of topics ever since. In her spare time, she's an amateur poet, avid reader, and gluten-free cake baker extraordinaire.
Checking our work.
We use standardized and scientific testing methods to scrutinize every product and provide you with objectively accurate results. If you've found different results in your own research, email us and we'll compare notes. If it looks substantial, we'll gladly re-test a product to try and reproduce these results. After all, peer reviews are a critical part of any scientific process.
Shoot us an email