Reviewed
Wello: The iPhone Case That Measures Your Vital Signs
Avoiding the wearables category, Wello breathes life into smart health tech.

Credit:
By all accounts, 2014 could be a breakout year for smart health tech, with nearly every company under the sun making a fitness band, sleep tracker, or health monitor. But if the sector is going to make any kind of a splash, it needs to cast a wider net. What the health industry needs is gadgets that can reduce costly visits to the doctor.
The San Francisco startup Scanadu has turned plenty of heads with its tricorder-like health monitor and urinalysis device. But the products—revolutionary as they appear to be—are still very much in the development phase.
Then there's Wello. It's a health tracker and phone cover that's expected to ship this fall, and it can already be pre-ordered for $199. Unlike most existing fitness bands and activity trackers, Wello can measure some pretty complex data—including blood pressure, heart rate, temperature, blood oxygen levels, and even lung air volume (with a specialized add-on spirometer).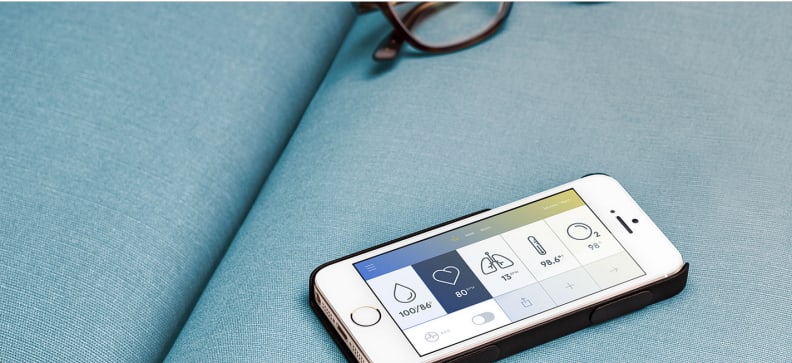 It accomplishes this through a series of sensors embedded in the case, which fits snugly around your iPhone. It's actually pretty difficult to distinguish from a normal low-profile iPhone case.
Android users can also use Wello as a standalone Bluetooth LE device, though it obviously won't fit any existing Android phone as a case. It's not inconceivable that the company could design a version for popular Android phones if the market proves viable.
It's actually pretty difficult to distinguish the Wello from a normal iPhone case.
As you hold the device, it begins testing your vital signs. Information is then transferred to an app on the phone—which sounds a lot more convenient than the bracelet-phone combination required by other health monitors on the market. Furthermore, the Wello battery lasts a whopping two months on a single charge.
We've covered a lot of health tech here at Reviewed, particularly at this year's CES, and we have to admit: Most of it is a bore. This, however, is pretty intriguing.
Azoi, the maker of the Wello, seems to recognize the still-limited appeal of wearable tech, and works around it by hitching a ride with your most indispensable gadgets: your phone. It's a solution that also neatly sidesteps one of the main problems facing wearables thus far: making an acceptable fashion statement. Why force it?