There's a reason the Instant Pot electric pressure cooker continues to be the hottest cooking gadget on the market. Preparing a meal in a pressure cooker is crazy easy and fast. And if you prep and freeze meals ahead of time, it's even easier to get a home-cooked meal on the table even on the busiest of days.
Prepping a bunch of meals at once can be a great way to do this if you have time and freezer space. But I recently read a great tip on the TIDBITS blog that suggested doubling an Instant Pot recipe you're already making and freezing half of it to make later. That way you do all the prep work once and get two meals out of it!
We found a bunch of great freezer-friendly recipes for the Instant Pot. But first, let's go over what you need to prep them properly.
What you'll need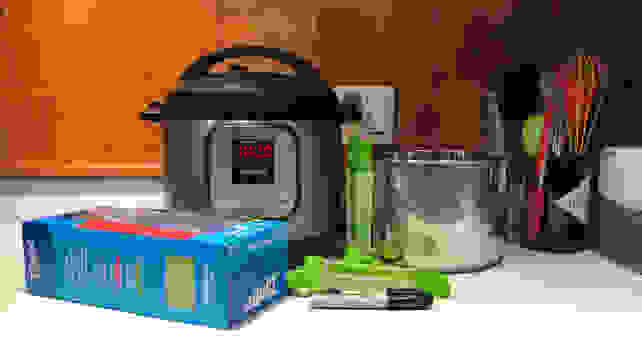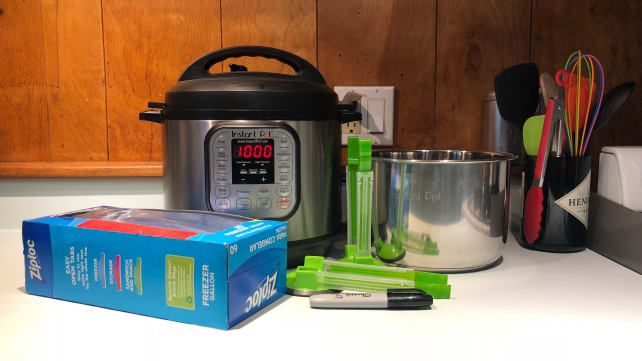 First and foremost, you'll need an electric pressure cooker. While I swear by my Instant Pot, the Reviewed team recently tested all the top multi-cookers and found out that Crock-Pot's multi-cooker ($70 on Amazon) works a bit better than the IP and costs less too.
Everything else you need to prep your meals:
Proper preparation do's and don'ts
Label your meals as you make them. Include the date you made it and/or its expiration date, and write down the basic instructions—Pressure settings and time, if it needs to be thawed first, whether you need to release pressure naturally or with quick release, if there are any steps after the pressure cooking is done, and if any day-of ingredients need to be added.
Some recipes can be cooked from frozen, some may need to be thawed. The most important thing is that you have at least a cup of liquid in the recipe. Without enough liquid, the meal won't come to pressure and/or will burn and cook wrong.
If you are planning to cook from frozen, it's also important to freeze the ingredients in a shape that will fit in the pot. The inner pot works well if you can spare it, but anything comparably sized will work too. Just pop your bag of ingredients into the container and then freeze top retain the shape. The key is that the food can sit in an even layer on the bottom of the pot so it cooks evenly.
Freezer-friendly Instant Pot recipes
1. Honey bourbon chicken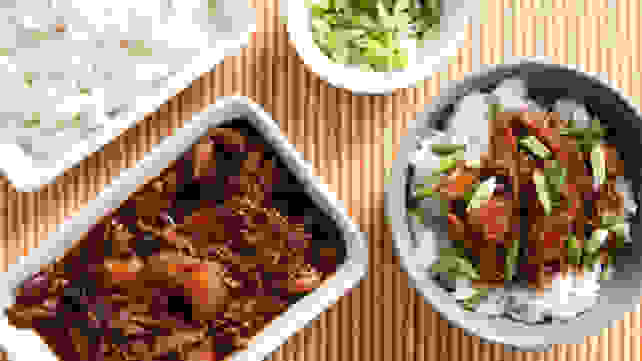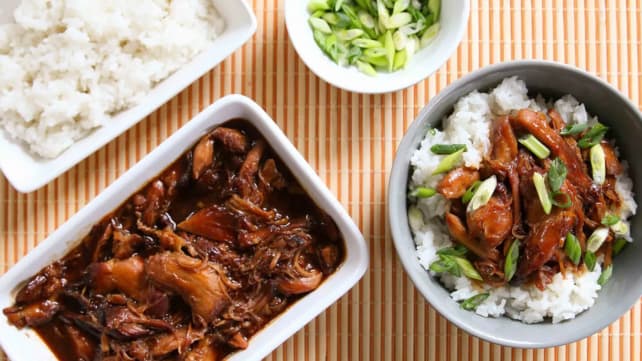 This recipe for honey bourbon chicken from Once a Month Meals is perfect for serving over a bed or rice or greens, and even better? It's perfect for freezing and making later too. Once a Month Meals provide instructions to make it right away and steps for freezing it as well. Plus, there's a gluten- and dairy-free variation so you can enjoy this tasty dish even if you have dietary restrictions. (And, according to the blogger, the recipe is inspired by Bourbon St. in New Orleans and doesn't actually contain any alcohol.)
Check out this huge list of Once a Month Meals' other freezer-friendly recipes
2. 10-minute frozen salmon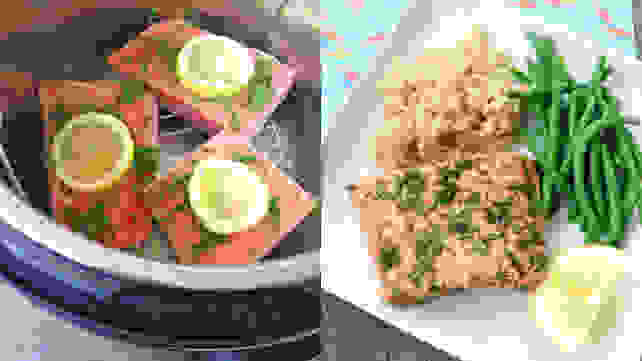 Salmon is one of those foods that's so delicious, but so easy to mess up. Overcook it and it's dry and flavorless. Undercook it and, well, ew. (Except sushi, but that's different!) You also basically have to use it as soon as your buy it so it's fresh and tastes the best. But you can also freeze it and cook it from frozen in your pressure cooker. This recipe from Super Healthy Kids explains how to freeze and prep the food, with loads of photos along the way.
3. Spicy orange beef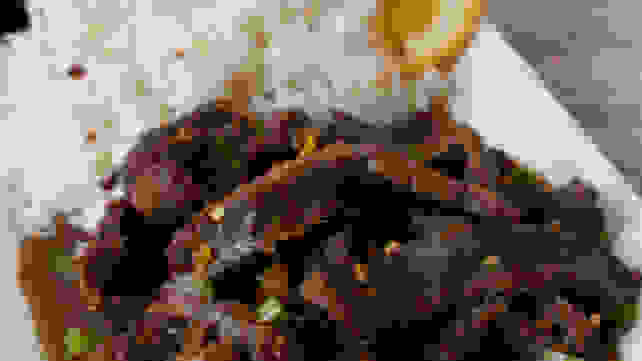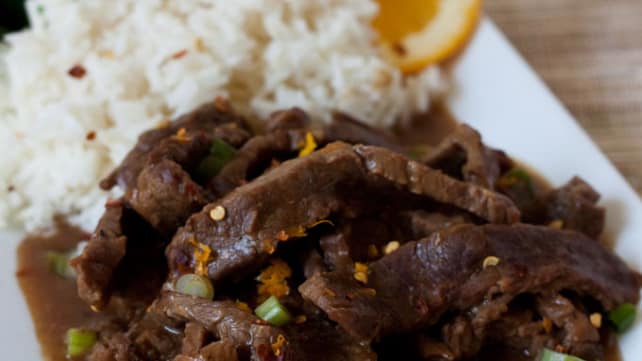 This recipe from Pressure Cooking Today for spicy orange beef doesn't come with freezer-specific instructions, but basically, you add every ingredient but the cornstarch slurry (which will thicken the sauce) to your freezer bag. When it comes time to cook, skip the sauté function and follow the other instructions as-is. You may need to add 5-10 minutes to your cook time, but start with the recommended times and add more time after the first cycle is complete.
4. A whole chicken (yep, the whole thing)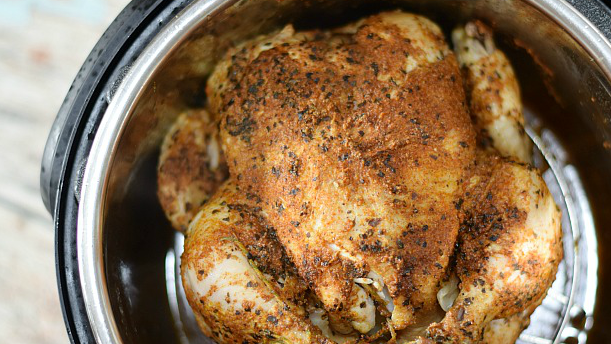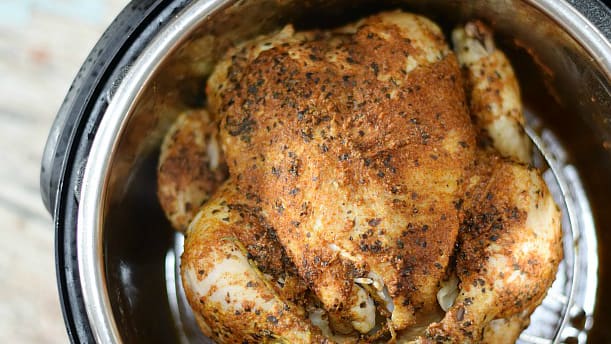 Cooking frozen chicken in a pressure cooker is incredible. It takes a fraction of the time that other methods, you don't have to thaw it first, and it comes out delicious. The best part is you can literally cook an entire chicken, which is great for prepping a week's worth of lunches at once. This recipe from Vanessa.Fitness explains how to prep the chicken with a classic herb assortment, but you could definitely customize the flavors to your tastes. Sprigs of rosemary and thyme, sage, and lemon slices come to mind.
5. Orange-infused steel cut oats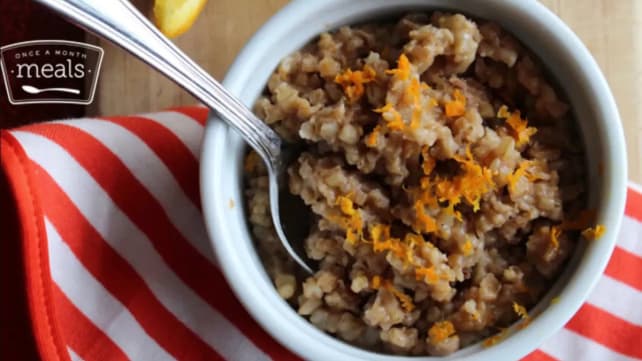 Not all freezer meals need to be dinners, and this recipe from Once a Month Meals makes it easy to prep a healthy breakfast for busy mornings. All you have to do is set your Instant Pot up, add the ingredients, and let it do its thing while you do yours. By the time you're done getting ready for your day, breakfast will be ready and you can relax and enjoy your sweet, nutritious meal instead of grabbing a muffin or something else less-than-ideal.
Prices are accurate at the time of publication, but may change over time.
Instant Pot vs. Crock-Pot
Our editors review and recommend products to help you buy the stuff you need. If you make a purchase by clicking one of our links, we may earn a small share of the revenue. Our picks and opinions are independent from any business incentives.