Ovens & Ranges
Nifty, Impressive, Expensive: A Tour of the High-End Products at IHHS 2013
From vacuum cookers to hand-crafted samurai blades, some of the most interesting products at IHHS are high-end.

Credit:
As mentioned in our last post from Chicago, this year's International Home + Housewares Show is a veritable medley of and high- and low-end products, some of which have been on the market for years, others only in the prototype stage. This makes for some serious eye candy if you're a food techie.
We came to the show with a specific list of products and events to check out, but we soon found that a lot of the lesser-known, high-end products were the most interesting of all, even if they weren't always practical. For instance, high-end corkscrew manufacturer Farfalli hand crafts some of the most beautiful bar products we've ever seen.
Farfalli corkscrews are fitted with glass-blown pearl embellishments.
I had a chance to hold one of their carbon fiber wine keys and was pretty amazed by how light the thing was. Their corkscrews—each fitted with glass-blown pearl embellishments—are equally stunning. The thing is, though, none of these $80 - $170 products is likely to offer greater functionality than a standard plastic wine key. The same goes for the $180 reproduction of an 18th century rack-and-pinion corkscrew, impressive though it may be.
The VacMaster sous vide cooker is a more practical example of high-end culinary technology. We had heard of this technology and wanted to see it in action, but if you know how Sous Vide works you know that the process is too long for a showroom presentation.
Here are the basics: Some sort of dish—be it meat, pasta, vegetables, whatever—is vacuum-sealed in a plastic bag (VacMaster's chamber packaging machines run for around $1,000). In case you wondering, the term "Sous vide" is French for "under vacuum." Next, the package is submerged in a vat of warm water—usually 130 to 140 degrees Fahrenheit—and cooked for a very, very, very long time—like, up to three days, in some cases. This is why a showroom demonstration would be a bit of a yawn.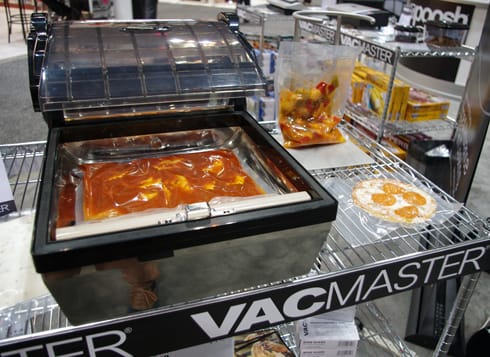 Anyway, the point of Sous Vide is to deliver a uniform cook, with the interior of the food item as thoroughly "done" as the exterior. If you have the preparatory skill and patience of a major foodie then this might be something to look into, but if you don't want to spend hundreds of dollars on a vacuum-sealer, learn the art of the even cook.
Kikuichi has been making samurai swords and cooking knives for 700 years.
Call us Kung fu nerds, but the hand-crafted "samurai" knives from Kikuichi were just plain awesome. Touting a 700 year Japanese tradition, Kikuichi is a family company that makes the most beautiful products we've ever seen in the oft-neglected weapon-turned-cooking-tool market. We're not joking; Kikuichi built samurai swords for some 600 years. Toward the end of the 19th century, when the era of Japanese isolation ended and the samurai died out (thanks to Tom Cruise), the company shifted their mastery to producing cooking knives.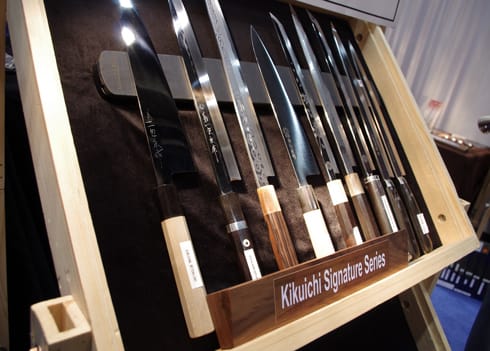 Every single product Kikuichi produces will cost you a very shiny penny—indeed, one knife was selling for over $1,300—so to be interested in buying one you have to have four things: an eye for good art; a deep-seeded, perhaps even pathological passion for cooking; a fascination with Japanese culture; and, of course, a lot of money. Truly, these knives could give Hattori Hanzo a run for his dime.
While not exactly high-end, the [Salt Rox](http://www.saltrox.com/) cooking blocks were really cool. This company out of Lexington, Kentucky, sells slabs of Himalayan salt, which sounds silly, until you realize how creative they've gotten with it. Their staple product is a salt cooking block— available for about $60—that you can place on literally any cooking surface, and it will impart a delicious saltiness to your food. John Tucker, the company's founder and CEO, was cooking up some pork loin, onions, and mushrooms for us, and they were all quite good. The coolest part was that he did not add any seasoning, unless you count the high-temperature cooking oil used to grease the salt block. John also told us you never need to clean the thing, since salt is a natural disinfectant, and it will never age beyond use.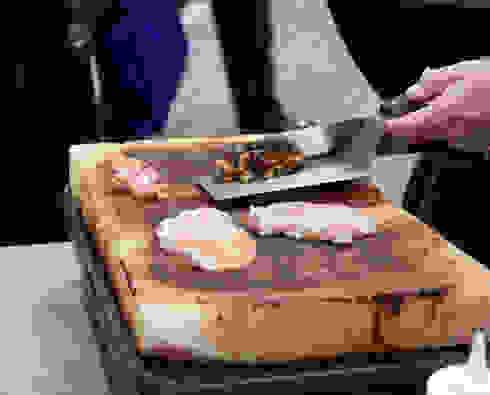 Interestingly, Salt Rox makes some other nifty "salt" products, such as bowls and shot glasses, the latter of which goes very, very well with tequila (don't ask us how we know that). Now I understand why salt was used as a [currency](http://en.wikipedia.org/wiki/History_of_salt) in ancient times.
In case you were wondering, salt shot glasses go very, very well with tequila.
At IHHS, a passion for cooking can be seen as often as a passion for drink. It seemed as though every other booth featured some kind of booze-related product—whether wine aerators, crystal decanters, salt shot glasses, wine aromas kits, pearl-embellished corkscrews, or all-in-one bartending tools. Frustratingly, though, there didn't seem to be as much of an interest in beer. Maybe next year.
Up next