Ovens
Apple Designer's Latest Project Is… a Toaster?
Marc Newson brings colorful, glossy finishes to classic appliances.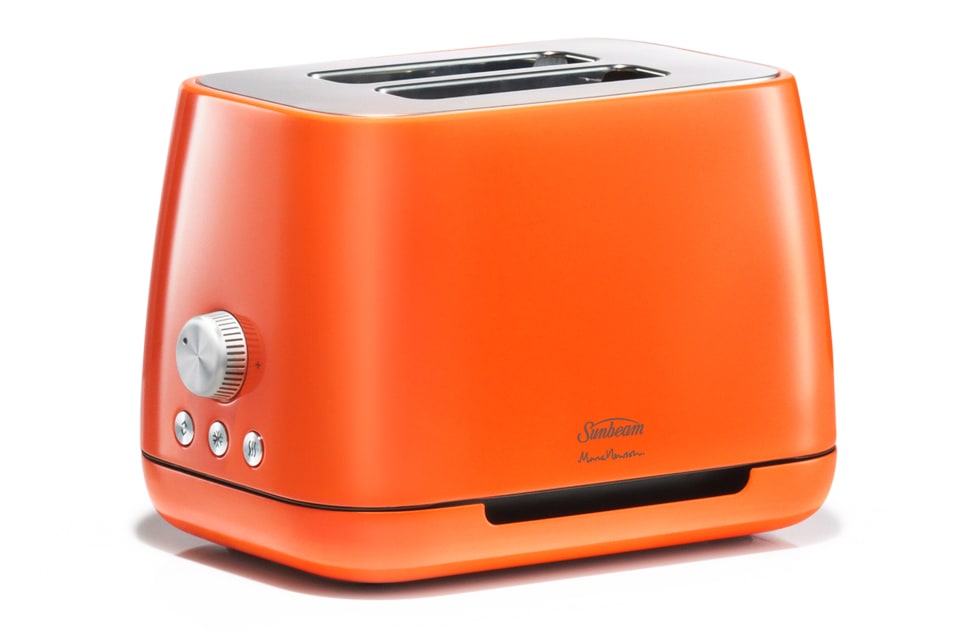 Credit: Sunbeam
When you think of Sunbeam appliances, you probably think of chunky white plastic coffee makers and break room toasters. But in Australia, Sunbeam is looking to become an icon of high-end design with new appliances designed by Marc Newson.
Newson is a famed Australian designer who currently works for Apple alongside Jony Ive, but has also done work for Ford, Qantas, Samsonite, Leica, and Pentax. For his latest side project, he's created a kettle and toaster that bring a retro-futuristic look to the kind of bright colors that appliance lovers typically associate with brands like Smeg.
Both appliances are stylish and fun, but the Marc Newson Kettle definitely stands out. According to Dezeen, the kettle is made from brushed stainless steel and has a flat, colored top. The handle rises up from the back of the kettle and has a colored finish on its underside.
The kettle comes with a 360-degree cordless base and will heat 1.5L of water. It comes in seven colors—blue, green, orange, red, yellow, white, and black—and goes on sale in mid-November for $199 AUD, or about $140 USD.
The Marc Newson 2-Slice Toaster also features a flat top, but it's stainless steel while the sides are wrapped in a glossy, brightly colored finish. The only exception is the red model, which has a silver finish and red controls. The toaster also has an "extra-wide crumb tray," for what that's worth.
Sunbeam adds that the toaster has self-centering slots and a motorized "toast carriage," because spring-loaded toaster levers just aren't fancy enough. It comes in seven colors, and goes on sale in mid-November for $199 AUD.
With only two appliances, the "Newson Collection" isn't really much of a collection. Perhaps if the appliances do well enough, Newson and Sunbeam will work to expand the line. I'm thinking coffee makers and blenders would be ripe for the Apple aesthetic.
Related Video
Up next
Get Reviewed email alerts.
Sign up for our newsletter to get real advice from real experts.