Ovens & Ranges
SmartThings is a Smart Home System Actually Worth Buying
It's not a perfect all-in-one solution, but it's certainly on the right track.

Credit:
It's ironic how quickly smart home gadgets can turn stupid. Think about it: How smart is a smart lock that requires frequent battery replacement? Are you really improving upon the original functionality of a fridge by giving it a Twitter app? Does every door, thermostat, and appliance need its own app?
For a smart home to be a real improvement—and not a waste of money—it needs to satisfy a few simple demands. First, it's got to work well with other automated devices in the home. Second, it's got to solve an actual problem—not merely insert complex functionality into a simple device. And three, it's got to be reasonably priced—no monthly fees that add to your utility bills.
We've covered quite a few smart home gadgets here at Reviewed, mostly because the market is increasingly inundated with them. Generally, we believe the smart home—or, more broadly, the Internet of Things—is both promising and inevitable. But it will be a while before the tech goes mainstream; broad adoption won't happen until consumers can outfit their home under a single app, with complete connectivity, and for a reasonable cost.
That's why it's nice to see products that leapfrog those hurdles. SmartThings, it appears, is one of those products.
There are two key features that distinguish SmartThings from the rest of the pack. First, consumers can outfit, or "smartify," their home as minimally or completely as they see fit. Second, there's no monthly fee.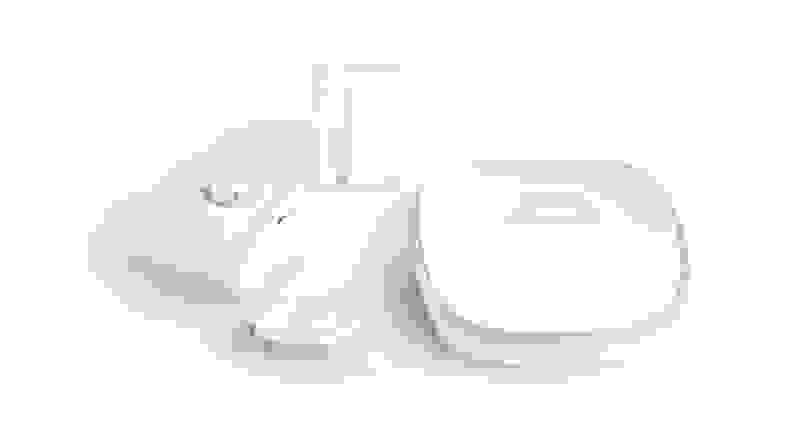 Where some smart appliances come equipped with sensors, smart features, and proprietary apps, SmartThings sells sensors, monitors, and outlets that work with just about any appliance you already own, along with even "dumber" objects like windows and doors. That means your home's connectivity is limited only by your imagination.
Seriously, if you want to monitor a certain set of windows, just install one of the motion sensors at its base and link it to the SmartThings app. If you want to automate or switch off lights, just install one of the smart power outlets. There are sensors and switches for AC units, faucets, pipes, lights, and so on. The idea is that you can shop to your smart home's content—provided first invest in the $99 SmartThings Hub.
The idea is for consumers to shop to their smart home's content.
Together, these gadgets allow you to monitor your home, switch on AC units, or turn off lights—all through a centralized SmartThings app.
Of course, SmartThings isn't perfect. The sensors—which aren't exactly slim and are only available in white—must be within range of the Hub to work. (Though the motion detector does double as a range extender.) You're also mostly limited to sensor and monitoring functionality—you won't be able to preheat your oven, for example. At least, not yet.
SmartThings is an introductory smart home solution—one that satisfies the three demands mentioned above. It connects with other devices in the home and unifies them all under a single app; it solves a number of problems without overly complicating things; and it's reasonably priced.
Like pretty much every smart home product on the market, it's not going to change your life, but we have to commend SmartThings for moving the competition in the right direction.