Ovens
Samsung FX710BGS Gas Range Review
Great performance at a reasonable price.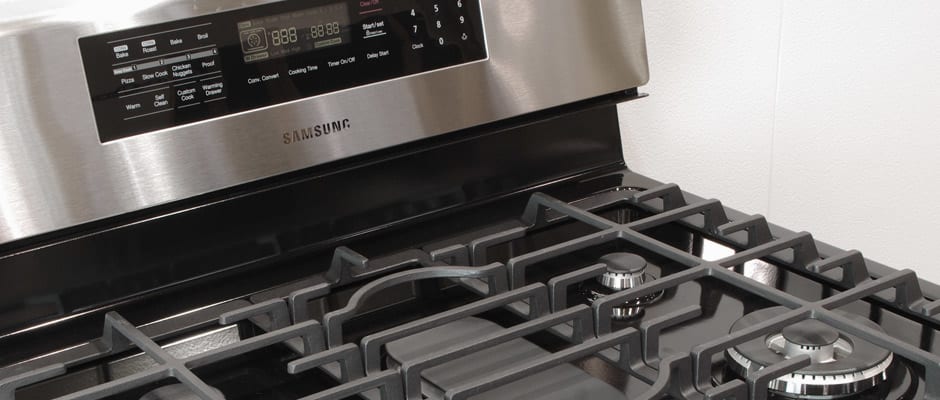 Credit:
Introduction
For an MSRP of $1,599 (or a sale price of $1,300), the is a standard-looking stainless steel freestanding range. This oven is a speed machine. With some of the finest boiling results we've seen on a gas rangtop as well as a stunningly quick six minute preheat to 350°F, this oven is great for people in a hurry. Unfortunately, there is a tradeoff, as the rest of our tests--oven temperature variance, broiler performance, and more--weren't that impressive.
Front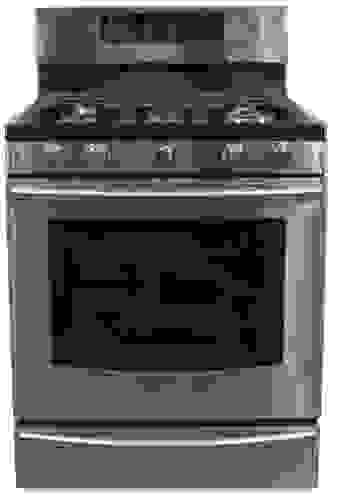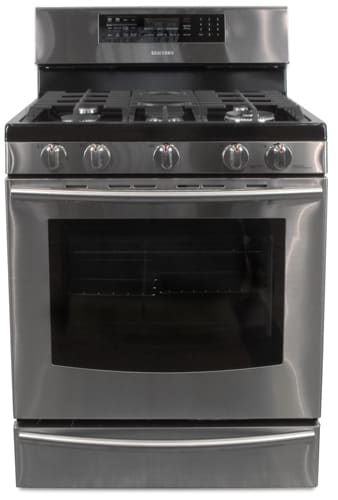 Range-top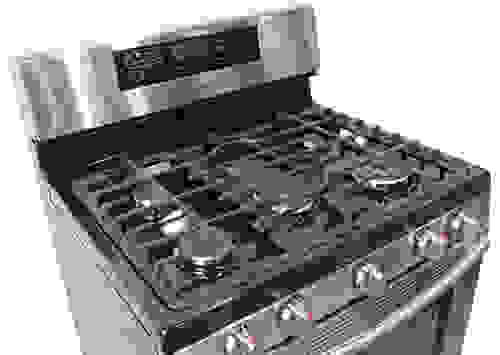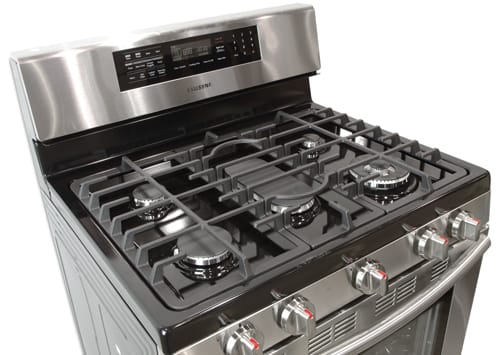 Upper Oven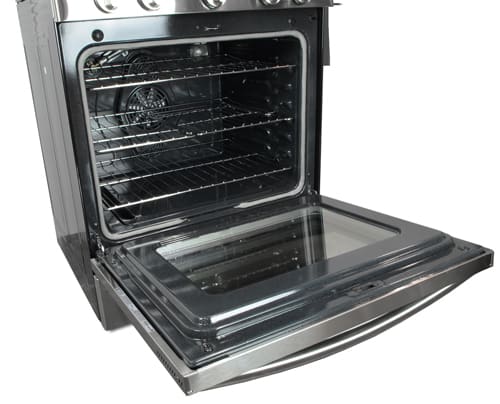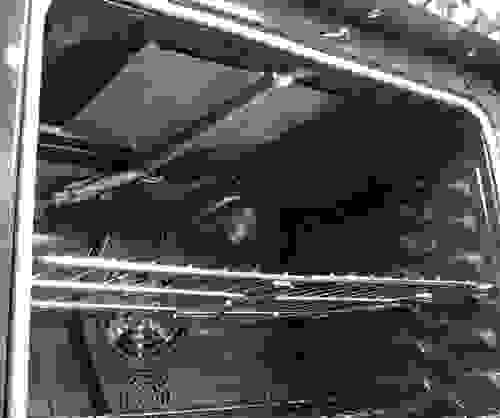 Warming Drawer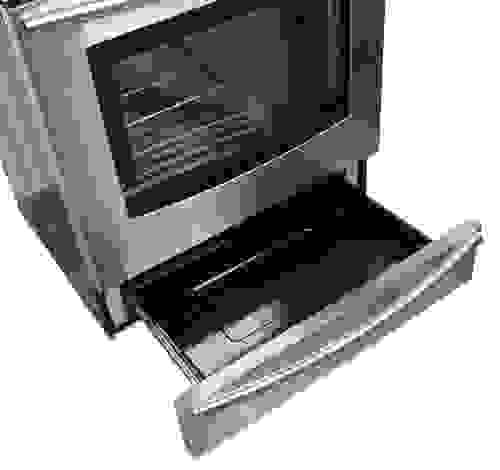 Cooking Performance
We found incredible performance from the three non-simmering burners, and a very powerful oven that can preheat to 350°F in just six minutes. However, the quality of the oven's performance certainly left something desired.
Range Performance Overall
We found the overall performance of the burners on this range to be outstanding. It was quick to boil water, produced a good range of temperatures in our test pans and was pretty easy to use.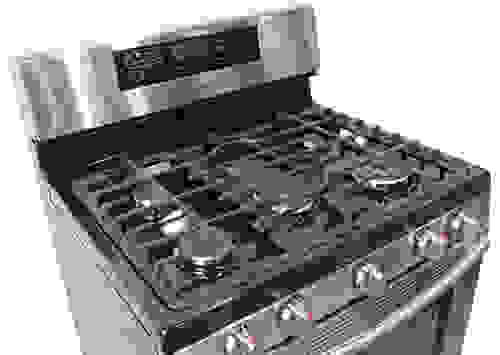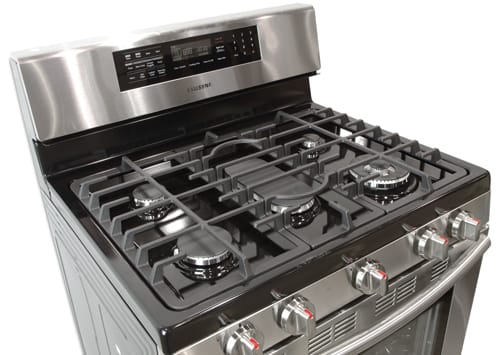 Water Boiling
Whether it is a kettle or a big pasta pan, a range should be able to quickly boil water. The three non-simmering burners practically aced our boiling test, with the front right boiling six cups of water in under five minutes, the front left in five and a half minutes, and the third under ten minutes. This is fantastic quality and something people will appreciate who need to get a big pasta pot boiled to assuaged grumbling stomachs.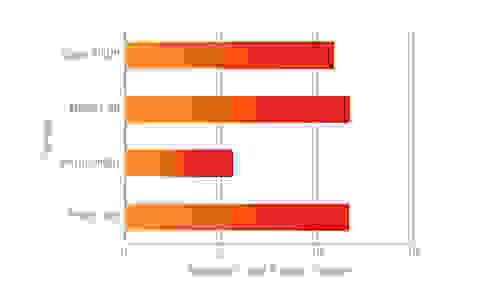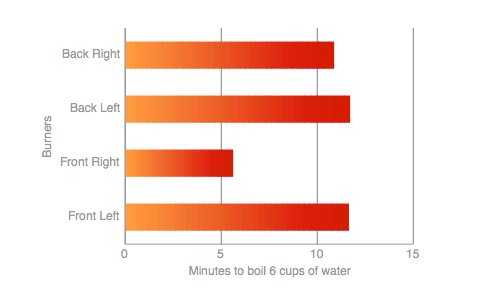 Low Temperature Cooking
A burner should be able to deliver a low, gentle heat to your food, especially for tasks such as cooking sauces. The struggled a little here, with the minimum temperatures that we could get from the burners ranging from 130°F to 168°F. Those are on the high side, which means that you could end up overheating your food if you like to cook low and long, sous vide style.
Range-top Temperature Range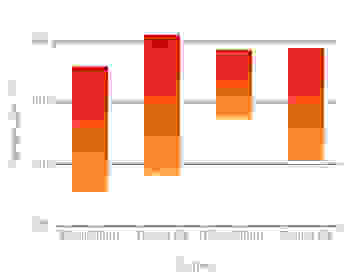 High Temperature Cooking
At the other end of the scale, a burner has to be able to deliver a high temperature for frying and searing. We found that the maximum temperatures that we could get in our tests were between 388°F and 410°F. These are a little on the low side: other ranges are capable of creating temperatures that are 100 to 300°F higher.
Overall Oven Performance
The best part of the 's oven was definitely the very quick preheat to 350°F. In just under six minutes from cold, this oven continues the range's tradition of not keeping its user waiting.
Target Temperature Accuracy
Despite the solid performance in the oven's typical zero to 350°F test, the oven didn't necessarily average 350°F. Set to 350°F this oven ran a little cool, averaging eleven degrees cooler than its target. Likewise at the 170°F setting of the keep-warm mode, the oven averaged 148°F. However, the hottest setting of 550°F, there was an acceptable average of 542°F.
Temperature Fluctuation
The temperature variance wasn't the greatest from the , straying a bit from where it was supposed to, at 350°F running up to 379°F and down to 317°F. The convection temperature variance wasn't any better, struggling just as much to maintain the proper temperature. While delicate foods won't appreciate this temperature change, a lot of food will probably be okay.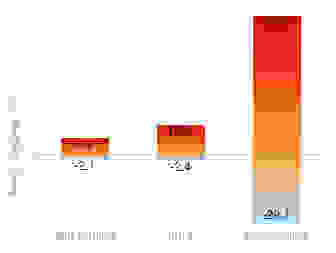 Broiler Performance
A broiler should be able to heat up quickly, so we test this by seeing how quickly the broiler can raise the temperature of a test plate to our target temperature of 608°F. We allow 16 minutes for this, but the broiler on the only managed to reach 474°F in this time. By comparison, other broilers such as the one on the top oven of the LG-LDG301ST were able to reach our target temperature in just over 5 minutes.
Broiler Features
The broiler of the is located in the top of the main oven, and is rated at 13500 BTU. That's a little lower than most other ranges, which probably explains the lackluster performance.
Overall Efficiency
The had below average efficiency in our tests, using more gas than other comparable models
Range Efficiency
The had below average efficiency in our tests, with the burners using a little more gas in our tests than other ovens.
Oven Efficiency
The oven was a little less efficient than most, using about 3,000 BTU more than the average during our tests. That is not a huge difference, though, and would not lead to much higher gas bills.
Features
Five burners are available on the , ranging from the 5000BTU right rear burner to the very powerful 18000BTU front right burner. Samsung describes this as a "power burner", which has a dual burner patter, and we did find in our tests that this was very quick to boil water.
The center burner is an oval burner (often called a fish burner, as it can be used to griddle a while fish), which is a little larger than most. This makes for more cooking area, but Samsung does not include a griddle plate with this range. The other burners are perhaps a little under-rated, though, and the cooktop is a little crowded because of the large front right and oval burners: larger pans would sit rather close to each other if you had several going at once.
The single oven has a capacity of 5.8 cu. ft., which is a little larger than most. The burner that heats the oven is rated at 18000BTU, while the broiler located in the top of the oven is rated at 15000BTU.


A standard timer is available, which can be used to set an alarm after an interval, delay the start of cooking or set the clock.
Controls
The burners of the range are controlled by the five large dials above the oven, which are easy to use. To turn them on, you have to push in and turn, which does not require much force. This does means that they are easier to accidentally turn on by leaning against or knocking them than some, so you should be careful.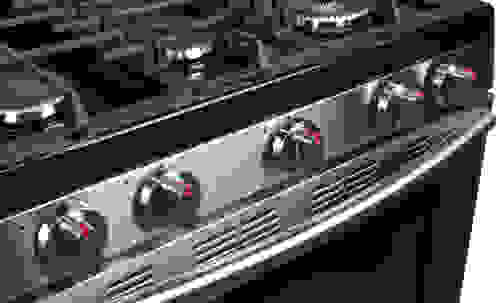 The oven and broiler are controlled through the touch buttons and LCD panel at the top of the range. These are not particularly responsive: they require a firm & accurate touch to activate, and you have to reach over the rings to reach them. Severla of the buttons are dedicated to what Samsung calls "Easy Cook" modes, with buttons that prime the oven to cook pizza, slow cook, chicken nuggets and for proofing. The last one will be useful for bakers: it heats the oven to a low temperature for proofing bread and other yeast products.


The broiler is controlled by the same touch buttons as the oven, with several buttons dedicated to starting and stopping the broiler.
Cleaning
The uses a pyrolytic self cleaning system, where the oven l raises the temperature to burn the spilled food off the walls and base of the oven. This can be set to run for 2,3 or 4 hours, and the door is automatically locked while it is running.
Conclusion
The is priced at about $, which is a good price for the range of features it offers. These include 5 burners (including one very powerful one), a 5.8 cu.ft. oven and good overall performance.
The highlights of the performance included quick water boiling and preheating abilities. The downsides were the oven temperature ability to average the proper temperature and stay around it, as well as a weak broiler.
It may not be worth it's high pricetag, unless you only care about speed.
Up next
Get Reviewed email alerts.
Sign up for our newsletter to get real advice from real experts.