The Best Lightweight, Umbrella, and Travel Strollers of 2019
By TJ Donegan, Updated July 25, 2019
If you're on the hunt for a compact, lightweight stroller—sometimes referred to as an "umbrella" stroller—we think the best is the Kolcraft Cloud Plus (available at Amazon for $67.99). Though it's more of a lightweight standard stroller than a true umbrella model, it is maneuverable, lightweight, costs less than $70 on sale, and yet has features we typically expect to see only on larger, more expensive models.
How do we know it's the best? We've spent months researching every single stroller on the market—over 230 of them—and have tested more than 30 in person for things like maneuverability, ease of use, build quality, and to see how well they fold up and store when not in use.
For lightweight and umbrella models, this means placing a particular emphasis on how well these things fold up and store in tight spaces, such as on public transit or the overhead compartment of a plane. For most people, a lightweight model like this is a backup, or something you take on trips. None of the ones we tested hold a candle to our favorite stroller—the Baby Jogger City Mini—but they are ideal if you don't need a full-size model or just want a low-cost backup.
I'm a parent of a little one, and I know sometimes you just need a way to get your kid from Point A to Point B. The models we tested are perfect for that. Most cost less than $100, weigh less than 15 lbs and fold down to a relatively compact size—or at least a long, narrow shape that's easy to store. There are exceptions, of course, but to find out about all the models we tested and which ones we think are the best, read on.
Advertisement - Continue Reading Below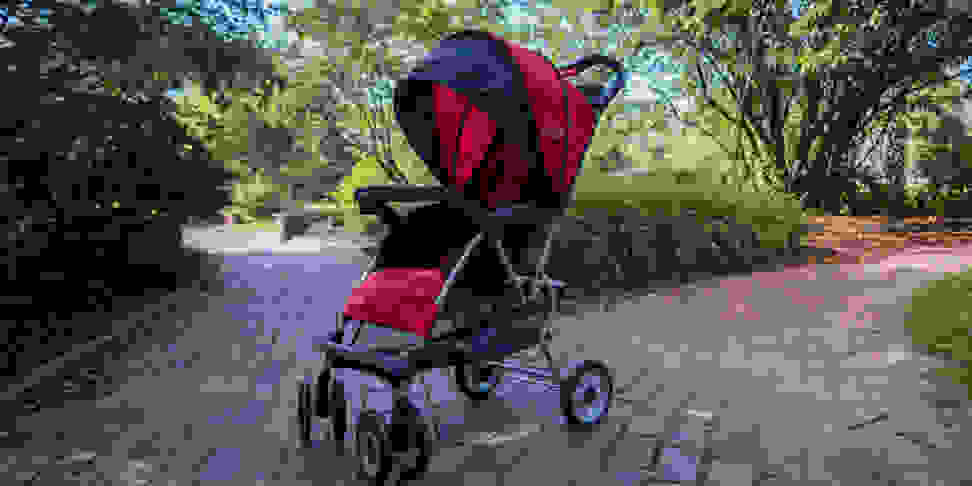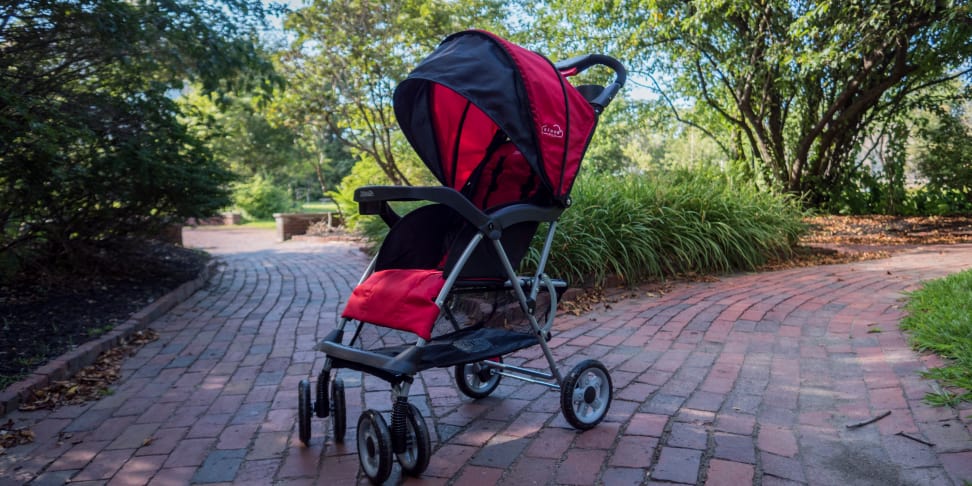 Kolcraft Cloud Plus Stroller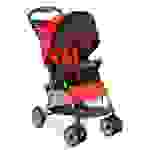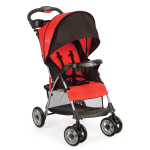 Kolcraft Cloud Plus Stroller
Best Overall
If you're in the market for a lightweight or umbrella stroller, we think the best is the Kolcraft Cloud Plus. In our testing we found it had the best all-around combination of size, build quality, maneuverability, cost, and features. It weighs less than 12 lbs, costs less than $70 on sale, and has features and storage space on par with larger, more expensive models.
Unlike the other models we looked at, the Cloud Plus can quickly fold up with a single hand using the folding mechanism on the handlebar. It takes some practice, but it is a snap once you get it down. It's not a true "umbrella" model in that it doesn't fold into a long, skinny shape, but it is very compact when folded. It can even free-stand, something none of the umbrella models we looked at could do.
Beyond that, the Cloud Plus excelled in our real-world testing. My favorite part was how accessible the storage basket was, making it easy to stash bags, blankets, and other gear. I was also impressed by how easy it was to push and maneuver around obstacles, and the fact that you get both a parent tray and a child tray is great for the price—many similar models don't include either.
It's not quite as sturdy as the best full-size strollers, but this was easily the best lightweight model we looked at. Even if you're in the market for something closer to a "traditional" umbrella stroller, the Cloud Plus is worth checking out. If you need a double stroller, there's even a lightweight double stroller version of the Cloud with side-by-side seats, for just a bit more money.
Summer Infant 3Dlite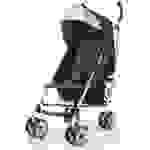 Summer Infant 3Dlite
Best Overall
The Summer Infant 3Dlite is one of the most popular strollers on the market, and it's easy to see why: It costs around $50-60 on sale, it weighs just 12 lbs, it feels a bit nicer than most other strollers in the price range, features a sun canopy and a good amount of storage.
In our testing we found that it was highly maneuverable for an umbrella model, though its plastic wheels still struggled on rough or loose terrain. It does have a small wheelbase, though, making it easy to get in and around tight corners or cramped stores where larger strollers wouldn't fit.
It did come in slightly behind the Kolcraft in our testing for a few reasons. It doesn't come with a child's tray, it's a little trickier to fold, the canopy isn't quite as nice, and the under-seat storage isn't as easy to access. It does fold into that traditional umbrella shape, but it's very long and actually can be tougher to store sometimes as a result.
That said, it's lightweight, affordable, and of the hundreds of user reviews we've read, most are very positive. It's also especially good for taller parents (think 6'1" and up) who may have to bend over to reach smaller models.
Cosco Umbrella Stroller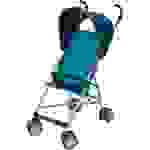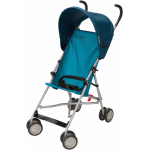 Cosco Umbrella Stroller
Best Value
Sometimes you just want a cheap stroller. Retailing for between $20-25 at most stores, the Cosco Umbrella Stroller is by far the most affordable option we looked at, and it shows. It has the smallest wheels, the thinnest frame, and it doesn't have any extra storage, cup holders, or a child's tray.
But for under $30, it has the basics: a seat, wheels, and the ability to fold up when not in use—all weighing in at just 8.4 lbs. While I wouldn't recommend this as anyone's everyday stroller due to the lack of storage, our research shows that most people buying an umbrella model often just want a low-cost backup. You could easily take this on a quick trip and have a backpack or something similar to carry your essentials.
One thing to note: pricing on this model is all over the place. At most big box retailers you can find this for between $15 and $25, depending on the print. Models with a canopy usually cost about $5 more, but our review unit had one and was just $20 at Target. Anything under $30 is good in our book, but beware online resellers that will jack the price above that.
How We Tested
My name is TJ Donegan and I'm the Executive Editor of Reviewed.com. I'm also a dad to two little ones, and I've been the lead editor in a number of our parenting guides, including our roundups of the best strollers, the best diaper pails, and the best bottle warmers.
Of all the things we had to buy when my wife and I had our daughter, the stroller was the trickiest. There are just so many of them, and when you start considering adapters, infant car seats, bassinets, prams, whether you need a double for a second kid down the line—it just feels overwhelming, never mind that some strollers cost $50 while others go for well over $1,000.
We put in months of research to find all the best strollers on the market.
While it would've been easy to just check out a few popular models and call it a day, we put in months of research to find the best stroller on the market. We spoke to every major manufacturer, researched and compared over 230 models, and called in over 30 strollers for in-depth, hands-on testing across several different guides.
For lightweight and umbrella strollers, our focus was primarily on finding models that were lightweight, compact, easy to fold, but still maneuverable. While many people opt for an umbrella stroller because they want something compact, it's still a stroller. Though some super-cheap umbrella models are great as a backup for a quick trip to a museum or the zoo, we wanted to find a well-rounded model that could still do it all.
To pick our winners, we involved not only our in-house parents but other real-world parents as well. Testing consisted of unboxing and assembling every stroller, as well as rating them for things like build quality, maneuverability, weight, storage, and how easy they were to fold and unfold. For umbrella strollers, we paid special attention to how compact the models get when folded, which is critical when traveling.
In the end, we found that the best lightweight and umbrella models work very much like larger, standard strollers. They fold up easily, they don't take up a ton of space, they don't get caught on little dips in the road and minor obstacles, and it's easy to get your kids and bags in and out without too much fuss.
Other Things To Consider
Though our testing resulted in some pretty clear winners that should suit most people, here are some other things to keep in mind when selecting a lightweight or umbrella stroller for yourself:
You may still want a second stroller. Umbrella models are great for travel or in a pinch, but they don't make great primary strollers for most people. The biggest reason is they typically do not accept infant car seats the way a standard stroller will, which means they aren't useful until your baby is closer to 6 or 7 months and can sit on their own safely.
You can get around this by getting one of the few umbrella models that do accept infant car seats (and buying a compatible one), or picking up something like the Baby Trend Snap N Go which is a "caddy" that basically turns a compatible infant car seat into a stroller. Once your baby grows out of the infant car seat and can sit up safely, just use the lightweight model as normal.
There's no cutoff for "lightweight" strollers. For the most part, models in this guide all weigh 15 lbs or less. That said, there are a few umbrella models like the Summer Infant 3D tote (reviewed below) that weigh closer to 20lbs. They are larger and don't fold as compactly as even our favorite standard stroller, the Baby Jogger City Mini. If you are okay with a model around that weight, we highly recommend jumping up to the City Mini.
Umbrella models often lack storage. Though our top pick has some storage options available, umbrella models often have little or no storage at all. We note this for all models where it's relevant in this guide, but if you get one without enough storage you're going to have to gameplan what you do and don't bring with you.
Umbrella strollers fold up more compactly. Our top pick for this guide is not exactly an umbrella model, because while it can fold flat vertically, the frame is rigid horizontally. This means it becomes long and flat, rather than long and skinny (like an umbrella). In reality, there's very little difference between the two. The Kolcraft Cloud Plus is just as light as most umbrella models, it has more storage, it's more maneuverable, it's much easier to fold, and it travels exceptionally well.
Higher price does not necessarily mean higher quality. Though none of the lightweight models we tested were egregiously overpriced, there are still some big differences. Though the $30 and under models looked and felt cheap (because they are), there wasn't much difference between the $75 models and the $150 ones. Pretty much all of these models use plastic pieces, small wheels, and thin fabric seats without much backing—it's how they stay so light. As a result, once you get to the $50 range and up you shouldn't feel like you're getting a substantially better product just because it's more expensive.
There are different types of strollers. Here's a basic primer on the differences between types of strollers:
Standard stroller: This covers most strollers, and our top picks are found in our guide to the best strollers overall. They are average in size, typically weigh 20 lbs or more, and hold one child from about 6 months until he or she is about 50 lbs.
Double stroller: Double strollers, like the name suggests, hold two kids at once. Some models convert from a single to a double (like the Baby Jogger City Select LUX, listed below) with the addition of a second seat and an adapter. Some doubles have seats side-by-side, while others have seats that are aligned vertically. Side-by-side models are less maneuverable in tight spaces but it's easier to get kids in and out, and you have more storage space typically.
Jogging stroller: These models typically have large wheels, often filled with air (like bike tires) and locking front wheels. They're designed for safely running with a child (or two children) in a seat. Locking the front wheel is essential because it helps prevent tip-overs if the front wheel were to hit a snag while you're running at full speed. Though Baby Jogger makes a jogging stroller (the Summit X3), it's worth noting most Baby Jogger strollers are not designed for jogging.
Lightweight/Umbrella stroller: Though new designs mean that many standard strollers are only barely heavier than these models, umbrella strollers typically weigh 15 lbs or less and fold up compactly into a long, narrow shape (like an umbrella). These models are great for travel, or if you have an older child who doesn't need a stroller all the time. All the models in this guide are umbrella/lightweight strollers.
---
Other Strollers We Tested
Baby Jogger City Tour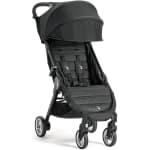 Baby Jogger City Tour
The Baby Jogger City Mini won our roundup of the best standard strollers, so we had high hopes for the City Tour, which is lighter and can fold down to an even more compact size. It performed well in our tests, but it costs around $170 on sale, which is still about $100 more than our top pick.
The City Tour is not a traditional umbrella model, but it weighs just over 14 lbs and folds down a size and shape that we feel is actually better suited to travel. Like the City Mini it has a pull-to-fold handle on the seat, though you need to fold it a second time using a button on the handlebar to get it to its smallest size.
When open, the City Tour is actually quite a bit sturdier than other lightweight models. The wheels are still smaller than a standard model, but the frame feels much less wobbly than your typical umbrella stroller. The canopy is also excellent, but like the City Mini you have to pay extra for a child's tray or a parent console/cupholder.
The major issue, however, is the seat. User reviews on this model continuously called out the seat for being too shallow and sloped, meaning the center strap is often the only thing holding your child in place. My 15-month-old was fine, and the seat isn't shorter than the other umbrella models we looked at, but you may want to give this a shot in person before you commit, given the relatively high price tag.
gb Pockit Stroller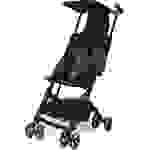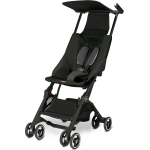 gb Pockit Stroller
The gb Pockit is one of the most intriguing lightweight strollers on the market. It weighs less than 10 lbs, supports kids up to 50 lbs, and features a complex series of folding mechanisms that allow it to shrink down to an extremely small size—small enough you could easily carry it onto most flights.
Once open, the gb Pockit works like any other lightweight model, with a relatively smooth ride and an excellent turning radius. Like the other strollers in the class it also has small wheels, so it does well in cramped quarters but struggles with rough terrain and obstacles. It also has a skimpy canopy that doesn't provide much cover.
Though it would be excellent for any frequent travelers who want something that can shrink to an exceptionally small size, it's expensive. Typically selling for just under $200, it's only worth it if you absolutely need a stroller that can get this small and weighs less than 10 lbs.
If you can deal with a few more pounds, we recommend the Baby Jogger City Tour—assuming the seat isn't a dealbreaker. Not only does the Tour drop to around $170 on sale, but it gets nearly as small as the Pockit with a much simpler two-stage folding action. When open, it's simply no contest between the two: the City Tour has a nicer canopy, nicer seat, more storage, better handlebars, and it's more maneuverable.
Graco Travelite Stroller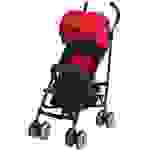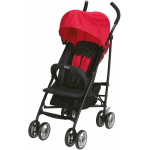 Graco Travelite Stroller
The Graco Travelite is a new contender in the lightweight/umbrella space, and it's a very good alternative to the Summer Infant 3Dlite. Design-wise, it's very similar, with a full-size canopy, large seat that works for children up to 50 lbs, and a small underseat storage bin.
Folding the Travelite is quick and easy once you get the hang of it, but it does require two hands and some practice. Once you release the horizontal bar that keeps the stroller frame rigid, the stroller snaps shut in a hurry. When folded it's a long, skinny shape that's about the same size as the 3Dlite.
In testing, we liked the fit and finish of the Travelite. Though not on par with a high-end stroller or anything, the seat, canopy, and buckles all felt sturdy. The wheels are small and plastic, but no worse than others in the category. We also liked that it included a padded belly bar, though a full child's tray would've been better. It also includes a cup holder for parents but it's very shallow.
Ultimately, it's a good stroller but if you're going to spend upwards of $70 we think the Kolcraft Cloud Plus is a better pick. And, if you want an umbrella shape, the 3Dlite is just about as good. The 3Dlite appears to be more consistently on sale (often around $50), but if this were to drop into that range we'd be just as keen on it.
Summer Infant 3Dtote Stroller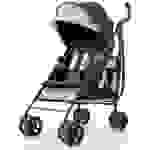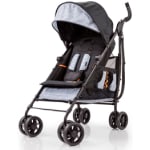 Summer Infant 3Dtote Stroller
If you like the idea of an umbrella stroller but are turned off by the limited storage capacity, the 3Dtote is the way to go. Design-wise it's nearly identical to the 3Dlite, with small wheels, a reclining seat, a full-size canopy, and a slightly tricky two-handed folding mechanism.
Beyond that, though, it's improved on the 3Dlite in nearly every way. It has a nicer fit and finish, seems to be made of stronger stuff, and it has a significantly larger storage area. It could easily hold a full-size diaper bag, multiple winter coats, and still have dedicated pockets for all your toys, keys, bottles, and other accessories.
When folded it is a manageable size (like the 3Dlite, it's long like an umbrella) but compared to most lightweight models this thing is big; it's longer than even most standard strollers when folded and nearly as heavy at 18 lbs. Though that elongated shape may be more convenient for some people, my Baby Jogger City Mini actually fits in my car more easily.
The only other drawback is the price. At over $100 it is quite a bit more expensive than our top picks in this category. That might be worth it if you absolutely need the storage, as only a full-size "standard" stroller will hold as much and those start around $150.
J is for Jeep North Star Stroller
J is for Jeep North Star Stroller
The J is for Jeep North Star wasn't our favorite lightweight stroller, but it was comfortably in the middle of the pack with simple assembly, an inoffensive design, and a sturdy frame for a lightweight model. It folds down neatly into a true umbrella shape, and it weighs just 10 lbs, making it one of the lightest that we tested.
It's also one of the most affordable, frequently dropping below $40 online. Despite this, it comes with a couple of extra like an included cup holder (which is deep, if a bit wobbly) and a carrying bag that can hang off the back for extra storage. You'll need it because the under-seat basket may hold a blanket and a few toys—but that's it.
In our testing, we found the stroller does fold down to be quite compact, though it's a bit tricky to fold and the small wheels—while aiding portability—had trouble with obstacles. It falls a bit behind our top picks because the harness doesn't go over the shoulders and the seat doesn't offer any recline positions, so younger children may not be as comfortable as with our top picks. It also only comes with a 90-day warranty, which is skimpier than the competition.
But if you're looking at the Cosco and want something that offers just a bit more without stepping up to the more expensive models, this reliably splits the difference.
Baby Trend Rocket Stroller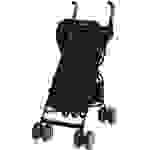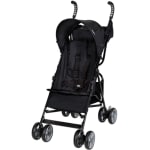 Baby Trend Rocket Stroller
The Baby Trend Rocket Stroller comes very highly recommended online, with very positive customer reviews overall—especially given the stroller is usually just $50 or less on sale. That said, in our tests, it just didn't live up to expectations. The main issue is the canopy, which was wobbly, difficult to attach, and wouldn't stay in place.
If you can get past that, the Rocket isn't a bad lightweight model. It's a bit trickier to assemble than others we tested, but it wasn't bad overall. It has an easily accessible storage basket, a tight turning radius, but—stop me if you've heard this before—its small wheels struggled to get over obstacles.
The main issue here is just the canopy. You're going to want it on sunny days, and we just have zero confidence this one is going to hold up and we don't have those concerns about the others we tested.
Graco Literider
Graco Literider
The Graco Literider is very popular online, but it's a stroller that is much better on paper than in the real world. The appeal is obvious: it's a sub-$100 stroller that has a full-size canopy, large wheels, a reclining seat, a child's tray, cup holders for the parents, and it even accepts Graco ClickConnect infant car seats.
I was very excited to see what the LiteRider could do, but it simply didn't live up to expectations. It had an unnecessarily obnoxious assembly process, the canopy never quite sat right, and the stroller was tough to fold correctly—and even when you get it right it isn't that compact.
That said, the stroller is fairly maneuverable and has a very easily accessible storage basket. The padded seat is nicer than most of the other lightweight models we tested in this price range, and you do get both the child/parent trays in the price. The user reviews are good, though, so we don't expect many long-term issues despite the poor first impression.
The fit and finish wasn't what I hoped for, but you can't argue with the value. Not only is the stroller affordable, but you can find it as a travel system (meaning it includes an infant car seat) online for just $100 on sale, which is among the cheapest options we've seen.
Other Articles You Might Enjoy
Advertisement - Continue Reading Below