The Best Strollers of 2019
By TJ Donegan, Updated June 12, 2019
If you're looking for a new stroller, we think the best for most people is the Baby Jogger City Mini (available at Amazon for $259.99). How do we know? We've spent months researching every stroller on the market—over 230 of them. We've read thousands of user reviews, talked to other real parents, and spent weeks testing over 30 of the very best to see how they hold up in the real world.
What we found is that picking a stroller is a lot like buying a new car—it's a confusing mess. There are hundreds of models, prices range from $20 to $1,200, and it's tough to tell which features really matter. As a new parent myself, I've lived through this personally; I know how much it stinks to be stuck with a bad stroller, and what a breath of fresh air it is to finally get a great one.
But just like buying a car, most strollers get the job done; finding the "best" one means finding the best one for you. While we think anyone will love our top picks, a person who lives in a third-floor apartment downtown has different needs from a person who lives in the 'burbs. Nearly every stroller on this list offers something for someone, so even our non-winners are worth investigating.
That said, our favorite standard strollers—the Baby Jogger City Mini, the Chicco Viaro, and the Bugaboo Bee5—hit all the important points: a smooth ride, excellent maneuverability, plenty of storage space, and easy-to-use folding mechanisms that make storing the stroller a breeze. Without further ado, these are the best strollers you can buy right now.
Note: this guide will cover nearly all of the strollers we've tested, but if you want to narrow it down first we'd encourage you to check out our guide to the best strollers under $300, the best strollers under $200, the best strollers under $100, and our guide to the best lightweight and umbrella strollers.
Advertisement - Continue Reading Below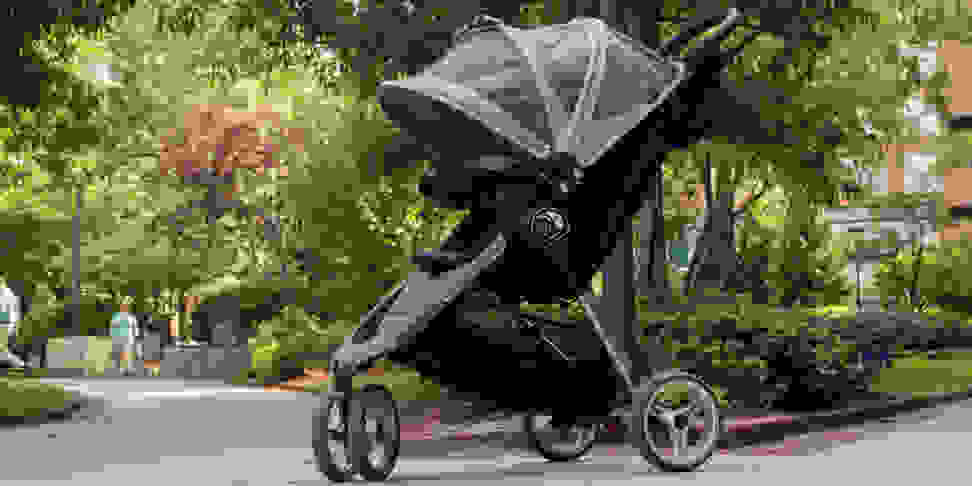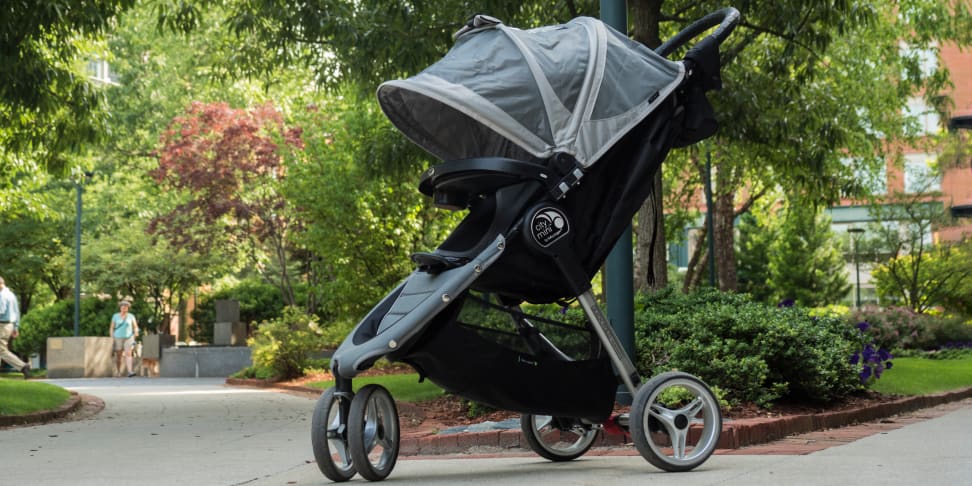 Baby Jogger City Mini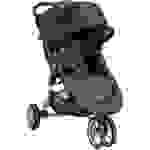 Baby Jogger City Mini
Best Overall Stroller
Most strollers are big, bulky, and take multiple hands (and maybe a foot) to fold. Not so the Baby Jogger City Mini, which weighs 18 lbs and can be folded in seconds with a single pull of its innovative Quick-Fold handle. In our testing, we also loved the City Mini's excellent maneuverability, including its tight turning radius and the ease with which the three-wheel stroller can mount curbs and other tricky obstacles.
In addition to testing this stroller for this guide, I actually have owned it (and a previous model) or several years. It's easy to push, has just enough space to hold all our gear for a full day, and my wife can easily hold our daughter in one arm while folding the stroller and putting it in her car with the other. We're not alone in loving it, either: user reviews are exceptionally strong, with over 80 percent (!!) five-star reviews on Amazon.
It's not perfect, though. The storage space is only so-so compared to other strollers and there's minimal clearance between the basket and the seat, meaning you often have to put larger bags in the storage space before your child is in the seat. And while the stroller is lightweight and very durable in my experience, the seat doesn't have much padding—though my daughter still falls asleep in it all the time.
Ultimately, it's hard to find real faults with the City Mini. I've owned mine for years now, and it's still holding up great. It's worked perfectly with my daughter from the time she was 7 months old through to today, and it still looks like new after a good cleaning. Though we have two kids and own a bulkier double stroller for long walks with both kids, we opt for the City Mini any time that we can get away with it. It's just that good.
Car seats and warranty info: The City Mini is rated for children up to 50 lbs, and is compatible with BOB, Britax, Baby Jogger, Graco, Chicco, Peg Perego, Cybex, and Maxi-Cosi infant car seats with adapters (available at BabyJogger.com). Most adapters cost $20-30, though the Peg Perego and Chicco adapters are $60. And despite the Baby Jogger brand name, it is not a jogging stroller.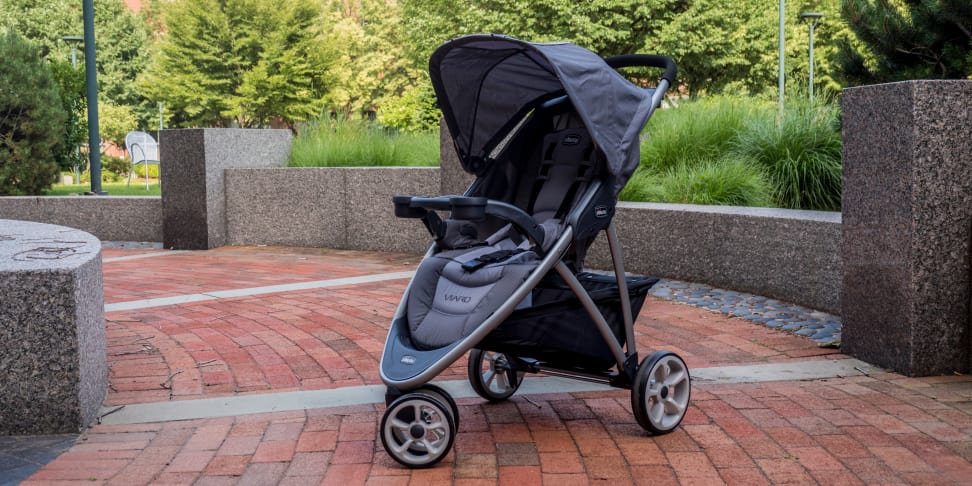 Chicco Viaro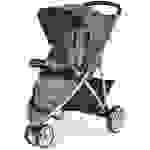 Chicco Viaro
Best Value Stroller
If you're looking for a relatively low-cost stroller that has almost all of the best features of our top pick, the Chicco Viaro is the best value of the strollers we've tested. It has a three-wheel design that's very similar to the Baby Jogger City Mini, with a lightweight frame, a tight turning radius, and a pull-to-fold handle that lets you fold the stroller in seconds.
Though we ultimately prefer the City Mini, the Viaro actually has some advantages over our top pick. The storage basket is larger and more easily accessible, it includes the cup holder and child tray by default. Sale prices dip as low as $150 at times.
Why not go for the Viaro? Well, the canopy doesn't connect to the back of the stroller and so it has minimal protection in the rain. The City Mini offers a much better canopy, is adaptable to a wide range of car seats, and is easier to assemble, but the Viaro is fantastic for the price—just keep the forecast in mind.
Car seats and warranty info: The Chicco Viaro is designed for children up to 50 lbs (or 36 months) and supports Chicco KeyFit and KeyFit 2 car seats natively. It does not support other car seat types via adapters, but it does come with a one-year warranty.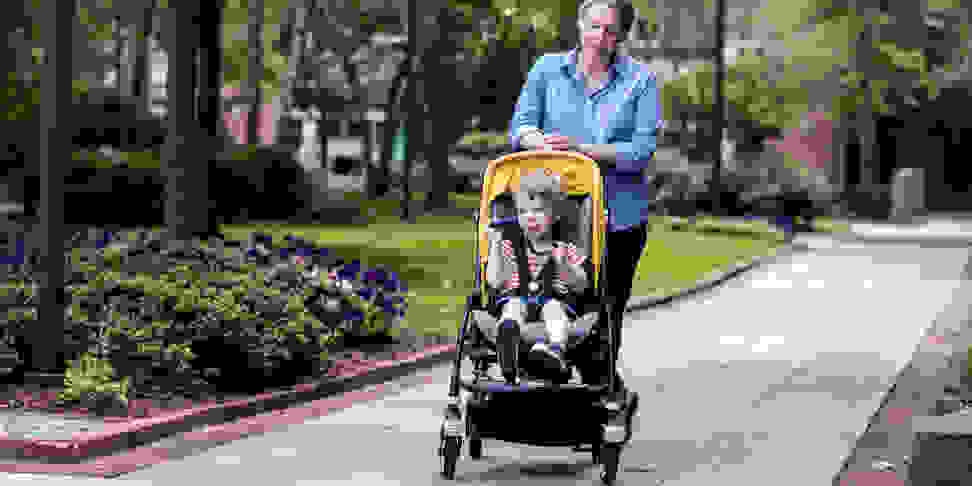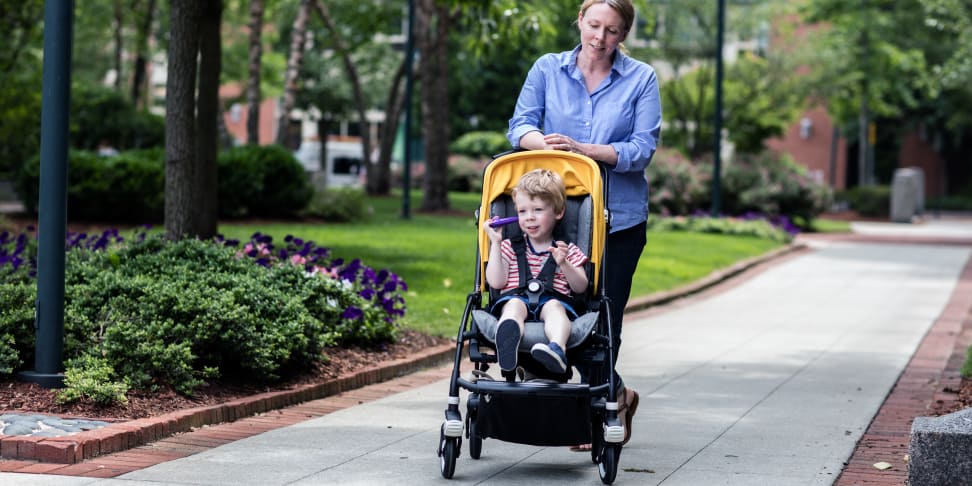 Bugaboo Bee5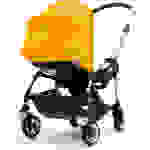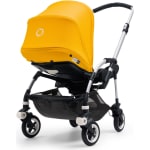 Bugaboo Bee5
Best Premium Stroller
The Bugaboo Bee5 is a fairly light (19.6 lbs) and super stylish premium stroller with some neat, well-designed features and a very smooth ride thanks to a four-wheel suspension. It's highly maneuverable, can support heavy loads in the underseat basket, and it folds up well enough to appeal to city dwellers who need to lug it up stairs every day.
My favorite feature was the ability to fold the seat up, giving you instant access to the storage basket underneath. It's a brilliant piece of design, though you can obviously only use it when the seat is empty. It also features a reversible seat, a stunning array of stylish customization options, and an extremely solid frame that feels like it'll last for years.
On the negative side: The fabric sunshade may be stylish, but the underlying canopy frame feels flimsy. There's also no way to peak through, though you can reverse the seat if you want to see your child when they're first using the seat. The stroller folds up nicely, but it does require two hands to collapse, unlike our top pick.
The price puts this squarely in the "premium" territory, starting at $739 on Bugaboo's site. Does anyone need a $700 stroller? Not at all, but high-end strollers are very popular and this is the best model we tested. It's fully customizable with different colors, patterns, and limited editions, but you're paying 2-3x more than you need to if you just want a comfortable way to carry your kid from A to B.
Car seats and warranty info: The Bugaboo Bee5 is good for children up to 37.5 lbs and is compatible with Britax, Maxi-Cosi, Chicco, and Cybex infant car seats with adapters (sold separately). It comes with a two-year warranty that is extended to three years if you register your stroller.
The Tester
My name is TJ Donegan and I'm the Executive Editor of Reviewed.com, and I've spent the last decade helping people find everything from the best cameras to the best bottle warmers and the best diaper pails. More importantly, I'm a dad with two kids, so I know exactly how much of a pain it is to find the right stroller for you—and how much of a nightmare it is if you pick the wrong one.
The Tests
While it seems like most strollers are basically the same, there are a lot of little things that can drastically improve your day-to-day life. A bad stroller will be heavy, tough to fold, won't hold enough stuff, and it'll have wheels that get caught on everything. Having dealt with one of these for over six months with my daughter, I was committed to finding something better.
The find the best stroller, I spent months researching every single stroller on the market—over 230 of them.
To find the best stroller for you (and let's be real, for me too), I spent months researching every. single. stroller. on the market—over 230 of them. I also spoke to every parent I knew, traveled to every baby store in a 20-mile radius and spoke to salespeople about what customers like most, and pored over thousands of user reviews.
Finally, I called in more than 30 strollers for testing and cross-comparison over the course of about two months with my kids, some other parents in the office, and a few other parents. Testing consisted mostly of what you'd expect; we looked at how easy they were to fold and unfold, weight, build quality, ease of cleaning, storage space, maneuverability, and how easy it is to get all your stuff (and your kids) in and out.
With some product roundups, it's difficult to pick a winner. Not so in this case, with the Baby Jogger City Mini very clearly running away with the title as the best stroller—regardless of price.
Other Things To Consider:
Buying a stroller is tricky, especially for first-time parents. As we've covered, there are just so many of them on the market. Prices also vary wildly and there's often little explanation as to why one stroller costs $150 and another costs over $1,000. Here's what you need to know:
There's nothing special about super expensive strollers. For this guide, we tested several strollers that cost over $1,000—and we mostly came away unimpressed. Premium models typically come with things like designer fabrics, customizable wheels, leather-clad handles, and other touches that have nothing to do with how well a stroller operates. While we have nothing against people opting for a designer stroller, there's no practical benefit.
You may want more than one stroller. Most standard strollers aren't safe for kids who are under 6 months (until they can start sitting up on their own), so you'll either need adapters that allow you to attach your infant car seat to your stroller of choice, a dedicated bassinet/pram, or a caddy frame that can also accept your infant car seat.
Even after your kid is big enough to use standard strollers, you may still want to pick up a second lightweight/umbrella stroller. These models are super compact and are perfect to keep at a grandparent's house or if you're taking a trip.
You'll probably want to coordinate your infant car seat and stroller purchase. In line with the point above, your life will be easier (and you'll have to buy less stuff) if you get an infant car seat that is easily adaptable to your primary stroller. One of the reasons we like the Baby Jogger City Mini so much is that it's widely adaptable to a huge range of car seats, letting you pick the best car seat for you (or find one on a discount) without needing to buy an inferior stroller.
Adapters are not perfect. While it's easy to say that an adapter exists to attach an infant car seat to a stroller, not all adapters are equal. Many are little more than flimsy metal bars that can clip into the bottom of a stroller. Typically the adapters that feature two upward-facing arms are the most secure, as they tend to slot into either side of the stroller in specialized connection points. Your mileage will vary, though, so get and check everything you need well before your baby arrives.
There are different types of strollers. Here's a basic primer on the differences between types of strollers:
Standard stroller: This covers most strollers, including almost everything in this guide. They are average in size, typically weigh 20 lbs or more, and hold one child from about 6 months until he or she is about 50 lbs.
Double stroller: Double strollers, like the name suggests, hold two kids at once. Some models convert from a single to a double (like the Baby Jogger City Select LUX, listed below) with the addition of a second seat and an adapter. Some doubles have seats side-by-side, while others have seats that are aligned vertically. Side-by-side models are less maneuverable in tight spaces but it's easier to get kids in and out, and you have more storage space typically.
Jogging stroller: These models typically have large wheels, often filled with air (like bike tires) and locking front wheels. They're designed for safely running with a child (or two children) in a seat. Locking the front wheel is essential because it helps prevent tip-overs if the front wheel were to hit a snag while you're running at full speed. Though Baby Jogger makes a jogging stroller (the Summit X3), it's worth noting most Baby Jogger strollers are not designed for jogging.
Lightweight/Umbrella stroller: Though new designs mean that many standard strollers are only barely heavier than these models, umbrella strollers typically weigh 15 lbs or less and fold up compactly into a long, narrow shape (like an umbrella). These models are great for travel, or if you have an older child who doesn't need a stroller all the time. They're typically less expensive (often under $100), but usually don't hold as much or have as many features. For our top picks in this category see our guide to the best lightweight and umbrella strollers.
---
Other Strollers We Tested
While we researched and compared over 230 strollers for this guide, we ultimately tested a little over 30 models. Though we think our top picks will cover most people, below you'll find our reviews of the other models we looked at. If you're looking for a lightweight umbrella or travel stroller, please see our guide to the best lightweight and umbrella strollers.
Baby Jogger City Select LUX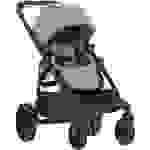 Baby Jogger City Select LUX
If your main experience with Baby Jogger products is the City Mini, the new City Select LUX will surprise you—it's gigantic. The frame is thick and sturdy, the wheels are huge, and it has a cavernous amount of storage space. While it lacks the Quick-Fold action of the City Mini, it does still fold down nicely, with the ability to easily stand on its own when stored.
For parents who just need a stroller for one child, the City Select LUX may be a bit much. It's heavy at 30.4 lbs and has a very wide wheel base, making it tricky on busy sidewalks or in cramped stores. It's probably not a great fit for city dwellers, unless you can leave it in the car, garage, or you live on the ground floor.
It does have some very nice touches, though. The ride is extremely smooth, and the handbrake means you can slow the stroller while going down hills just like you would with a bike. The fabrics clean very easily and resist staining exceptionally well, and the little modifications you can make like moving the seat bottom up so your child's legs can stick out straight are great when your child wants to nap.
Where the City Select LUX truly comes into its own, though, is when you add a second seat. We've used this with our two kids as a double stroller and it's mostly worked flawlessly. Though adding the second seat kid gets expensive, you only need that if you need two full-size seats at the same time. If you've got one older kid and one newborn, you can just use the main seat on the lower section and use adapters to connect an infant car seat.
Car seats and warranty info: As mentioned before, the Baby Jogger City Select LUX is designed for children up to 45 lbs (per seat) and supports car seats from Graco, Britax, Maxi-Cosi, Peg Perego, Baby Jogger, Chicco, Cybex, Nuna, and BOB with adapters (all sold separately). It comes with a limited lifetime warranty on the frame, a 1-year warranty on the other parts, and no warranty on the wheels.
Summer Infant 3Dlite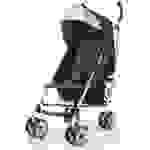 Summer Infant 3Dlite
The Summer Infant 3Dlite is one of the most popular strollers around due to its very affordable price, which drops to around $60 when on sale. It's an "umbrella" or lightweight stroller, so it is designed to collapse to a very compact size, but doesn't support car seats or offer a ton of storage.
That said, there's enough here that this could be your only stroller if your needs are limited to the occasional walk or trip to the zoo. There are some things to be aware of, though: It's not that easy to maneuver, as the wheels are small and have trouble with obstacles; we also found that the fold was tricky, requiring two hands most of the time. And though it collapses down nicely, it is actually quite long when folded, which may make storage tricky in certain situations.
It's hard to argue with the value here. Even if you need something bigger for everyday use, this would be an excellent, low-cost backup for vacations or short trips.
Car seat and warranty info: The Summer Infant 3Dlite Convenience Stroller does not support car seats. It is designed for children up to 50 lbs and comes with a one-year warranty.
Summer Infant 3Dtote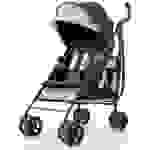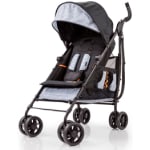 Summer Infant 3Dtote
The Summer Infant 3Dtote is an ideal pick for anyone who likes the idea of the Summer Infant 3Dlite, but needs more storage; this stroller has tons of it, especially for an umbrella model. The underseat storage basket is massive, perfect for storing coats, bags, and other items. There are other pockets for your phone, keys, wallet, water bottles—even hooks for holding a diaper bag in place.
Despite this extra storage, the stroller itself isn't noticeably larger than the 3Dlite, though it weighs about four pounds more. It also has a better canopy, though we found pulling too hard on the canopy pulled the seat out of its reclined position. The wheels are slightly different than the 3Dlite, but we had all the same issues with obstacles and maneuverability.
The main drawback is the price. While we routinely have seen the 3Dlite for under $60, the 3Dtote goes for between $95 and $129. We like the 3Dtote, but that's close enough to our value pick that we think most people will prefer to upgrade.
Car seat and warranty info: The Summer Infant 3Dtote does not support car seats. It is designed for children up to 50 lbs and comes with a one-year warranty.
Mountain Buggy MB Mini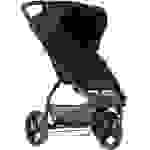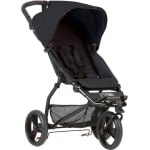 Mountain Buggy MB Mini
Mountain Buggy's main claim to fame is its line of durable, all-terrain strollers that can easily mount curbs and go places most strollers simply can't. The MB mini continues that tradition, but it shrinks the whole footprint down to a size that would be more palatable to people who live in the city or just need a compact stroller.
In testing, we really loved the MB mini's large tires. They're not air-filled as with the Mountain Buggy Swift (see below), but they are much bigger than similar models like the City Mini. Either way, the wheels would be a huge benefit if you need to routinely get over curbs or tree roots that other strollers struggle with.
At just 16.8 lbs, the MB mini is one of the lightest strollers we tested, and it has a compact footprint when stored. It folds with one hand, but it does so from the bottom, which is trickier than the pull-to-fold handles on our top picks. Our biggest issue was the price. It's over $350 by itself, and many retailers only carry it as a travel system with the included car seat.
Car seat and warranty info: The MB mini is designed for children up to 44 lbs and comes with a one-year warranty. It supports some Mountain Buggy, phil&teds, Maxi-Cosi, Chicco, Cybex, Graco, and Safe-n-Sound car seats with adapter clips (sold separately).
Mountain Buggy Swift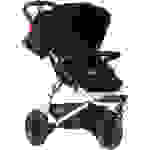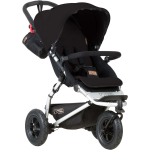 Mountain Buggy Swift
As with the MB mini, the Swift is a well-built, durable, all-terrain stroller meant to function well from the city to the great outdoors. The Swift is slightly larger than the MB mini, and the main differences are that it features a hand brake and has larger 10-inch, air-filled tires.
These allow the stroller to far more easily get over obstacles like curbs, roots, and rough terrain. That does mean you need to worry about things like popping a tire or losing air pressure, but you get a very smooth ride on most surfaces—perfect if you live somewhere with rough winters. It may also work as a jogger in a pinch, though it's not advertised as such and we haven't begun our jogging tests just yet.
We weren't in love with the fit and finish of the stroller besides that—specifically the seat and the flimsy canopy—especially given its high price. But if you need a stroller that can handle rough roads, the Swift is a big hit among users and held up well in all of our tests.
Car seat and warranty info: The Mountain Buggy Swift is designed for children up to 44 lbs and comes with a one-year warranty. It supports some Mountain Buggy, phil&teds, Maxi-Cosi, Chicco, Graco, and Safe-n-Sound car seats with adapter clips (sold separately).
Bugaboo Cameleon3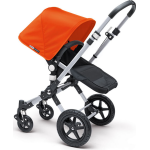 Bugaboo Cameleon3
Bugaboo makes some truly excellent strollers, but the Cameleon wasn't one of our favorites. It was one of the most difficult strollers to assemble, and the modular design just didn't live up to our expectations.
It has some nice features and a plush ride, but it's tricky to fold, tricky to adjust the seat, and it costs over $1,200. There are some unique features here that you won't find anywhere else, but for most people, there are simply better options, including Bugaboo's svelte Bee5 stroller.
The Cameleon gets its name from its ability to transform into many different configurations. You can use it as a standard stroller, a bassinet, or flip the seat and the handlebar so that your big wheels face forward—allowing you to get up and over rough terrain and curbs more easily. It even has a two-wheel mode for "sand and snow" that we can't imagine anyone ever using.
The included bassinet is a nice extra (it costs about $200 to add one to the smaller Bugaboo Bee5) for people who want it, but in my experience, you will only use it for a very short period of time—we kept our daughter in the car seat while walking and she slept just fine.
Car seats and warranty info: The Bugaboo Cameleon3 is rated for children up to 37.5 lbs and is compatible with Britax, Maxi-Cosi, Peg Perego, Chicco, and Cybex infant car seats with adapters (sold separately). It comes with a two-year warranty that is extended to three years once you register your stroller.
gb Pockit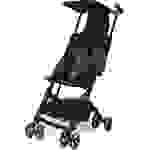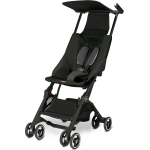 gb Pockit
If you've walked around a major baby store recently, you've probably seen the gb Pockit on display, claiming it's the smallest folding stroller on the market. I was skeptical when I first opened the box, but it really is a stunningly small stroller when folded up. The problem? Folding and unfolding it can be a real chore.
While most strollers fold in a single action, it takes four different actions to get the gb Pockit to its smallest size. That's useful when you need it, but similar (and cheaper) umbrella strollers can also get quite small without nearly as much hassle. There are videos where it seems to fold and unfold effortlessly with a flick of the wrist, but in my experience, that happens about 25 percent of the time. The other 75 percent you're struggling to get the stroller to do what you want.
When open, the gb Pockit is actually a nice umbrella stroller, but when compared to standard strollers the features just don't add up—the storage capacity is minimal, the sunshade isn't a full-size canopy, and the wheels are tiny—but these are par for the course with umbrella strollers. It might work for people with very particular needs, but for most people, this just won't hold up as a primary option.
Car seats and warranty info: As with most umbrella strollers, the Gb Pockit doesn't support car seats. It comes with a two-year warranty.
Other Articles You Might Enjoy
Advertisement - Continue Reading Below