The Best Sippy Cups and Transition Cups of 2019
By Sarah Kovac, Updated June 14, 2019
Figuring out which, of the hundreds of models out there, is the best sippy cup is no small undertaking. Giving your kid the wrong cup can result in spills, extra time scrubbing chair cushions and carpet, and hand-washing a cup's clogged up crevices. Did I mention the stains that'll wind up in a little drinker's clothes if their cups dribbles over? Having three children myself, I know the struggle all too well.
To help me find the best sippy cup around, I recruited my kids to help me test 14 of the top-selling sippy and transition cups on the market right now. After about seven years of using different sippy cups with my kids, I had two make-or-break concerns: 1) ease of cleaning, and 2) leakiness.
After a ton of careful (and sometimes messy) testing, hands-down the best sippy cup is the OXO Tot Transitions Straw Cup with Removable Handles. (available at Amazon for $9.99) Why are we so sure it's the best? It's easy to clean, extremely resistant to leaking, has a clear body with measuring marks, and can even fit in most cup holders thanks to the removable handles.
Though we believe our top cups would be a great fit for most families, others that we tested offered features that you might find more appealing, such as insulation and spoutless designs. Check out our thoughts on all 14 cups below.
Here's the best sippy cups and transition cups ranked, in order:
OXO Tot Transitions Cup
Philips Avent My Bendy Straw
Thinkbaby No Spill Sippy Cup
Thermos FOOGO soft spout stainless steel
Pura Kiki Stainless Steel Sippy cup
NUK Disney Learner
Philips Avent My Easy Sippy Cup
nuSpin Zoomi Straw Sippy Cup
Thinkbaby Thinkster
Sassy Grow Up Cup with handles
Dr. Browns Soft Spout Transition Cups
Green Sprouts Glass sip & Straw
Chicco NaturalFit
Munchkin Miracle 360
Advertisement - Continue Reading Below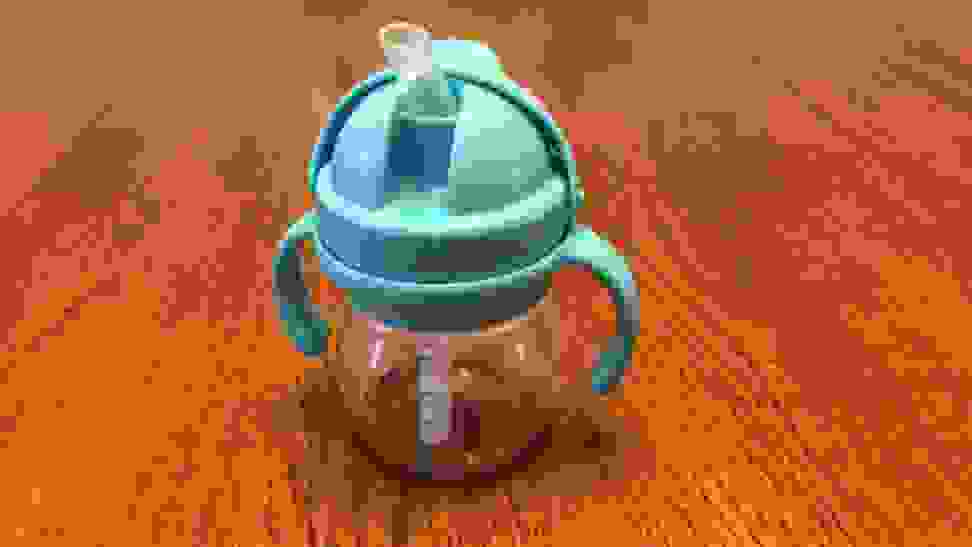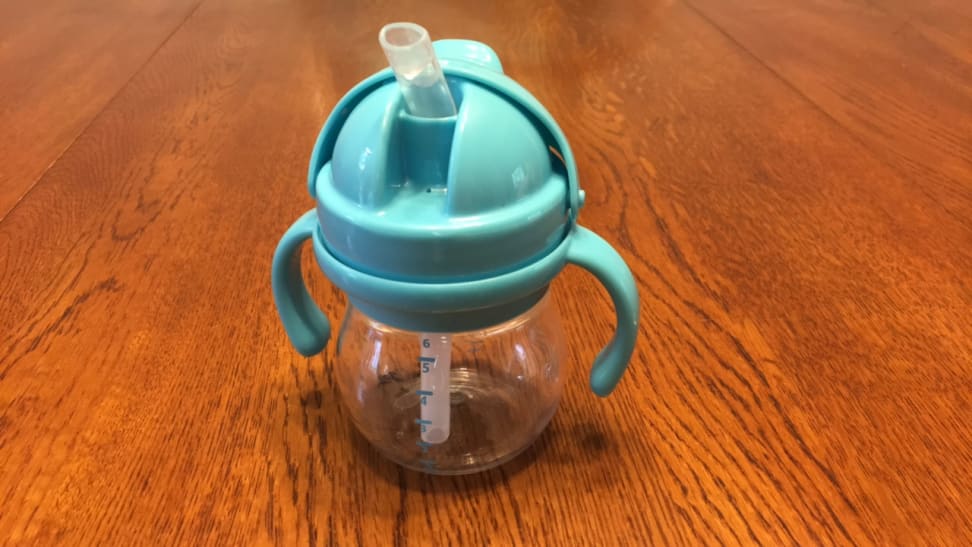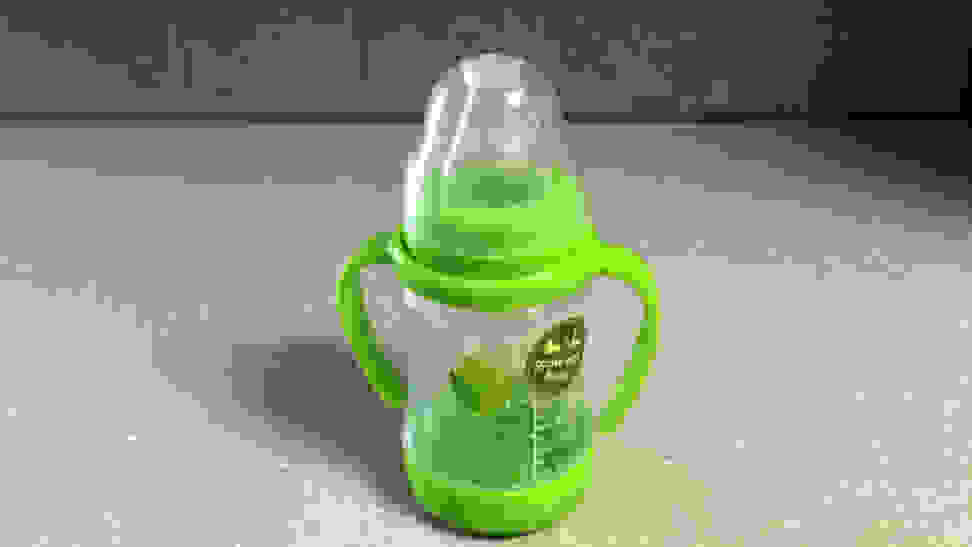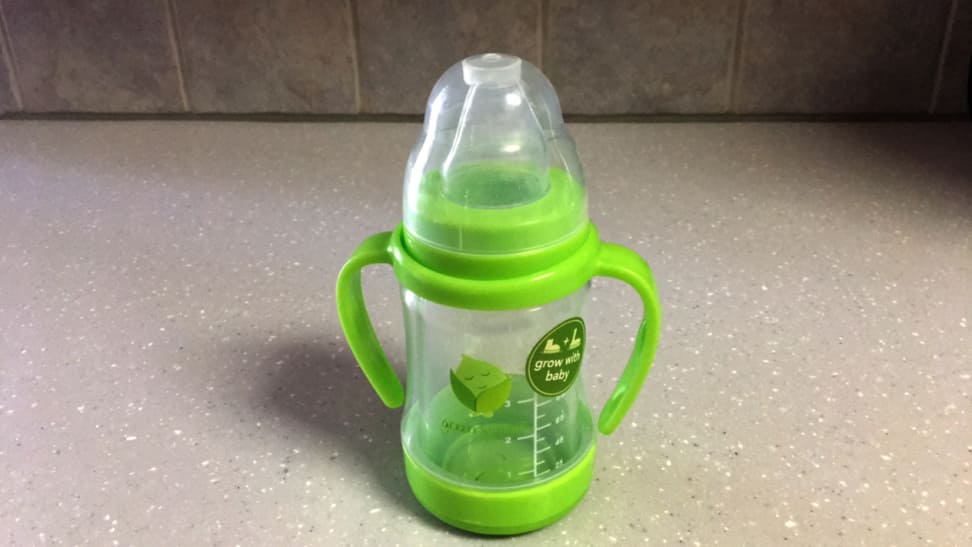 How We Tested
Who am I
Hi, I'm Sarah Kovac. I've been doing this parenting thing for a while now. I have a baby, a preschooler, and an elementary kid, so by now I've learned a lot about what works with little ones and what doesn't. I know that we need products that are safe and reliable for our children, but we also need them to be easy to clean and maintain. We don't have time to stand over the sink hand scrubbing every sippy cup spout and straw. I've spent way too much money on new, fancy toys only to watch my kids play with the box. I've scrubbed prune juice out of our white carpet, I have found baby bottles under the bed that had been missing for weeks, and I have worried about what chemicals might find their way into my little one's water. There are so many things about having kids that you just can't learn until you have the first-hand experience. And I can say, from experience, which of these cups are worth your time—and which are not.
The Tests
We know kids have a hard time being gentle with their things, so we did not take it easy on these sippy cups. We filled each cup and threw them against a concrete patio to see if they would crack, leak, or fall apart. We poured orange juice in each one and left each cup undisturbed on its side for days to see if any crusted orange pulp would hide in the cup's nooks and crannies. And, in what was perhaps the most demanding test in our lineup, we handed the cups over to real kids. Every one of these cups lived in a household with a 3-year-old and a 7-year-old, and was also pulled out for use when friends came over to play. Some of these cups stood up much better than others in real-world use, and we also noted which cups kids tended to gravitate toward and enjoyed using.
What You Should Know About Sippy Cups
They are usually tough to clean. By nature, sippy cups are difficult to clean. They are small, so it's hard to get a scrub brush inside, and they have child-sized spouts and straws which are nearly impossible to get clean in a dishwasher. Even if you have one of those dishwasher baskets made specifically for bottles and sippy cups, it's unlikely that your dishwasher will be able to get every part of the cup clean. Frequent or occasional hand scrubbing is nearly impossible to avoid. That being said, some of these sippy cups did way better in the dishwasher than others.
You'll probably want a variety of spouts. Babies and toddlers tend to choke and gag when they take a sip from a spout or straw that lets liquid flow faster than they are used to. For that reason, you want to ease them slowly from nipple to straw/spout to cup. Some of the favorite sippy cups we tested came packaged with several different spout and straw types to ensure its usefulness as the child grows. That also enabled us to use these cups with children of different ages, which is a big deal in households with multiple children, as such households are generally overflowing with kid items as it is.
Glass sippy cups are more durable than you'd think. One of our biggest surprises from the testing was that we could not get the glass sippy cup in our lineup to break. Despite repeatedly dropping and even throwing the sippy cup against tile and concrete (because you know that's the kind of thing real kids do) we couldn't manage to crack it. Manufacturers know that kids are going to be rough on these cups, so they are generally pretty well protected by the covers and sleeves that cover them. If you are worried about giving your child a BPA-free plastic cup to drink from, don't be afraid to go for the glass or stainless steel.
Covers and lids are mostly useless. If the cup comes with some sort of cover or lid, it can and will break or fall off. And once that happens, it will probably go missing until a year later when you find it hiding under the third-row bench seats of your Chrysler Town & Country (not that we would know anything about that). But in all seriousness, even on the sippy cups that tested perfectly otherwise, their lids snapped off almost without fail. You can't rely on the lid to ensure your kid's grape juice doesn't come leaking out on the table and soak some important papers you left there (again, not speaking from first-hand experience at all). If you want a sippy cup that isn't going to create messes, the cup itself needs to be pretty much leakproof with or without a lid. Luckily, several that we tested fit that description and don't need lids at all.
The right sippy cup can last you many years. Nobody enjoys having a cabinet full of not-quite-usable dinnerware. Over time, you will misplace a straw, your teething toddler will bite a hole in the cup spout, a handle will break off, a lid will crack. And you will be left with a pile of completely useless plastic that you can't bring yourself to throw out because one of these days you might find that missing piece. Save yourself the headache, and look for sippy cups that have very few pieces and have smooth surfaces. A cup that doesn't have a lot of complicated parts is not only easier to keep together — it's also much easier to clean. And of course, investing in a glass or stainless steel cup makes sense in the long run. Those materials are certainly more expensive up front, but if you can find one that is simple to take apart and put together, it's very likely that it will last you for many years, as it's going to be much more durable than the standard plastic sippy cup.
---
Other Sippy and Transition Cups We Tested
The Best Spoutless 360-degree Cups
Spoutless 360-degree cups are very popular and can be useful when you're trying to teach a child to drink from a real cup. They can learn how to tip a cup back, how to sip from the rim, and they learn that you can drink from—and liquid can come out of—any part of the cup instead of just a single spout.
But in our tests they all were among the leakiest cups; there isn't much keeping the liquid in. They are a great option when a child is ready, but if you specifically want a leak-proof cup one of the above models is probably a better pick.
More Articles You Might Enjoy
Advertisement - Continue Reading Below