Parenting
12 adorable first-day-of-school signs to mark the big day
Say cheese!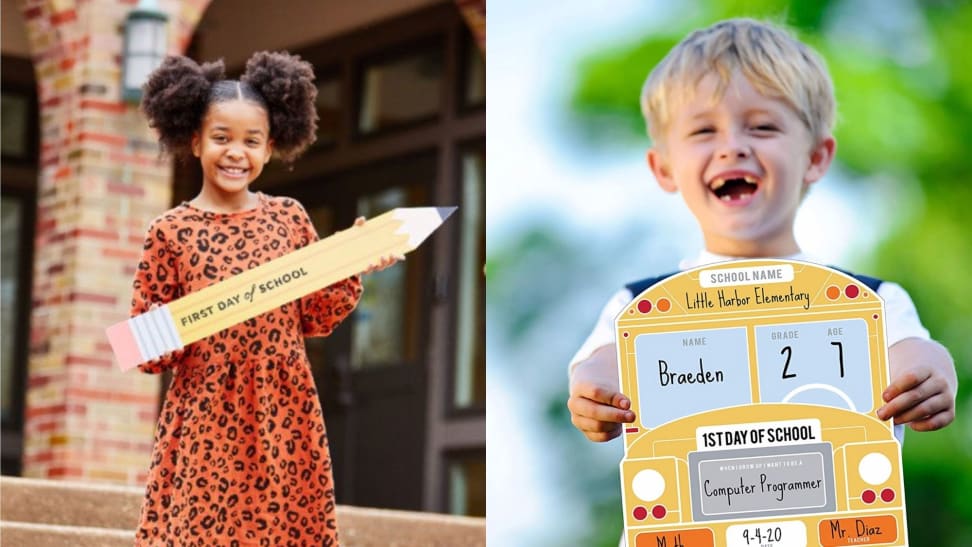 Credit: Cheree Berry Paper / Canopy Street
This year's first first day of school may not look like any other year, but that doesn't mean you shouldn't commemorate the big day. Whether classes are starting in person, you're preparing for virtual learning, or you're planning a neighborhood pod school, here are some adorable signs that are sure to put your kid's first day photos at the head of the class.
1. A pennant sign that doubles as décor
With an option for every year from preschool to 5th grade, these colorful school pennants brightly announce the first day in a big way. Not ones to gather dust in a box, they'll look beautiful hanging above a desk for the whole school year. There is even a cute one for those just starting their homeschool journey.
Get the Cheree Berry Paper first day of school pennants at Maisonette for $26
2. A pencil that makes great last day photos, too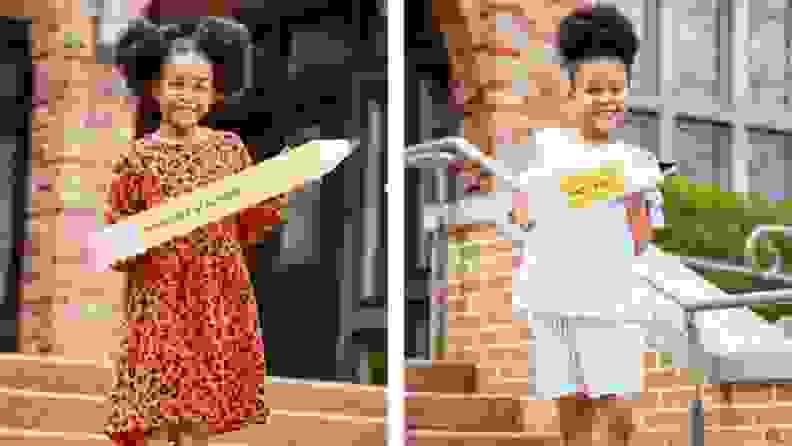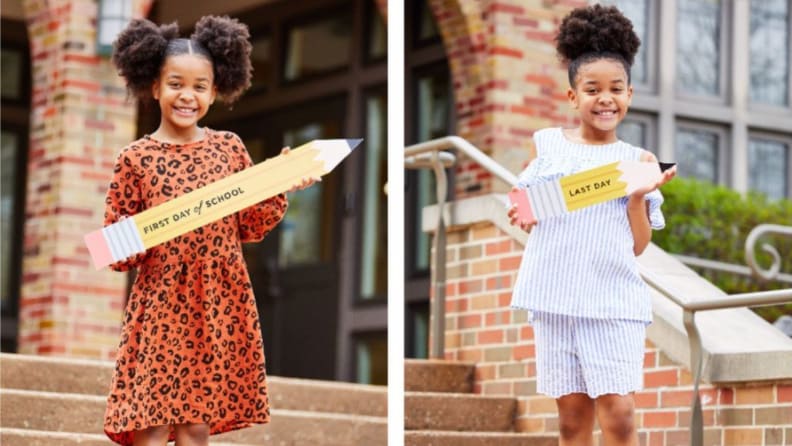 We love signs that are first-and-last-day packages. This clever back-to-school sign starts as a brand new pencil and ends up as a tiny nub, signifying all the excitement of the first day and all of the hard work they put in to get to the last.
Get the Cheree Berry Paper Oversized First (and Last!) Day of School Pencils at Maisonette for $26
3. A notebook to signify a new chapter
Open the book on the new school year with this double-sided composition notebook sign that includes a fill-in space to add your child's name. Bring it out again on the last day and flip to side two to say sayonara to the school year. See the difference a school year makes!
Get the Cheree Berry Paper Oversized First (and Last!) Day of School Notebook at Maisonette for $20
4. A handprint sign that adds a personal touch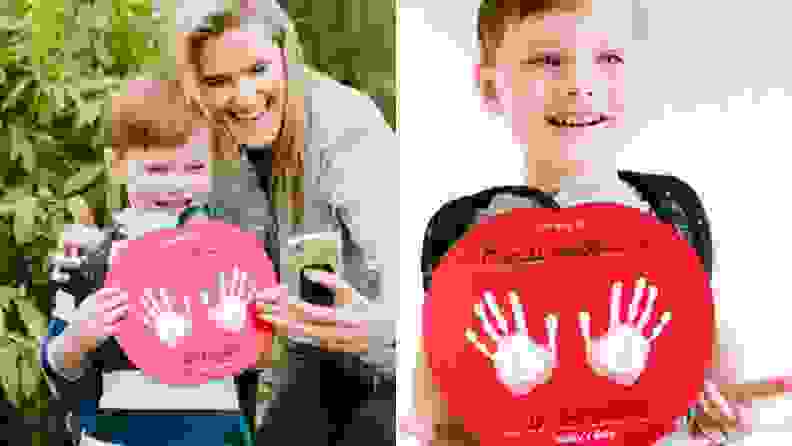 There is something about a little one's handprints that really make you think about the passage of time. This sign is a keepsake that will be treasured long after your child has gone off to college.
Get the Pearhead First and Last Day of School Handprint Board at Target for $9.99
5. A customizable sign for special notes
If the outside of a composition book isn't your thing, this one takes a page from a notebook to make for a perfect place to take notes on everything that makes your kiddo so special. This customizable sign has room for all of your kid's favorite things, and even has a sweet spot to chronicle their height on the first day.
Get the Canopy Street First and Last Day of School Notebook Sign at Amazon for $19.99
6. An apple-shaped set for both first and last day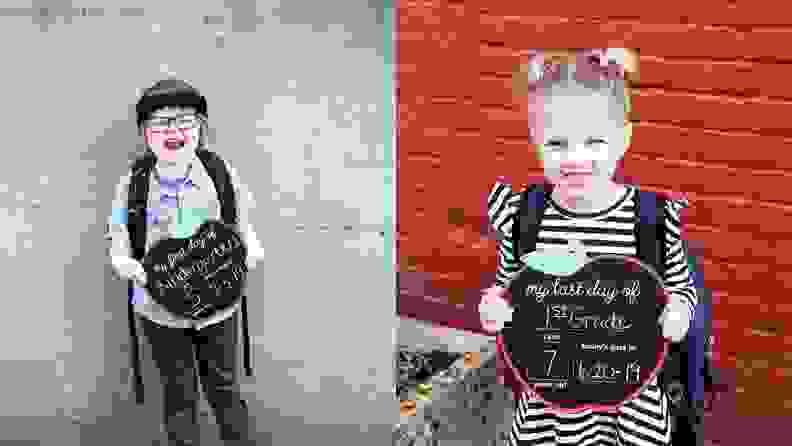 Apple of your eye starting back to school? This erasable chalkboard sign can be customized and reused year after year.
Get the Pearhead Apple-Shaped First and Last Day of School Reversible Chalkboard Sign at Amazon for $9.99
7. A whole pack of signs for every grade
For those who like to be prepared, this sign set will take you from kindergarten through high school graduation with chalkboard-style first- and last-day signs. You'll never have to worry about being empty-handed when it's time to snap first day photos.
Get the Whaline Back to School Signs at Amazon for $12.99
8. A sign that gets kids excited to ride the bus
The iconic school bus takes a different route as this quirky, customizable sign. This one is sold as a set; the first day of school will have kids holding the front of the bus, while on the last day it looks like it's driving away.
Get the Canopy Street School Bus First and Last Day of School Sign at Amazon for $19.99
9. A luminous light-box for use year-round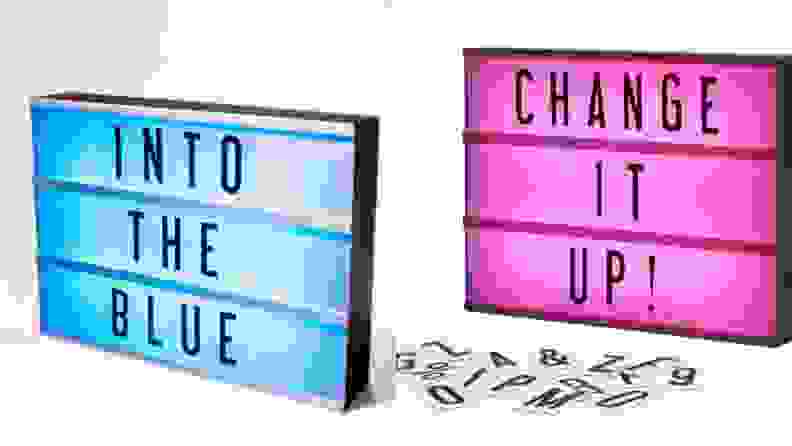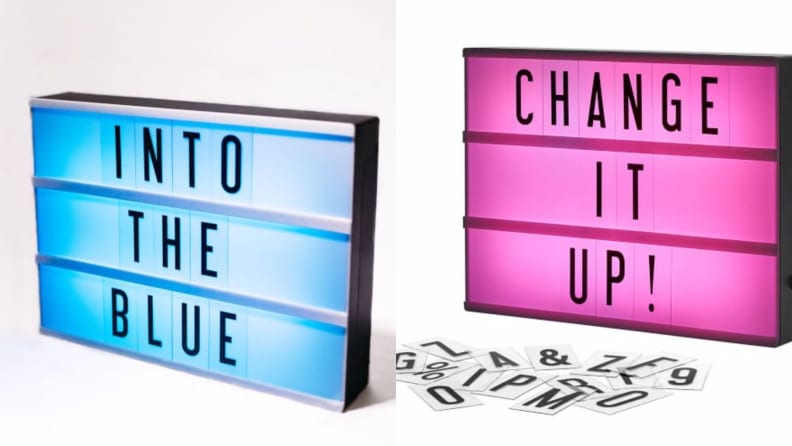 If your teen is way too cool for a cutesy sign, this one will give a bit of an edge to first day photos. This customizable light-box is color-changing, making for a cute room accent long after the first day has passed.
Get the Color Changing Lightbox at PBTeen for $45
10. A letterboard sign for a timeless look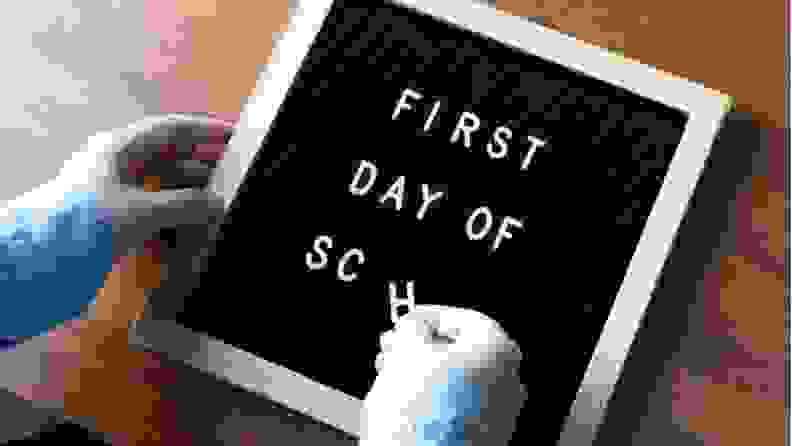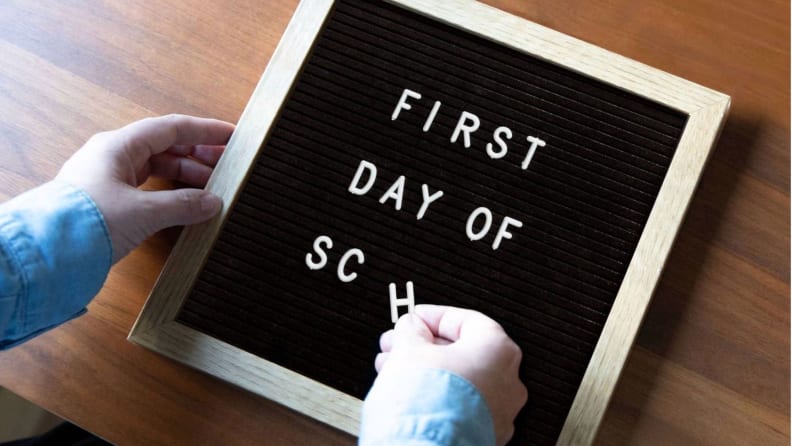 A favorite of moms all across Instagram, this letterboard-style sign is an adorable throwback to the class photos we took in the days before social media. We love the nostalgia of this one and that it allows you to personalize your back-to-school sign year after year. We like this one for its price point and for the 294 letters, numbers, and symbols that are included.
Get the Pearhead Back to School Letterboard Set at Target for $6.49
11. A frame that's picture-perfect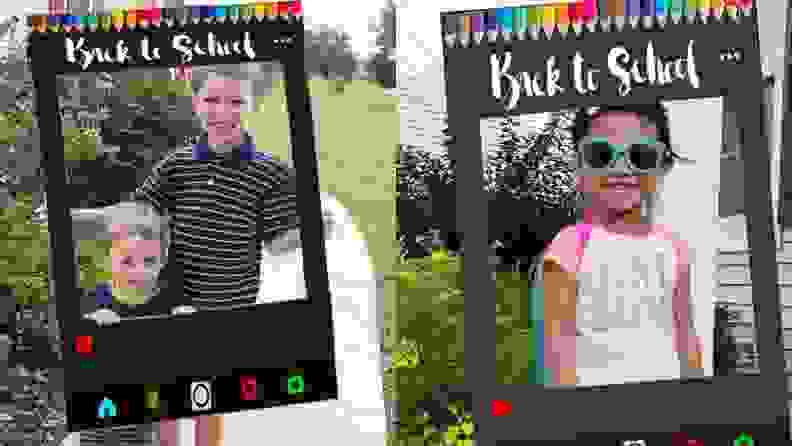 Frame the first day in style with this sign that was made for social media. The selfie-meets-instant-photo style is a little bit retro and a little bit modern, combining for a cute picture that sure to get lots of likes.
Get the Laventy Back-to-School Photo Booth Frame at Amazon for $9.99
12. A sign that turns school supplies into decorations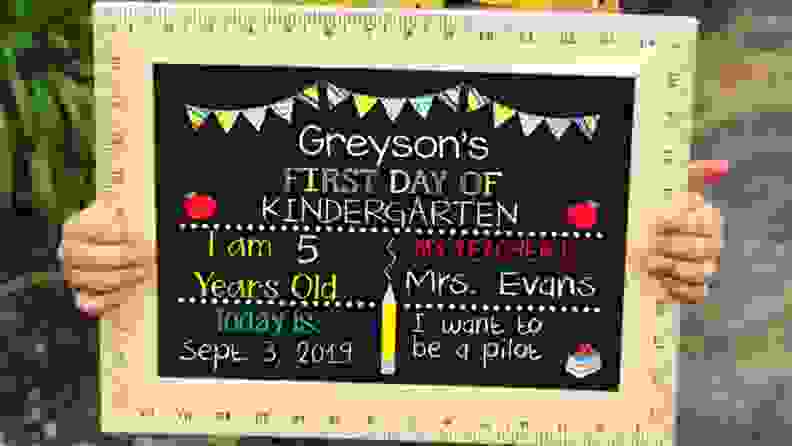 Measuring the passage of time has never been cuter. With apples and a chalkboard framed in a ruler, this sign combines almost everything that is quintessentially "first day" in one sweet package. It's also reusable and works with both chalk and chalk markers.
Get the BloomOwl First Day of School Chalkboard Sign at Amazon for $39.99
Get the Crafty Croc Liquid Chalk Markers, 10-pack of chalk pens in bold or fine tips at Amazon for $12.99
The product experts at Reviewed have all your shopping needs covered. Follow Reviewed on Facebook, Twitter, and Instagram for the latest deals, product reviews, and more.
Prices were accurate at the time this article was published but may change over time.