Parenting
22 awesome Advent calendars that kids will love
Countdown to Christmas with 24 days of unique surprises.
Credit: Elf on the Shelf / MeriMeri
There's no doubt it's been hard to drum up excitement in 2020. But Advent calendars are a great way to celebrate the anticipation of the holiday season.
Advent calendars have come a long way since the holiday-themed supermarket chocolates we had as kids. The Advent calendars of 2020 are knocking it out of the park, with pop culture-inspired toys, new twists on classics, and crafty and DIY versions to bring a bit of creativity to your holiday. Whether the kids on your gift list prefer Star Wars, or sparkles, we've found an Advent calendar that's sure to fit their taste and make every day leading up to Christmas surprising and fun.
1. An Advent calendar full of their favorite characters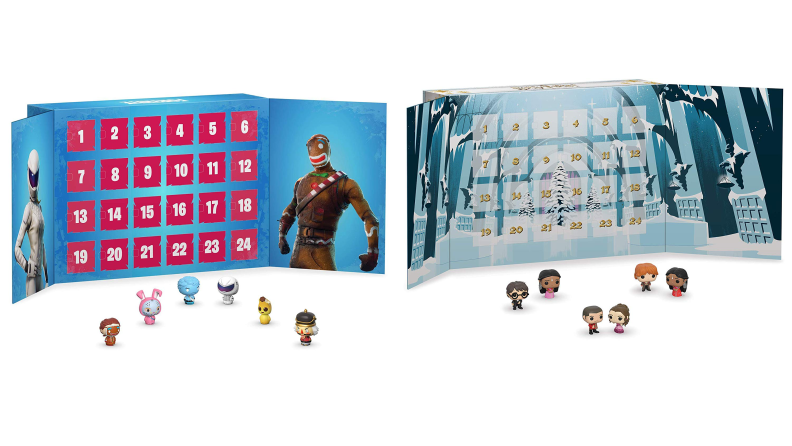 Best for ages: 6 and up
From Fortnite to Harry Potter, Funko has the market cornered on Advent calendars filled with cool collectibles. Each one pops open to reveal an impressively detailed keychain-sized action figure from your kiddo's favorite books, video games, or blockbuster movie. After you pull all 24 days of pops, you can display them for the holiday season, or just use them for imaginative play.
2. An Advent calendar that transforms into a festive holiday home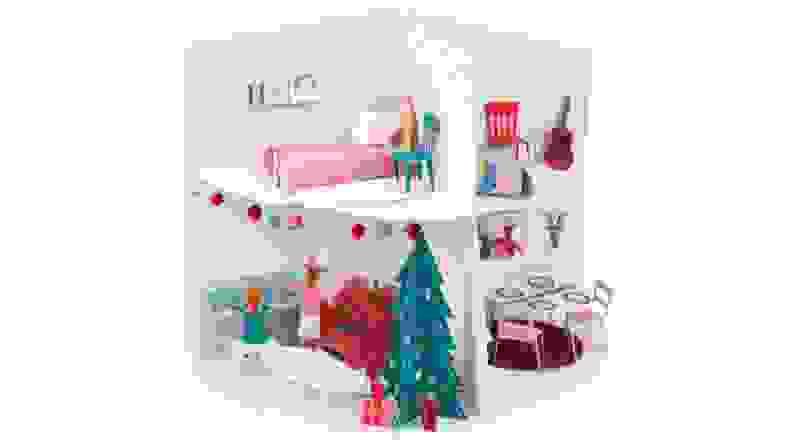 Best for ages: 5 and up
Help this reindeer family make a cozy home for the holidays. With each day, this Advent calendar reveals furnishings and characters in this charming holiday home. The paper house has two bedrooms, a dining room, and a lovely sitting room complete with a Christmas tree and gifts, all ready for imaginative play.
Get the Festive House Paper Craft Advent Calendar at MeriMeri for $35
3. An Advent calendar that takes you to the toy store
Best for ages: 4 and up
Playmobil Advent calendars are some of the most fun around, with toys and accessories that keep the fun going long after the excitement of Christmas Day has worn off. This year you may not be able take the kids holiday shopping, but they can pretend with a holiday shop-inspired set that is just brimming with Christmas cheer.
There's also a holiday bake shop, some seriously jumbo calendars of a stunt set and a doll house, a pirate cove, a holiday ball, a set with knights and dragons, and—quite possibly the coolest Advent calendar around—a retro calendar that celebrates the 35th anniversary of Back to the Future.
4. An Advent calendar for Star Wars fans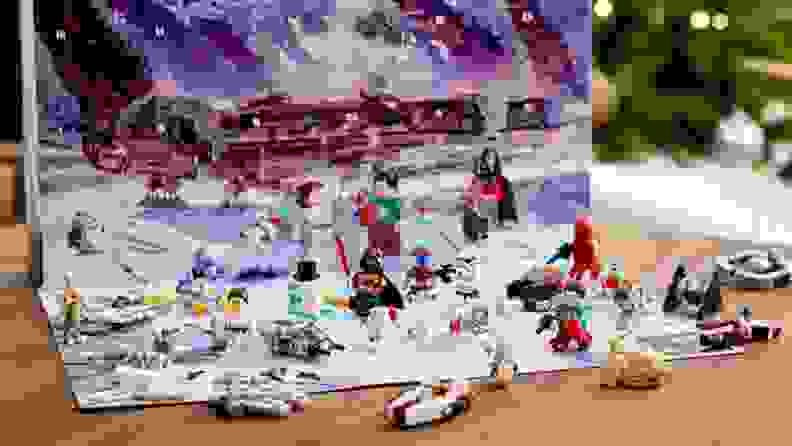 Best for ages: 6 and up
The force is strong with this Advent calendar filled with some of the favorite characters from the Star Wars movies, including Po Dameron and Darth Vader, donning their ugly Christmas sweaters. From adorable Porgs to droids in holiday gear, they may hail from a galaxy far, far away but they still get into the holiday spirit.
Get the Lego Star Wars Advent Calendar at Amazon for $29.97
5. A Super Mario sort of Advent calendar
Best for ages: 4 and up
If you can't get your kids to take a break from their Nintendo Switch, this might be just the right Advent calendar to get them into the holiday spirit. With 24 surprises from the Super Mario franchise, like mini-characters of Luigi, Peach, Yoshi, and Toad, this calendar will expand their Super Mario world—all without logging onto a screen.
Get the Super Mario Advent calendar at Amazon for $49.99
6. An Advent calendar for little hands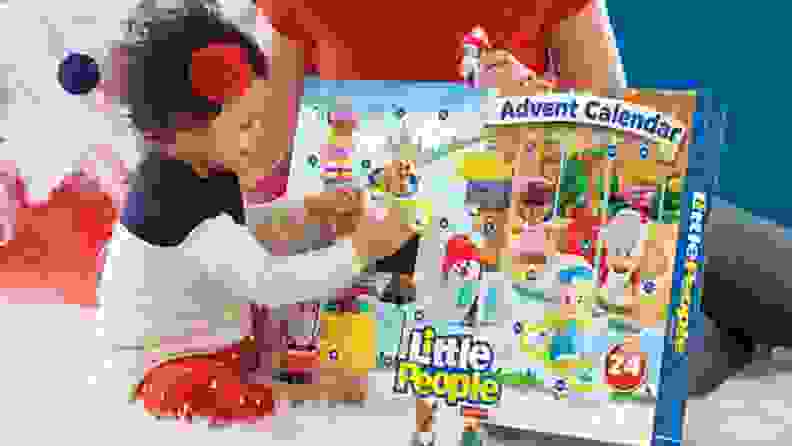 Best for ages: 1 and up
A perfect choice for your little one's first Advent calendar, this one features 24 chunky figures for little hands to grasp and play with all year long. With little versions of Santa, Mrs. Claus, and even a reindeer, this set is perfect for starting a little one out with some holiday spirit.
Get the Fisher Price Little People Advent calendar at BuyBuyBaby for $36.99
7. A very merry Pikachu calendar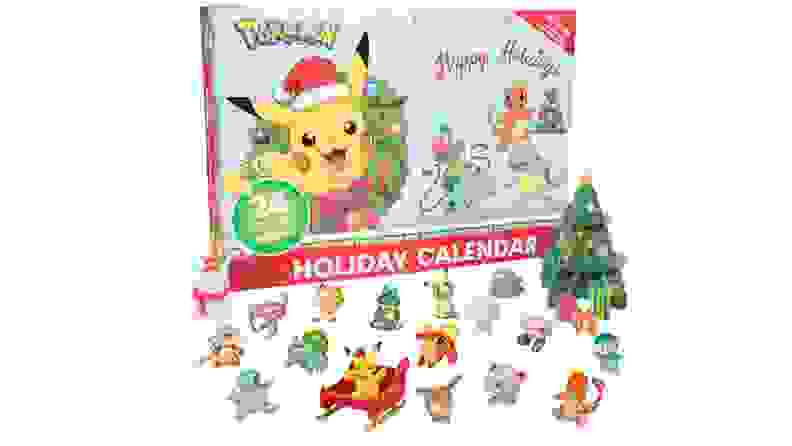 Best for ages: 4 and up
Gotta catch 'em all, with this Pokémon Advent calendar! You'll never know which Pokémon is hiding behind each door. No need for battles or combat to collect them all, just a little bit of holiday spirit!
Get the Pokémon Special Edition Advent calendar at Amazon for $42.99
8. An Elf on the Shelf Advent calendar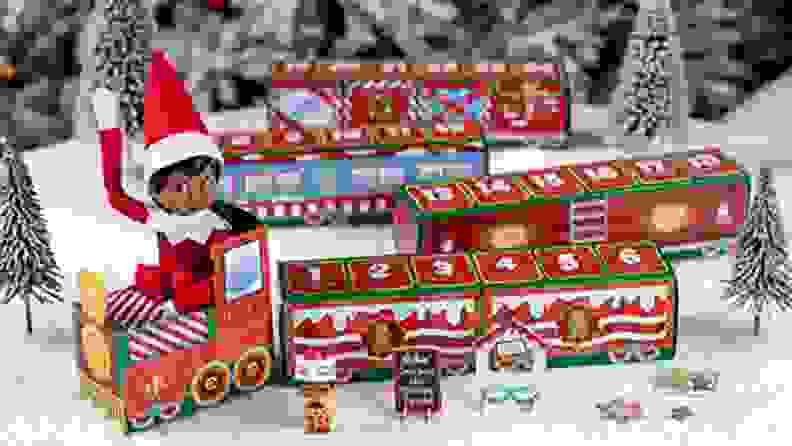 Best for ages: 3 and up
If Elf on a Shelf reigns over your Christmas holiday, your kids will love this train-style Advent calendar. Each holiday train car opens to reveal an elfin surprise of mini toys. Each of the four train cars has a theme—the Sweet Shop, Snow Much Fun, Puppy Love Elf Pets, and 'Tis The Season—and they all have stickers and pop-outs to enjoy.
Get the Elf on a Shelf holiday train Advent calendar at Amazon for $79.95
9. An Advent calendar that absolutely won't steal Christmas
Best for ages: 4 and up
The Grinch may be best known for stealing Christmas, but he may improve his reputation when your kids pop open the doors on this Advent calendar. The calendar's Whoville backdrop doubles as play scene for all of the figures and accessories they'll open. And if you thought Baby Yoda was adorable, keep an eye out for a rivaling little green cutie, the exclusive Baby Grinch figure!
Get the Grinch Advent calendar at Amazon for $59.81
10. An Advent calendar for a Yule Ball celebration
Best for ages:7 and up
Make this a magical Christmas for any Harry Potter fan. Wizards and muggles alike will love celebrating the holiday Yule Ball with miniature Lego versions of Harry, Hermione, Ron, and friends. This calendar comes with buildable models such as a miniature Beauxbatons carriage and dining table with ice-castle centerpiece. As the big day gets closer, kids can recreate spellbinding holiday scenes in the hallowed halls of Hogwarts—including the enchanting Yule Ball.
Get the Lego Harry Potter Advent calendar at Amazon for $29.97
11. An Advent calendar that cultivates kindness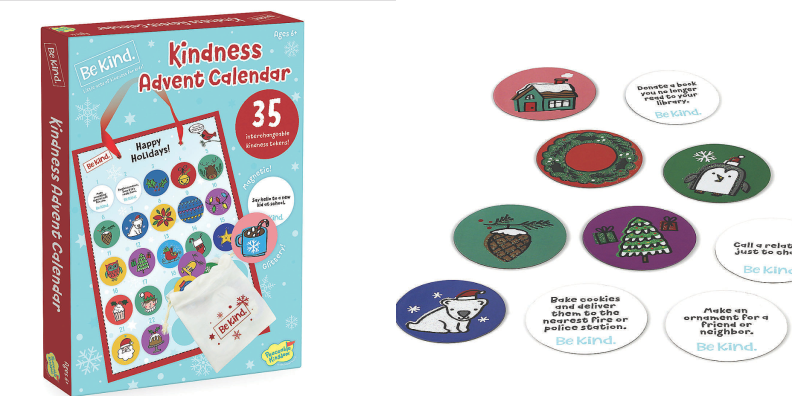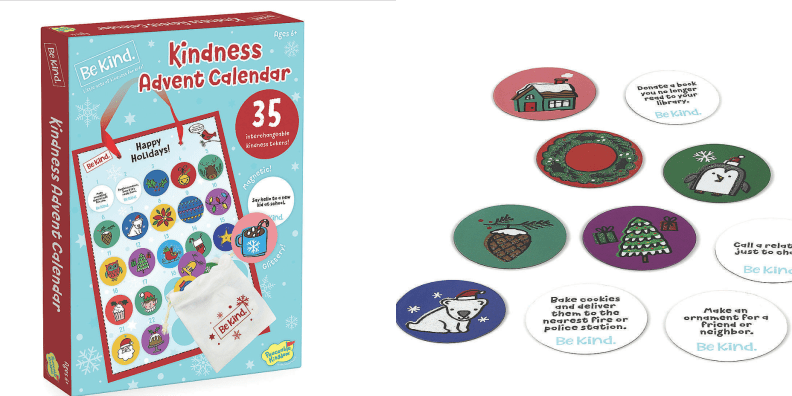 Best for ages: 6 and up
If holiday consumerism has you down, the Be Kind Advent calendar is just what Santa ordered. This sweet and sentimental calendar focuses on good deeds and teaching kids a bit about being grateful and introspective during the holidays. The 35 tokens are all inscribed with little acts of kindness are meant to be used year after year to create an ongoing tradition of charity, community, and gratitude.
Get the Be Kind Advent calendar at Mindware.com for $19.95
12. An Advent calendar for Lego friends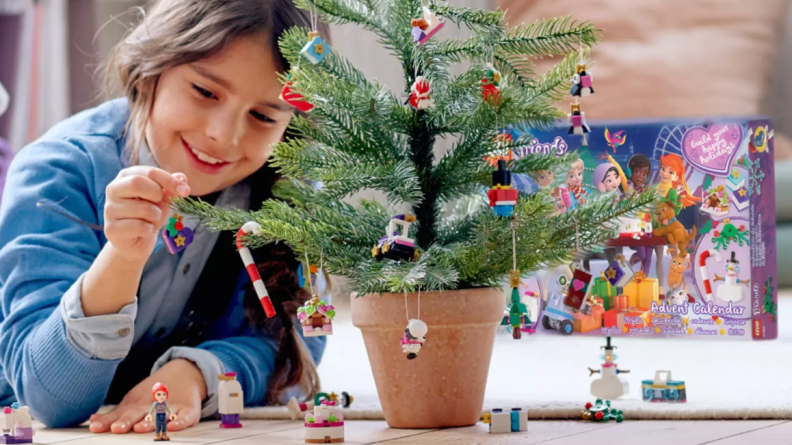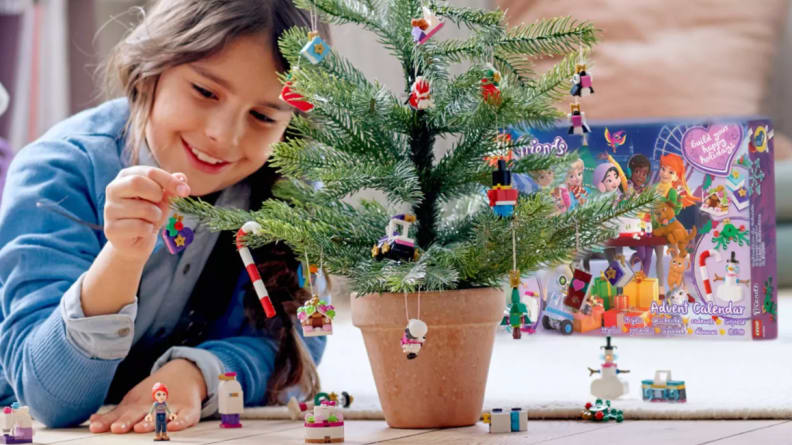 Best for ages: 7 and up
Use the Lego Friends Advent calendar to build excitement as well as holiday-themed projects. The daily projects that emerge from this calendar can be turned into holiday ornaments, stocking stuffers, or used as gift-wrap embellishments for fellow brick-loving friends.
Get the Lego Friends Advent Calendar at Target for $24.99
13. An Advent calendar for Disney fans
Best for ages: 5 and up
An Advent calendar to inspire tree-mendous excitement! Kids can count down to the big day with this Disney Animators collection that features miniature versions of all of their favorite Disney characters. The holiday tree design has 24 doors and behind each one they'll find a beloved Disney characters, an accessory, or a festive holiday accessory.
Get the Disney Animators Advent calendar at the Disney store for $44.99
14. An Advent calendar made for car racing
Best for ages: 3 and up
It's a holly, jolly Hot Wheels kind of holiday. The Hot Wheels 2020 Advent calendar will get their engines revving for a fun holiday countdown. This calendar includes eight Hot Wheels vehicles, a foldout winter-themed play mat, and 16 cars and accessories for each day—including Frosty, the Abominable Snowman, and Santa's sleigh.
Get the Hot Wheels 2020 advent calendar on Amazon for $19.99
15. A classic wooden Advent calendar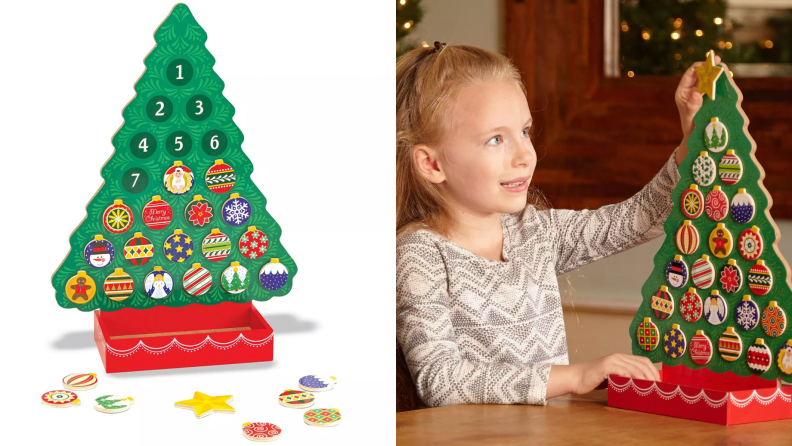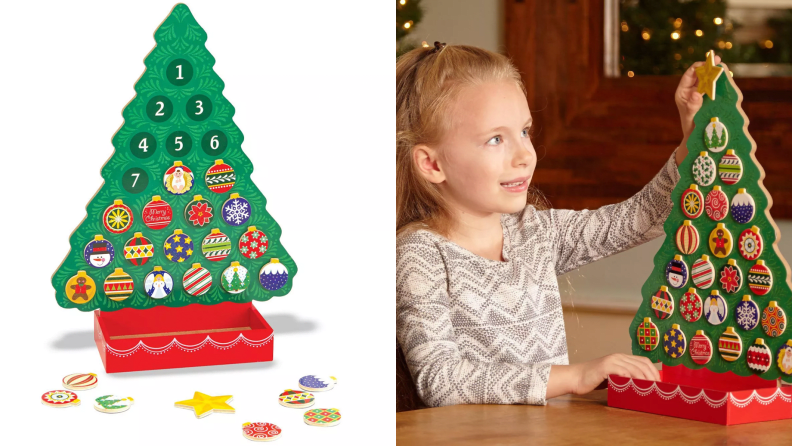 Best for ages: 2 and up
The Melissa & Doug Wooden Advent calendar is an annual best-seller, and for good reason. Filled with glittery magnetic ornaments and a holiday star to top the tree, this Advent calendar is a winner with kids of all ages. Once each magnet is mounted, this classic wooden tree becomes a lovely decoration worthy of any holiday mantel.
Get the Melissa & Doug Wooden Advent Calendar at BuyBuyBaby for $22.99
16. An L.O.L. Advent calendar
Best for ages: 5 and up
Nothing says surprise like an L.O.L. doll, so they are a natural match for the anticipation of an Advent calendar. The #OOTD advent calendar comes with a limited edition doll and 24 surprises, including fabulous fashion pieces, accessories, and shoes.
Get the L.O.L. Surprise! Advent Calendar at Target for $29.99
17. An Advent calendar for pretty primpers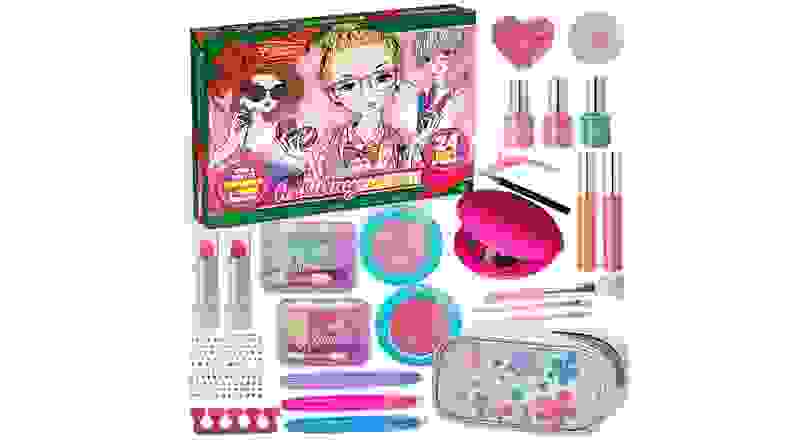 Best for ages: 7 and up
This Advent calendar is perfect for the child who likes to primp. With everything from glosses and blushes to clips and brushes, they'll have a full makeup kit so they can step out in style for any holiday event or a holiday TikTok appearance.
Get the Joyin holiday makeup countdown calendar at Amazon for $23.95
18. A DIY creative craft Advent calendar
Best for ages: 7 and up
Bring a little creativity to your child's holiday. In this crafty Countdown to Christmas, there are 25 creative prompts to celebrate the holiday season. This kit includes all the supplies needed for a daily DIY. At the end of the month, your crafter can wrap each up as a gift to family and friends.
Get the Kid Made Modern DIY Advent calendar at Maisonette for $19.99
19. An Advent calendar for Thomas fans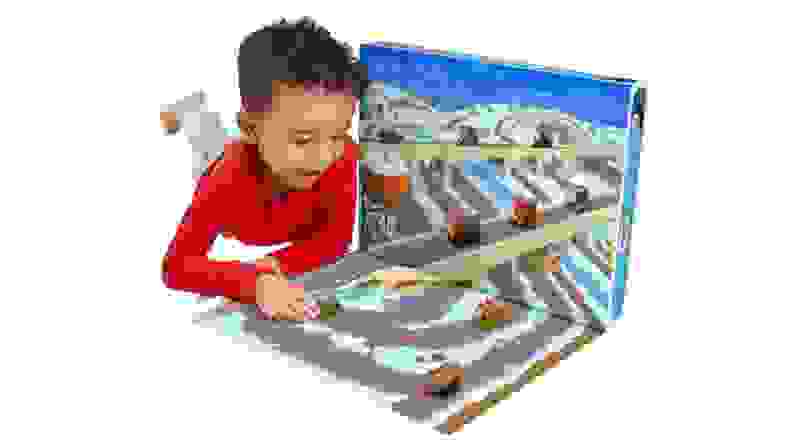 Best for ages: 3 and up
Little conductors can build out all of their railway dreams with this Advent calendar that features 24 Thomas mini-figures, including six exclusive holiday-themed toys! With every day their train grows.
Get the Thomas the Train Advent at Amazon for $34.99
20. An Advent calendar filled with vintage-inspired paper dolls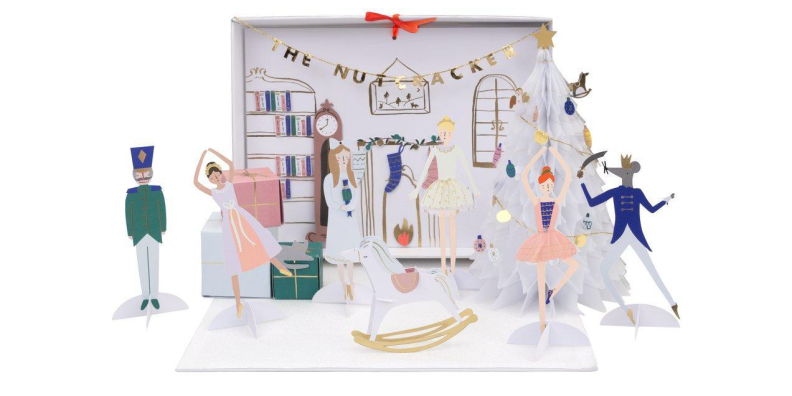 Best for ages: 6 and up
The classic Christmas story of the Nutcracker will come to paper doll life in this gorgeous Advent calendar. Your child will be able to recreate the Nutcracker tale with elegant paper dolls and story props, all in colorful and shiny detail. This is a really breathtaking gift that will transform from a magical gift kids will love, to a lovely and festive display for Christmas day.
Get the Nutcracker Advent Calendar at MeriMeri for $15
21. A Minecraft Advent calendar with holiday cheer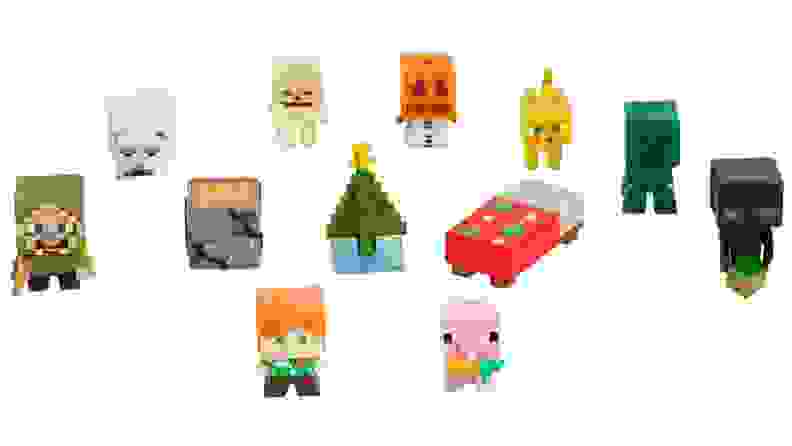 Best for ages: 7 and up
The idea of Minecraft may not typically inspire visions of sugarplums but this kit is actually quite adorable and full of the holiday spirit. The set comes with 12 stickers and 12 adorable, blocky minifigure, which include a Christmas tree, a holiday gift, Steve in his Christmas sweater, and a cozy bed for him to curl up in for a long winter's night.
Get the Minecraft Advent calendar at Amazon for $29.99
22. A super slimy calendar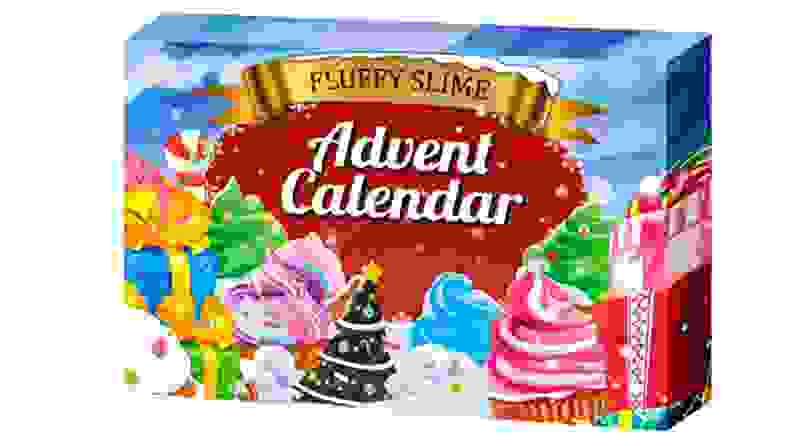 Best for ages: 6 and up
Your slime lover can make all the popular most popular slimes, from foam to cloud to fishbowl—and dream up their very own creations—with these scented slime kits and mix-ins.
Get the fluffy slime Advent calendar by Oriental Cherry at Amazon for $19.99
The product experts at Reviewed have all your shopping needs covered. Follow Reviewed on Facebook, Twitter, and Instagram for the latest deals, product reviews, and more.
Prices were accurate at the time this article was published but may change over time.