Pets
This top-rated cat tree finally got my cat to stop clawing the couch
My furniture is saved!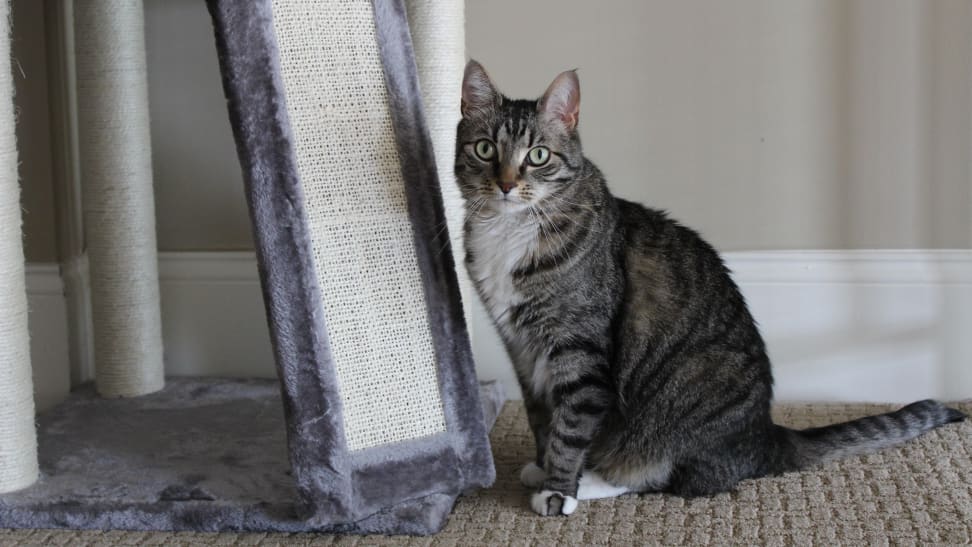 Credit: Reviewed / Camryn Rabideau
I've had my cat, Nugget, for around six years, and while he's been my most consistent companion and I love him dearly, he's also a menace when it comes to clawing furniture. Ever since he was a tiny kitten, he's loved nothing more than sinking his claws into my decor. He claws the couch, the bed frame, even the carpets, and he's ruined several pieces of furniture in his life thus far.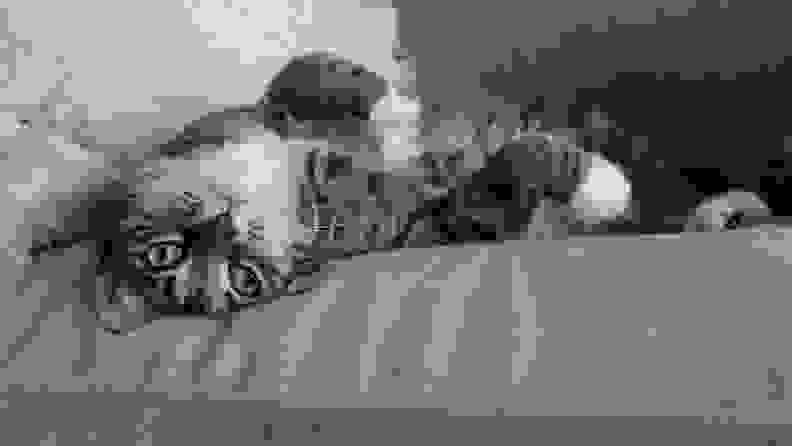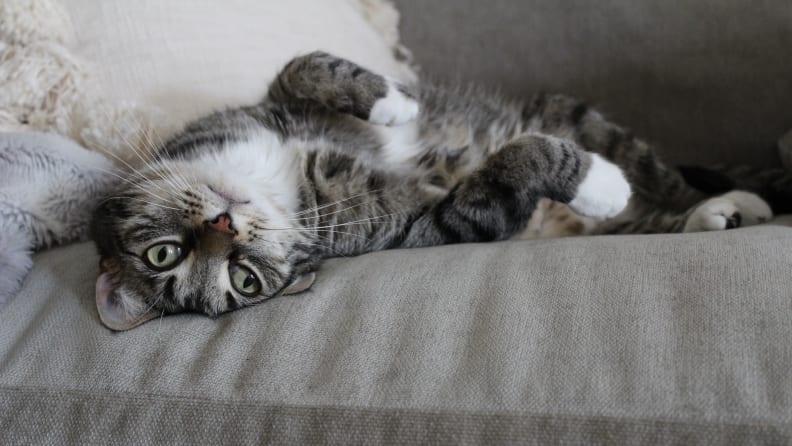 I know what you're thinking: Okay, just get him a scratching post. I've tried that. I've given him three or four different styles of scratching toys, and none of them ever kept his attention for more than a day or two. I've also tried trimming his claws and using a variety of scratch deterrents. No dice. So I currently drape blankets over his favorite scratching spots and hope for the best.
All that to say, I really didn't think the Frisco Cat Tree and Condo was going to keep Nugget occupied for more than a few days. But to my shock and delight, it turns out that this top-rated cat tree was what we needed all along.
Tell me about this cat tree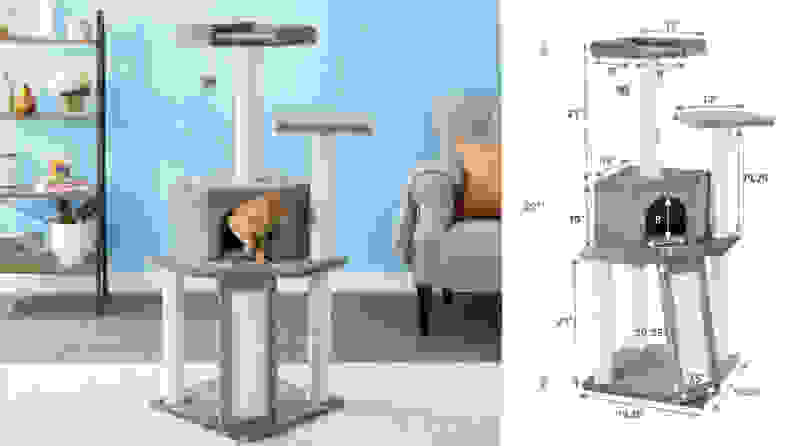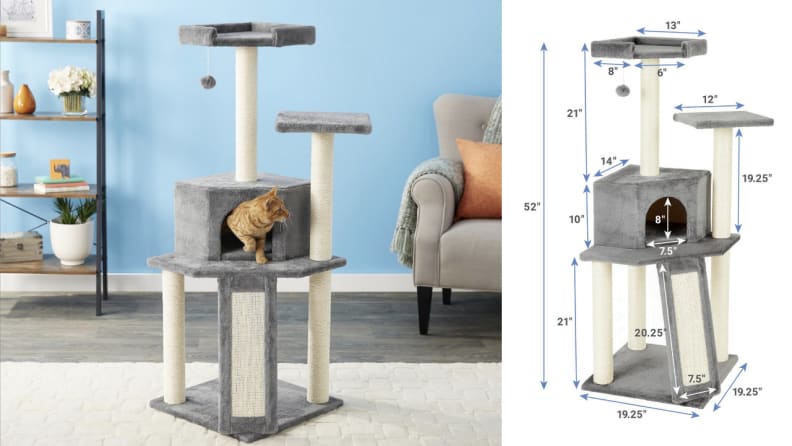 This cat tree and condo (fancy, I know) stands at an impressive 52 inches tall. It has five sisal-wrapped scratching posts, as well as a scratch board-slash-ramp that connects the first and second levels. On the second story, there's a "kitty apartment," a.k.a. a hidey hole covered in plush faux fur, and there are two staggered perches on top.
The cat tree comes in six different colors, including cream, black, blue, gray, brown, and cheetah print. I opted for the gray, as I've learned to match furniture to the cat so you can't see all the hair they leave on it. The Frisco Cat Tree and Condo costs $52.99, which is really quite reasonable considering its size.
However, arguably the most compelling aspect of this product is its glowing reviews. The cat tree has close to 7,000 reviews with an average rating of 4.8 and a 99% recommendation rate on Chewy. Reviewers love that it's sturdy, well-made, and affordable, with many writing that their cats absolutely love it.
Assembling the Frisco Cat Tree
When the package containing the Frisco Cat Tree and Condo arrived, I sent my boyfriend over to our apartment's leasing office to pick it up. Unfortunately, I failed to warn him how heavy it was (I swear I didn't know!), and he came back sweaty and cranky because he had to tote the large, 33-pound box around the building.
Then came the hassle of bringing it upstairs into our loft, a.k.a. the cat's personal play space. There was no way I was carrying the whole box upstairs, so I unpacked it and carried the 10+ pieces up in several trips.
Finally, I got around to assembling the tree. Let the record reflect that I am not great at assembling furniture, and without my boyfriend's assistance, it took me around 45 minutes to get the thing together. It wasn't hard, per se, but the instructions only contained pictures, so it took me a while to sort out which screws and bolts went where. The good thing was that it comes with the Allen wrenches you need, so no additional tools are necessary.
The platforms and apartment are quite small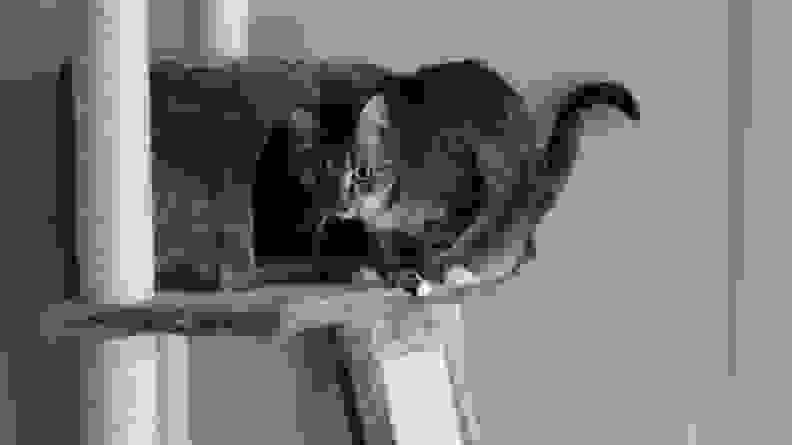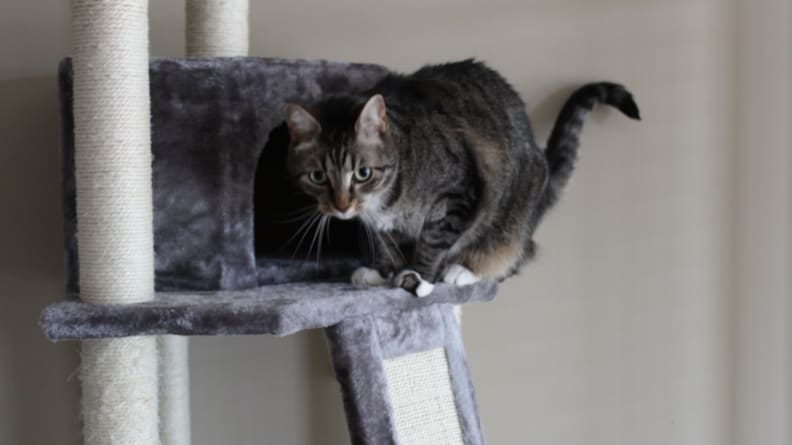 If I had taken the time to read any of the critical reviews on this cat tree, I would have seen that one of the most frequent complaints is that despite it's height, the condo opening are ledges are fairly small, something we discovered quickly after it was assembled.
I wouldn't consider Nugget a large cat, but I guess he's bigger than average at around 12 pounds. That said, he can barely fit into the kitty condo, and while he can sit on the perches, they're not big enough for him to lie down. However, the whole unit is incredibly sturdy, and I never worried about it tipping over as he climbs around on it.
I will say I actually like the fabric the tree is covered in. The faux fur is plush and soft, and it looks really high-quality, so it's not an eyesore like other cat trees.
My cat loves to claw the Frisco Cat Tree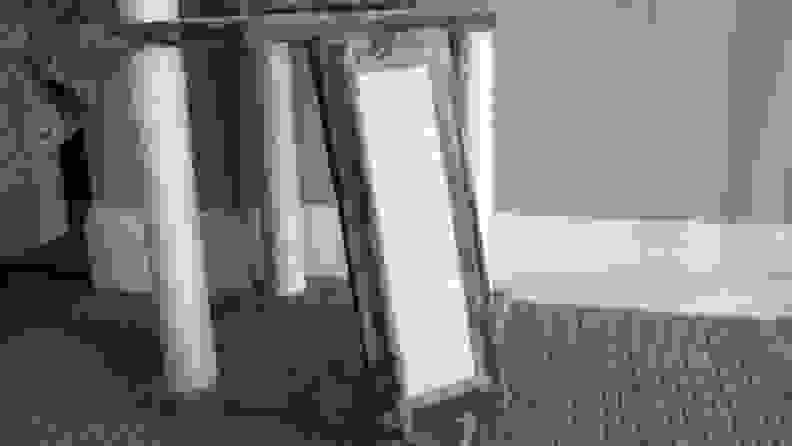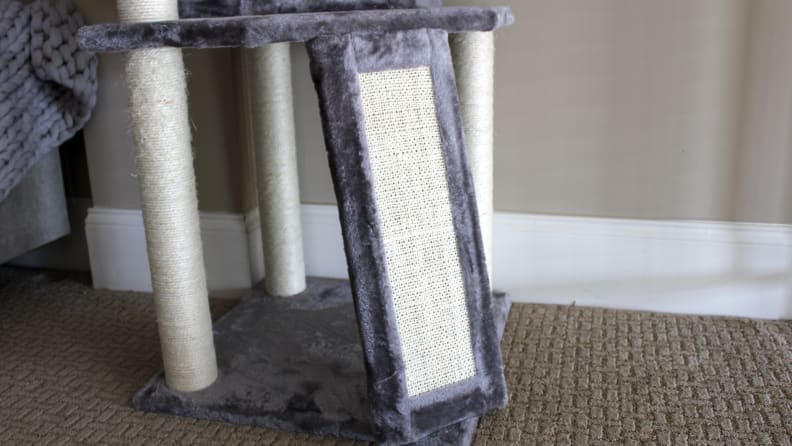 I couldn't care less that Nugget gets limited use out of the hidey hole and perches, because he actually uses the scratching posts. With encouragement from a little catnip spray, I got him to sink his claws into the sisal-wrapped posts, and he's been consistently using them ever since. He'll actually go out of his way to scratch the posts instead of the couch. It's pretty much a miracle.
For me, the fact that my couches are no longer the target of my cat's wrath is worth the price of the cat tree—and then some. I don't know what it is about these particular posts, but as long as he chooses to scratch them over my furniture, this cat tree is a winner in my book.
Is the Frisco Cat Tree and Condo worth it?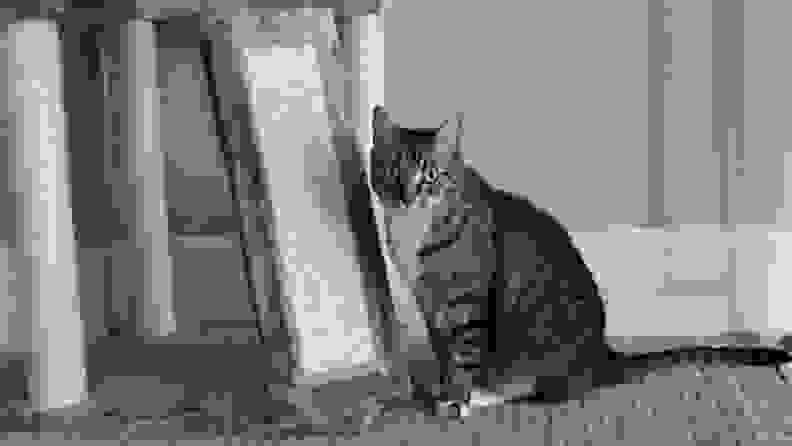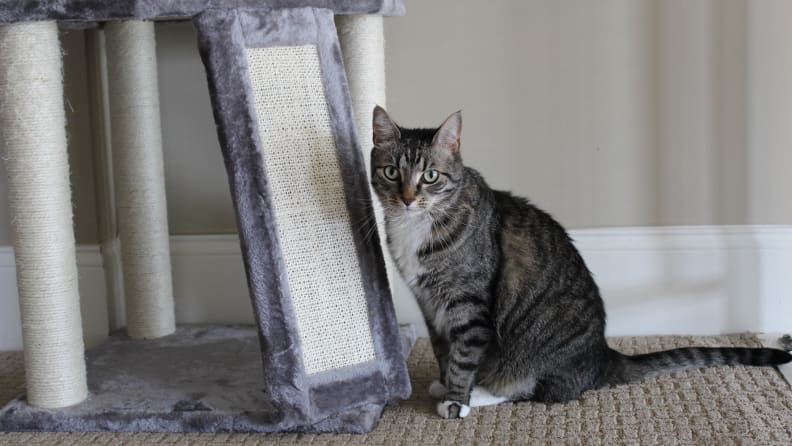 If you're looking for a cat tree where your feline friend(s) can play and lounge, you should definitely check out the Frisco 52-in Faux Fur Cat Tree and Condo. It's better for smaller cats—I'd say 10 pounds or less—but it's incredibly sturdy, well-built, and attractive—as cat trees go, anyway. Plus, you can't beat its reasonable price, which is half of what you might pay for other cat trees of that size.
As long as you're willing to hoist the heavy package around and wield an Allen wrench to assemble this unit, it will be a worthwhile purchase for your home. Your cat will thank you—and so will your furniture.
The product experts at Reviewed have all your shopping needs covered. Follow Reviewed on Facebook, Twitter, and Instagram for the latest deals, product reviews, and more.
Prices were accurate at the time this article was published but may change over time.