Pets
I'm obsessed with this dog subscription box from Kong
I live and die by my Kong toys.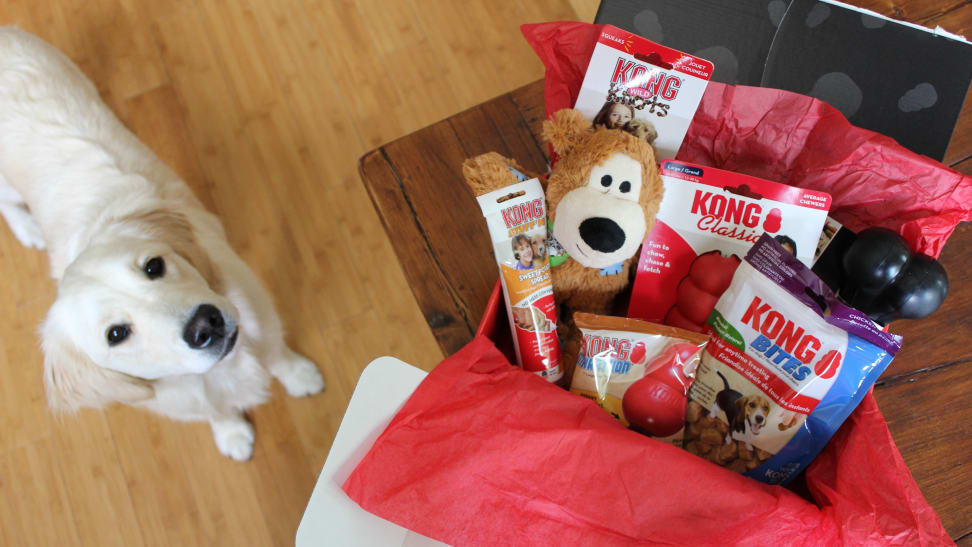 Credit: Reviewed / Camryn Rabideau
It's no secret that I'm a huge fan of Kong dog toys—I include them in just about every dog toy round-up I write, as they're extremely durable and versatile.
So when I heard that the brand has its own subscription box, I knew I wanted to get it for my dog, Addy. The Kong Box, which starts at $39.95, promises to surprise and delight your dog with a monthly delivery of treats, toys, and training tools, and it even offers "solution boxes" that help address common issues, such as boredom, separation anxiety, and more. After reading the description, I genuinely couldn't wait to see what the box had in store for us, and of course, Addy was excited at the prospect of new toys.
What is Kong?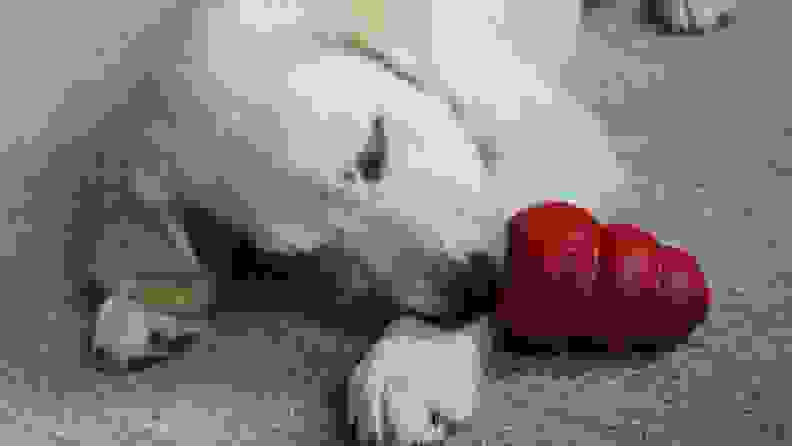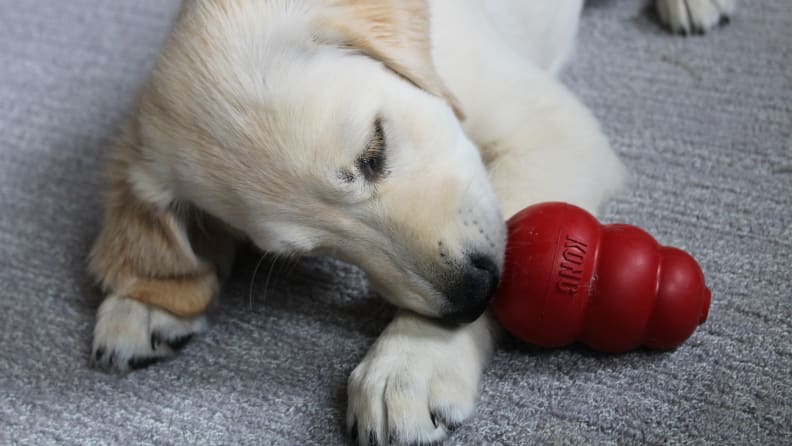 If you own a dog, chances are you're familiar with Kong. The brand is best known for its cult-favorite rubber toy, which is shaped like a snowman and has tens of thousands of reviews on Amazon. The Classic Kong toy is hollow inside, allowing you to stuff food or treats inside it. It's a great way to keep your pup busy for a few hours. When Addy was a puppy, she got one every night to help her settle into her crate without crying. It was a lifesaver! Kongs come in a variety of sizes and toughness levels, making them an unbeatable option for all types of dogs.
While this toy is what most people think of when they hear the term Kong, the brand also has a lot of other products. Addy has the Kong Genius Mike toy, a Kong ball, as well as a Kong harness and matching leash, which I absolutely love. All that to say, Kong offers a wide variety of dog supplies—not just its namesake toy.
What is the Kong Box, and how does it work?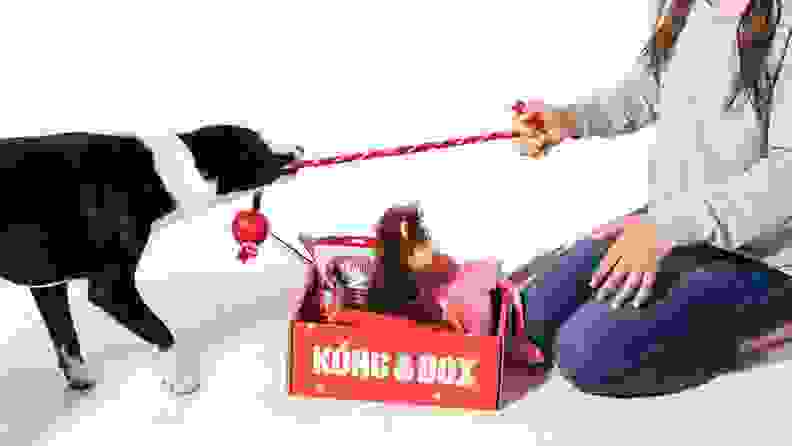 Now, back to the Kong Box. This monthly subscription starts at $39.95 per box with free shipping inside the contiguous United States—sorry, Alaska and Hawaii. Each box contains one Kong training toy, a "personality toy," three types of treats, as well as recipes and tips for using your Kong. Plus, you'll also get a Classic Kong in your first box.
When you sign up for a Kong Box, the first thing you do is fill out some basic information about your pet. It asks for your dog's name and birthday, as well as their size and age. You can also select an area your dog needs help in, including options like boredom, weight management, teething, chewing, barking, and separation anxiety.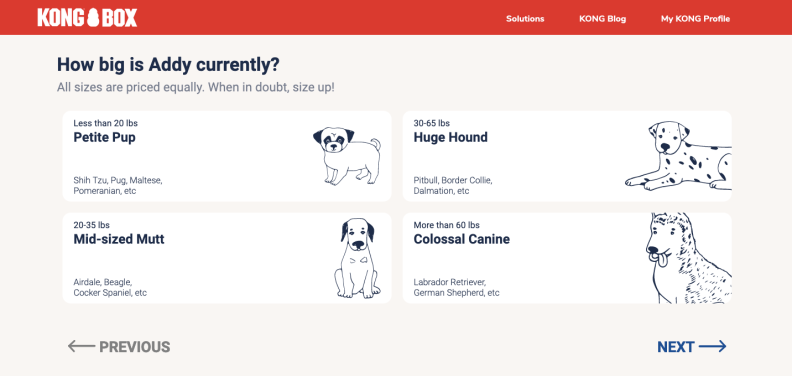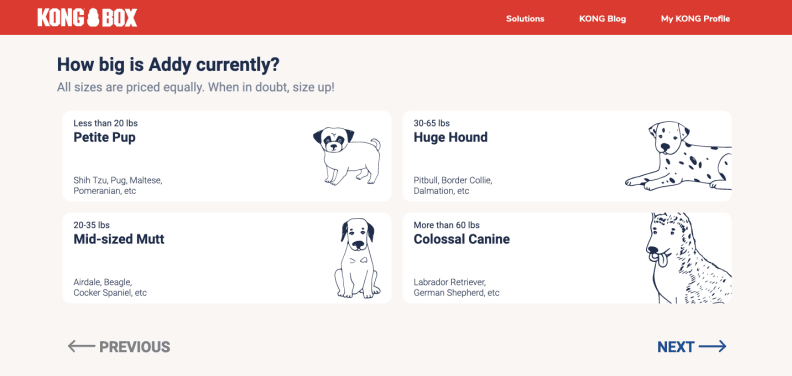 Once you've filled out all this information, you choose your plan—you can opt to receive 12 boxes for $39.95 each, six boxes for $44.95 each, or a month-to-month plan for $49.95. As you can see, committing to a longer plan saves some money on each box, and the brand promises you won't receive repeat toys. Finally, you choose whether you want the boxes delivered monthly or every other month, and then you're good to go!
Here's what was in Addy's Kong Box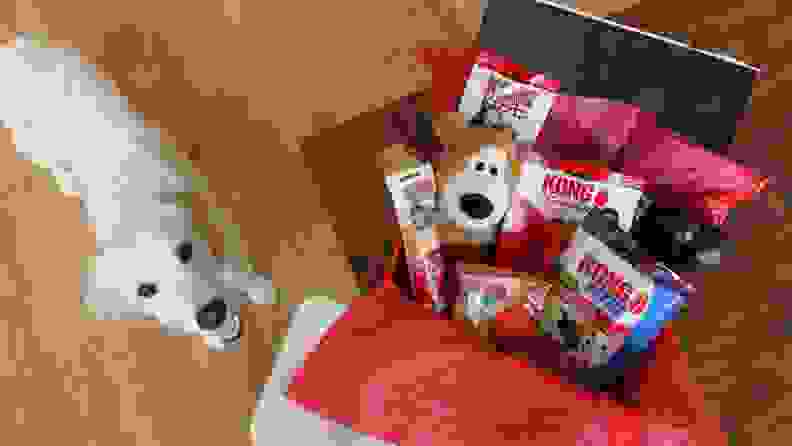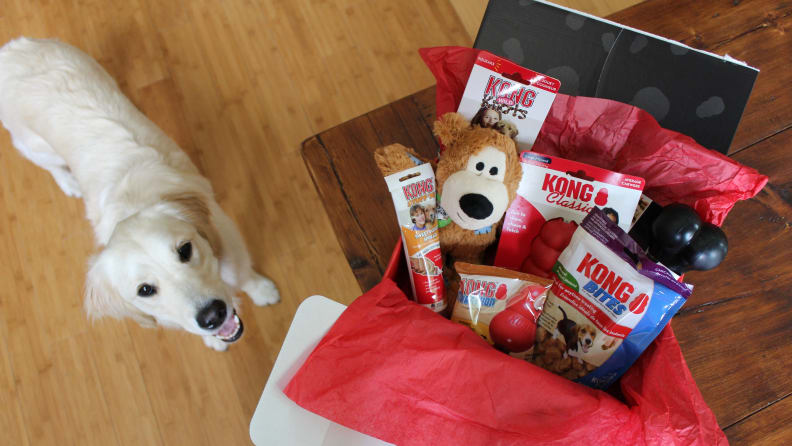 I filled out Addy's profile for her—she wanted to do it herself, but you know, she doesn't have thumbs—and for your reference, she's 50 pounds and 1 year old. I selected boredom as her "trouble area," because she regularly bothers me (and the cat) when I'm working from home.
We were extremely excited to open her first Kong Box, and it didn't disappoint! Here's what we found inside our first box:
All in all, I thought it was a really solid array of toys, and if I'd purchased the items separately on Chewy, I would've spent $65! So to get all this for about $40 is actually a good deal.
Some of the Kong products were better than others
To give you a better idea of whether the Kong Box is worth the splurge—because let's be honest, $40 a month isn't cheap!—I'll explain a little bit about each toy and what we thought of it.
The Classic Kong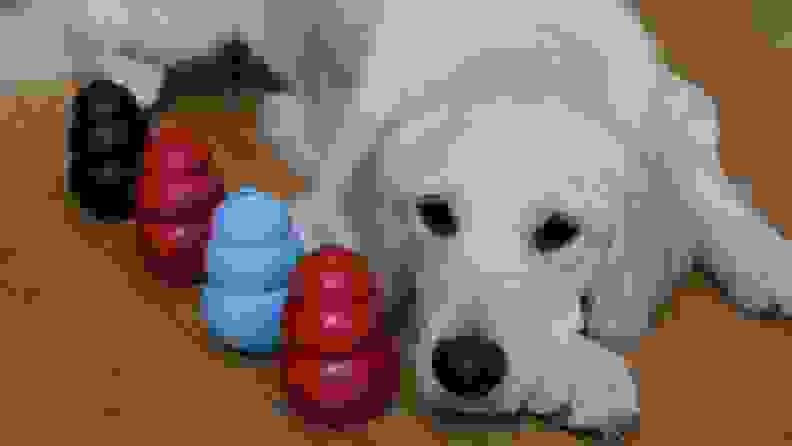 I won't spend too much time on this one, because, as I mentioned above, I can't imagine raising a dog without a Classic Kong. These iconic toys have saved my sanity more times than I can count, and I think they're worth their weight in gold. With this new addition, we now have four Kongs in our house, and no, I don't think that's too many.
The Extreme Goodie Bone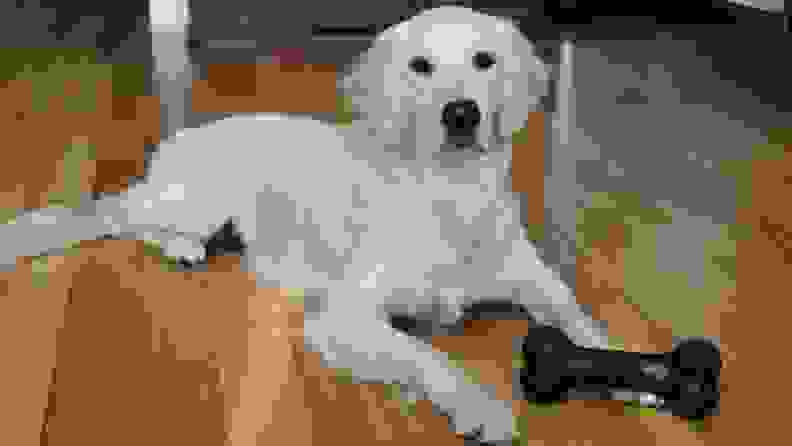 Any of Kong's "extreme" toys are made from super durable black rubber, and this bone-shaped toy is seriously heavy duty. There's a hole through each end where you can shove treats, but to be honest, I haven't found any treats that fit well in there. I imagine it would be a good place to put a bully stick, but those have been making Addy sick lately. So overall, this toy hasn't gotten a lot of use from us.
The Wild Knots Bear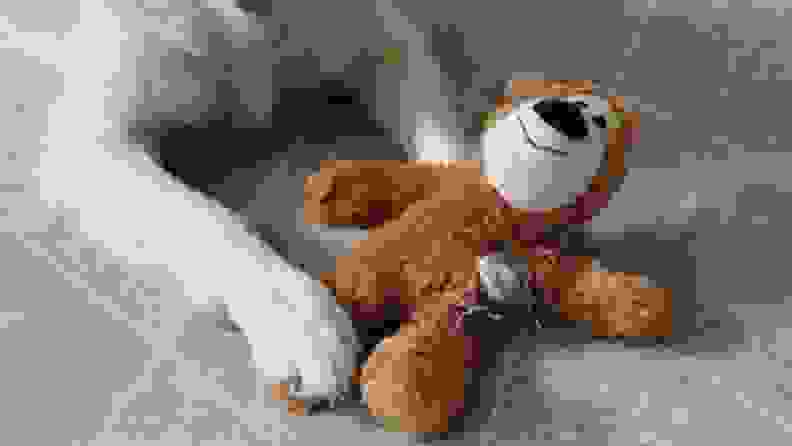 I don't buy Addy plush toys any more, as she rips them to shreds, so she was quite excited to get her teeth on the Wild Knots Bear. This toy has a unique knotted rope inside that's supposed to make it more durable, and it also has less fiberfill than your average plushie.
As expected, Addy ripped this toy open within a matter of days and left the poor bear's stuffing all over my floor. However, she still enjoys carrying it around and playing tug with it, and she happily presents it to you when you arrive home.
The Marathon treat


I had never seen a Marathon treat before, and I was instantly intrigued by the concept. Basically, it snaps into the open end of a Classic Kong, blocking the hole to extend playtime. I gave Addy a hotdog-stuffed Kong capped with the Marathon treat on one particularly rainy afternoon, and she happily accepted the challenge of breaking the treat apart.
I expected it to take her at least an hour to get past the "cap," but she quickly figured out how to snap pieces off it, finishing the whole thing in around 20 minutes. Overall, it's a cool concept, but it didn't last nearly as long as I had hoped.
The other treats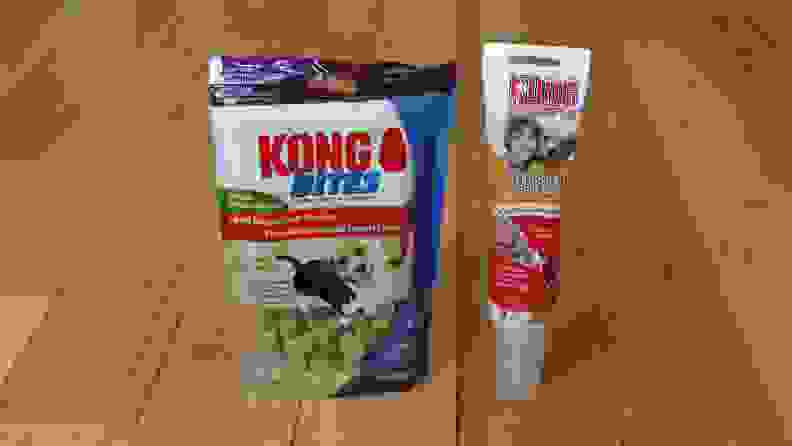 To keep it brief, we used and liked the other treats that came in the Kong Box. The Sweet Potato Stuff'n is a good alternative to peanut butter when stuffing a Classic Kong, and Addy seemed to love the taste. (She also eats cat poop, though, so I guess that's not saying much.) The Kong Bites are just your average soft treats, which we use for training, so those came in handy.
Is the Kong Box worth it?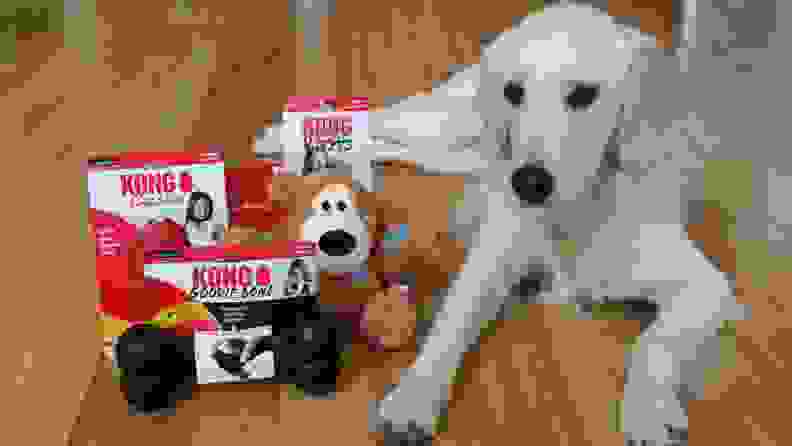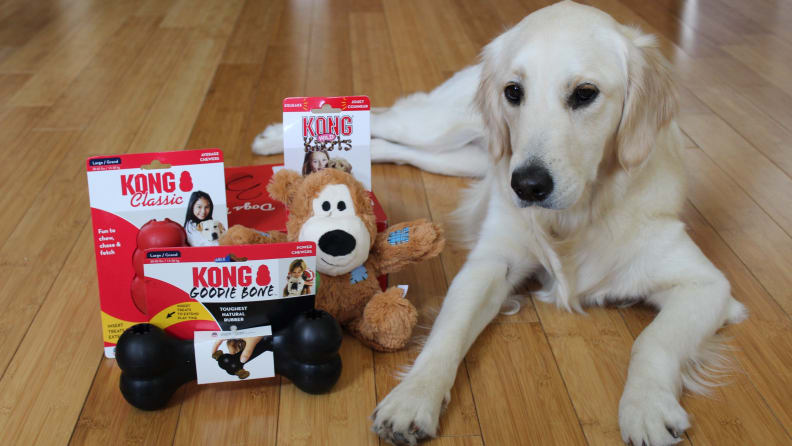 The Kong Box is a little more expensive than other dog subscription boxes. For comparison, BarkBox starts at $23 per month, and Chewy's Goody Box is $25. And if you're going to be paying nearly $40 every month, you definitely want to get your money's worth.
Even though some of the products in our Kong Box were a bit of a flop, I would still happily buy this box for Addy and recommend it to other pet parents. Why? Mostly because I know and love the brand, and there's no doubt that you're going to be receiving high-quality toys. I also really like that the box comes with a promise that there won't be any repeat toys, which would make me feel better about purchasing a six- or 12-month subscription. (I'm guessing you'll probably get repeat treats, if only because the brand doesn't have that many different offerings.)
I also really liked that the box was tailored toward Addy's needs. Several of the items were designed to keep her busy for longer (though, in the case of the Marathon treat, it didn't work), helping to alleviate her boredom and keep her stimulated. I can see this box being extremely useful for people with puppies, as Kong toys definitely helped us out during crate training and teething periods.
Bottom line? If you like Kong toys and want to see what else they have to offer your pooch, you won't regret purchasing a Kong Box.
The product experts at Reviewed have all your shopping needs covered. Follow Reviewed on Facebook, Twitter, and Instagram for the latest deals, product reviews, and more.
Prices were accurate at the time this article was published but may change over time.