With an MSRP of $1,250—quite low for a specialized appliance of this kind and quality—it's absolutely worth it if you need a robust compact fridge for a nice apartment with a small kitchen. This machine offers solid temperature consistency in the fridge and freezer, vegetable drawers with moisture retention that put the major brand names to shame, and a finish that would add more than a touch of class to any room. Since the market for fridges of this size is much smaller than it is for larger models, really high-end options—usually products made by Liebherr—can sell for almost three times as much. If you can find it online at a sale price—we tracked one down without much effort for just $900—jump at the opportunity.
This compact looks very modern on the outside, but the inside has a spartan quality that can come off as a bit low-end.
You may have a hard time finding appliances that match the smoky, silver exterior finish on the Blomberg. It's lighter than traditional stainless steel, and the slight grain prevents it from being too reflective. The textured silver finish is very resistant to fingerprints, but grease and oil will build up over time. What you really need to watch out for is dust: This fridge attracts dust almost as readily as a pair of black dress pants.
The inside of the fridge compartment is actually quite sparse.
Disappointingly, the inside of the fridge compartment is actually quite sparse. Two full-width adjustable shelves that can be placed on any of the five shelf slots break up the monotony. There's a third fixed shelf on the bottom, set above two drawers. These matching pull-out drawers are positioned where you would normally find crispers, but they lack any sort of humidity control. A single light bulb at the top emanates a pale, salmon-like glow that looks almost sickly compared to the whiter light found in many other models.
The freezer on the Blomberg has three compartments and a pull-out ice tray, which is located at the very top. It can also be removed completely, allowing for a little more vertical storage space in the top portion of the freezer. Like many smaller fridges, the freezer door has no shelf storage. It simply exists as a wall to keep cold air inside the freezer.
Despite a high-end external appearance, the inside feels surprisingly cheap.
The narrow nature of this compact fridge means that even though the shelves are full-width, they're light enough that adjusting or removing them is easy to do. The drawers in both compartments, though, can be difficult to open and feel loose to the touch. That said, there are a few extra perks to stymie any feelings of disappointment caused by cheap design. Included with this fridge is a special ice tray, a removable egg rack that sits in one of the door shelves, and an optional bottle rack that slides into any one of the main shelf slots.
There are a few extra perks to stymie any feelings of disappointment caused by cheap design.
Even though this appliance may look fancier compared to many other fridges on the market today, the controls are still about as basic as they come. Fridge and freezer temperatures are controlled using a single knob located at the top and front of the fridge compartment. It uses a basic numerical scale from 0 to 5, with no actual temperature indicator or thermometer. There's no recommended temperature setting, either; if you really want to know what degree your food is being stored at, you'll just have to buy an external thermometer.
Fantastic moisture retention and high-quality temperature performance make this a rock solid appliance.
Compact fridges aren't exactly known for reliable temperature performance. Nevertheless, the Blomberg shows that even smaller fridges, if made well, can deliver outstanding temperature control in a tiny package. The interior of the fridge remained very consistent over time, despite a slight increase in warmth near the top. It was minimal, though, and shouldn't have any effect on your food.
Produce should keep longer than average here, allowing you to buy fresh fruit and vegetables in larger quantities.
Many fridges that have a single temperature control end up affecting one section at the expense of the other. Not so with the Blomberg—this appliance actually goes in the other direction. When the fridge was working at an optimal temperature, the freezer actually went sub-zero. Not only that, it remained consistent over time, keeping shifts to a minimum and reducing the risk of freezer burn.
The moisture retention, though, was the real star of our tests. Lacking any humidity controls, we were skeptical about how well this fridge would do. Our fears were unfounded, though: The Blomberg displayed some of the best moisture retention we've ever seen, and that includes the results we've gotten from some high-end large models. Produce should keep longer than average here, allowing you to buy fresh fruit and vegetables in larger quantities without worrying so much about spoilage.
As compacts go, the Blomberg is a top performer.
The Blomberg BRFB1040SL isn't just an excellent compact refrigerator—it's a fantastic refrigerator, period. This lesser-known appliance, designed and built in Turkey, should be making a bigger splash here, as it was one of the superior fridges we've tested. For an MSRP of $1,250, and sale prices available that will take a sizable chunk from that, consumers get a fridge that should fit in any kitchen, interior performance that puts some full-sized models to shame, and a visually striking exterior that makes this appliance about as uniquely stylish as a fridge can get.
That said, it's not perfect. It won't save you tons of money, and unless you've got a small household it might not fit a week's worth of groceries. Mediocre energy savings and the cramped nature of being a compact fridge are the two biggest issues that anyone should have with an otherwise remarkable, yet small, appliance. If you're a single adult or a couple living in a small apartment, the Blomberg is an excellent purchase.
Even with its simplistic controls and lack of any humidity adjustor, this product managed to produce some of the best results we've seen from a compact fridge. As far as our test results go, this fridge holds its own against fridges twice as big and twice as expensive.
A great fridge is bolstered by an over-achieving freezer.
There was a small warm spot at the very top of the fridge, but otherwise every point was able to maintain an average temperature of 37 degrees Fahrenheit. At no point did anything fluctuate much, keeping things well within the margin of error for reliable food preservation.
The freezer also did a great job holding the selected temperature setting. There's only one control knob; when that's the case, we calibrate to the fridge compartment. Even so, that wasn't a problem here: The top of the freezer averaged -10 degrees Fahrenheit—well below the expected zero degree mark, which is not a bad thing at all—and the bottom hit -6.8 degrees. Fluctuation was about one degree to one and a quarter, which is acceptable if not perfect.
Incredible moisture retention in general; for a fridge with no humidity controls, it's downright amazing.
With no humidity controls for the fridge's two small drawers, we didn't expect the moisture retention test to yield very positive results. However, it turned out to be one of the most surprising strengths this appliance has to offer. The drawers and the glass shelf above them must make a fantastic seal, because our test material only lost 0.08 grams of water per hour, a remarkably low amount. Despite having drawers that are about as low tech as possible, the Blomberg managed to surpass almost every other fridge that we've reviewed in this category. If you're big on fresh produce but only have room for a compact fridge in your kitchen, this is definitely one to consider.
This tiny freezer can chill out with the best of them.
We pack our freezers full of containers in order to test its performance at peak capacity. With so many items obstructing air flow, you might expect such a small fridge to take a long time to actually freeze something. The Blomberg managed to bring our room-temperature items down to freezing in just 1 hour and 12 minutes, though, an exceptionally short amount of time.
Similarly, many compact fridges can retain the chill air to prevent thawing if you're stuck with a power outage. Likely a result of the extremely low temperatures reached in the freezer when it was working, the Blomberg actually kept food thoroughly frozen for more than 36 hours after we pulled the plug.
With a small fridge and even smaller freezer, you may find yourself trimming things off the grocery list to make room.
Let's be clear: If you have unlimited kitchen space, you're not going to be buying this model. There's no reason to get a compact unless kitchen capacity is at a premium, since interior storage space is always going to be limited. The Blomberg is by no means an exception to this rule: Fresh food storage is limited to 4.18 cubic feet, while the freezer can only hold up to 2.02 cubic feet.
Also, despite being a compact fridge, the Blomberg costs almost as much to run as a smaller full-sized fridge. Using a standard rate of $0.09 per kWh, we determined that it will cost you about $33.22 per year. While the perception is that larger fridges are the real power hogs, when you consider the small amount of space available compared to the high electricity bill it's clear that this isn't the most efficient fridge around; in fact, it uses about 0.16 kWh per cubic foot of usable space. It may not cost you a lot objectively speaking, but this fridge doesn't do very well proportional to other models of any size.
Meet the tester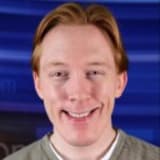 Matthew Zahnzinger
Logistics Manager & Staff Writer
@ReviewedHome
Matthew is a native of Brockton, MA and a graduate of Northeastern, where he earned a degree in English and Theatre. He has also studied at the Gaiety School of Acting in Dublin and spends most of his free time pursuing a performance career in the greater Boston area.
Checking our work.
We use standardized and scientific testing methods to scrutinize every product and provide you with objectively accurate results. If you've found different results in your own research, email us and we'll compare notes. If it looks substantial, we'll gladly re-test a product to try and reproduce these results. After all, peer reviews are a critical part of any scientific process.
Shoot us an email