That said, this counter-depth model can offer consumers exceptional performance that's well worth the investment. It's also been around a while, and consumers can use that to their advantage: Typical sale prices drop down to about $2,699. Sometimes patience pays off, especially for consumers who want a French door counter-depth with a premium brand name that has as much substance as style.
Most of the design elements on this high-end fridge definitely look and feel like a mid-range product.
Dacor, a California-based company best known for their cooking products, had Whirlpool manufacture a fridge for them. Like the Ikea fridges we've reviewed, the Whirlpool name doesn't appear anywhere except for some fine print, and there's also a Benton Harbor address on the build plate.
The fridge's heritage is apparent. While Whirlpool has upgraded most of their interiors lately, this Dacor is stuck in the past. On the outside, the traditional stainless steel finish will look good in any kitchen. Handles are sold separately and come in a variety of shapes and sizes—not unheard of when it comes to higher-end appliances.
Shelves and drawers feel cheap and clunky.
Inside, however, shelves and drawers feel cheap and clunky, and the thick white plastic trim doesn't look like it belongs on a high-end fridge. There's a bulky interior light that uses a traditional bulb instead of a now-common LED, and you can even see the water tank located behind the crisper drawers.
Customization is limited to the top two shelves, since moving the third one places it too close to the above shelf to be practical. The freezer also feels like something found on a mid-range product, with wire shelves that offer no spill containment and an internal ice maker that takes up a lot of room. Conversely, all door shelves, except for the dairy bin, have rubber inlays that help contain spills and prevent any sliding when opening or shutting the fridge.
Despite some minor inconveniences, this Dacor is easy to use.
On high-end fridges, through-the-door water and ice dispensers are considered trés gauche. That's why this Dacor hides the water dispenser on the left-hand wall near the front, just a few inches above the crisper drawers. It's a little spout that's activated by pressing a grey padded button. You have no choice but to hold your glass while it's filling, but otherwise it works just fine. Ice is scooped from a tray in the freezer that sits beneath the old-fashioned wire-switch ice maker.
Getting into and out of the freezer generally can be tricky: The counter-depth nature that makes getting ice a cinch also means the door doesn't open very far. The fridge proper, at least, is very easy to access, with sliding shelves that remove the hassle of getting to items in the back. Controls for this model are located at the top of the fridge interior and don't look very sleek or industrial. At the very least, they use actual degrees instead of an arbitrary scale. Despite not having real buttons to press—they're only markings on a plastic covering—the controls are actually quite responsive.
Phenomenal performance provides the clearest justification for the high price tag.
It's not often that we come across a fridge with an average temperature that doesn't match the thermostat... but it makes us glad. This fridge was actually cooler than our target calibration. What's more, there was almost no fluctuation in temperature over time, and it was consistent throughout the whole interior!
There's not a bad thing to say about the temperature output on this machine.
The freezer wasn't quite so eager to please. It only hit our target temperature, with a slight increase (and we mean very slight) towards the bottom of the compartment. But fluctuation was quite minimal. There should be little to no risk of freezer burn on items you store in this fridge, unless you only shop on February 29.
Despite their, um, "mid-range" appearance, the vegetable drawers actually did a pretty good job. Moisture retention was just slightly better than average, so produce stored here should be good for a day or two longer than normal before you start to see a decrease in quality.
We didn't hold out much hope for this fridge when we saw it, but it sure proved us wrong.
Most consumers would think twice about spending $2,999 on a fridge with an interior that looked and felt like it came from a mid-range budget model—even if it boasts stainless steel French doors.
With performance as strong as what we saw in the , though, you'd be smart to look past flimsy vegetable drawers and step up to this Dacor for some of the best overall temperature control we've tested. Sale prices help, with average online retail costs dropping down to about $2,699.
In a true example of brains over beauty, this mediocre-looking fridge was one of the best we've seen in terms of overall performance. Take a look at the numbers and see if you're as impressed as we were.
About two degrees shy of perfect; but a pinnacle of food preservation.
Our temperature sensors in the fridge interior didn't provide readings that matched the 37 degrees listed on the thermostat, but we don't usually get to say that they went lower. Temperatures from top to bottom in this particular model all stayed within one degree, sporting an average of 35.6 degrees Fahrenheit throughout. Furthermore, fluctuation over time was only a quarter of a degree in all sections. This is absolutely fantastic temperature consistency, some of the best we've seen. While we're not a fan of temperatures that don't match the settings, we certainly don't mind it doing a better job than we expected.
Absolutely fantastic temperature consistency, some of the best we've seen.
In the freezer, our sensors picked up average temperatures of just under one degree Fahrenheit, with the top of the freezer running slightly cooler than the bottom. At its highest, we saw temperatures of about 0.57 degrees Fahrenheit, with a slight increase in warmth near the bottom; it moved up to about 1.14 degrees the lower we got, which is a reasonable amount of shift for a freezer of this size. Fluctuation over time was 0.32 degrees at its worst, which means that the risk of freezer burn in this compartment is satisfyingly low.
Better than average performance means less money wasted on spoiled produce.
Over the course of three days, the test materials that were placed in the 's vegetable drawer lost an average 0.17 grams of moisture per hour. While not the absolute best we've ever seen, this is nevertheless an excellent—and perfectly acceptable—level of performance. Vegetables kept in here should stay fresh and crisp for slightly longer than average, though they will still go bad eventually.
Decent freezing times and sturdy insulation make for a sound freezer.
Perhaps the most average test result exhibited by the , it took one hour and 36 minutes for our room-temperature test materials to freeze. This isn't great, but it's certainly not bad, either. If fantastic freezing times are just over an hour, and some of the worst take a little over two, this model falls smack dab in the middle.
To simulate a power outage, we simply unplug the fridge after all other tests have been completed. After 36 hours, temperature sensors on the EF36BNNFSS indicated that the freezer's internal temperature had increased to just 28 degrees. Everything was still thoroughly frozen, though we have to mention the small caveat that we never opened the freezer door during this time.
This shallow counter-depth makes up for lack of space by providing huge energy savings.
Taking into account the not insignificant amount of space taken up by things such as the light fixture and the water filter, we determined that this shallow counter-depth has a fridge cavity that can hold a total of 8.99 cubic feet worth of items, and a freezer that can fit 2.7 cubic feet. It's not bad for a counter-depth, even considering the really tiny freezer; a large portion of the frozen section is taken up by the ice maker and its wire switch, so you may as well use it.
Large fridges, even counter-depth ones, tend to run up a hefty electric bill, but not so with the . Using a standard rate of $0.09 per kWh, this fridge should only cost you about $27.15 per year to operate. Running the ice maker and water filter may raise that a bit, but either way, that number would be low for even smaller models. Despite any spatial shortcomings, it turns out that this model still only needs 0.07 kWh per cubic foot of usable space, making it both efficient and effective.
Meet the testers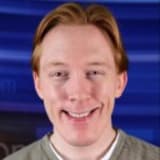 Matthew Zahnzinger
Logistics Manager & Staff Writer
@ReviewedHome
Matthew is a native of Brockton, MA and a graduate of Northeastern, where he earned a degree in English and Theatre. He has also studied at the Gaiety School of Acting in Dublin and spends most of his free time pursuing a performance career in the greater Boston area.
See all of Matthew Zahnzinger's reviews
Checking our work.
We use standardized and scientific testing methods to scrutinize every product and provide you with objectively accurate results. If you've found different results in your own research, email us and we'll compare notes. If it looks substantial, we'll gladly re-test a product to try and reproduce these results. After all, peer reviews are a critical part of any scientific process.
Shoot us an email