We were most excited about the beveled shelves. Is that a bad thing?
At first glance, you may think this Electrolux is the same as every other stainless steel French door fridge out there. Dig a little deeper—that is, open the doors and look around—and you'll notice that the designers have definitely created a product that maintains a degree of individuality. The LED lighting is quite attractive compared to regular bulbs, and its forward location (the lights literally shine into the fridge as opposed to coming from the top or back) ensures plenty of illumination.
The niftiest part of the whole design is actually the adjustable glass shelves: each one happens to be beveled.
The ice maker in the upper left corner may be standard and clunky, but you also get a separate, bulk ice maker in the freezer, complete with a bucket for containment. The water filter can prove to be a bit finicky to get out, but its location in the lower left-hand corner means it doesn't take up much room and keeps the actual storage areas open and accessible. Speaking of storage, the niftiest part of the whole design is actually the adjustable glass shelves: each one happens to be beveled. The slight downward slope around the edge means anything that spills will pool into the shelf center. It's the best spill containment method we've ever seen in terms of impact on the rest of the fridge.
The control panel is a bit confusing at first. It's a touch screen console that activates when you (surprise, surprise) touch it... but only if you press certain spots. Until it's turned on, you're essentially driving blind, but once you get the hang of where to press, it works like a charm. Control locks, vacation modes, the option to set your fridge to Fahrenheit versus Celsius: this fridge can pretty much do anything short of calling your phone to tell you when the milk has gone off. There's a bit of a steep learning curve, but as long as you keep the manual around for reference, you should be fine.
The freezer needs to chill out.
In almost every way, this fridge is actually quite good. It's not good enough to merit a $3000+ blow to the wallet, but quite good nonetheless. The fridge offers up some nearly spot-on temperatures that hardly fluctuate at all. The top and bottom are exactly where they should be, though it's worth mentioning that there was a bit of a cool spot right in the middle. The crisper drawer is better than average, ensuring that your fresh fruits and vegetables will be well-preserved for slightly longer than average.
Temperatures that cold are harder to maintain, and as such, we saw shifts over time of multiple degrees.
Where this Electrolux falls short is with the freezer. While we had the thermometer set to an even zero degrees Fahrenheit, this model decided to go the extra mile. Our temperature sensors recorded sub-zero temperatures (we're talking more than ten degrees worth of sub-zero), with the result that everything was extremely frozen. You might think "Well, what's wrong with that?" The reason this is a bad thing is two-fold: first, it means that the sensors and air vents inside the freezer don't necessarily work the way they should. Second, temperatures that cold are harder to maintain, and as such, we saw shifts over time of multiple degrees; this means your food is at a definite risk of freezer burn.
That one (major) disappointing factor aside, this product seems to have everything you could ask for. It's got a through-the-door water/ice dispenser in addition to a bulk ice maker in the freezer, a temperature control drawer with nine preset settings and three extra customizable ones, vacation modes, control locks... it's a veritable smorgasbord of fridge tech.
A great fridge, if you can find it for a grand or two less.
When we bring in a fridge that costs as much as this $3749 Electrolux, we set our standards pretty darn high. If consumers are going to shell out that kind of money, they should get a fridge that is as good as, if not better than, virtually everything else on the market—with some extra bells and whistles to boot. The sad thing is, we actually like the EW28BS85KS; it's a very good fridge. Even without the major issue in the freezer, however, it simply wouldn't be worth that much money. Even if you can find one on sale—we bought ours for about $2749, which is about as good as it gets right now—it's still probably not worth it unless you can get it at a sub-$2500 price tag.
While most of the numbers offer up some positive aspects of this fridge, it's the temperature issues in the freezer that decimate its chances to achieve greatness. Take a closer look and see what we mean.
Sometimes overachieving isn't any better than the opposite.
The fridge proved to be quite reliable despite its large size and many shelves. Throughout, we tracked an average temperature of 36.39 degrees Fahrenheit: virtually perfect! There was a slight cool spot in the middle where it dropped to 35.18, but that's certainly within an acceptable margin of error. On the whole, temperatures shifted a mere 0.21 degrees over time, ensuring steady and consistent air flow.
The freezer, on the other hand, had much more sporadic performance. At the top of the compartment, our data indicated an average temperature of -8.1 degrees, while it warmed up slightly at the bottom to -7.72. Over time, though, we tracked degree shifts of about 2.85 degrees throughout the compartment. This means that the freezer couldn't maintain those cold temperatures, reaching peaks of -15.17 degrees at its coldest to -2.48 at its warmest.
Big crisper drawers with the moisture retention to merit them.
The crisper drawer in this fridge, despite its unusual handling (you don't actually push the drawer shut; you almost close it, and then some automatic mechanism in the design takes over, sliding it shut), was actually one of the best things about it. Over time, we saw an average moisture loss of just 0.12 grams per hour. That's fantastic, a result that means fresh produce should last longer than average.
Surprisingly slow freezing times for such a cold compartment.
Despite its intense low temperatures, the freezer actually took a while to chill our test materials. On average, it took an hour and 49 minutes—definitely on the slower end of the scale—to freeze our room-temperature test materials. It's slow enough that sensitive food items may experience a reduction in quality when thawed.
Thankfully, the insulation in the fridge is quite effective. After 36 hours without power, the freezer had only warmed up to a brisk 26.26 degrees. No worries here if you get stuck in a power outage... as long as you don't open the freezer door very much.
A big fridge with big energy savings.
This Electrolux is certainly impressive when it comes to size. While not the biggest we've seen, those beveled fridge shelves, multiple drawers, and door storage all add up to 11.81 cubic feet of usable storage. That's not bad, considering you've got an internal ice maker hogging the entire upper left corner.
The freezer also manages to impress, though the extra "Soft Serve" drawer may not have been the most efficient use of space on the part of the manufacturers. You also lose a little bit of storage to the secondary bulk ice maker. That said, you still have a solid 5.15 cubic feet of usable storage for your frozen goods. Don't forget: the thin little shelf on the inside of the door adds to that total.
What's most impressive, when you factor in the size of the fridge, is its energy cost. Of course, if you use the through-the-door ice and water dispenser, or the interior ice maker a lot, this number will likely go up a bit. That said, our power meters calculate that this large fridge will only cost you $58.51 per year to operate. What's really impressive is that this is still efficient despite the fact that the freezer ran so cold. When you take the energy and spread it out over all the usable space, it turns out that this model requires only 0.1 kWh per cubic foot to run; a very efficient fridge, indeed.
Meet the tester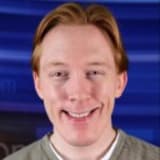 Matthew Zahnzinger
Logistics Manager & Staff Writer
@ReviewedHome
Matthew is a native of Brockton, MA and a graduate of Northeastern, where he earned a degree in English and Theatre. He has also studied at the Gaiety School of Acting in Dublin and spends most of his free time pursuing a performance career in the greater Boston area.
Checking our work.
We use standardized and scientific testing methods to scrutinize every product and provide you with objectively accurate results. If you've found different results in your own research, email us and we'll compare notes. If it looks substantial, we'll gladly re-test a product to try and reproduce these results. After all, peer reviews are a critical part of any scientific process.
Shoot us an email