Calibration was decidedly finicky, and some elements of its performance were definitely questionable, but on the whole it turned out to be a pretty consistent product. This whole package comes at a cost, though: counter-depth fridges are already pricey, and this one is expensive even by those standards. Based on performance alone, we'd have to say that $2,149 is too much to pay for this fridge. But if you're the type of consumer who wants European style without paying for a built-in, you'd be hard pressed to find a fridge this sleek for less money.
Exterior style, interior toys.
If nothing else, it's hard to argue that this Fagor gets at least one thing right: style. Making a side-by-side look interesting and attractive is tough, but the minimalist exterior controls and surprisingly smudge-resistant stainless finish create an elegant exterior that would blend in with any modern kitchen. The glowing, amber lock symbol in the center of the control panel may unsettle some consumers—it looks like the fridge is staring out into your kitchen, like HAL's lone, electronic eye—but we grew used to it. We did find it odd that the factory had slapped the giant Fagor badge on the freezer in such a prominent spot.
The inside is just as sleek, with dark-tinted, smoky plastic door shelves and drawers adding a splash of muted color to break up the walls of white plastic. LED lighting gives off a soft blue glow and saves space. Underneath the top freezer shelf, there are two small ice cube trays. They slide in and out on dedicated tracks, taking up almost no space while still giving you a specific place to keep a small amount of ice. And, as with many fridges designed in Europe, the Fagor also gets an egg bin.
It looks like the fridge is staring out into your kitchen, like HAL's lone, electronic eye.
The controls themselves are very basic, with a temperature scale that ranges from 35ºF to 47ºF in the fridge in odd-number increments, and from -8ºF to 4ºF in the freezer in even-number increments. Bad news for disparnumerophobics. Both compartments have a Super Chill function, where the fans turn on full blast. It could be useful when recovering from a power outage or returning from vacation.
$2,149 should get you a better crisper, but it's very consistent once you get it calibrated.
When an external control panel says your fridge interior is 37ºF, it's not unreasonable to expect that to be true. The more expensive the fridge, the more accurate you expect it to be. Well, that's not always the case: this expensive Fagor averaged about 40ºF despite being set to 37ºF. What's more, it also fell prey to the side-by-side curse of a large temperature spread from top to bottom. Fortunately, you have the option to turn the temperature down, which should fix most of that problem. Regardless of the actual temperature, though, this fridge was incredibly consistent, exhibiting almost no fluctuation over time. That's a mark of a good fridge: you can always turn the temperature down, but you can't regulate steady output.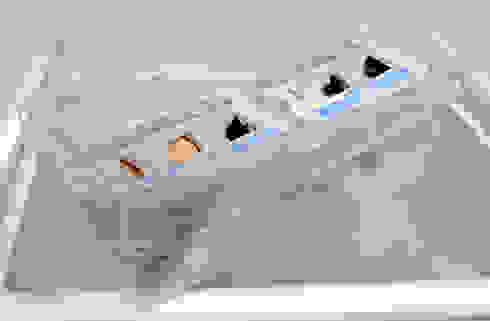 The freezer had similar problems, running much too warm but maintaing its temperatures extremely well over time. The spread was also much smaller: just three degrees from average maximum to average minimum. That's two great strengths; if you can get it calibrated properly (you'll have to buy your own thermometer), it will be a truly awesome freezer. On the other hand, the shallow crisper drawers weren't so awesome. In fact, they lost more moisture than almost every fridge we've ever tested.

This fridge also comes with something called a Quick Can Chiller. The manual didn't have anything to say about the special place for storing 12 oz. cans—sorry, 355 ml—at the back of the fridge compartment, but it appears to be located right over a cooling vent for maximum chill.
Unusually, the user manual did tell us what we'd assumed to be a particularly angular dairy bin is actually the Multi Plus Zone, meant for "storing general medicines or cosmetic products." If medicine is supposed to be safe here, we speculate a stack of Kraft Singles and a tub of margarine should fare just fine.
Lacking an ice maker, it's an exceptionally energy efficient fridge, and we estimate its annual operating cost at only $31.36. That's among the lowest we've seen for a fridge, especially in this size; smaller budget top freezers are typically cheaper by only a few dollars.
A specialized fridge for the stylish consumer.
Chances are you've never seen a Fagor fridge before. In the US, the company is best known for making slow-cookers and standalone induction burners, even though it does sell a few dishwashers, ovens, and fridges. In Europe, Mondragon—the Spain-based parent manufacturer—is a little better known, with a full lineup of cooking options.
If all its products are as fancy and fun as the FQ7925XUS side-by-side refrigerator, Fagor may be able to carve out a niche in the US. Aside from a lousy crisper and an optimistic control panel, this was an awesome fridge. Energy efficiency was some of the best we've seen, and extra features kept us amused.
To reiterate our earlier concern, though, it's definitely not worth $2,149—unless you're biggest concern is achieving the minimalist elegance that only European appliances seem to have achieved. Since it is a counter-depth side-by-side, most retail prices don't go much below the full MSRP: the best we found was about $1,949. If you're lucky enough to find on one sale, though, don't hesitate to grab it.
Once you get past the unexpected calibration issue, almost everything about the Fagor FQ7925XUS side-by-side is quite impressive. Consistent, efficient, and spacious (for a counter-depth), the numbers definitely favor this Spanish appliance.
Don't believe the controls, and you'll be fine.
The only major issue we encountered with this Fagor's temperatures was an easily correctible one: don't trust the external thermometer. Every compartment ran warmer than the selected temperature. Despite having the fridge set to 37ºF, average temps came out at 40.08ºF on the top, 38.72ºF in the middle, and 43.72ºF at the bottom. Way too warm, obviously, but every section average a degree shift of just 0.16 degrees. That's almost no fluctuation at all, making for extremely consistent—and therefore effective—fresh food preservation.
The freezer also ran warm, but the temperature spread was tighter. The upper half of the freezer clocked in at about 2.7ºF, warming slightly to 5.2ºF nearer the bottom. With an average long-term fluctuation of 0.26 degrees, this section is also incredibly consistent. While temps above 0ºF are a recipe for freezer burn, this freezer's tight consistency means you can calibrate it yourself to keep that from happening.
Maybe the Spanish don't like fresh greens...
The two crisper drawers in this Fagor were downright awful. Unquestionably the worst aspect of this fridge with respect to performance, our test materials lost an average of 0.38 grams of moisture per hour. More than double the acceptable rate of moisture loss, you may notice your produce starting to wilt and dry out faster than you might expect. Fortunately, the crispers aren't terribly large—this is a counter-depth, after all—so available space should help minimize food waste.
No complaints with freezing or thawing.
Not being blown away by test results isn't necessarily a bad thing, as long as the results are still effective. Such is the case with the Fagor's freezing times: our room-temperature test items froze in one hour and 39 minutes. That's perfectly acceptable, though certainly not the best we've seen. Certain foods may suffer a reduction in texture when thawed, but most of your frozen goods should be fine.
When subjected to our power outage simulation, this Fagor passed with the same grace that we expect of most fridges costing more than $200. After 36 hours without power, our test materials had warmed to just 28.07ºF, still thoroughly chilled.
Surprisingly roomy, and incredibly efficient.
Counter-depths are inherently smaller, but we didn't notice any cramped quarters in this Fagor. Perhaps a result of recessed LED, perhaps a result of the streamlined design, we just can't say. What we do know is that there were four shelves and two crispers in the fridge, as well as the Quick Can Chill nook. The door supplied four more shelves, as well as the oddly roomy Multi Zone Plus dairy bin. All in all, in totaled 10.1 cubic feet of usable space, roughly the same amount found even in some full-sized models.
The freezer, too, was quite roomy, possibly due to the lack of ice maker. Like the fridge compartment, the freezer had four shelves and two drawers, with five shelves on the door. Also like the fridge, there's almost no customization available here, but the layout should prove spacious enough for most food items except ones that are exceptionally wide. It all adds up to yet another surprisingly roomy compartment, with 5.43 cubic feet of usable space at your disposal.
With all that space and so few electrical features to suck up more energy, this Fagor turned out to be one of the best fridges we've ever tested with respect to efficiency. Using a rate of $0.09 per kWh, we determined that this fridge would cost the thrifty amount of $31.36 per year. That's as cheap as even smaller fridges, such as some budget top freezers. As such, the amount of energy needed per usable cubic foot is exceptionally low: just 0.06 kWh per cubic foot. Incredible!
Meet the tester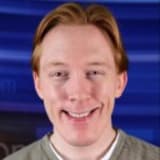 Matthew Zahnzinger
Logistics Manager & Staff Writer
@ReviewedHome
Matthew is a native of Brockton, MA and a graduate of Northeastern, where he earned a degree in English and Theatre. He has also studied at the Gaiety School of Acting in Dublin and spends most of his free time pursuing a performance career in the greater Boston area.
Checking our work.
We use standardized and scientific testing methods to scrutinize every product and provide you with objectively accurate results. If you've found different results in your own research, email us and we'll compare notes. If it looks substantial, we'll gladly re-test a product to try and reproduce these results. After all, peer reviews are a critical part of any scientific process.
Shoot us an email