One of the most important things about this fridge is the cost. The FGUB2642LF has an MSRP of just $2,299, which is already low considering French door standards. We were able to find sale prices online that dropped down to as low as $1,600. It's hard to find a deal like that these days, and if you're a consumer looking to keep your budget intact, we definitely encourage you to add this one to your list of contenders.
It's not as elegant or modern as some of the pricier French door models on the market, but it's still an impressive appliance.
While the high-quality stainless steel finish on the Frigidaire Gallery looks fairly standard, it's surprisingly resistant to fingerprints. It may have to do with the fairly prominent horizontal grain, but there's something about this finish that prevents smears and smudges from showing as much as they do on other stainless products. It's a great design trait for households with small children.
The rectangular control panel, located on the left door, fits in with the overall aesthetic of the fridge's exterior. All the temperature readouts will turn off if left alone, but the other buttons (the dispenser selection, the control lock, etc.) are always visible since they're written onto the panel. It's not exactly ugly, but it looks busy and detracts from the overall elegance one expects from a high-end, French door fridge.
There's something about this finish that prevents smears and smudges from showing as much as they do on other stainless products.
Inside, the fridge's layout is very run-of-the-mill. You'll find the ice maker in the top left corner, with four adjustable shelves spread throughout the cavity. The two half-width shelves on the bottom cannot be moved, however, since they serve as the lids to two identical crisper drawers. At the very bottom is a Cool Drawer, which it decidedly is not. It sounds like a drawer with its own thermostat, but it's really just a full-width deli tray, good for defrosting meat or storing freshly bought items that you're going to cook later that evening.
The pull-out freezer is broken up into three sections: The upper drawer is divided by a wire partition into a left and right section, while the lower bucket is just a full-sized storage bin. All the freezer shelves are made of wire—a decidedly low-end design choice for this model.
A slightly cramped fridge and wire freezer shelves make for noticeably tricky access and problems with spill containment.
The shelf layout may be straightforward, but the fridge itself feels rather cramped. The shelves can all slide out about four inches, making it easier to get at items in the back. That said, the space between shelves isn't huge, and the wire bar that's built in to allow for that sliding motion can be tricky to get around. It's worth mentioning that the light in the fridge is located at the top of the back wall; if you typically crowd food into your fridge, items at the back or the very bottom may be hard to see. Luckily, freezer and door storage is very accessible, and shouldn't be at all difficult to get to.
If you typically crowd food into your fridge, items at the back or the very bottom may be hard to see.
The ice and water dispenser has a single spout with a paddle that's easy to depress and a cavity light that turns on when it's in use. It's a simple design that most people would be familiar with, and as such, it's very easy to use. The cavity is fairly deep, but not incredibly tall. Many glasses should be small enough to rest inside when filling, but some taller ones may have to be held at an angle. The actual internal ice maker is quite large, taking up the entire upper left corner of the fridge interior. To get at bulk ice, you have to pull out a long plastic bin in which the ice is made; it's cumbersome, but manageable.
Excellent freezer consistency is marred by a mediocre fridge.
We usually expect a temperature shift from cooler to warmer as you move farther down, away from the fridge cavity's air vent. With this Frigidaire, however, we noticed a rather unusual thing: Both the top and bottom were slightly warmer than the middle. The center of the fridge averages out to our ideal temperature of 37 degrees Fahrenheit, but both the top and bottom were slightly warmer. It's less than ideal, certainly, but at the very least we found temperatures remained very consistent over time.
We noticed a rather unusual thing: Both the top and bottom were slightly warmer than the middle.
The freezer did an exceptional job keeping itself cold. At its worst, it gave out temperatures that matched what we had on the thermostat. It actually ran colder near the top, where it's closer to the air vent. Temperatures did jump around a bit over time, so you may run a slight risk of developing freezer burn, but at least you don't have to worry about things thawing out.
Moisture retention here wasn't great, either. The test materials that we put in the crisper drawers started to dry out faster than we'd like; eat your produce sooner rather than later, otherwise you may find that eating isn't really the best activity it would be suited for.
Despite its flaws, this French door Frigidaire is a great deal.
It's not perfect, but the Frigidaire Gallery FGUB2642LF is still an excellent bargain buy for folks looking to upgrade to a stainless French door refrigerator. It has an MSRP of $2,299—already placing it at the lower end of the price scale for products in its class—but we easily found it on sale for as low as $1,600. It performs fairly well, is quite energy efficient, and has a lot of room. If you can stand some of the lower-end design features (such as the bulky ice maker or the wire freezer shelves), it's a very good choice for consumers looking to purchase a solid, affordable product with a high-end exterior appearance.
The Frigidaire Gallery FGUB2642LF performed well in most areas, but it's certainly not perfect. As we mentioned, this is essentially the bargain range of high-end fridges, and it has the performance to match.
The pros and cons of the fridge and freezer serve as good counterpoints to each other.
In an unusual twist, both the bottom and top portions of this fridge delivered temperatures that were warmer than at the center. Specifically, our sensors indicated the top was two degrees warmer on average than the 37 degree middle section, with the bottom part coming out three degrees warmer. At the very least, everything fluctuated less than half a degree over time, so anything you store here should be fine regardless.
The freezer had the opposite set of problems; at its warmest, the compartment averaged zero degrees, while the top was actually 2 degrees colder. This is great, but we weren't thrilled when we saw that there was an average temperature shift of about a full degree over time. Long term frozen food storage runs a higher risk of developing freezer burn compared to what we've seen in other, more consistent models.
This fridge isn't so kind to fresh fruits and vegetables
With an average moisture loss rate of 0.23 grams per hour, the Frigidaire's crisper drawers are definitely less than perfect. Solid drawers will retain about 0.05 to 0.10 more grams of moisture than that. As such, vegetables kept in the Frigidaire should be eaten sooner rather than later, otherwise you may notice them drying up or beginning to spoil faster than normal.
As long as you keep this Frigidaire closed, you won't have to worry about your food going bad during a power outage.
With slightly sub-average freezing times—it took our room temperature test materials one hour and 46 minute to freeze—this model doesn't exactly rush to get the job done. That said, after 36 hours without power, the freezer had still kept our items thoroughly frozen. In fact, its internal temperature hadn't even reached 28 degrees. If you live in an area with tricky weather or frequent power outages… well, you may want to consider moving. In the meantime, though, you'll know that this fridge will take good care of your frozen items.
There's plenty of room to store all the groceries that your lower energy bills now afford you.
It's not the biggest fridge out there, but this model is definitely roomy. Across all the fridge's storage spaces—including door shelves—you've got an impressive 12.26 cubic feet worth of available space. The freezer also provides a decent 5.26 cubic feet, making this a model that should suit all kinds of eating habits.
While big fridges are never cheap to run, this one proved to be exceptionally energy efficient. Using a standard rate of $0.09 per kWh, we determined that this product will cost about $52.10 per year. When you break down the energy costs over the available storage space, you find that this fridge only requires 0.09 kWh to cool. This is exceptionally low and one of the best rates we've seen for fridges this size; you can rest easy knowing that you won't be wasting tons of electricity if you purchase this product.
Meet the testers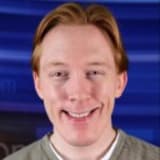 Matthew Zahnzinger
Logistics Manager & Staff Writer
@ReviewedHome
Matthew is a native of Brockton, MA and a graduate of Northeastern, where he earned a degree in English and Theatre. He has also studied at the Gaiety School of Acting in Dublin and spends most of his free time pursuing a performance career in the greater Boston area.
See all of Matthew Zahnzinger's reviews
Checking our work.
We use standardized and scientific testing methods to scrutinize every product and provide you with objectively accurate results. If you've found different results in your own research, email us and we'll compare notes. If it looks substantial, we'll gladly re-test a product to try and reproduce these results. After all, peer reviews are a critical part of any scientific process.
Shoot us an email