Instead of simply slapping thick handles onto an existing product, however, Frigidaire went a step further. The FPBC2277RF's handles are smooth and connected with attractive, contrasting brackets.
Because it's counter depth, it won't stick out past your cabinets, creating the more integrated look that some customers prefer. However, counter depth fridges have inherently shallower interiors that come with a higher price tag compared to standard depth counterparts. That's certainly the case here: Even on sale, the FPBC2277RF sells for just a hair under $3,000.
Compared to other counter depth fridges, the FPBC2277RF is slightly outperformed by competitors from LG and Samsung when it comes to food preservation. Temperatures fluctuated a little over time, and moisture retention wasn't ideal. However, it wasn't a bad fridge by any means. Fit and finish upgrades—like hidden controls and two icemakers—were welcome.
Our overall pick for a counter depth French door is still the Samsung RF23HTEDBSR, which features door-in-door storage and a price thats a few hundred dollars less than the FPBC2277RF. But the Frigidaire is a clear winner when it comes to looks.
Design & Usability
Professional can be stylish, too
You've probably gathered that we like the look of the new Frigidaire Professional series. The FPBC2277RF has other benefits, too: The stainless exterior is Frigidaire's so-called Smudge Proof stainless, which actually does help resist fingerprints. However, it makes for a slightly darker exterior, so be sure it matches the rest of your kitchen.
With the exception of the through-the-door ice and water dispenser, whose controls are attractively placed on a frameless black glass panel, all other controls have been moved to the interior edge of the door. This keeps visual clutter to a minimum, and gives the fridge a sleek, elegant appearance.
Things start off well on the inside, too: Bright, recessed LED lights illuminate an interior filled with clean white plastic and glass shelves. The adjustable crispers are designed to give you flexible storage: You can keep them side by side, per the normal configuration, or you can shift them around like any other shelf for a more customized experience.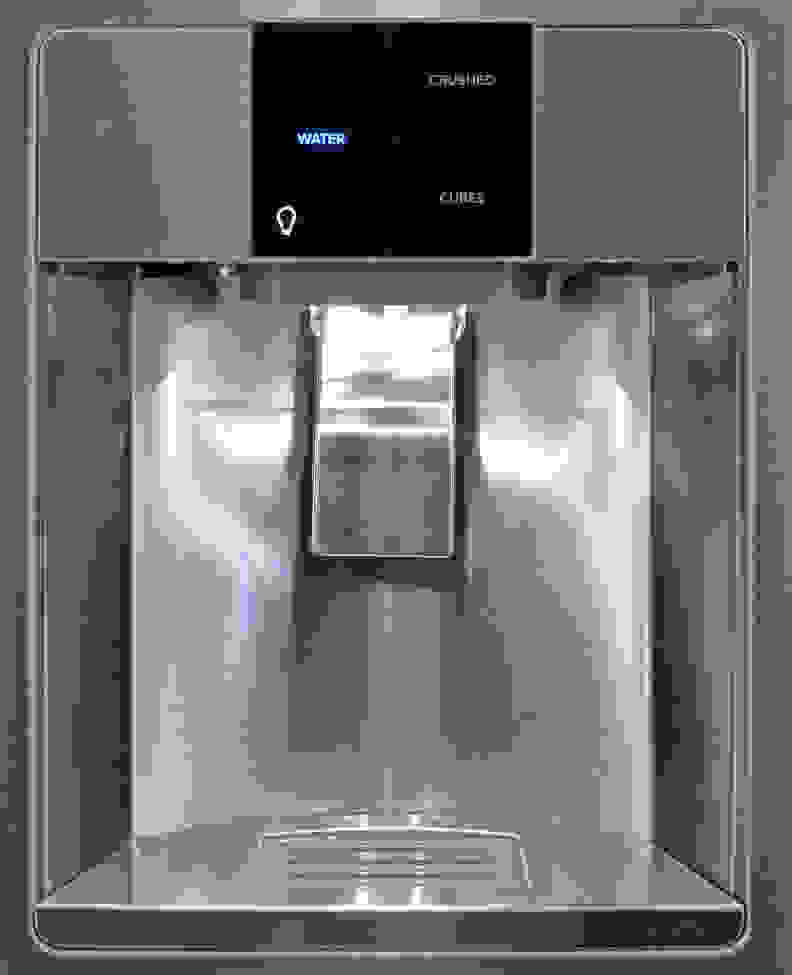 Main shelves can either flip out of the way or feature retractable front halves, while door shelves come with washable rubber mats that prevent food from sliding around. You even get an optional rack that's ideal for chilling a bottle of wine.
Ah, but now for the downsides: The wide, bottom drawer occasionally failed to line up when we shut it, and some shelves felt a bit off-kilter. We weren't fans of the primary icemaker, either. While not as bulky as some other units, we still prefer the look of a fridge that leaves the top shelf wide open and puts ice on the door.
In fact, the Frigidaire negates the main advantage of the larger fridge icemaker—larger cube capacity—by including a second bulk ice dispenser in the freezer. Seems kind of redundant.
Speaking of which, the freezer's eye-catching bright lights and thick, metal rack both look great, but that rack's tendency to jump out of its track frequently led to cubes stored in the large ice bucket to spill backwards into the freezer cavity.
×
Design
Performance & Features
Room for improvement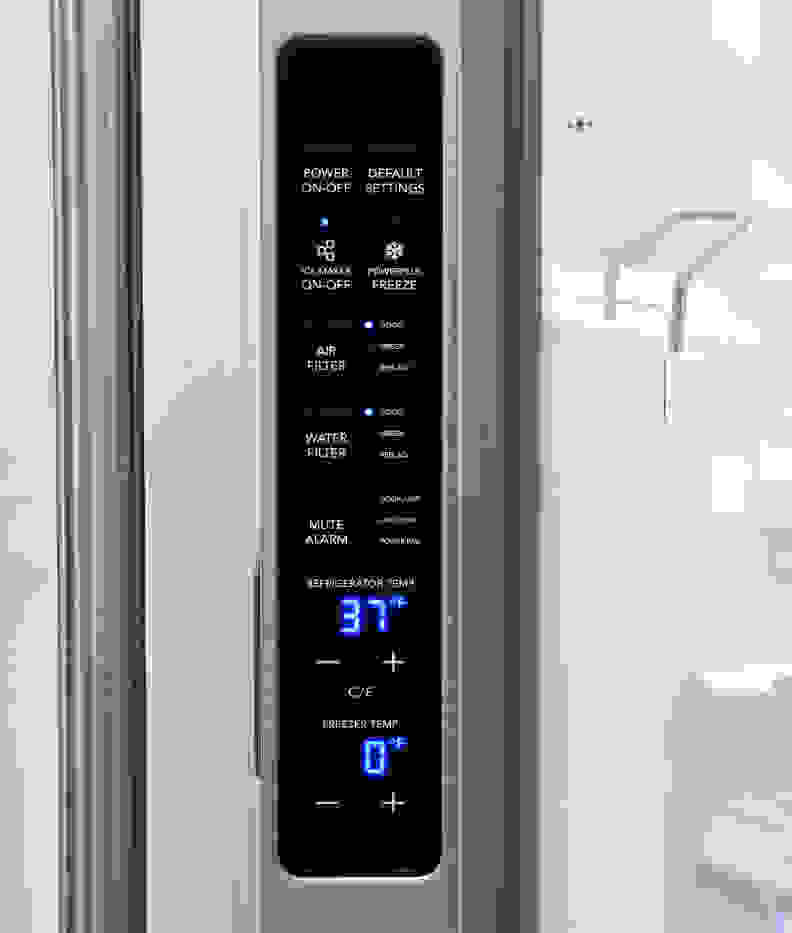 To start on a positive note, the main fridge section was great: Perfectly cool, and very consistent. In that regard, it's among the better counter depth fridges we've tested.
Unfortunately, that's about all that's perfect. The freezer, while suitably chilly, had issues maintaining consistent temperatures over time—a recipe for freezer burn. Crispers lost somewhat more moisture than average, while energy efficiency levels compared to other new units was decidedly unimpressive.
Aside from the aforementioned dual icemakers and dispenser, this fancy fridge is actually pretty slim on features. On the control panel, you'll notice the only extra option is the PowerPlus Freeze mode for fast chilling in the freezer.
For in-depth performance information, please visit the Science Page.
Warranty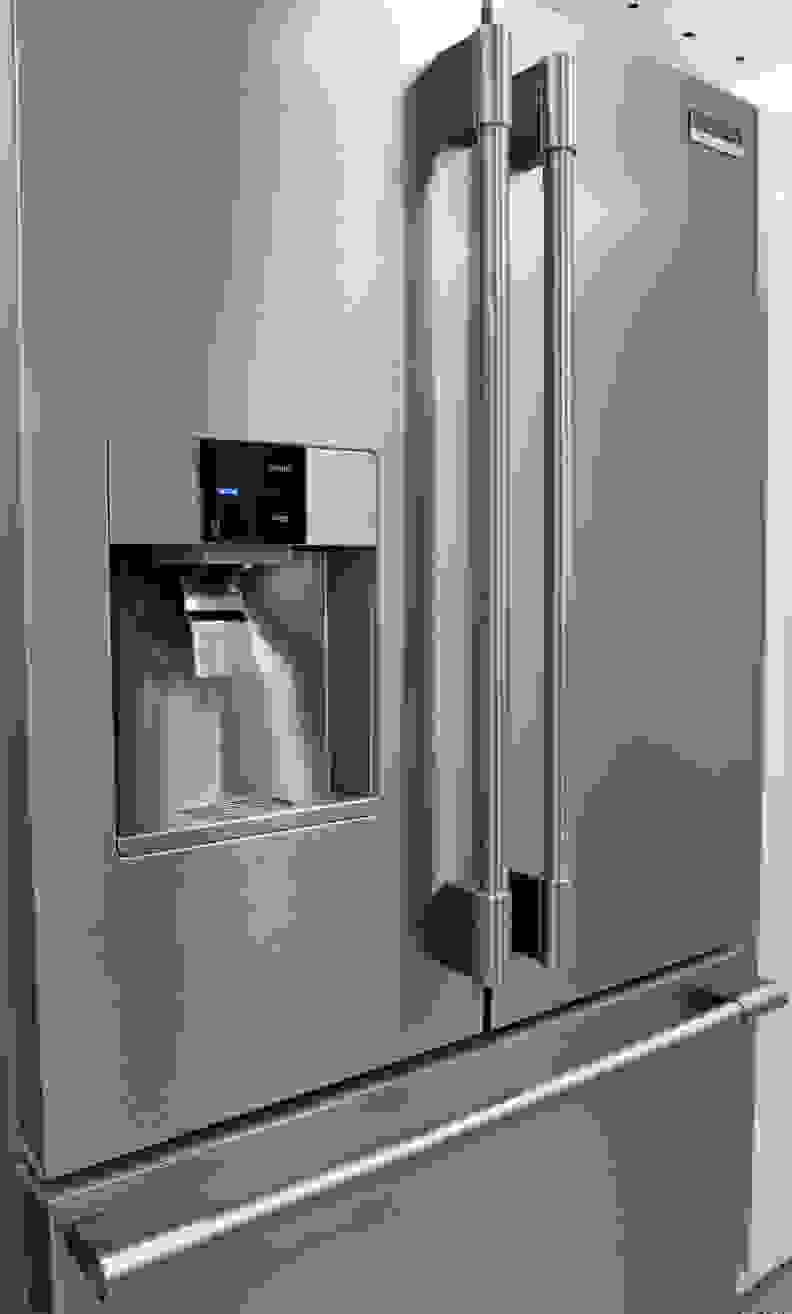 As with nearly all of its products, Frigidaire provides a one-year manufacturer warranty that covers unexpected product failure should anything arise. Normal wear and tear (bulbs blowing out, for instance) or user damage (your child throwing a toy at the door and denting the finish) are on you.
Style—But Some Substance, Too
If you like the look, it's a fine fridge
At the end of the day, the Frigidaire Professional FPBC2277RF is a stylish counter depth fridge that's trading on a high-end design. While we found some issues with interior handling, there's no question that the overall fit and finish on this model will make the $2,968 retailer price worth the expense.
Performance issues and usability snags keep it from being perfect, but none of its flaws were so bad that we wouldn't recommend it. The look is pretty darn unique, too. If you like it, you should definitely consider buying it.
The Cold Hard Facts
While the Frigidaire Professional FPBC2277RF (MRSP $3,499) may look great, overall performance was just... good. Our rigorous lab tests illuminate the highs and lows of this stylish fridge.
Temperature Performance
One of the key elements of fridge performance was actually this Frigidaire's key achievement: accuracy and consistency in the fresh food section. Temperatures here were spot on, averaging 36.32°F at the top, 36.76°F in the middle, and 38.7°F at the bottom. With a standard deviation of just ±0.2°F over time, there's nothing bad to say about this element of the Frigidaire.
The freezer was a little less glowing. Sure, temperatures were suitably chilly—about -1.06°F at the top and -1.69°F at the bottom—but they exhibited more inconsistency over time. We recorded shifts of ±1.24°F on average, with maximum temps during the defrost cycle climbing to 3.66°F. That's enough to risk freezer burn, something we'd hope would be avoided in a fridge this expensive.
Moisture Retention
The big strength of these crispers is their ability to be placed in multiple locations inside the fridge. Unfortunately, their ability to retain moisture was less exciting. Over the course of three days, we carefully measured the weight of floral foam balls to record moisture loss.
On average, each ball lost 0.22 grams of moisture per hour at the crisper's most retentive setting. That's not bad enough to cause produce to wilt prematurely, but many other fridges do a better job at preserving fresh veggies.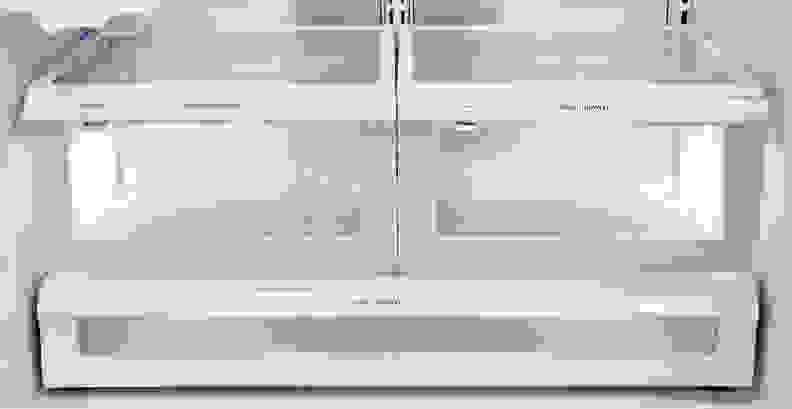 Freezing
Freezing times were acceptable in this model. Room-temperature test materials stored in our climate-controlled lab were placed inside the Frigidaire's freezer. After 1 hour and 23 minutes, they were cooled to 32°F.
Storage Space & Energy Efficiency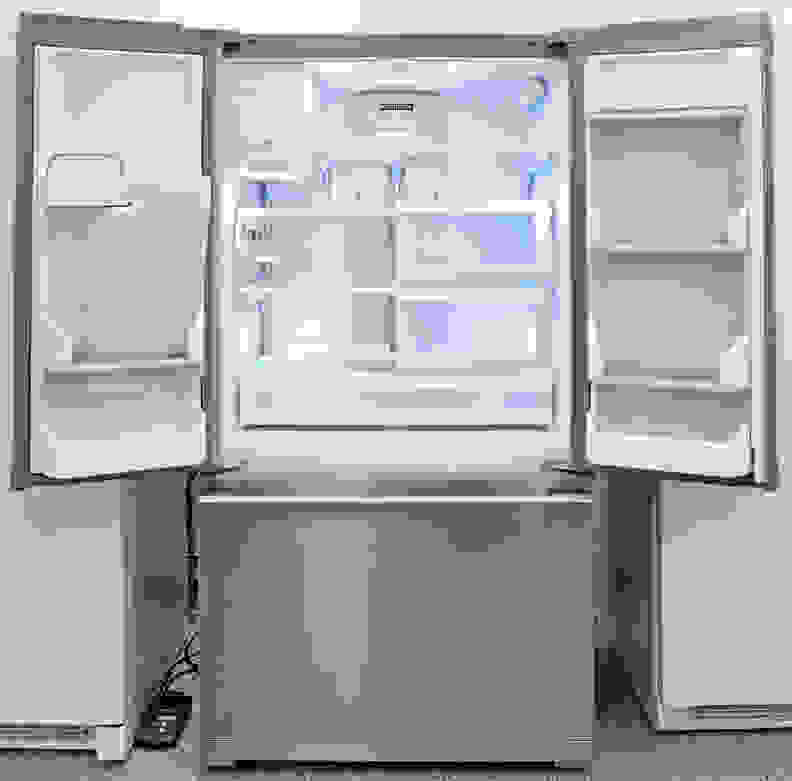 It may seem counterintuitive that counter depth fridges have less space than their full-sized counterparts and cost more, but such is the way with niche products. When measuring the interior of this Frigidaire, we had the crispers in their standard side-by-side configuration and removed all optional features like the wine bottle rack.
Taking into account space taking up by items like the water filter and icemaker, we found that the main fridge section offers consumers just 10.27 usable cubic feet of space.
In the freezer, we had to take the icemaker itself into account, but removed the bucket set beneath it. Our measurements detail the largest amount of practical space available, and whether you use the secondary icemaker is—at the end of the day—an optional decision. All told, you've got only 4.62 usable cubic feet in the freezer.
Easily the most disappointing element of the Frigidaire's performance was its energy consumption: 0.13 kWh per usable cubic foot. At a fixed rate of $0.09 per kWh, that comes out to $63.50 per year. To be fair, we test energy consumption with icemakers running, and this model has two of them. If you need less ice, you'll need less electricity.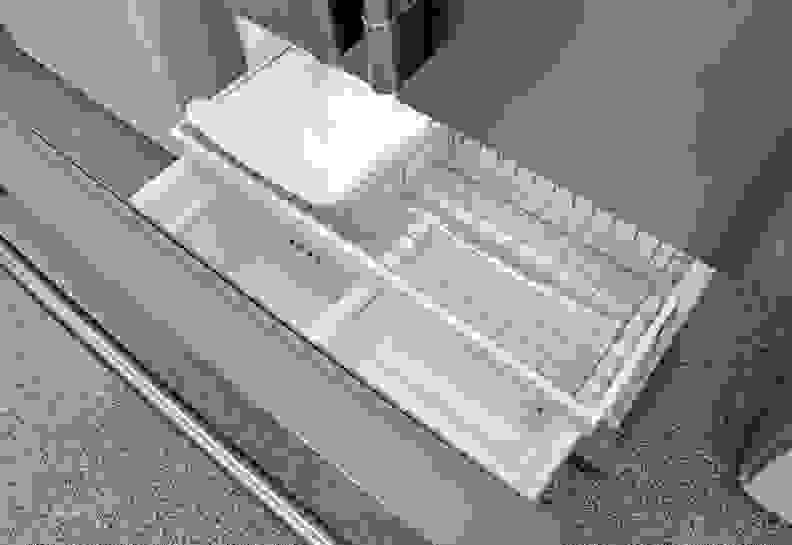 Meet the tester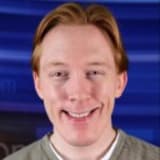 Matthew Zahnzinger
Logistics Manager & Staff Writer
@ReviewedHome
Matthew is a native of Brockton, MA and a graduate of Northeastern, where he earned a degree in English and Theatre. He has also studied at the Gaiety School of Acting in Dublin and spends most of his free time pursuing a performance career in the greater Boston area.
Checking our work.
Our team is here for one purpose: to help you buy the best stuff and love what you own. Our writers, editors, and lab technicians obsess over the products we cover to make sure you're confident and satisfied. Have a different opinion about something we recommend? Email us and we'll compare notes.
Shoot us an email