Smooth and steady.
When it comes to even temperature output, the 2399PF has it in spades. Throughout the entire fresh food compartment, average temperature fluctuation was a mere 0.18ºF—that's incredibly consistent. It did run a bit warm, though. Average temperatures clocked in at 41.87ºF at the top, 40.11ºF in the middle, and 44.11ºF at the bottom. That's well above the 37ºF on the display panel, and too warm for some foods. Our scoring rubric didn't force us to dock too many points here because it's an easy fix: just turn the thermostat down about three or four degrees. You'll want to calibrate the top shelf to 37ºF, as the produce kept at the bottom actually should be stored at a slightly warmer temperature than the rest of your refrigerated goods.
Over in the freezer, things did just as well. The upper portion of the freezer, right under the icemaker, averaged -0.78ºF, while the bottom came in at 2.85ºF. Again, it was a little warm, but if you turn the controls down two or three degrees, you'll be fine. More importantly is that the freezer also displayed average shifts of 0.18ºF over time. That means this Frigidaire is one of the most consistent full-sized models we've ever tested in both compartments; as long as you turn the overall temp down a bit for your frozen foods, freezer burn shouldn't be a problem.
Bright lights, big fridges.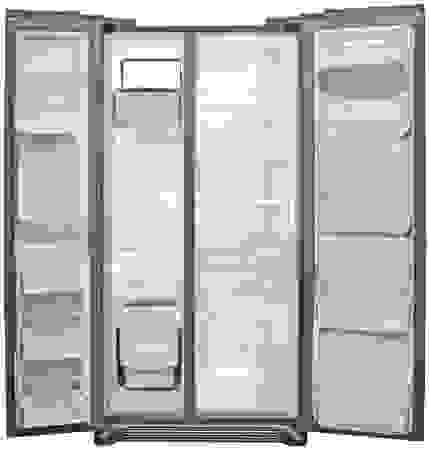 This fridge is almost completely identical to its slightly larger sibling, the Frigidaire Professional FPHS2699PF, just a little smaller. Thinner, shorter, and somewhat shallower, the 2399PF nevertheless still feels quite roomy. The shelf layout gives you plenty of vertical room, and while you still won't be able to fit a family-sized frozen pizza in the freezer, most other groceries will find a comfortable home here. Inside, you've got everything you might expect from a traditional side-by-side: A mix of white and stainless trim, a big ol' icemaker taking up space in the freezer, and rear-mounting shelves in the fridge which can be adjusted to your taste.
If you're mixing and matching appliance brands, be aware that the FPHS2699PF's fingerprint-repelling finish—while not as dark as what we saw on the Frigidaire Gallery FGHS2655PF—may not blend in perfectly with other stainless appliances. Aside than the external finish, however, this fridge sets itself apart using a few subtle aesthetic—and practical—alterations.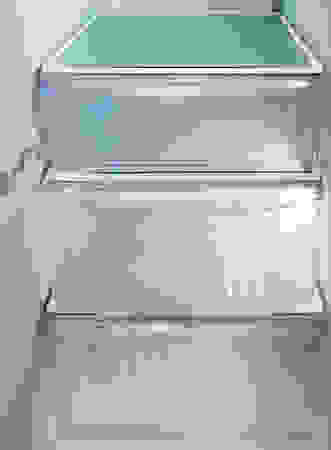 For instance, the freezer is so well-lit you'll never lose a bag of frozen peas again. In addition, the shelves on the freezer door—normally shallow, cramped, and hard to use—tip forward to facilitate access.
In the fridge, you've got shelves that slide forward, allowing you to get at that last yogurt before it expires. Even the temperature-adjustable Chill Drawer—which we've found hard to open on other Frigidaires—slid smoothly on this model.
The external control panel also received some improvements. A tasteful grey border complements the stainless finish, as opposed to the plastic black borders found on other Frigidaires we've tested. The font is still small and the overall menu is still unnecessarily convoluted, but the responsiveness of the controls is excellent.
Steady as she goes.
If nothing else, the FPHS2399PF can be praised for its incredible consistency. Temperatures in both the fridge and freezer sections displayed remarkably small shifts over time. Freezer burn shouldn't be a problem for lovers of frozen broccoli, while cheese connoisseurs can rest easy knowing their newest Saint-André won't spoil before its time.
There is a catch, though: For truly optimal performance, you'll want to ignore the number on the fridge's own thermostat. In our lab, the display showed 37ºF in the fridge and 0ºF in the freezer, and in both cases the internal food temperatures we measured were about two to three degrees too warm. Check your fridge's temperature with a thermometer in a glass of water, and adjust the thermostat accordingly.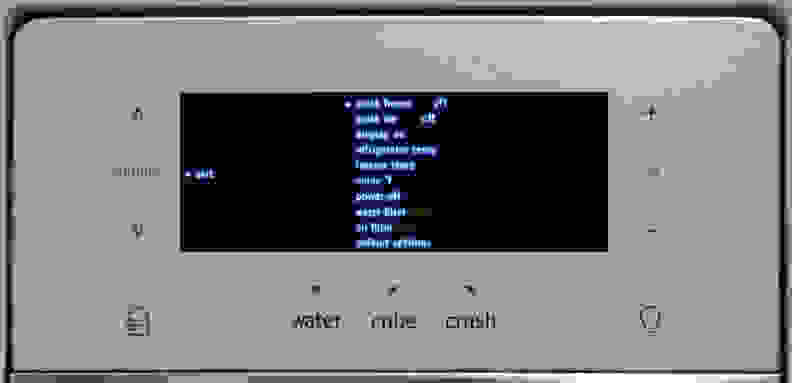 Even with the large icemaker running all out, this model uses less energy than some smaller fridges, and definitely less than many similarly sized models. Dropping the fridge temp by as much as four degrees may slightly increase the fridge's energy use, but we were impressed enough with this fridge's consistency to give it a pass in this regard.
As for the rest of this fridge's performance, it's hard to argue with the strong results. Crisper drawers retained a better-than-average amount of moisture to keep veggies fresh, and even freezing times were faster than average. That means your meat, poultry, and fish will still be in great shape when you're ready to thaw and eat them.
For in-depth performance information, please visit the Science Page.
Professional produce preservation
The crisper drawers in the FPHS2399PF proved quite effective at retaining moisture. Over the course of 72 hours, our test materials lost an average of 0.16 grams of water per hour. While we have seen better, your fresh veggies should have no problems here.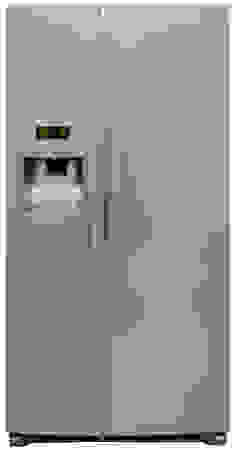 If only more fridges were this Professional.
With style, space, and strong performance under its belt, the Frigidaire Professional FPHS2399PF is definitely a fridge worth considering if you're looking for an affordable side-by-side. It's got a lot to boast about, from a roomy and accessible interior to excellent temperature consistency.
Even better is the fact that most retailers are offering it for a mere $1,450. You'd be hard pressed to find one that costs less and still gives you so much in return. Just keep an eye on the thermostat, and you—and your food—should be happy with this Frigidaire.
Don't forget: If you like everything about this fridge but want something ever so slightly larger, you can always turn to the Frigidaire Professional FPHS2699PF (MSRP $1,699). It looks the same, performs the same, even costs the same.
Full of cold air
Back in the freezer, things look pretty good for freshly-frozen food. Our room temperature test materials froze in just one hour and 25 minutes. That's notably faster than average. While we're still a ways off from professional flash freezing, the Frigidaire is fast enough that your meat and fish should still taste great when thawed.
Unfortunately, we did encounter a bit of a hiccup when it came to the thawing test. Simulating a 36-hour power outage, we unplugged the Frigidaire at the end of all our other tests. Most freezers are still under 32ºF by the end of that period, but the 2399PF thawed out after just over 24 hours. It's a disappointment, especially for folks who live in areas prone to power outages. If you've got reliable electric service, though, this shouldn't serve as too much of a deterrent.
So efficient, you'll hardly know it's running.
The FPHS2399PF may be slightly smaller than its big brother, the 2699PF, but it's still plenty roomy. In the fresh food section, you've got four shelves—three of which are adjustable—two crispers, and a chill drawer with an adjustable temperature dial. The fridge door serves up a dairy bin, two large buckets for multi-gallon storage, and two slightly shallower shelves near the bottom. It all totals to 9.88 cubic feet of usable space.
In the freezer, you've got fewer storage options. Two shelves—which are not adjustable—and two drawers make up most of the usable space. The door features a small shelf at the very top, as well as three shelves underneath the ice chute that tilt forward for easy access. The icemaker takes up a fair amount of room near the top, but you do have a small shelf above it that can also be used, assuming you don't remove it frequently to get bulk ice. It adds up to 4.44 usable cubic feet, which is admittedly a bit cramped.
In our tests, this fridge proved energy efficient. For the average American household, the FPHS2699PF should only cost around $38.83 per year to operate with the icemaker on. That price translates to just 0.08 kWh required to power each cubic foot, making this one of the most efficient models we've tested. Keep in mind, lowering the temperature may slightly increase your costs.
Meet the tester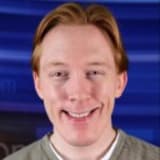 Matthew Zahnzinger
Logistics Manager & Staff Writer
@ReviewedHome
Matthew is a native of Brockton, MA and a graduate of Northeastern, where he earned a degree in English and Theatre. He has also studied at the Gaiety School of Acting in Dublin and spends most of his free time pursuing a performance career in the greater Boston area.
Checking our work.
Our team is here for one purpose: to help you buy the best stuff and love what you own. Our writers, editors, and lab technicians obsess over the products we cover to make sure you're confident and satisfied. Have a different opinion about something we recommend? Email us and we'll compare notes.
Shoot us an email