Bright lights and glittery trim outshine minor flaws.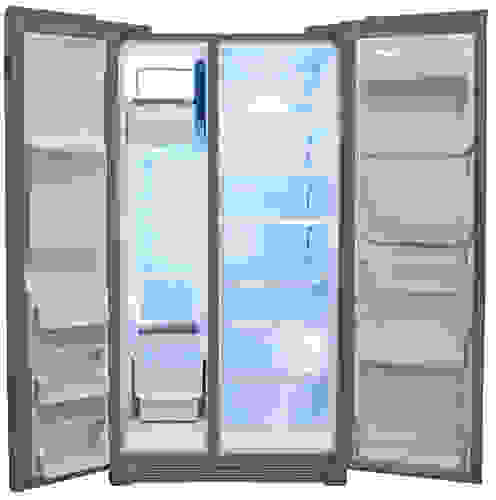 Compared to products that sport the regular Frigidaire moniker, you may wonder what the Professional badge gets you. Well, in the case of the FPHS2699PF, it gets you a traditional layout customizable shelves and spacious drawers combined with silvery trim, streamlined handles, and tons of interior lighting.
The control panel, too, looks sleeker than standard Frigidaire fare: the primarily silver console blends in unobtrusively with the stainless finish. While its touch controls are quite responsive, its simple design hides a clunky navigational system. It shouldn't take five pushes of a button to access your fridge's temperature adjust option.
When you start getting hands-on with this model, though, it becomes clear that not all the design improvements translated into a superior user experience. Crisper drawers, freezer trays, and sliding fridge shelves tended to stick when we slid them in and out. It was difficult to access the bulk icemaker, too, but through-the-door ice proved not to be a problem.
Steady temperatures and great energy efficiency.
In both the fridge and freezer compartments, temperatures were consistent over time. That's the most important factor in food preservation, as steady temperatures prevent spoilage and freezer burn. Temperatures were warmer towards the bottom of the fridge, which is preferred since milder temperatures are ideal for storing produce. Keep your dairy and meats closer to the top and you should be fine. What's not preferred is that temperatures ran a bit warmer than the exterior display indicated, so you may want to turn the thermostat below the recommended 37ºF.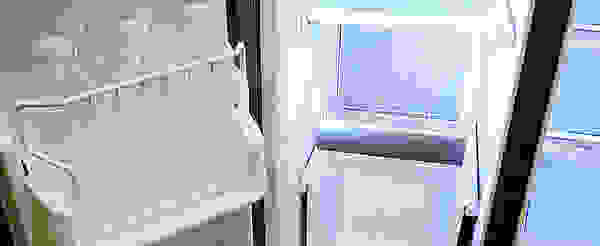 Most other aspects of the fridge were more than satisfactory. It's got plenty of room for a side-by-side, and enough shelf flexibility that even larger items such as the Thanksgiving turkey should be able to fit. Energy efficiency was exceptional, too, even with the ice maker running. This will definitely keep your electric bill down even compared to some smaller models.
The only really disappointing part? The crisper drawers. They're spacious, which is perfect if you like to buy a lot of vegetables, but not great at retaining moisture. Unless you eat all of that broccoli before the week is out, you may end up with a sizable pile of food waste.
For in-depth performance information, please visit the Science Page.
Frigidaire puts one eye on design and another on quality.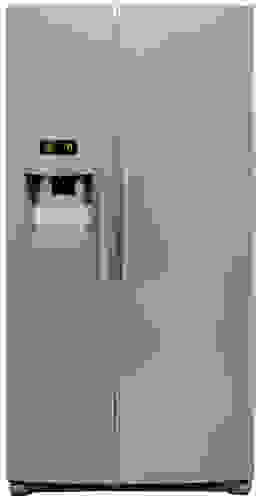 The FPHS2699PF is one of the best Frigidaire products we've seen, both in terms of style and performance. It's also one of the best side-by-sides we've tested period, which is good news for folks who want a fridge this size and this style in their kitchen. It looks quite stylish, is pleasantly well lit, performs well, and may even save you money on your electric bill. We don't normally come across side-by-sides so worth of praise, making this fridge a welcome addition to a market full of mediocre appliances.
True, Frigidaire could have done better in certain areas: the controls need some streamlining, the thermostat could have been a bit more accurate, and the sliding components should move in and out with greater ease. That said, none of those aspects hindered our experience with this model. If you need a side-by-side, this one should definitely be on your list. Make sure to look for a sale price, though, as we found the FPHS2699PF for as low as $1,460.
By design, side-by-sides tend to be rather finicky when it comes to actual performance, but we were pleasantly surprised by the Frigidaire Professional FPHS2269PF (MSRP $1,699). Energy efficient, with plenty of storage space for a fridge of its size and design, this Frigidaire even managed to maintain consistent temperatures over time. If only the crispers were better, we'd have nothing negative to say about this one.
Steady over time, not over space.
Virtually no side-by-side, based on what we've seen, can produce temperatures that are identical from the top of a compartment to the bottom, nor should it... to an extent. The Frigidaire's fridge section produced an average temp of 41.42ºF at the top, cooled slightly to 39.7ºF in the middle, and then warmed up again to 44.1ºF at the bottom. Keep in mind that we had set the fridge to 37ºF on the external thermometer. This sort of shift isn't uncommon, and can be fixed by lowering the thermostat by a few degrees. More importantly, temperatures only shifted about 0.4 degrees over time. That's very consistent, great for food storage. If you can calibrate this model to the proper degree of coolness, your food should be just fine.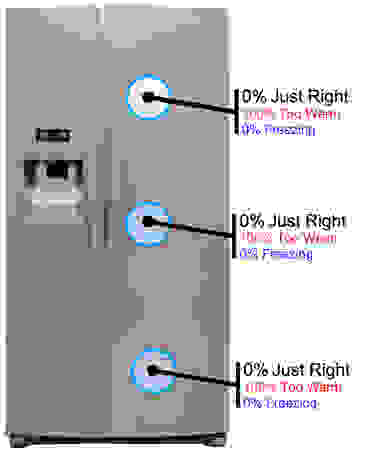 The freezer faced similar issues, even though the icemaker took up the top quarter of the compartment. From top to bottom, temperatures averaged -2.85ºF all the way to 1.16ºF. Your food will freeze wherever you put it, and temperature shifts as slight as 0.29 degrees will help keep the risk of freezer burn to a minimum. Like the fridge, it's not the best we've seen objectively, but it's quite good for a side-by-side.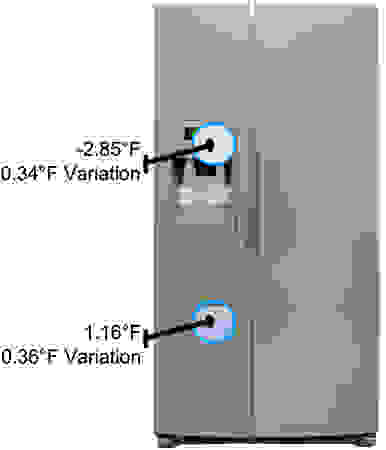 Lackluster crispers hold this fridge back.
While the bright LED lighting cast a pretty glow on the Frigidaire's crispers, they didn't help improve their quality. Our test material lost an average of 0.23 grams of moisture per hour over the course of three days, decidedly more than is preferable. Your produce won't shrivel up after a day or two, but you'll want to make sure you eat whatever you buy fairly quickly if you want to enjoy them while still fresh.
A fairly fast freeze and solid insulation.
It took our room-temperature test materials just one hour and 34 minutes to officially freeze inside this Frigidaire's freezer compartment. While still about 15 minutes or so slower than the fastest freezing times that we've come across, that's still pretty darn rapid. Meat and fish frozen that quickly shouldn't get too chewy or lose their flavor when thawed, which means you can feel free to shop at your local wholesale grocery store with impunity.
Sizable for the style, and exceptionally efficient.
Not to rag too much on side-by-sides, but they're not exactly known for being terribly spacious. The thin compartments prevent them from having as flexible a storage layout as some other models, but even so, this Frigidaire was pretty darn roomy.
The fridge compartment is divided by four shelves and three drawers, one with a temperature control switch and two crispers. The fridge door houses a designated dairy bin, two large buckets that can hold two gallon-sized containers, and two slightly shallower buckets on the bottom. It adds up to a fairly generous 11.29 cubic feet of usable space.
The freezer is somewhat more restrictive, a result of employing shelves that lack the flexible placement options found in the fridge. Only two shelves can be found here, as well both a wire pull-out bucket and a solid plastic one at the bottom. Don't forget about the ice maker shelf, though: an open plastic shelf can be found at the very top, which could make for usable storage unless you find yourself needing bulk ice very often. The door has a small shelf at the top, plus three flip-forward shelves on the bottom. In total, you get 4.86 cubic feet of usable space.
One of the most impressive aspects of this fridge is its energy efficiency. Using a fixed rate of $0.09 per kWh, we determined that it would cost you a mere $39.57 per year to operate this fridge, and that's with the ice maker running. Spread that energy out across the usable space inside the appliance, and that comes down to just 0.07 kWh per cubic foot, making this one of the most energy efficient appliances we've tested to date.
Meet the tester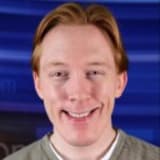 Matthew Zahnzinger
Logistics Manager & Staff Writer
@ReviewedHome
Matthew is a native of Brockton, MA and a graduate of Northeastern, where he earned a degree in English and Theatre. He has also studied at the Gaiety School of Acting in Dublin and spends most of his free time pursuing a performance career in the greater Boston area.
Checking our work.
We use standardized and scientific testing methods to scrutinize every product and provide you with objectively accurate results. If you've found different results in your own research, email us and we'll compare notes. If it looks substantial, we'll gladly re-test a product to try and reproduce these results. After all, peer reviews are a critical part of any scientific process.
Shoot us an email