Far from cutting edge, but it gets the job done.
This GE may not be elegant, but it'll match your other stainless appliances. Its interior proved functional but felt a bit cramped.
The controls proved fairly easy to use.
On the whole, the controls proved fairly easy to use and were surprisingly responsive. Our only complaint was that they're always visible. Incandescent interior lighting felt similarly old school, offering plenty of pale yellow illumination while simultaneously taking up more space than increasingly common LEDs.
The fridge compartment is made up of several adjustable shelves which provided plenty of flexible storage. They're kept in place by small plastic tabs that allow users to pull shelves forward for easier access to items in the back of the fridge without the risk of complete accidental removal. Conversely, when you actually want to take the shelf out, those same tabs made the process clunky and more difficult than necessary. The lone crisper slid in and out smoothly, but the Snack Pan and Sealed Pan felt stiff and usually got stuck on their plastic sliders.
Wire shelves offer no spill protection.
The freezer shelves and drawers felt wobbly and somewhat loose in their moorings. The wire shelves offer no spill protection, and the short distance between them may make storing tall or wide items rather difficult. They're not as adjustable as the fridge shelves, either, which makes for decreased flexibility. That said, the ice maker, large and bulky as it may be, has a convenient flap door that makes for getting to bulk ice a breeze.
Freezer flaws flummox frozen foods.
Fridges with temperature displays are often off the mark, but the variation on this side-by-side was a bit wider than usual. Though we set the fridge to 37ºF and the freezer to 0ºF, our tests showed that parts of the fridge got as warm as 41ºF and as cold as 35ºF.
Unfortunately, the freezer proved even less accurate, swinging above and below 0ºF by more than a degree. That's enough to cause frozen foods to slightly thaw and re-freeze over time, which is what causes freezer burn. It's a rather major performance flaw, and also the primary culprit behind this fridge's relatively poor rating. What's more, the freezer got as warm as 7ºF near the bottom. If you decide to go with this model, we'd recommend using your own thermometer to properly calibrate things.
As for everything else, our tests showed this GE was passable, though nothing special. The crisper drawer was about average, as were our time-to-freeze tests and energy efficiency calculations.
You'd need a really good sale to make this worth it, but don't go out of your way.
If you're looking for a basic stainless steel side-by-side, the GE GSHS6LGBSS may be right for you, but only if you're willing to do some legwork. First, search for a sale. We easily found one for $300 less than its $1,599 MSRP, but you'll want something even lower. Next, stock up on lightbulbs, since this fridge uses old-fashioned incandescent lighting instead of LEDs. Most importantly, however, make sure you properly calibrate the freezer, as the built-in thermometer proved useless in our tests and sandbagged this side-by-side's score.
There's a reason we don't score a fridge based on its design: personal taste can vary from consumer to consumer. That said, numerical data is purely impartial, and after running the GE GSHS6LGBSS side-by-side fridge through our rigorous testing gamut, a few issues cropped up. First and foremost was a finicky freezer, which proved largely responsible for this GE's poor ranking in our tests.
Off target and irregular.
We expect fridges with vague or nebulous control panels (usually entry-level models) to deliver temperatures that miss our ideal 37ºF and 0ºF marks. When a fridge that actually uses a degree scale does this, it's disappointing, but not out of the ordinary. When a fridge misses the mark by as much as this GE, though, it's downright sloppy.
In the refrigerator compartment, we measured an average temperature of 38.16ºF. That's not terribly far off the mark. But the average high temperature, found close to the top shelf, got all the way up to 41.35ºF, and the coolest average temperature we recorded was 35.2ºF. That makes for an average degree shift of 0.52 degrees from top to bottom—a much wider shift than we'd like to see—and a spread of up to slightly more than six degrees throughout the entire compartment.
The freezer's variance was even wider than that. The top of the slim compartment was -0.18ºF, which is OK. But near the bottom, it rose to a substantially warmer 5.39ºF near the bottom. The average temperature shift over time was ±1.34 degrees, taking the temperatures far enough above and below zero to result in increased development of freezer burn.
Mediocrity that neither hurts nor helps this fridge.
The fridge only has one crisper drawer available, which isn't a great place to start. Set to its highest level of retention, our test materials lost an average of 0.18 grams of moisture per hour. It's not awful, but it's definitely not something to write home about. That level of retention falls on the middle to slightly poor end of average, not bad enough to speed up produce spoilage, but not enough to substantially cut down on it either.
More mid-range results.
Our room-temperature test materials froze after about one hour and 38 minutes inside the GE's freezer. Much like the crisper drawer test results, it's not bad, but it doesn't overly impress, either.
The final test that directly effects food preservation is the thawing test, in which we simulate a power outage by unplugging a product for 36 hours. We're happy to report that the GE did manage to pass this test, with all of our substances still quite frozen by the end of testing period.
Cramped compartments all around.
Side-by-sides aren't known for their spacious interiors, and this one was just as narrow as any other. Three adjustable shelves, as well as the Snack Pan, Fruits & Vegetables Drawer, and Sealed Pan, make up the bulk of the fresh food storage. An additional four shelves and a dairy bin can be found on the fridge door, as well as a removable can rack that can hold up to nine regular cans or bottles comfortably. In total, it adds up to 10.33 cubic feet of fresh food storage, which in and of itself isn't bad. The downside is, the large light fixture, water filter, and inherently narrow cavity means that even a good deal of storage can feel cramped.
The freezer didn't fare much better, particular given the lack of flexibility for shelf customization. Three thin shelves and two pull-out buckets make up the primary freezer storage locales, while four shallow bucket shelves can be found on the freezer door. The 5.13 cubic feet of usable space on offer isn't a ton, with the narrow width and short heights between shelves further hampering the versatility of its storage capabilities.
Unfortunately, the energy efficiency of this GE is only moderately impressive. It would cost you $50.16 per year to operate using a rate of $0.09 per kWh, which translates into 0.1 kWh to cool each usable cubic foot of storage. It's not bad, but as with so many other elements of this fridge, we've definitely seen better.
Meet the testers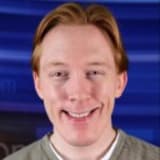 Matthew Zahnzinger
Logistics Manager & Staff Writer
@ReviewedHome
Matthew is a native of Brockton, MA and a graduate of Northeastern, where he earned a degree in English and Theatre. He has also studied at the Gaiety School of Acting in Dublin and spends most of his free time pursuing a performance career in the greater Boston area.
See all of Matthew Zahnzinger's reviews
Checking our work.
We use standardized and scientific testing methods to scrutinize every product and provide you with objectively accurate results. If you've found different results in your own research, email us and we'll compare notes. If it looks substantial, we'll gladly re-test a product to try and reproduce these results. After all, peer reviews are a critical part of any scientific process.
Shoot us an email