Well lit, but a tight squeeze
In terms of visual aesthetics, there's very little about the 51132 that disappoints. Lot of bright lighting in both compartments will illuminate your food, and lightweight shelves are easy to remove for cleaning.
Problems arise, however, when it comes to actually interacting with the appliance. For instance, of the five regular shelves available in the fresh food section, only two of them have enough vertical space to make it easy to access your food no matter how you arrange them. The drawers are acceptably smooth and door storage—including two gallon-depth shelves—is wonderfully customizable, but the bulk of your fresh food storage will be buried at the back of a shelf.
The freezer is served a bit better, with more space between shelves. Some cavities are even tall enough to fit frozen pizzas that would be too wide to put on their side. The in-door icemaker also takes up very little space, and proves no problem to remove for bulk ice access.
Controls are surprisingly convoluted given the fridge's straightforward functions, and most options—including temperature adjustments—require you to hold down buttons instead of just pressing them once. While the symbols on the control panel glow a dull, unflattering green, the nook for the ice and water dispenser utilizes a more pleasing pale blue light. The cavity is also large enough to fit a tall drinking glass, and the tray can slide out to accommodate slightly larger receptacles.
Temperatures aren't supposed to shift this much
Side-by-sides on the whole tend to have temperature consistency issues, but the 51132 takes it to a new level. Neither the fridge nor freezer managed to deliver steady, regulated temperatures at any point. Degrees shifts almost hit a full degree and a half in the fridge, with fluctuations of nearly three degrees in the freezer. That means there's a greater risk of rising above 41ºF in the fridge—increasing the chance of spoilage—and that temps in the freezer will rise above 0ºF—increasing the risk of freezer burn.
With the exception of staples like margarine or mayonnaise—items that have some hearty resilience to them—that sort of inconsistency will lead to faster-than-average spoiling times and the onset of freezer burn.
Even if temperatures were better, the crispers wouldn't do much good preserving produce. They lost a substantial amount of moisture over time, rendering them almost completely ineffective. Aside from energy efficiency—with was on par with some of the best machines available today—our tests didn't uncover a single performance point in this fridge worth praising.
For in-depth performance information, please visit the Science Page.
A cold shoulder for an inconsistent fridge
It's a shame that the Kenmore 51132 performs so poorly. The low price tag—Sears retails it for about $1,300—combined with the large storage capacity is a great combination for large families on a budget. If the cramped fridge layout isn't enough to turn you off, the atrocious temperature (in)consistencies make this model a product you should definitely avoid. If you can afford an extra $150 or so, you can find something much better—like this Frigidaire Professional, for instance.
While the budget-friendly Kenmore 51132 (MSRP $1,529.99) may have some attractive design elements that'll catch your eye. Our objective tests paint a less flattering picture of this product. We recommend that you keep shopping.
Misses the mark entirely
While a little extra warmth around the bottom of a fridge is good for produce kept in the crispers, you don't want excess warmth anywhere else. Average temperatures for the top, middle, and bottom of the Kenmore 51132 came in at 39.42ºF, 37.65ºF, and 40.01ºF, respectively, which isn't a problem. The main issue is that average fluctuations over time came out to about 1.14ºF. That's a huge gap, rendering this entire fridge unstable in terms of consistent temperatures. The fact that temperatures may rise above 41ºF regularly substantially increases the risk of food spoilage.
The freezer is actually worse. Average temperatures themselves were fine on their own—roughly -1.43ºF at the top, -2.77ºF at the bottom—but the fluctuations were more than twice as wide. With shifts of up to 2.93ºF, even the appropriately cold temps aren't enough to prevent the gradual formation of freezer burn.
Shoddy crispers
While consistent temperatures combined with poor crispers could be acceptable, poor temperatures and poor crispers together make a recipe for disappointment. Over the course of 72 hours, our materials lost of an average of 0.28 grams of moisture per hour—much worse than average. Produce kept in this side-by-side will likely dry out unexpectedly soon.
Adequate freezing—a small consolation
Despite all of its other problems, the Kenmore's freezer did manage to chill our test materials quickly. Room temperature items hit 32ºF after only 1 hour and 25 minutes; it's not the fastest time around, but it is quicker than average. Meat and fish should retain a satisfactory texture when thawed.
The power loss test was another success. After 36 hours without power, the internal temperature of our test items had thawed to only 27.81ºF, still quite frozen.
Lots of cramped storage space
The fresh food compartment in this fridge certainly doesn't lack for organization. Five shelves, a deli drawer, a crisper, and a temperature controlled drawer all serve up plenty of different levels—though most tend to be a bit vertically cramped. A dairy bin and four additional buckets—two of which are gallon-deep—are found on the door. It all adds up to 12.41 usable cubic feet.
The freezer has a somewhat more sensible layout. It also has five shelves, but only one drawer at the bottom, which means they're all more accessible than their fresh food counterparts. Three small door shelves sit below the in-door icemaker adding some additional storage. This totals an impressive 6.59 cubic feet of usable freezer space.
Energy efficiency is one of the two strongest selling points for the 51132. Using a rate of $0.09 per kWh—and letting the icemaker fill from empty once over the course of 72 hours—we determined it would cost only $37.10 per year to operate. That's quite efficient, on par with or better than most other comparable models. All the usable space means it only requires 0.06 kWh to chill each usable cubic foot, putting the 51132 on the decidedly efficient end of the spectrum.
Meet the testers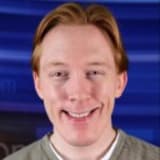 Matthew Zahnzinger
Logistics Manager & Staff Writer
@ReviewedHome
Matthew is a native of Brockton, MA and a graduate of Northeastern, where he earned a degree in English and Theatre. He has also studied at the Gaiety School of Acting in Dublin and spends most of his free time pursuing a performance career in the greater Boston area.
See all of Matthew Zahnzinger's reviews
Checking our work.
We use standardized and scientific testing methods to scrutinize every product and provide you with objectively accurate results. If you've found different results in your own research, email us and we'll compare notes. If it looks substantial, we'll gladly re-test a product to try and reproduce these results. After all, peer reviews are a critical part of any scientific process.
Shoot us an email