Even better: the 25-cubic-foot Kenmore retails for around $1,400 with a stainless steel finish, which makes it a downright reasonable deal. So long as you want a side-by-side and have room in your kitchen, we can recommend this one.
We put this side-by-side refrigerator through its paces to see where it excelled and where it fell short. To our great delight, it excelled in almost every way, and did not fall short in any capacity. Well-rounded, efficient, and fairly spacious? We don't have any complaints about that.
Bright and spacious
Whirlpool built this side-by-side for Kenmore, and the result is sleek and cleanly designed throughout. A smooth stainless steel finish is resistant to major smudging, and curved handles on the fridge and freezer compartment allow you to easily tug each door open. A water and ice dispenser is set into the front of the freezer door, and controls are located right above it, along with an LED display screen.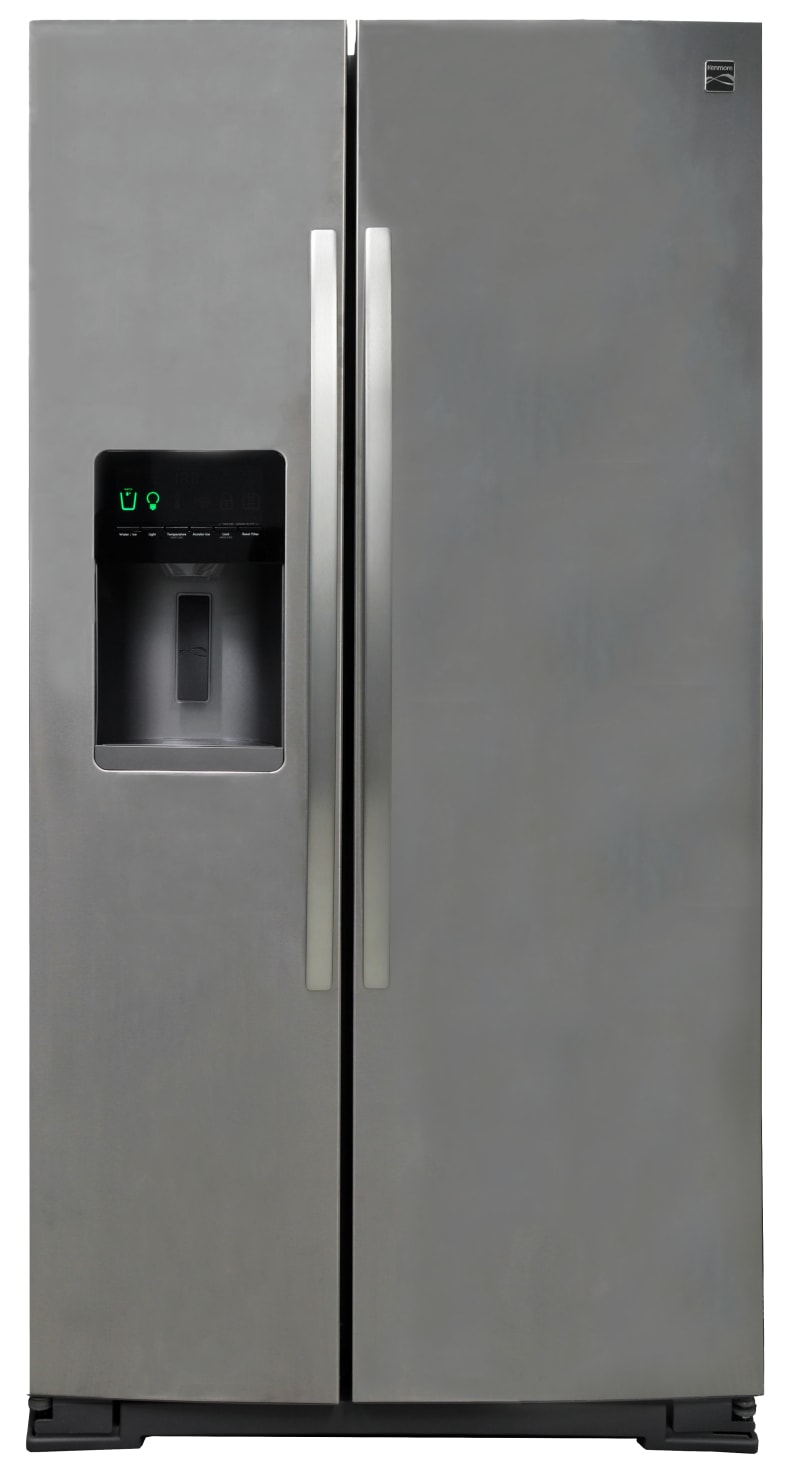 ×
Design
Inside the fridge, storage space is ample and flexible. You won't be able to fit a wide casserole dish or baking sheet in the compartment—which lacks the width of a top freezer or French door—but it still feels roomy for a side-by-side. Glass shelves are height-adjustable, and a deli drawer plus two crispers—one height-adjustable—provide plenty of drawer space to work with. LED lights set into the top of the compartment make it easy to see your groceries.
The freezer feels more narrow than the fridge—no respectably-sized frozen pizza could be successfully stowed here—but two small drawers and three shelves give the space some welcome organization. There isn't a ton of door storage, but only because the vast majority of the freezer door is taken up by a door-mounted icemaker.
Overall, refrigerator temperature is close to what it should be. Plug it in, and the fridge will default to 37°F, which is the ideal.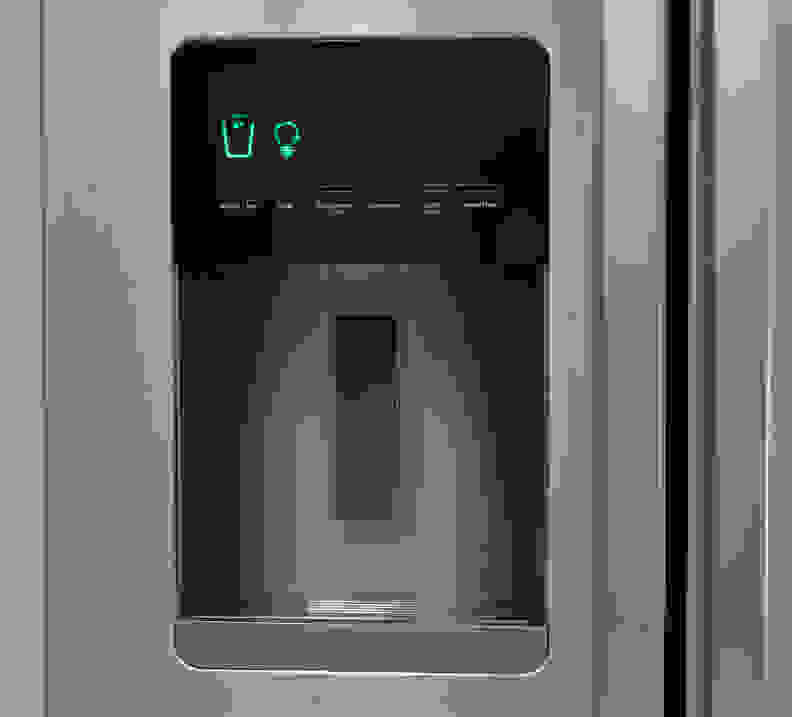 The compartment averages 37.17°F, with a minimal temperature fluctuation of ±0.36°F over time. Individually, the top and middle of the fridge clock in at 36.59°F and 35.67°F respectively, while temperatures averaged 39.26°F at crisper level. The bottom of the compartment is definitely a tad warmer, but that is actually ideal for most fruits and veggies.
The freezer too did quite well. Overall, temperatures averaged -2.13°F, and fluctuated just ±0.64°F over 72 hours. Average temps varied just a little between the top and bottom of the freezer. On the top shelf, our test materials averaged -1.7°F, with the bottom of the compartment coming in at -2.55.
The crisper drawers in this Kenmore don't just glide nicely—they also manage to hang onto the humidity needed to keep your veggies from wilting before their time. Our test materials lost an average of just 0.07 g per hour over the course of three days. That's quite excellent.
Well-rounded with some cool extras
This side-by-side was excellent at just about everything, but we must note that it especially excelled in regard to energy efficiency among fridges its size.
Another number that we like to see as low as possible: Moisture loss in the crisper drawer. Our test materials lost just 0.07 grams of water per hour, which is good news for preserving fresh veggies.
Despite being preset to 37°F at the factory, the crisper drawers averaged about 39°F. That's actually good news, as produce tends to keep better at slightly warmer temperatures. Throughout the fridge, temperatures remained consistent over our 72 hours of testing, which indicates ideal food preservation.
The freezer was similarly consistent over time, and temperatures were nice and low. The bottom shelf averaged as low as -2.55°F, and temperatures never climbed above 0ºF—so you shouldn't have to worry about freezer burn.
×
Performance & Features
You won't need to do a lot of fiddling with temperature settings, but in the event that you do need to make adjustments, you'll controls easily accessible on the front of the refrigerator. Hold down the temperature button for three seconds to activate up/down temperature controls.
Extra features include an ice maker, an ice/water dispenser that releases water or crushed or cubed ice, and an Accela-Ice function that ramps up ice production for times of increased need (like if you're throwing a party, you social butterfly, you!).
For in-depth performance information, please visit the Science Page.
If you find a defect in materials or workmanship on this appliance within one year from the date of purchase, Kenmore will provide free repairs. This is a standard warranty for a major appliance in this price range.
Freezing is one area where the 51763 performed at a level only slightly—rather than significantly—above average. Our test materials took 1 hour and 37 minutes to chill from room temperature to a frosty 32°F. The faster a fridge performs this task, the better food will taste when it's thawed.
Something for everyone
We only gush when our admiration for a product is backed up by a formidable collection of data. So when we say we think this refrigerator is absolutely fantastic, it's because our extensive testing process told us so.
There's just no way to go wrong with the 51763, so long as you're looking for a side-by-side refrigerator. It's not the cheapest possible buy—that honor goes to the sub-$1,000 Kenmore 51122 / Whirlpool WRS325FDAM twins—but it's a good deal. It doesn't have the width of a top freezer, but it's roomy and well-organized for a side-by-side. Temperatures are consistently close to the ideal, crisper drawers retain moisture, and energy consumption is low. There are even a few nice extra features.
If you're looking for a side-by-side fridge, you'll find something for everyone; in fact, there's everything for everyone.
Despite the relatively narrow compartments that come with the territory of a side-by-side refrigerator, the 51763 is more-than-adequately spacious.
In the fridge compartment, you'll find 3 height-adjustable shelves that fill up the top and middle of the fridge. As you move closer to the bottom, a deli drawer and two crisper drawers offer additional storage space, plus two more shelves located on top of the drawers. The refrigerator door adds a dairy bin and multiple height-adjustable shelves to the mix. Over all, that's 12.44 cubic feet of usable storage space in the compartment.
Inside the freezer, you can pile your food on four shelves, or pack it into the two drawers located at the bottom of the compartment. Three of the shelves are height-adjustable. The freezer door houses three fixed shelves, but most of the door space is taken up by the ice maker. Still, usable freezer space totals to 7.29 cubic feet. That means this Kenmore's overall usable space totals a respectable 19.73 cubic feet.
The extremely efficient 51763 requires just 0.05 kWh to cool each cubic foot of this space. At a rate of only $0.091 per kWh, this makes the fridge's running cost just $34.95 per year—quite cheap.
Meet the tester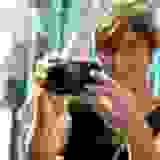 Kori Perten
Former Editor, Home & Outdoors
@Reviewedhome
Kori began her journalism career as a teenage fashion blogger and has enjoyed covering a wide variety of topics ever since. In her spare time, she's an amateur poet, avid reader, and gluten-free cake baker extraordinaire.
Checking our work.
Our team is here for one purpose: to help you buy the best stuff and love what you own. Our writers, editors, and lab technicians obsess over the products we cover to make sure you're confident and satisfied. Have a different opinion about something we recommend? Email us and we'll compare notes.
Shoot us an email