Our lab tests confirm the Kenmore 70623 (MSRP $1,179.99) sets yet another high water mark for the top-freezer style. Built on the same platform as the excellent Frigidaire Gallery FGHT2046QF, the 70623 is essentially a reimagined version of the same fridge, with some extra drawers and shelves thrown in for added storage.
Despite the Kenmore's different interior, retail prices between these two appliance siblings are almost even. Both cost about $950, making the Kenmore a better deal if you like the shelf layout.
With a fridge this good, our recommendation is simple: If you need a 20.4 cu. ft. top freezer, definitely consider this one.
As with all of our fridges, the Kenmore 70623 (MSRP $1,179.99) was placed in our climate-controlled lab and then filled with sensors that record power consumption, average cooling, temperature stability, and more. The end result? We can safely say that this top freezer is one of the best on the market today.
So much room!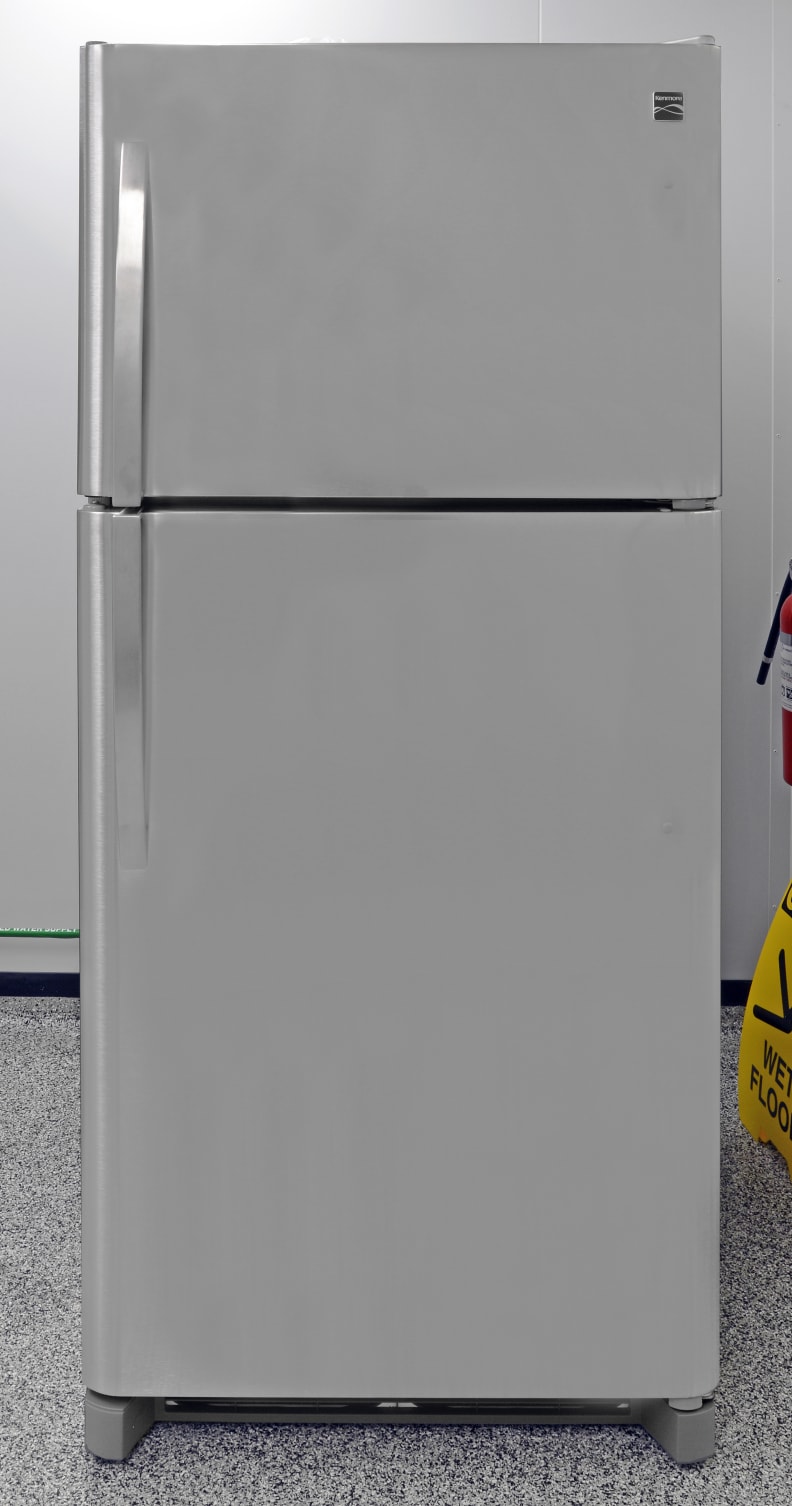 Compared to its Frigidaire counterpart, this Kenmore's most glaring flaw involves its stainless steel finish. Lacking Frigidaire's unique smudge-resistant coating, the 70623 falls victim to fingerprints and other smears much more often.
That said, the Kenmore's traditional stainless finish means it'll be easier to match with your other appliances compared to Frigidaire's slightly darker shade.
Inside, both compartments are awash in cool LED lighting. Multiple full-width shelves and three drawers in the main fridge section offer plenty of different storage areas, making it easy to keep track of your food.
Of course, the downside to having so many shelves is that the vertical space starts to feel cramped. It might be hard to reach items in the back, especially if you tend to overstock your fridge.
The downside to having so many shelves is that the vertical space starts to feel cramped.
On the door, this Kenmore matches the FGHT2046QF's new sliding storage bucket for bucket. Instead of traditional hooks, tracks are available for hanging both the dairy bin and three gallon storage bins. The tracks allow them to slide left and ride, allowing you to fit items of various heights without hassle.
The spacious freezer is more straightforward. Divided by a wire shelf, this model is equipped with an icemaker and storage bucket, which you can use at your discretion.
×
Design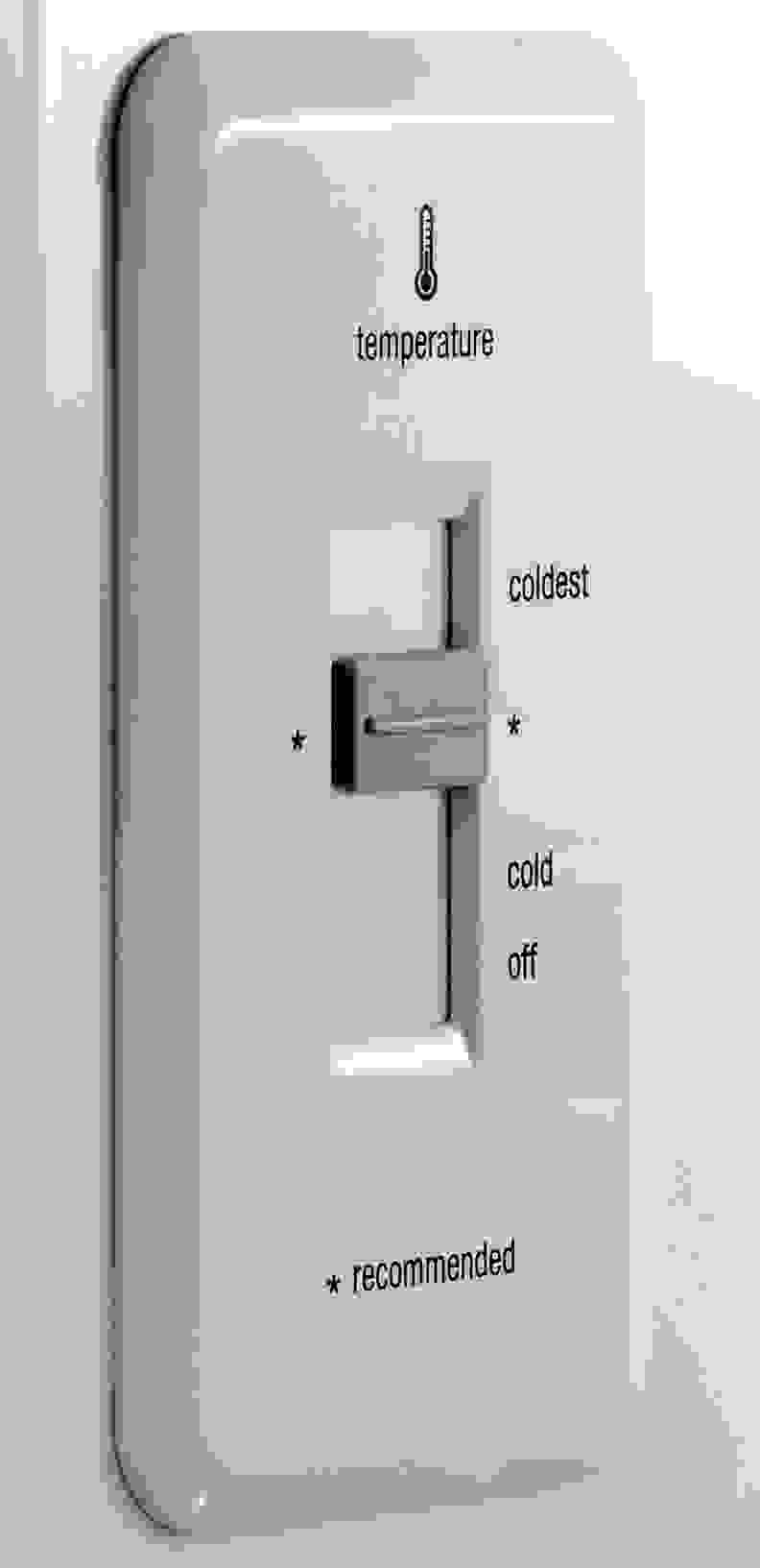 Temperature stability over time is key to proper refrigeration and freezing, especially for sensitive foods. Both the fridge and freezer sections of this Kenmore did an excellent job here, with average fluctuations of just ±0.12°F and ±0.44°F, respectively.
The average temperatures themselves, however, weren't as great. When set to the manufacturer's recommended setting—marked on the thermostat with an asterisk—we found the Kenmore ran a bit warm.
In the fresh food section, we recorded averages of 38.55°F at the top, 39.81°F in the middle, and 42.57°F at the bottom. The freezer held steady at 6.5°F up top, and 7.74°F at the bottom.
Fortunately, you can help fix this simply by moving the thermostat—in both compartments—closer to the Coldest setting. If you really want to be sure you're getting optimal results, you'll need to put a separate thermostat in the fridge, as the controls in this Kenmore are not digital.
The crispers did a very good job retaining moisture... for a top freezer, anyway. We've seen better, but you'll be hard pressed to find a fridge in this price range that loses less than 0.15 grams of moisture an hour—which is exactly what happened in the Kenmore.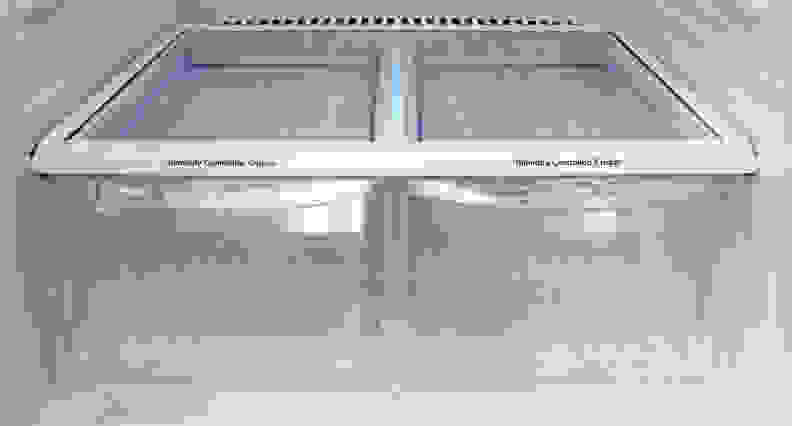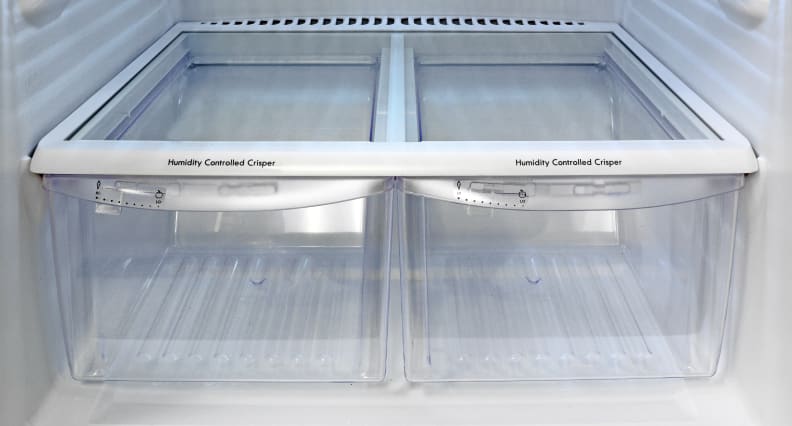 It can be as good as it gets
Our battery of scientific tests—conducted in a climate-controlled lab—allow us to analyze refrigeration performance metrics like temperature consistency over time, moisture retention in the crispers, power consumption, and more. All of this allows us to determine how well a fridge preserves food. In the case of the 70623, we can confidently say this is an excellent top-freezer.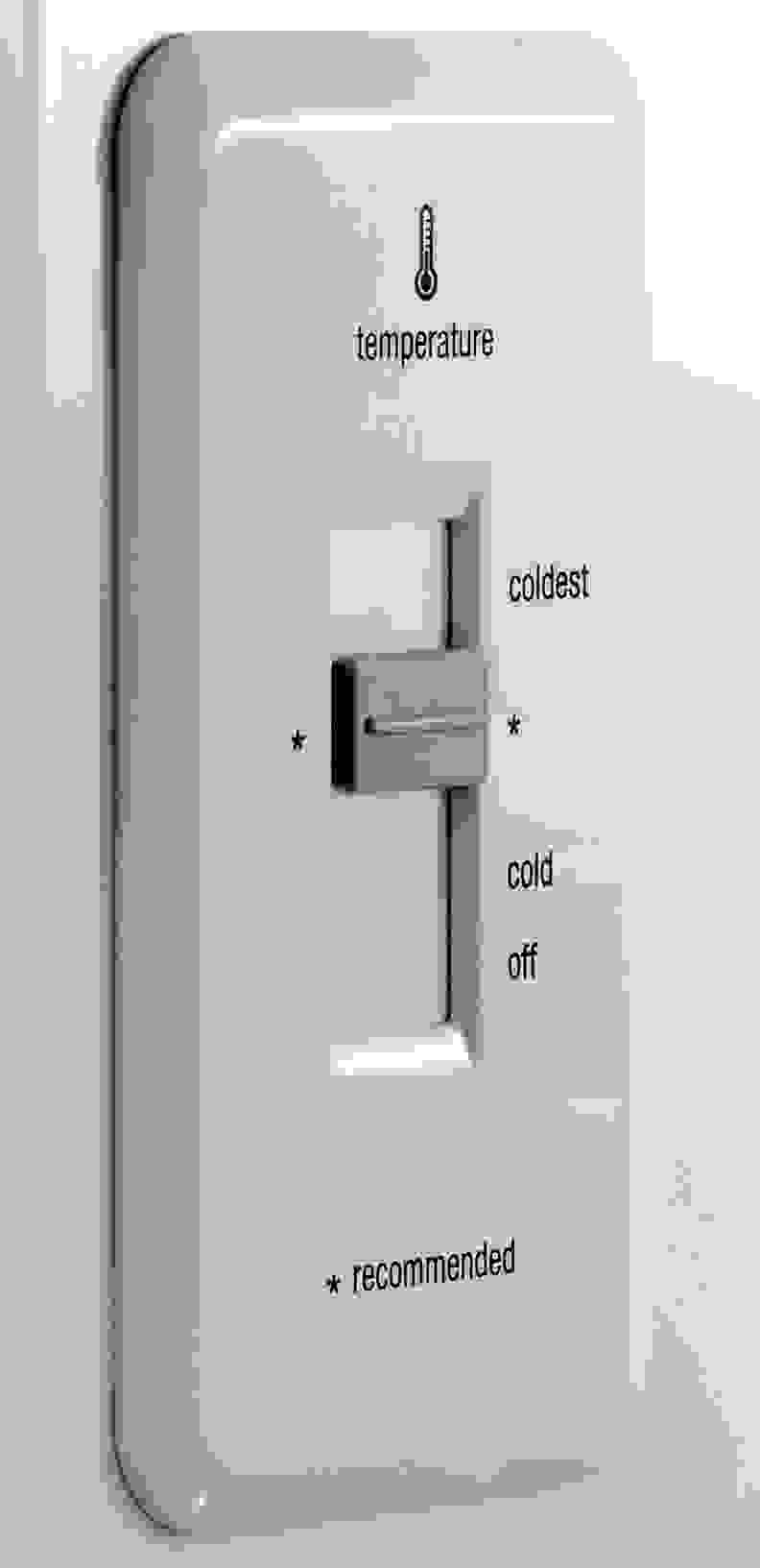 Temperatures in the fridge and freezer remained steady over the course of our testing period, while moisture retention rates in the crispers were acceptable. Power consumption was low, even with the icemaker running.
So yes, this is a great top freezer... but it's not a perfect one. Both sections of this Kenmore ran rather warm, an issue shared with several other Frigidaire models built on the same platform.
We conduct our tests with the thermostat set to each manufacturer's recommended setting. Even so, the fridge's temperature profile didn't average out to the ideal 37°F, while the freezer was also a little north of 0°F.
Our advice? Move the thermostat closer to the Coldest setting for optimal results.
For in-depth performance information, please visit the Science Page.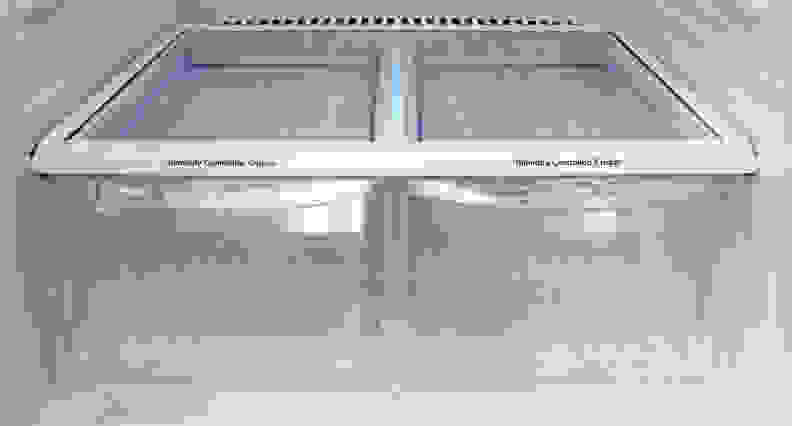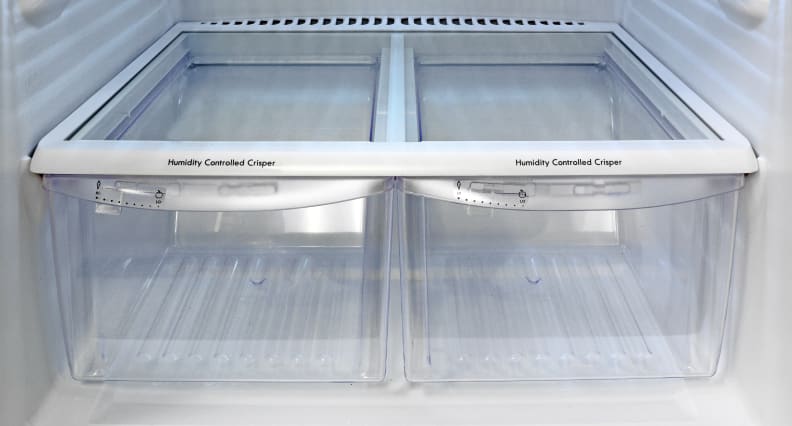 Freezing times were also acceptable, with room-temperature foods cooling down to 32°F in just 1 hour 28 minutes.
Same great performance, even more space!
We were already impressed when we reviewed the Frigidaire Gallery FGHT2046QF, with its great finish, stellar cooling performance, and innovative use of space.
Take all the assets of one of our highest-ranking top freezers, slap on the Kenmore badge, and you've got yourself the 70623. It's just as impressive, just as spacious, and carries the same retail price of roughly $950. How can you top a deal like that?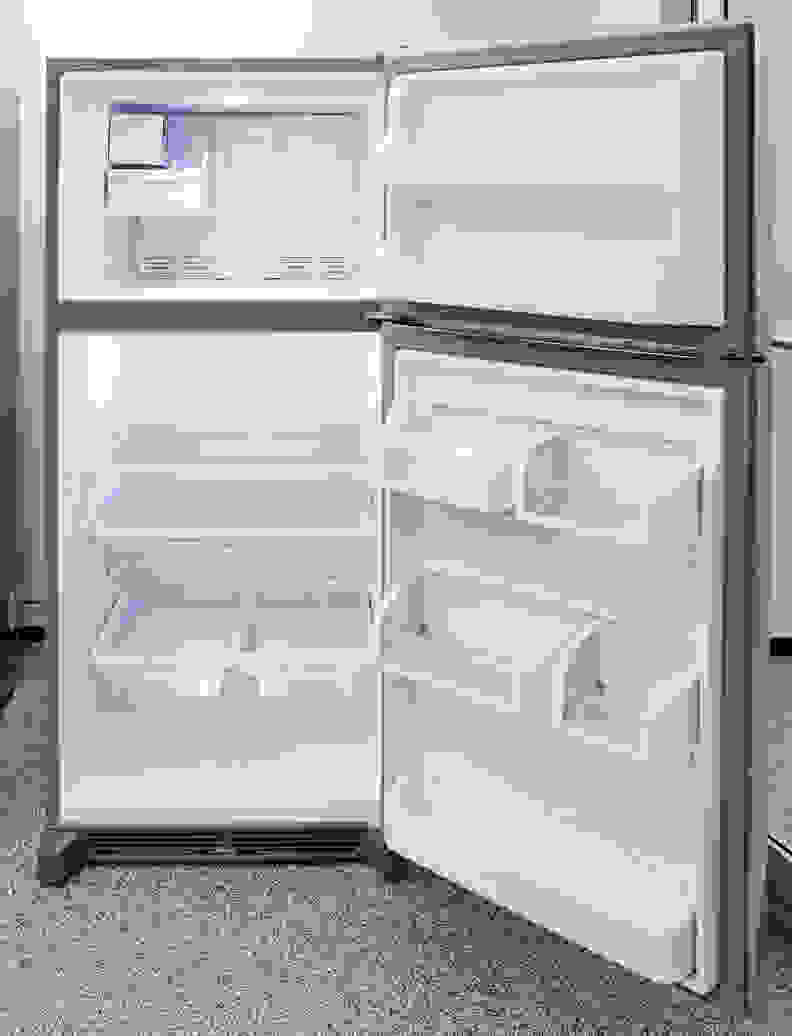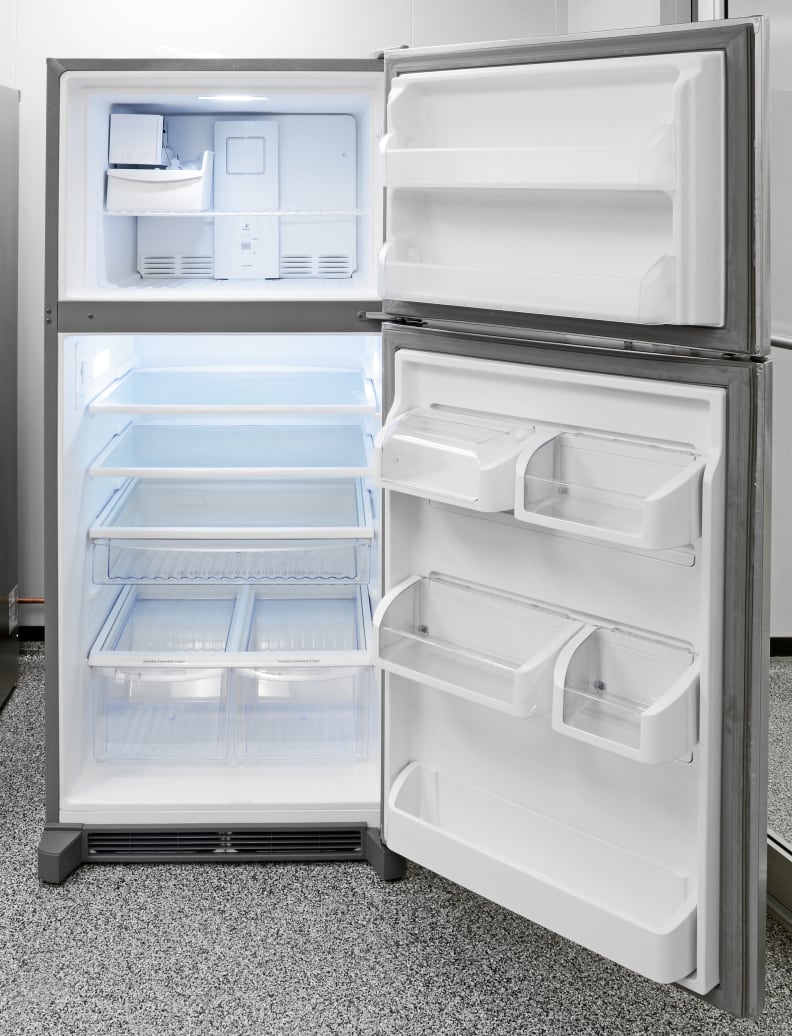 The numerous shelves and the full-width drawer in the fridge offer plenty of usable storage surfaces, though it can still feel a bit cramped. When you add in the sliding storage buckets on the door, you get a total of 11.65 usable cubic feet of fresh food space.
Inside the freezer, it's rather less complicated. To be clear, our measurements take into account stationary obstructions, like light fixtures or—in this case—an icemaker. However, removable accessories such as the ice bucket are removed, and it's up to consumers to decide whether you want to keep them inside the appliance. With that in mind, the upper section of this Kenmore allows you to fit about 4.63 cu. ft.-worth of frozen food.
This is one of the first top-freezers equipped with an icemaker that we've tested since last year's EPA guidelines were updated, and we were definitely not disappointed. With the icemaker running, we determined that it would take about 0.05 kWh to cool each usable cubic foot. That translates out to roughly $26.61 per year in electricity costs—based on a typical American rate of $0.09 per kWh—making this one of the most efficient fridges on our site.
Meet the tester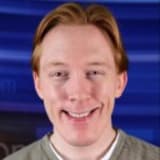 Matthew Zahnzinger
Logistics Manager & Staff Writer
@ReviewedHome
Matthew is a native of Brockton, MA and a graduate of Northeastern, where he earned a degree in English and Theatre. He has also studied at the Gaiety School of Acting in Dublin and spends most of his free time pursuing a performance career in the greater Boston area.
Checking our work.
Our team is here for one purpose: to help you buy the best stuff and love what you own. Our writers, editors, and lab technicians obsess over the products we cover to make sure you're confident and satisfied. Have a different opinion about something we recommend? Email us and we'll compare notes.
Shoot us an email